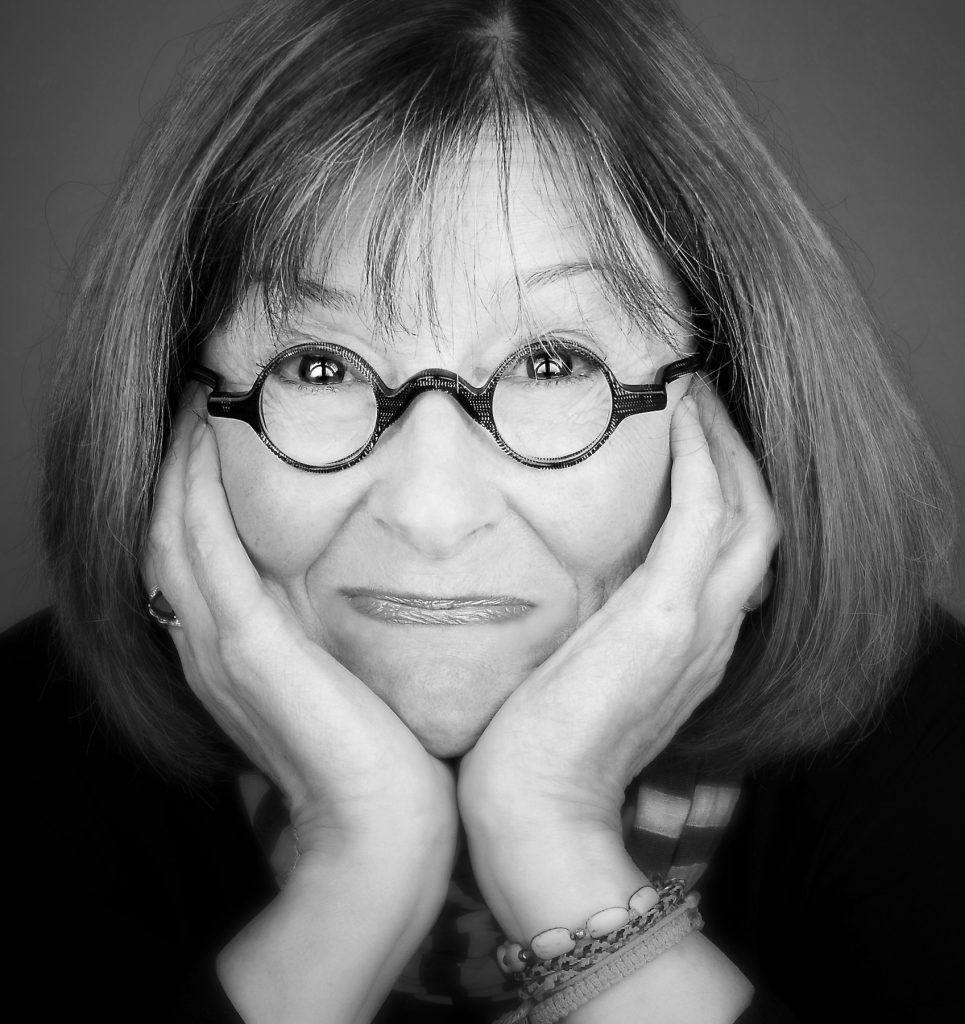 Today we'd like to introduce you to L. Aviva Diamond.
Aviva, we'd love to hear your story and how you got to where you are today both personally and as an artist.
"For the first couple years that you're making stuff, what you're making isn't so good, OK? It's not that great…But your TASTE is killer. And your taste is good enough that you can tell that what you're making is kind of a disappointment to you…A lot of people at that point, they QUIT.
And the thing I would just like to say to you with all my heart is most everybody I know who does interesting creative work, they went through a phase of YEARS where they had really good taste and they could tell that what they were making wasn't as good as they wanted it to be…EVERYBODY goes through that…And the most important possible thing you can do is do a lot of work. Do a huge volume of work…It's normal to take a while and you just have to FIGHT YOUR WAY THROUGH THAT. Okay?" – Ira Glass
Oh, how I wish someone had said that to me when I was a kid. Or in college. Or grad school. Or later. Because I did give up. A lot of times. For a lot of reasons. And as a result, I didn't get started as a full-time dedicated artist until nearly five decades after I had wanted to begin.
My mom had wanted to be an artist and had been accepted into the High School of Music and Art in New York, but when she was standing in line to register, she whispered with a friend, and a teacher threw her out and wouldn't let her register for school. That was the end for her. She gave up and didn't draw again until the last few years of her life.
My dad had the soul of a poet, and after escaping from Germany and subsequently serving in the US Army, he studied both literature and accounting under the GI Bill. But his family was poor and he gave up his dreams of being a novelist to work in finance and help support his parents.
As a kid, I drew and sang and acted and wrote poetry…and when I was given a camera, I fell passionately in love with photography and dedicated every spare moment to learning, shooting and darkroom work. I needed to express everything, was awarded the Academy of American Poets Prize in college and wanted to be an artist. But – despite their personal histories – my parents were adamantly opposed to my having a life in the arts, and my dad said he'd cut off all contact with me if I pursued that goal.
I loved my parents and couldn't imagine life without them, so – after begging for a few years – I gave up. I had almost no faith in myself. And it seemed to me that they didn't either. Decades later, they told me the truth – that they had been truly terrified I'd starve; they were just trying to protect me. But I didn't know that at the time, and I was crushed for many years.
So I began a career in journalism – reporting and shooting stills for The Miami Herald, working at various local tv stations, and eventually becoming a correspondent for ABC Network News and doing pieces for GMA, World News Tonight and Nightline. I won a local Emmy and some other awards, but I wasn't ever happy. So I started a media training business and spent several decades traveling to major corporations around the country, teaching executives how to answer questions and make presentations. And whenever I had a free minute, I'd draw or paint or shoot stills.
Then, on January 2nd of 2007, my dad died, and my mom started showing signs of dementia. As her world and conversation became more limited, we began to sing old jazz standards when we chatted on the phone or on Facetime. And I started doing more little drawings and photos for her. When we visited, I'd put sketchbooks and pencils in front of her, and she'd do amazing quick renditions of everything she saw. And I sketched too…and took photos. So little by little, over the next eight years, more and more of our time was devoted to singing and art. And I began spending more of my own time working on my photography and drawing and learning songs to sing with her.
In May of 2014, my mom was in a terrible accident and became paralyzed from the chest down. I dropped everything and flew to Florida to be with her and my brother, sister-in-law and niece. A few months later, my mom died and I returned to LA. But my mom had been my life-long best friend, and I felt totally decimated. I'd also lost most of my clients while I was gone; there wasn't much business left. I started thinking about changing my life. I love to help people, and I still teach occasional trainings, but I didn't want to end up on my deathbed thinking "why didn't I even try doing what's so deeply in my soul?"
And then I got an email from the Los Angeles Art Association about their juried membership and a link to the application. I submitted a few of the pieces I'd been showing my mom…and was accepted! And then I had a piece juried into one of LAAA's shows! I'd also started taking jazz vocal workshops from Cathy Segal-Garcia, a wonderful singer, composer, and teacher. So in the fall of 2014, after decades as a reporter and corporate coach, I started a new life and began to work full-time as an artist…and to learn how to sing jazz. Since then, my art has been accepted into several dozen group shows, and – thanks to the kindness of artist, professor and curator Erika Lizée – I was lucky enough to have my first solo show at Moorpark College this past December and January. I also now have a monthly jazz gig and jam in Hollywood. Amazing! It truly is never too late to begin…
We'd love to hear more about your art. What do you do you do and why and what do you hope others will take away from your work?
I've followed an Asian meditation path for more than thirty years, and that has deeply influenced every aspect of my life including my art. Much of my most recent work is a distillation of meditations exploring cosmic connections – delving into the nature of water and light, seeing the interconnectedness of a wet leaf and the night sky, or finding a galaxy in the rust and corrosion on a car hood. I'm always looking for the universal in the intimate.
My series, Light Streams, is large-scale so that people will be immersed in a world of energy, water and movement. I began this body of work at a retreat and spent many hours meditating before I began to shoot. Then I worked on the images in Photoshop, painting with light and shadow to highlight the essentials and eliminate distractions. I often spend weeks – or sometimes months – working on each piece until it transmits the feeling I'm searching for. Sometimes it's just a tiny dot of light that makes all the difference.
Ever since I was a young child, my vision has been a little unusual. I see very very tiny dots – smaller than pinpricks – all the time…in the sky, in water, in people's eyes. I don't know what those are or why I see them. But in my art, I try to transmit some of the feelings I get from that vision – and from what I feel in meditation. I see universes in crashing waves, images in the bubbles of a stream stars in wet asphalt, a planet in an oxidized gas tank cover. Light, for me, is spiritual. It fills me with awe and hope. I'm in love with light and shadow, line and form. And I try to merge that love with the connections I see everywhere. This all is a bit strange for someone who spent so many years as a hard-headed reporter, but there you have it.
Of course, I'm not immune from the current political situation. Sometimes I just need to do street photography to express the pain. Or I shoot straight landscapes or birds to escape into the visual beauty of nature. And sometimes I draw angry little cartoons. Or I hold a pen or marker when I'm meditating and let the lines flow in an automatic stream. Recently, I've started painting those drawings. So, abstract nature photography is my steady diet, but I enjoy exploring other flavors too. I used to be so afraid of what people would think, but I'm getting to be too old for that. There is such beauty in the world, especially if you look beneath the surface. I want to see more of those mysteries…and to share them.
What do you think it takes to be successful as an artist?
I've wrestled with that because our culture mostly defines success in terms of fame and financial reward. But for me, success is putting my soul on the paper. I'm working on getting closer and closer to that, to developing the skills and bravery and honesty to translate the vision in my heart onto the page.
Do you have any events or exhibitions coming up? Where would one go to see more of your work? How can people support you and your artwork?
I currently have a piece in the 2019 California Open – juried and curated by Ruth Weisberg – at TAG Gallery on Wilshire Blvd., in LA, and one of my photos is scheduled for inclusion in Kristine Schomaker's Perceive Me show at Cal State LA in January.
I also sing at 2nd Fridays at Sal's (7356 Melrose Ave., Hollywood) on the second Friday of every month at 7:30 pm with a guest vocalist, jam, and wonderful musicians – Dave Moscoe on keys and Michael Saucier on bass.
Contact Info:
Image Credit:
©L. Aviva Diamond
Suggest a story: VoyageLA is built on recommendations from the community; it's how we uncover hidden gems, so if you or someone you know deserves recognition please let us know here.