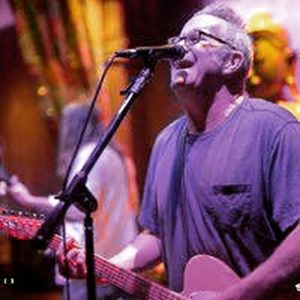 Today we'd like to introduce you to John McCabe.
Hi John, it's an honor to have you on the platform. Thanks for taking the time to share your story with us – to start maybe you can share some of your backstory with our readers?
Music was always around when I was growing up in Central Phoenix. My eldest brother is ten years older than me, so at a very young age, I was exposed to music; whatever he was listening to at the time – or whatever was crossing over to the FM station KDKB – I gravitated toward. In 3rd or 4th grade, I must have listened to the Grateful Dead's 'Skull & Roses' record a thousand time. I was particularly drawn to the two cover songs on the LP, Papa John Philips' "Me & My Uncle" and Jimmy Reed's "Big Boss Man". Over and over. At the time, my instrument was a Sher-Wood hockey stick with a long bootlace acting as the strap.
By the time I convinced my parents to let me get a guitar, they agreed to a $50 Spanish nylon string rig – and only if I would commit to formal lessons. I think that I used my odd-job money for the guitar and they sprang for the lessons. Our local mall in the late 1970's had a music store; there was always a salesperson pushed out in front of the store, slightly into the mall traffic, playing an organ. Schmidt Music. They offered a six weeks Tuesday evening lesson program. "Michael Row the Boat Ashore" and a number of other 2 or 3 chord songs rounded out the curriculum.
Armed with those few songs, I was ready to learn the music and songs that I wanted to learn. My friend's older brother took the reins and showed me a handful of Neil Young songs and "Angie" by The Rolling Stones. For the next 8 or 10 years, I stayed at about the same level – I may be added a few songs to the repertoire, but I seemed to struggle to maintain interest in playing (and learning note for note) cover songs. But I had enough in the tank to be able to busk on the streets with friends at The University of Wisconsin-Madison and play the odd set at the local coffee shop.
Over the next decade or so, I moved around quite a bit; from Madison to Boston, for a short stint, and then I moved to Paris, France for my first 'real job'. I was working for a giant French computer company – I barely spoke French and knew very little about computers, but enough to get by. Back to Boston, then on to Oakland, followed by a two years move to Sydney, Australia – back to Oakland, finally settling in Orange County in 2001.
During that period, I had always played music and had started to build a small collection of guitars – but it was always on the fray of my day-job career and family. On the Boston and Oakland stops, I was able to find consistent people to play with, form little bands and do some recording.
In 2008, I learned that it would be very cheap to set up a very rudimentary recording rig in my daughter's playroom. An iMac, an interface and "two-for-$99" microphone set. It had sort of come full circle – having never really adopted the ability to learn cover songs, I started in recording original tracks. I had a handful of songs that my brother had written – and a couple that I had put together, so I started the arduous task of watching 1,000's of YouTube videos on how to record. Properly. Listening back now to some of the early recordings, my toes don't curl, but they are pretty interesting to hear where it started.
As the songwriting, recording and producing was processing, I was asked by my friend, Joseph Walsh, to join him for a short set at Elderberries Threefold Coffee shop on Sunset. I would bring my mandolin and join him on guitar. His friend, Brad Byrd, had a standing gig there every Saturday afternoon; Brad would play for an hour, we would get up and make a mess of the place for 30 minutes and then the show would go on. We made it through – I was fortunate enough to know the three mandolin chords required.
At that session, Brad asked me what I was working on – and if I would be interested in recording with a producer that he knew and worked with. A few weeks passed and I sent him some of the demo songs that I had been working on. He suggests that we meet he would introduce me to John Kimbrough at his studio in Mt. Washington. We agreed and set out to record one tune – a single – that we could shape and potentially release. That quickly turned into a 5-song EP, "Flower Circle".
In 2017, with the release of "Flower Circle" – I was hooked. The entire process of starting with a blank sheet of paper, building and recording a demo – and then bringing that into the studio for full production and ultimately release. Shortly after 'Flower Circle' we began recording a follow up EP, "These Years". In the interim, I wanted the opportunity to play the songs live, so I co-founded a band with Don Erikson called 'Engine Trouble'. We performed as a three-piece and we would do acoustic duo sets at various spots in Orange County.
"These Years" was released in 2019 and that has been followed by multiple singles, which I recorded, engineered and self-produced on the home rig – and one final single produced by John Kimbrough. My next effort was all 'in-house'. John Kimbrough agreed to play bass, but the balance of everything else was done in what was formerly my daughter's playroom, my home studio.
Mid-to-late pandemic, in September 2020, I released "What For", a six song EP. During the recording process, I co-founded a new band with Joel Cassara called "Good at Rockets". We had early shows booked and a small 3-stop "tour" with a band from Seattle when everything shut down.
With the downtime, we decided to brave the studio and set up at Monolith Recording Studios in Fullerton to lay the basic tracks for a six song EP, "Unraveled". On March 2nd, we released 'Unraveled' and have started to book local sets as things start to open up again. At last.
I'm sure you wouldn't say it's been obstacle free, but so far would you say the journey have been a fairly smooth road?
Overall, I would say it's been a pretty smooth road. That has come with a lot of luck. Right place at the right time. Having met Brad Bryd – who introduced me to John Kimbrough; had that meeting in LA at Elderberries not happened, I wouldn't be in the same position. A great learning process across the board. The two main struggles are, my musicianship – on a good day – is mediocre and my technical / engineering skills could really use a boost.
The upside is, I never had any sort of grandiose plans; as I progressed with each new project, I knew in the back of my head that, even though the music was getting out on Spotify and all the digital platforms – I was only ever going to amass a very small pool of listeners (or fans).
I am just captured by every element of the process. And I feel extremely fortunate to be able to do what I do.
It's funny, the hardest part of the road – was literally 'the road'. Or The 5 Freeway. Recording the first 2 EP's with John Kimbrough at Janky East Studios in LA meant I had to budget about 2 hours each way in traffic from Orange County – so, lots of NPR and podcasts to and from.
Thanks – so what else should our readers know about your work and what you're currently focused on?
When I was preparing the release of my first EP, 'Flower Circle', I started to think back to when I bought music as a kid, the vinyl LPs – and I guess even up through CD – nearly half of the excitement was on the physical jacket. The artwork, the liner notes, song lyrics, credits, who played what, etc.
So, I looked at the format of how things would be published in the digital world and worked out that I could actually do an individual piece for each tune on the record or EP. So I set out to do the cover artwork – and then made one acrylic/canvas piece for each tune. For platforms like Bandcamp and SoundCloud, it gives some level of individuality to each of the songs.
I believe that I am most proud of my first EP and my last solo EP, "What For", having been able to manage the entire process, from first note to getting it published on Spotify and the rest of the digital world. Hopefully the music, production and accompanying artwork are all getting 'better' over time.
Where do you see things going in the next 5-10 years?
I am pretty far on the fray of the music and art industry that it's difficult to say. The upside is, there are so many avenues to get my music and art out to the public, the bad news is there are so many avenues. Things get a bit lost, buried – it's very hard to budge the needle at all. I am not sure where the digital music world is headed or what's next.
Contact Info:
Suggest a Story:
 VoyageLA is built on recommendations from the community; it's how we uncover hidden gems, so if you or someone you know deserves recognition please let us know 
here.