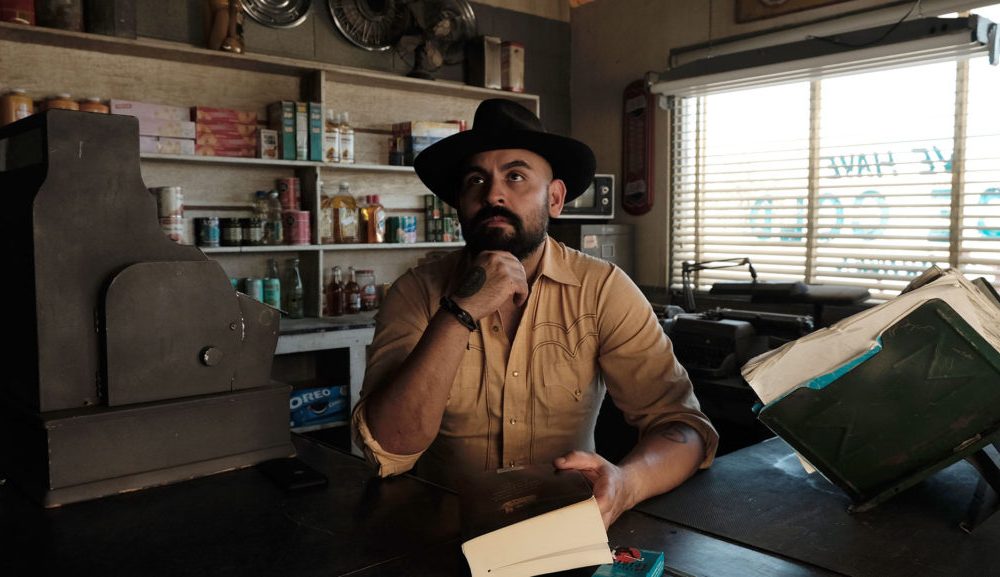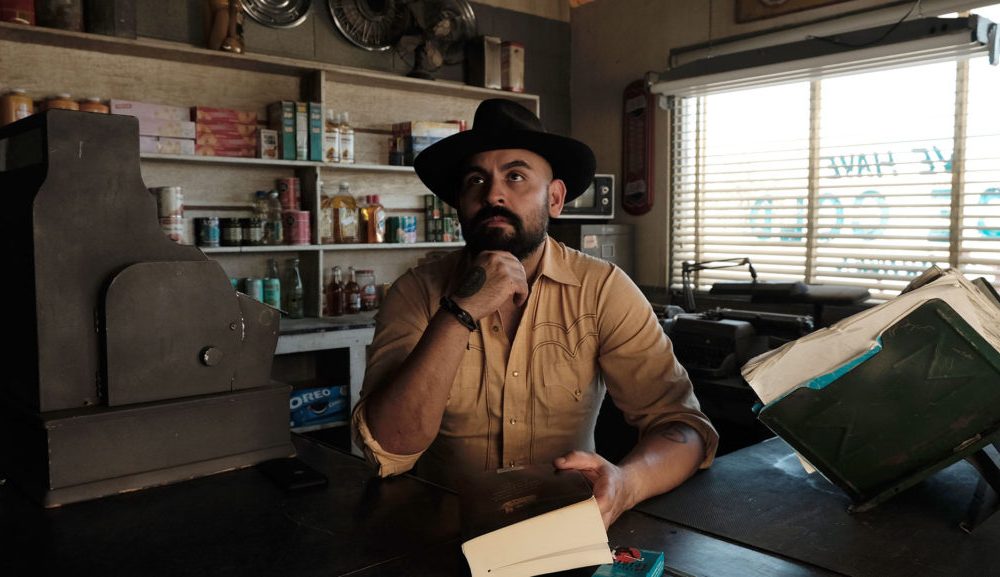 Today we'd like to introduce you to Blake Vaz.
Blake, we'd love to hear your story and how you got to where you are today both personally and as an artist.
I'm from the borderland of Juarez/El Paso. I grew up with two cultures, which to this day are reflected in my work. I started singing and playing guitar in bands when I was 15 years old, that was also around the same time I picked up a camera to shoot our rehearsals, videos and live shows.
Juarez is a crazy city, growing up there was an intense learning experience. At that time the city was exploding with creativity, bands were popping up every day and we had the attention of labels that were coming up to check out the scene. Our music was heavily influenced by the sounds coming down from the US while subtly keeping some of our Mexican roots in our compositions.
We gave it a go for a few years but ultimately, we went our separate ways. I went to college got married when I was 19 years old, had two beautiful children and for a minute put my creative projects on hold. But by the time I graduated from college my marriage had fallen apart, I had started my band The Mulberry Purple and I was ready to leave El Paso for good.
In 2004, I moved to Los Angeles to pursue my musical dream. The Mulberry Purple played all over LA and we had a bit of a buzz but after a few years we all had to take a break from music.
I have a degree in Computer Science and around this time I was working as a programmer, not really doing anything creative, I had a couple of screenplays laying around, once in a while the band got together to mess around, but I was convinced my creative life was pretty much done.
After struggling to pay the bills for a couple of years, I got a break when I was hired by the LA Times to work on one of their digital properties, managing one of their websites and basically uploading the content printed on the daily newspaper. My career path changed when I asked the managing editor why we weren't using our credentials and access as a prestigious newspaper to create video content for the site. We had access to the Lakers, to concerts, to boxing fights, sporting events, but no one was taking advantage of the video content possibilities.
He told me that if I wanted, I could go up to the third floor, check some camera equipment out, and go cover it myself, as long as I didn't ignore my actual job. That was the beginning of my transition from website programmer to content creator and manager.
Countless interviews, NBA All-Star Games, Finals, Championship boxing fights, concerts and local event coverage later, I was the Content Manager for the Spanish language website and replaced coding with video editing and content production.
Throughout my career at The Times, I made great connections and met great people that I would later end up working with. I had a couple of projects and short films I wanted to shoot but it wasn't until I met my good friend Daniel Gomez that I actually considered moving onto film.
Daniel was working with me as a shooter for some of the content I was producing at the newspaper, but he had a couple of projects he wanted to get off the ground. We collaborated in a couple of his short films and a couple of years later it was my turn to get my projects off the ground.
After working at the times, I moved to the agency side, working for an ad agency that allowed me to create, produce, direct and edit content for Lexus. At Walton Isaacson, I was lucky to have the freedom to work a couple of music shows.
The first one was 'Te Para Tres', created by Pili Montilla and Juan Agustin Marquez. The TV show focused on the life of up-and-coming Latin Alternative artists. They had a successful first season airing in Puerto Rico but wanted to expand their audience. I was introduced to them when they came to the agency looking for a possible partnership and we immediately hit it off. With Lexus' support, Pili and Juan's creative vision and my producing chops, we shot two more seasons winning an Emmy award in the process.
Because of the success of the show, I was given complete freedom to create a second show. A docuseries called Reengineering Popular Music with Raquel Sofia. A music show that took the Grammy Nominated Singer to LA, Chicago, New York, and Miami to learn about the Latin musical roots each city has and Reengineer Latin Music standards for this generation. We released four episodes online and recorded and release four singles to critical acclaim.
As the Director of Digital Content for Walton Isaacson, I had the opportunity to create unique multicultural digital content for international brands like Lexus, Spalding, McDonald's and Wells Fargo.
After a few years on the agency side, making connections and meeting talented people my path was changed when I was let go from the agency. I had started my own production company, Valagardo Productions, producing small projects on my own. My idea was to branch out on my own and focus on creating content for brands and producing films but being a single Father of two teenagers, I was afraid of leaving the security of a stable paycheck. That all changed when they made the decision for me. I was terrified at first, but it truly was a blessing in disguise.
I started working with different agencies, brands, and people. Producing great content with Valagardo Productions. I was able to successfully build my own client list, working and producing content for brands like Korbel, Delta and Hyundai among others and traveling all over the world to do so.
Once I made that change everything started coming together and I know had time for my personal projects. The Mulberry Purple continues writing and recording music for my films and projects. I was able to finally produce and direct one of the shorts I had laying around since I first moved to LA, Blood Stains.
Blood Stains, co-produced by my girlfriend Alexia Madrigal with cinematography from my friend Daniel Gomez, has been kicking ass at festivals and we have gotten amazing response from audiences and judges.
Valagardo Productions keeps growing and I am incredibly lucky that I get to work with my loved ones. I am currently working on finishing the script for my first feature, in pre-production of a documentary focusing on the UTEP Miner Basketball team and producing a few other short film projects.
We'd love to hear more about your art. What do you do and why and what do you hope others will take away from your work?
I always tell my kids that no matter what you do you must do it with a passion, If not maybe you shouldn't be doing it. From a young age, I was always focused on creating my own art. Music, Film, drawing. Music was always number one, but what truly moved me was film.
I was always obsessed with Horror Films, I was watching crazy shit from a very young age, then running to my Mom's room at night because I couldn't sleep. Directing horror movies was always a dream of mine, but one that I didn't really know how to get going.
I am lucky now that I have the ability to finally make that dream a reality, and I am extremely passionate about it. When people talk about horror films you rarely hear anyone mention stories that have a message or social impact. But a truly good horror film does, and while I don't necessarily think all art MUST have a message, I believe that if it truly comes from the heart, if you truly do it with a passion, the message is not so much what the actors are portraying on screen but the simple fact that you made that film a reality is the message. From an idea on a piece of paper to seeing it on a big screen, that is the message, perseverance, drive, making your own path and making your dreams a reality.
I don't know what people take away from my art, and I truly don't think about that when I am writing a song or a scene, but I hope they at least can see the passion and work that takes to make an album or a movie a reality and they use that to drive their own dreams and passions.
I respect all creators, all artists, all musicians that came from nothing. That make their own path, that push and shove to make their dreams a reality. Ultimately what drives me is knowing that what I have created is now out there forever, and even if my work remains obscure or never reaches the masses, someone, someday will be browsing the internet and stumble upon one of my songs or films and say, 'I have no idea who made this, but I get it.'
How can artists connect with other artists?
I think it's important to meet and work with like-minded individuals. I have many talented artists that have inspired me to continue creating my own art. Some of them have become best friends and working with close friends has been an absolute blessing.
I tend to shift towards the 'Lonely Artist' side, but once I stepped out and started connecting with people everything changed. Meeting new faces, talking about other people's projects, listening, watching their work, hearing their stories, supporting their projects opened many doors, as a creative person but also as a business person.
I wasn't much of a networking person, but now I think it's almost as important as the work. Not only because of the potential connections or favors but simply seeing what others are bringing to the table. I have been inspired by young filmmakers, veterans, actors, directors, writers and having the opportunity to work with some of them has made me a better artist.
Do you have any events or exhibitions coming up? Where would one go to see more of your work? How can people support you and your artwork?
You can check out my music on Spotify, iTunes or Amazon or visit themulberrypurple.com.
My latest short film Blood Stains is currently doing the festival rounds but you can learn more here bloodstainsfilm.com.
My work for brands and commercial can be seen at valagardo.com and valagardoproductions.com or check out my site at blakevaz.com.
Contact Info:

Image Credit:
Daniel Gomez, Nicholas Novotny, Renee Cervantes
Getting in touch: VoyageLA is built on recommendations from the community; it's how we uncover hidden gems, so if you know someone who deserves recognition please let us know here.