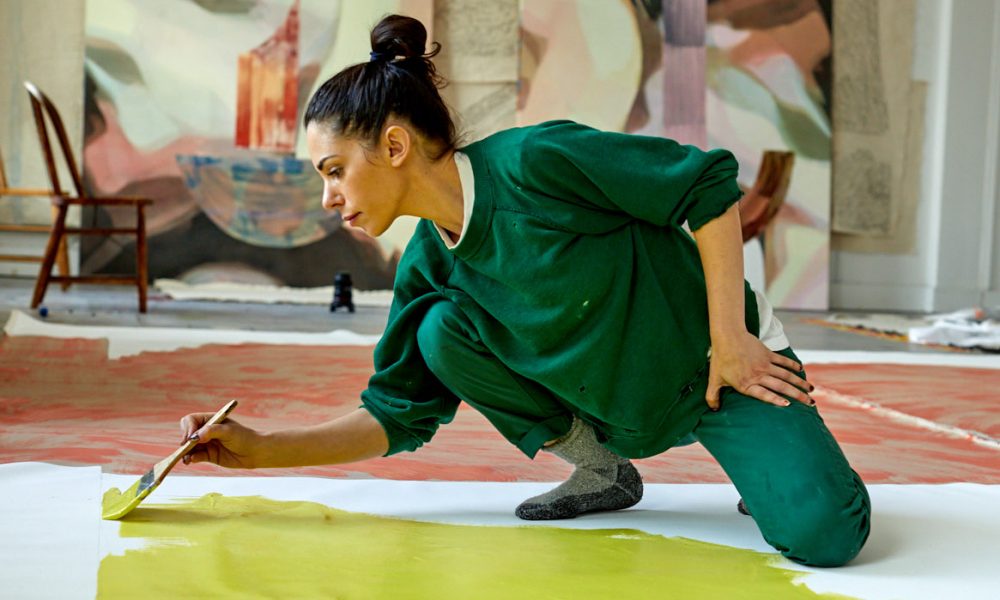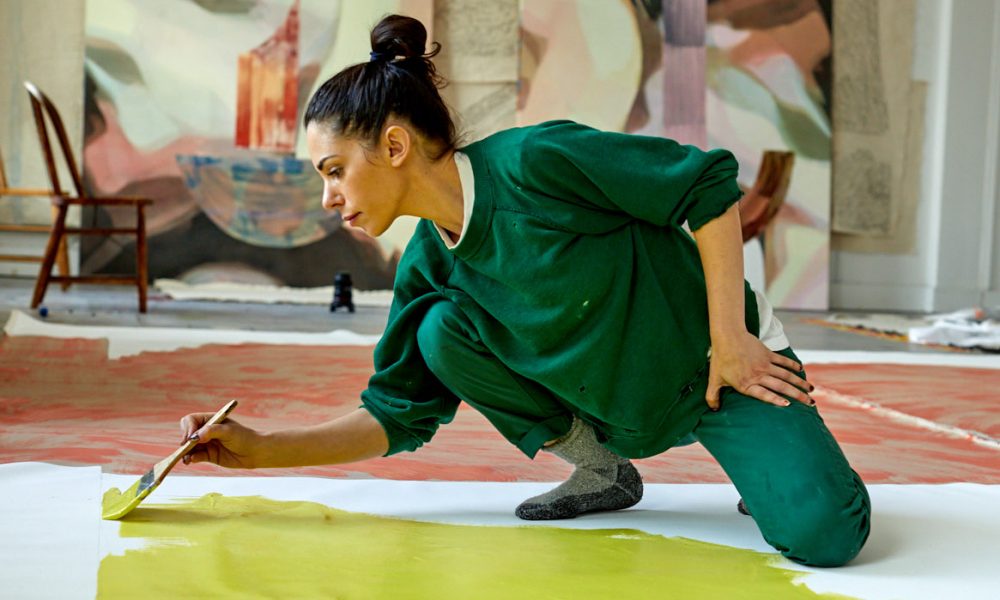 Today we'd like to introduce you to Ali Silverstein.
Ali, we'd love to hear your story and how you got to where you are today both personally and as an artist.
It started with collecting shells on the beach in Hawaii with my dad as a child, organizing them by color and shape. Here in LA, going to the Blue Whale/ Pacific Design Center with my grandma, who was an interior designer for Hollywood celebrities like Lucille Ball, and playing with fabric swatches for hours. In the south of France, my grandfather taught me to paint by copying Fauvist still lives.
I studied comparative religion at Columbia University but concentrated in visual art. I was really lucky and too young to appreciate how amazing it was to hang out with and learn from incredible artists like Kara Walker, Rachel Harrison, Amy Sillman, and Dana Schutz – among others.
The year after graduating from Columbia, I had a studio a few blocks from Chuck Close's in lower Manhattan. We met one day on the sidewalk and started eating lunch together in his studio every day. We'd talk about painting for an hour and then get back to work. That kind of routine companionship and support was a great salvation in a lonely time of life, and in a lonely pursuit like art-making. I painted, watched busy people outside my window, and smoked too many cigarettes.
I went to The Slade School of Art in London for my MFA. My next-door neighbor in the bleak international student housing was a very tall Viking Icelandic artist named Hildur Margretardottir. We did everything together, and I spent nearly every vacation from school in Iceland with her family. We were all depressed and far from home, but we shared a kitchen, where the Thai boy, Greek girl, Brasilian girl, and Hildur and I would discuss how things were in each of our countries. And we'd eat. It was pretty great.
Shortly after The Slade, I produced my first film, which starred Rosamund Pike. I didn't know how to produce a film, but figuring it out was thrilling.
I moved to New Mexico after getting a grant to direct a film there. I wanted to get away from the art world for a while, to have an adventure in the free air of the West. I disappeared. Had a boyfriend who I lived with in Taos. He died in a car accident, and I began filming the aftermath, including taking his ashes around the world. I made a film with an incredible soundtrack of American roots blues songs covered by Icelandic artists.
And now, I'm back where I started, in LA. I'm currently working on a solo show for MoCA Tucson this fall.
We'd love to hear more about your art. What do you do and why and what do you hope others will take away from your work?
I'm an artist who uses the tools of painting, perhaps even the language of painting, but I don't consider myself a painter in the traditional sense. Process-wise, I'm a draw-er and a layer-er. At times, even more like a dancer.
Every time I step into my studio, I force myself to navigate an infinity of options; my studio floor is overflowing with shapes and sizes of cut-up painted canvas. I operate like a mover of found objects, scanning the floor for something I want to relocate. The pieces are all bits of canvas that I have already covered with gesture and marks – sometimes made with brushes, other times with brooms or puddles. Moving them around is a continuous process of arrangement and rearrangement.
One way that I tend to view the painted detritus around me in the studio is as evidence. The painted surfaces are a record of something that has happened, and as I move this evidence around, I realign and build new meanings with it. These new constructs often edge painting into sculpture. They are attached to exposed wooden frames and hung on curtain rods.
In tandem with my painting, I'll often engage in what I call "life projects"; I immerse myself in an activity, and then bring the principals of that activity to my studio to force them into dialogue with the act of painting. During one such "life project," I spent a year working with the highest paid dominatrix in the world.   I would apply the lessons I learned directly to my paintings, rather than to people.
The sterotype of a starving artist scares away many potentially talented artists from pursuing art – any advice or thoughts about how to deal with the financial concerns an aspiring artist might be concerned about?
It's hard. Looking at my friends and the variety of approaches, there's no real "right" answer. I think that art is better if it's not tied to money, so if one can manage to make an income from something else and still make art, I think that might be the best — but it's, of course, tricky to find the time. I think that artists have to do too much these days — self-promotion and networking take valuable time away from working, resting, dreaming, and researching (all really important to make good work!)
Do you have any events or exhibitions coming up? Where would one go to see more of your work? How can people support you and your artwork?
I have a solo show opening at MoCA Tucson this summer that I'm very excited about. It's based on a shipwreck on the west coast of Iceland — less a shipwreck and more a landscape of twisted, rusted metal fragments strewn across a black-pebbled beach. Each time I've been to that beach, I've had the urge to collect the pieces somehow and build them into something new. So last summer, some intrepid friends and I spent five days and nights making rubbings on canvas of each of the pieces. There is so much work to be made from this, and the MoCA Tucson show is Chapter One.
The landscape echoes my studio — a landscape of wreckage, or fragments. In my studio, it's cut-up pieces of paintings; on the beach, it's rusted pieces of an old ship. In either case, I am sorting through the evidence to make a new meaning, and I like the idea that one could continue to do rearrange the parts to make new forms — that there's never a stopping point.
My studio is near downtown LA — come visit!
Please feel free to follow my practice on Instagram @alisilversteinstudio
Share with your friends and reach out if you have any interesting projects!
Contact Info:
Image Credit:
Harry Eelman, Lauren Moore
Getting in touch: VoyageLA is built on recommendations from the community; it's how we uncover hidden gems, so if you know someone who deserves recognition, please let us know here.