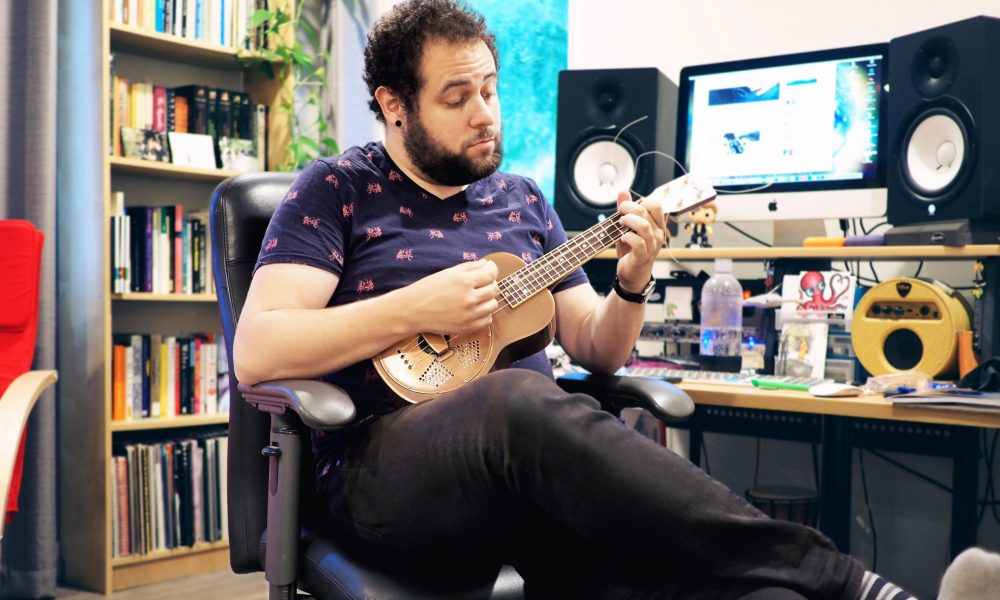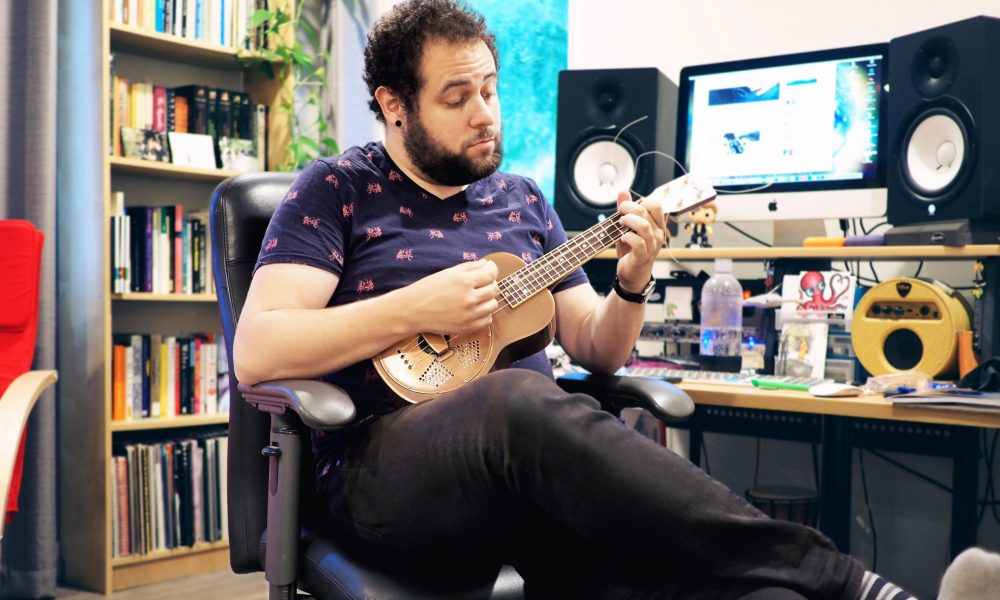 Today we'd like to introduce you to Nick Norton.
Every artist has a unique story. Can you briefly walk us through yours?
Yeah! Though I'd point out that every person, not just every artist, has a unique story. As to mine: I was born in LA and grew up all around Southern California. My mom was in film and TV, so I got used to the entertainment industry lifestyle (back and forth between insane amounts of interesting creative work and unemployment). At some point, she went for something more stable, so I spent adolescence between Ventura County and the west end of Catalina Island. I was always into music and the arts, but think I got serious about it in those years when it was the stable thing. In middle school I got into punk and received some formal musical training in various school bands and choirs, got super political around Bush II and Iraq Round 2, and decided to go to college for music and political philosophy at UCSD, hoping to do something with both. I took a composition class and was immediately sold on being a composer, so ran off to Paris after graduating for "classical" training that I thought I needed, ended up doing a master's at King's College, London, and have been back in LA ever since, with a couple of years in Santa Barbara while I was working on my PhD. Nowadays I find myself doing all kinds of things (playing solo ambient sets, writing pieces for other musicians, producing concerts, running an ensemble, playing in bands, teaching…. the list goes on), but they're all related to composition in one way or another.
Please tell us about your art. What do you do / make / create? How? Why? What's the message or inspiration, what do you hope people take away from it? What should we know about your artwork?
I'm going to start with the why before we get to what. Somewhere along the line—maybe with being a camp counselor on the island—I figured out that I love introducing people to new things. That moment when a person's worldview is expanded by something they've never experienced before is kind of my favorite thing. I have this idea that open minds make the world a happier place to live for all of us. We're not going to convince racists that not all immigrants want to sell us drugs and murder us if we can't convince them to, say, try some new ethnic food first and realize that just because something is outside of their experience, it doesn't mean it's evil. It's not that crazy to think that enough experiences of "whoa, I didn't know music could sound like this"—experiences that people aren't intimidated to try out—might someday add up to "whoa, I should listen when the other side talks." In both directions. You've got to plant seeds to grow trees.
Anyway, with that as my sort of worldview, or mission, I ask myself, "what am I good at that I can use to open minds and thus increase happiness in the world? How can I be most helpful?" I happen to have a lot of experience writing and playing music and producing concerts, so have gotten very into creating musical ways of opening minds. My favorite way of doing that is composing, but my definition of composition is quite a bit broader than drawing dots on lines even though I do spend a lot of time and energy drawing dots on lines.
I consider music to be a phenomenon that happens in the mind of the listener, and that we composers and musicians and producers are merely influencing them to hear things the way we do. There's an old saying among painters that learning to paint is actually learning to see. I think music is actually learning to hear. Everything that goes into a performance or recording has an influence on how the listener might hear the music, so I'm very into including staging suggestions in my sheet music, collaborating with visual artists or writers or filmmakers or production designers, working with venues and promoters and adjusting pieces or songs for different performance or recording situations, leaving a lot of room for interpretation so that different performers can make my pieces work for them, hell, even trying to keep ticket prices down so that more people can hear (and thus complete) the work. That's all part of composing for me.
As to work itself, I try my best to keep my ego out of it and just ask "what does this piece need?" Of course, my personal taste is going to dictate how I answer that question. I try not to place any limits on the types of material I might use, and do often think of genre as just another tool like harmony or rhythm. I'm as happy to write a lovely piece for string orchestra as I am to write ear-splitting drone metal, which can make my work hard to describe in broad strokes. I think counterpoint and synths and multiple time streams and reverb and power chords are all pretty cool. It's a lot easier to describe individual pieces, but it's probably better to just listen.
Do you think conditions are generally improving for artists? What more can cities and communities do to improve conditions for artists?
I think we're living in one of the greatest periods of artistic creation in history, and we don't really understand it yet. The internet has changed everything literally. It's kind of like when better roads combined with a rising mercantile class who had leisure time in Europe to make culture so much more accessible in the mid-to-late 1600s. All of the sudden sheet music written in Italy could be purchased on the quick in Germany, and musicians from Germany could get their music heard in London before they even visited. It's why there's so much awesome art from that time period, and the freer exchange of ideas gave rise to, I don't know, the enlightenment? That seems quite similar to today. Myspace (RIP) and Facebook paved the way for both glitchy meme art and the Arab Spring.
Technology has moved faster than society, and who knows what the results will be, but if you're an artist and you're not stoked to be alive right now when almost anything you can dream up is technically possible, I think you're missing something very very important. What is very encouraging is that it's possible to connect with people who are interested in similar things as you regardless of geography. We all know this, of course, but I try not to take for granted that I have some friends in New York and Seattle and up in the bay who likely would NEVER have heard my work pre-internet, and I probably NEVER would have heard theirs, but since we can and have there's a sort of geographically decentralized scene of collaborators and community members that is really cool, super positive, and does, in fact, make art together and support each other in person whenever possible.
Check out what's coming out on New Amsterdam Records, and slashsound, and people places records, and New Professor Music, and Aerocade Music…there's so much great stuff now that couldn't have happened without these instant connections. There's a flip side of this though that we have to be wary of. While Facebook gave rise to (seemingly) positive democratic revolutions, it also gave rise to the genocide in Myanmar. On a MUCH smaller scale, the market switch to streaming means that income from record sales and downloads basically no longer exists, unless you're a megastar. The wealth gap in our country is matched in music, with the disappearance of a musical middle class of artists and bands who can make enough to support themselves through touring and sales. You're either scraping by or crazy rich. I don't think that's a good situation.
What can we do to help it? I mean, the short answer is to restructure the economy to break from a two-thousand-year feudal tradition that forces people to work for scraps when there's more than enough wealth in our country to give everyone a fifteen-hour work week. Failing that, give artists a place to do their work, and make an effort to come out and support it when the artists you want to support are doing things in public. Go to a gallery showing a visual artist you dig and put your name on their email list. Go see that film that a director you like made instead of waiting for it on streaming. If a venue you like has a bar, buy a drink so they can keep paying the sound engineer. Music venues that give unproven (meaning no proof that they'll draw a large audience) artists a chance is so, so important, and for places like that to thrive you really do have to pay attention to local issues like, for instance, the proposition about rent control in California that just failed to pass. Support businesses that support the arts. Thankfully this is Los Angeles, and we're generally pretty good at that.
What's the best way for someone to check out your work and provide support?
On November 30th this Italian label called Sussidiaria Records is putting out an album by my friend Giacomo Baldelli that has a piece I wrote for him on it called Slow Earth. It's is for a bunch of multi-tracked guitars, and he tells me people in Italy are digging it a lot. That'll be out in the US in late winter or early spring.
Shows pick up in January. On January 12 or 13th the pianists Mark Robson and Vicki Ray are playing a piece I wrote for them based on a Debussy etude at the Villa Aurora. It can be done with as many pianos as the players want, and can technically last for an infinite length of time. Their interpretation of it is really beautiful, so I'm excited to hear them do it again. Then at the end of January, I'll be playing a set at the Phoenix Art Museum as part of the Oh My Ears festival.
In the broader sense, most everything is on my website, nickwritesmusic.com. Check out the piece Blue Hour. That's very recent and has a video from the premiere with dancers from Joffrey Texas who were great. I'd also suggest checking out On Geology, for an idea of what my solo shows have been like lately. I don't actually have much out in the way of records of my own—quite a few with bands, particularly Honest Iago and The Newports—but I'm working on two, at least one of which should be out next year. The easiest way to keep up is to get on my mailing list, which there's a form for on the website. I send out an update with upcoming projects and shows once every few months. And, you know, follow my Facebook and Instagram, all that stuff that sounds so cheap…I do post announce a lot of concerts and new pieces and such that way. Plus, dog pictures.
If people want to support, the flat-out best way to do it is to attend concerts and, if they dig them, tell their friends and invite them along next time. And come to say hi to me. I have a new project/band called Ghost Collective that will be starting up shows in 2019, and I also run a concert series called Equal Sound that will be in a monthly residency at Art Share for first Thursdays starting in February. I don't put any of my own music on Equal Sound shows because it would cause problems with integrity as a concert producer, but I'm very proud of the events we produce. Putting on concerts is a huge part of my artistic practice…so come to an Equal Sound show next year!
Contact Info:

Image Credit:
Kelly McGillicuddy
Lindsey Best (street one)
Rodney DuPlesis (art museum ones)
Getting in touch: VoyageLA is built on recommendations from the community; it's how we uncover hidden gems, so if you know someone who deserves recognition please let us know here.