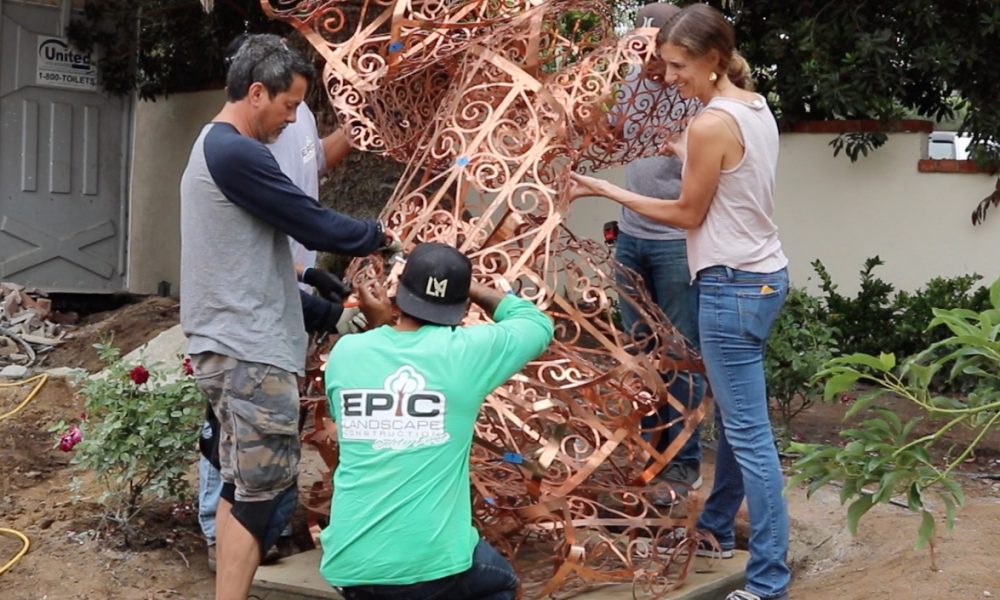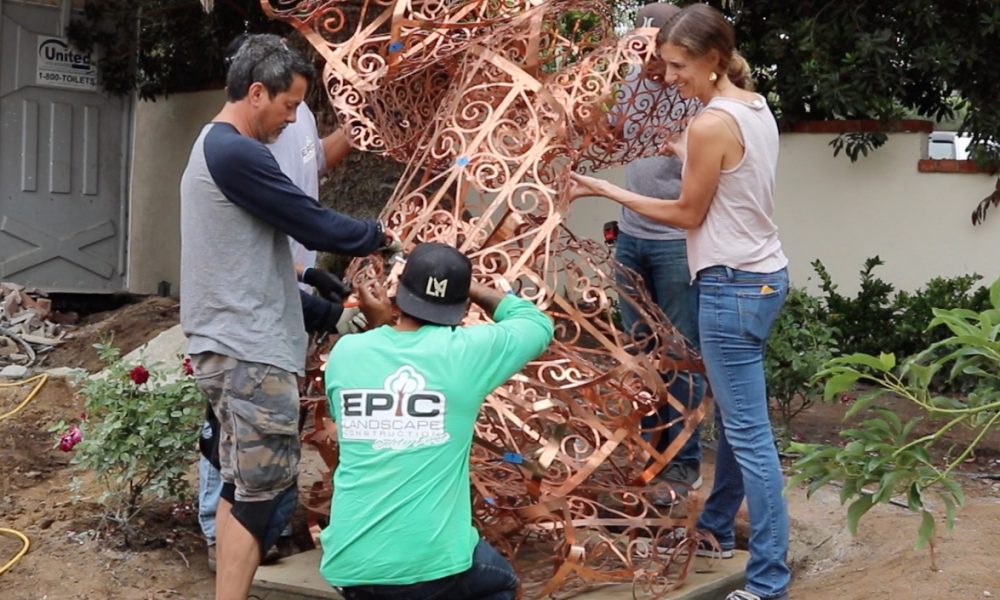 Today we'd like to introduce you to Margaret Griffith.
Margaret, please kick things off for us by telling us about yourself and your journey so far.
I grew up in Winston-Salem, North Carolina. I was exposed to art at a young age as my Great Grandmother, Sallie Curb Arnold, and my Grandmother, Margaret Arnold Griffith were both artists. My grandmother filled her home with her mother's paintings and drawings alongside her own work. Sallie Curb Arnold's paintings are now in the permanent collection at the Smithsonian American Art Museum and the Birmingham Museum of Art in Alabama. As a female artist, it is inspiring to know that her work, made in the late 19th and early 20th century received such recognition-however she stopped making work once she became a preacher's wife and homemaker for over fifty years.
I enjoyed the process of drawing as a child when I served as the subject matter for an arts education class that my mother was taking as part of her M. ED degree. I continued to develop my own interest in visual art by taking classes in school, privately and at the local art center. When I was fifteen, I attended the North Carolina School of the Art's summer arts program in Visual Art and was accepted a year later for their high school program, consisting of courses in drawing, design, sculpture and art history. It was there that I discovered Earthwork artists from the 1960s and 1970s and made my first land artwork by cutting into the ground to create site-specific pieces.
After graduation, I moved to Baltimore to attend The Maryland Institute, College of Art for my BFA. I spent five years between undergraduate school and graduate school as a waitress in Olympic National Park and in a couple administrative positions at Cornish College of the Arts in Seattle and later at The Getty Museum in Los Angeles. I attended an artist residency in between jobs and drove from Seattle to Toronto with a friend trying to figure out what to do next. I ended up in Los Angeles where my sister was living and was hired in the Greek and Roman Antiquities Department at The Getty. While working there for about a year, I put together a portfolio for graduate school and was accepted into the sculpture program at Cranbrook Academy of Art in Michigan where I met my husband, Jamison Carter. Subsequently, we moved back to Los Angeles together, and my first job was working on the Sol LeWitt exhibition at Margo Leavin Gallery, which was a great thrill. I now teach drawing and painting full time at a community college and exhibit my work nationally.
Can you give our readers some background on your art?
The style of my work is large scale, sculptural, and abstract. I create site-specific installations and sculptures that are often suspended from the ceiling or off of the wall. My subject matter is based on iron and steel gate and fence patterns from specific locations that are made to appear ephemeral, permeable and light. I use natural and synthetic paper and sheet metal that is either hand-cut or water jet cut in order to create stylistic effects that are a result of an experimental approach and openness to different materials.
Some of the pieces I make are created to exist in site-specific locations, which reveal a critical relationship between form and place. These nuanced relationships appear in the architectural forms where I live and beyond, finding their way into my work, from the residential wrought iron gates of Los Angeles to the gates surrounding The White House. I think of myself as an urban scavenger, searching for interesting patterns and architectural clues that inform my surroundings and find deeper connections with the sites I inhabit or experience.
My sculptural forms are piled on top of each other on the floor and walls, creating three-dimensional abstractions of pattern, line, shape, and mass, challenging our notions of stability and order. I am using the language of abstraction in my work– removing the function and logic behind gate and fence patterns by presenting them mixed up, out of context, contributing to a visceral and less linear discourse on impermanence.
The concept of impermanence found in Eastern philosophy resonates with me and is a thematic thread in my work. I find additional layers of meaning through metaphorical and antithetical implications in architectural structures. The gate acts as a boundary or barrier while also representing security, peace, fear, and isolation. In 2011, I began photographing residential front gates found in my Los Angeles neighborhood and transforming the images into life-size, hand-cut paper and water-jet cut metal replicas. Having my own gate built and installed, I noticed so many others around me and how they physically and visually divided the community, while representing a false sense of security and permanence. They could also be so personal–some beautiful, gaudy, simple or ornate; others with initials, images of palm trees, horses, etc.
Starting with a photograph, I draw, replicate, cut, bend, attach and rearrange what I have found using water jet cut metal, hand-cut paper and hand-cut foil on paper. The fragility of paper used to represent a chain link or steel gate is important, as well as the rigidity of metal that is then folded, curled and bent into organic and billowy forms. Similarly, paper is thin, delicate, and versatile and has an inherent intimacy. We all have established relationships with paper, whether through drawing, printing, cutting, pasting or writing. Metal, on the other hand, has a distinct association with heaviness, reliability and structural integrity that is challenged through water jet cutting and manipulation.
As we are living in a highly contested and divisive political climate today, my focus also extends beyond my immediate surroundings, using patterns derived from historical and political landmarks as symbolic of privilege and power. 15th, 17th and Pennsylvania is a recent large-scale installation I completed based on the East and West gates of The White House. These symbolic patterns are reshaped as forms drooping and sagging from the ceiling and down to the floor, limping along.
My trajectory continues in the thematic direction of permanence as fiction– the paper and metal forms serve as monuments to fragility and impermanence, while change, instability, prospect, and emptiness flourish in our urban landscape.
In your view, what is the biggest issue artists have to deal with?
We often hear from artists that being an artist can be lonely. Any advice for those looking to connect with other artists?
The loneliness aspect of being an artist is just part of the process. Some artists like to work in a shared studio environment in order to feel less isolated. There are many artist live-work spaces, but with the rising costs of rent in Los Angeles, that presents its own set of challenges. In the past I have shared a studio space with my husband and another artist; however, my studio today is adjacent to my home so that I can be close to my family and have access to my studio at any time. It is more isolating, but with our busy schedules, it works well for my family and me.
For those that are new to Los Angeles and coming right out of graduate school, visiting galleries on a regular basis that exhibit work you are interested in and using social media to network is a great way to meet other artists, curators, and gallerists. Being connected to a local arts alumni association online can be helpful as well especially if you did not go to school in Los Angeles. Additionally, there are so many interesting artist-run spaces currently in Los Angeles such as Monte Vista Projects, Tiger Strikes Asteroid, and Elephant that offer great opportunities to be connected with other artists.
What's the best way for someone to check out your work and provide support?
Current and upcoming 2 person and group exhibitions include:
Cut Up/Cut Out, Museum of Art & Sciences, Daytona Beach, FL December 8 – January 27, 2019
http://www.bedfordgallery.org/exhibitions/traveling
Sculpture: Margaret Griffith and Ann Weber, Jose Drudis-Biada Art Gallery, Mount Saint Mary's University, Los Angeles, CA, January 28-February 21
Borderline, Oxnard College, Oxnard, CA, curated by Cynthia Minet, March 13-April 18, 2019
Transformed: Paper in Dimension, Hunterdon Art Museum, Clinton, NJ, curated by Carol Eckert *May-Sept. 2019
My website is: www.margaretgriffith.com and feel free to contact me via my website.
Small works can be found at:
https://www.curatorialhub.com/
Contact Info:
Website: www.margaretgriffith.com
Email: margaretrgriffith@gmail.com
Instagram: margaretrossgriffith
Facebook: margaret griffith

Image Credit:
Courtesy of the Artist
Getting in touch: VoyageLA is built on recommendations from the community; it's how we uncover hidden gems, so if you know someone who deserves recognition please let us know here.