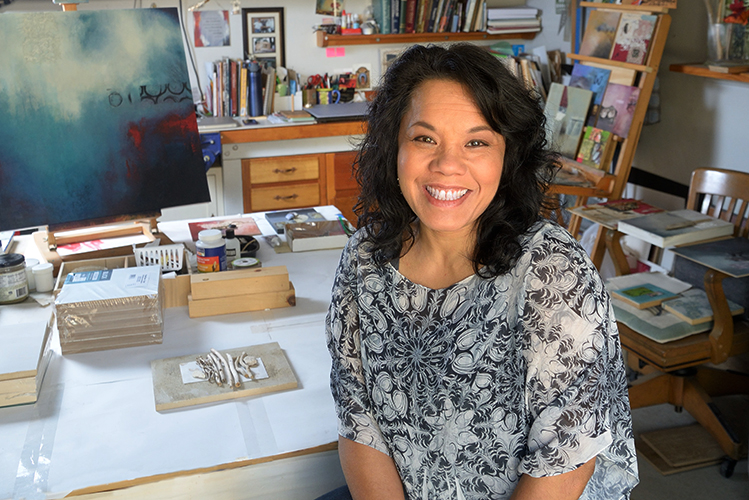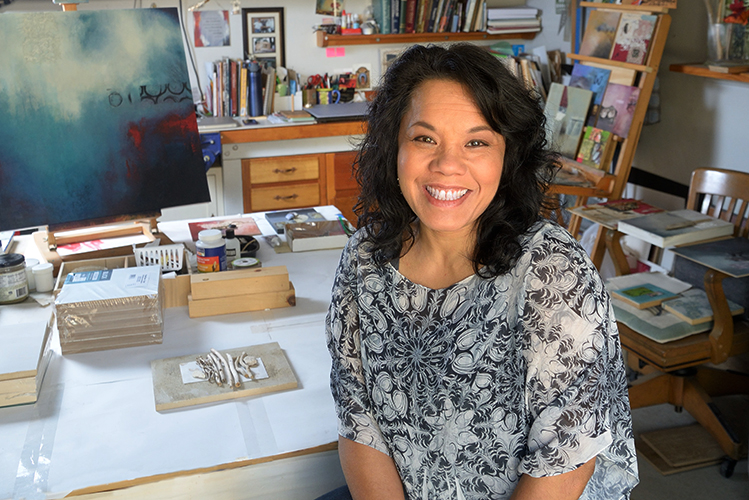 Today we'd like to introduce you to Lisa Agaran.
Lisa, please kick things off for us by telling us about yourself and your journey so far.
A little about my journey, as long as I can remember, I've always had a creative streak. From handmaking dollhouses out of shoe boxes as a kid, to dance, writing, photography, graphic design and painting as an adult. It was as if I was born with an inherent drive towards creating.
With dreams of becoming an artist, I had a passion for creating realist oil paintings as a young adult. However, young and naïve, I was easily swayed to take the practical road, so I decided to become a graphic designer instead. I attended one of the pedigrees of art schools, Art Center College of Design in Pasadena. Most of my creative energy was focused on becoming a designer. Although I gained valuable skills, learned the importance of discipline and how to productively focus my creativity, I lost the sense of play. It would be 18 years before I would pick up the brush to paint again.
After graduating I entered the corporate arena as a graphic designer where I worked with clients like Toyota, Nestle, Disney and Citibank to name a few. However, over time graphic design became methodical and was mostly about the objective of the project. Ultimately, it stopped feeding my creative spirit. I found myself hungering for a deeper connection…a deeper meaning to what I was creating.
As an attempt to find a more meaningful path, I return to school to study a lifelong interest…psychology. I always had a fascination with the creative process and the creative personality. I eventually became a Licensed Therapist and Creativity Coach in private practice. Because of my creative background I worked with artists, musicians and creative professionals. I helped them be more productive in their creative process so they could reach their creative potential. The ironic thing was I had become what Julia Cameron refers to in The Artist Way as the "Shadow Artist." In other words, I encouraged my clients to embrace their full creative potential, yet I wasn't doing it myself.
One year I was faced with one of life's most difficult challenges…losing a parent to cancer. This became a turning point for me in terms of my own creative life. I was faced with the harsh reality that life doesn't always play out the way we planned it. The loss caused me to reflect upon my life and where I was going. I was forced to gaze into the eyes of a lifelong dream to be an artist. The decision to hang up my hat as a therapist and to pursue my art career was a scary and challenging one, but one that I could no longer ignore. I realized, the importance of choosing to spend the rest of my life doing what I was meant to do, doing what I loved…creating art.
Can you give our readers some background on your art?
I originally started out as a realist oil painter and although I loved painting in oils, I came to a place where a part of me was eager for something more spontaneous, intuitive and playful. This is when I discovered mixed media.
Mixed media allows for mistakes, it provides the space for experimenting so that alchemy can emerge. You have the freedom to paint over, remove, add and change your artwork as it evolves. Mixed media art is an encapsulation of the actual creative process. I fell in love with the organic quality of it as it dictates the direction "it" wants to go without a plan or preconceived idea. This is why Mixed Media is the primary medium I work in.
My body of work unfolded during a time when old definitions, used to define myself, began to deconstruct. Forced to surrender to uncertainty and the unknown, I immersed myself in the creative process. It became the steady ground anchoring me, eventually leading back to my true self. Like for many artists, it became an avenue to evolve and integrate oneself towards wholeness. Through the emerging of intuitive story, my art is a vehicle in which I discover meaning and deeper understanding of myself and the world.
Similar to an approach I once used in art therapy, my process is spontaneous and often intuitive. Forms, themes and textures organically emerge, guiding the next step in the process and so on. I find this mindful path an opportunity to surrender to the moment, without a predetermined plan. Through a blend of different acrylic mediums, my original photography, collage and found objects, I channel and transform the subconscious into art.
Similar to the Wabi Sabi philosophy that beauty is found imperfect, I am often fascinated by the sense of aging revealed in textures found in natural stones and weathered surfaces. I strive to recreate this unrefined, quality in my pieces. Many of my pieces resemble what Andrew Juniper stated in his book Wabi Sabi: The Japanese Art of Impermanence, "If an object or expression can bring about, within us, a sense of serene melancholy and a spiritual longing, then that object could be said to be wabi-sabi."
One of the most marked characteristics in my work is the mysterious, ethereal dream like feel of the imagery. When we dream, our subconscious creates scripts as an avenue to uncover meaning, clarity and resolution to us awaken life. In the same way, I strive to produce work that invites the viewer to cultivate his or her own individual experience by projecting their own interpretations onto the piece.
What would you recommend to an artist new to the city, or to art, in terms of meeting and connecting with other artists and creatives?
Although I am quite content working alone in my studio, too much time alone can often feel lonely. This is one of the reasons that lead me to begin teaching. It not only allowed me the opportunity to share my knowledge & art experience with others, it placed me around other creative individuals. I have found teaching to be extremely rewarding on so many levels. However, most importantly because I am interacting on a creative level, I am often inspired by what others are creating as well as by the exchange of ideas and experiences amongst other artists. I can honestly say that teaching has helped me to accelerate and grow tremendously when it comes to my own artistic skills. When you're around other artists, whether that be students or professional artists, it forces you to view ideas and possibilities from different perspectives. Sometimes viewpoints that you would've never thought of if you were working alone in your studio.
What's the best way for someone to check out your work and provide support?
My artwork can be viewed and purchased on my website at ArtbyLisaAgaran.com
Contact Info:

Image Credit:
Main Photo: Mark Bloom Photography
Lisa Agaran
Getting in touch: VoyageLA is built on recommendations from the community; it's how we uncover hidden gems, so if you know someone who deserves recognition please let us know here.