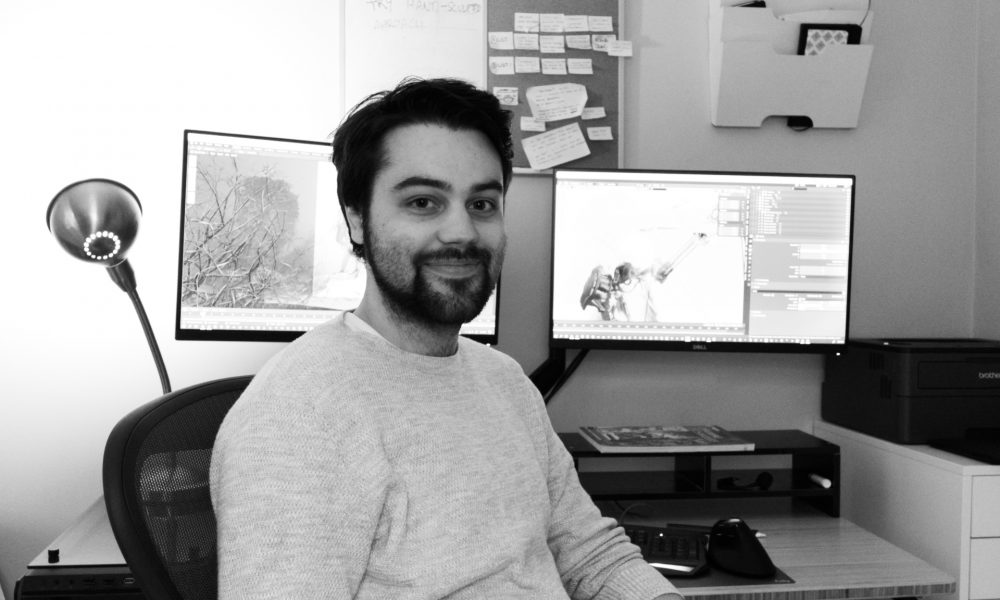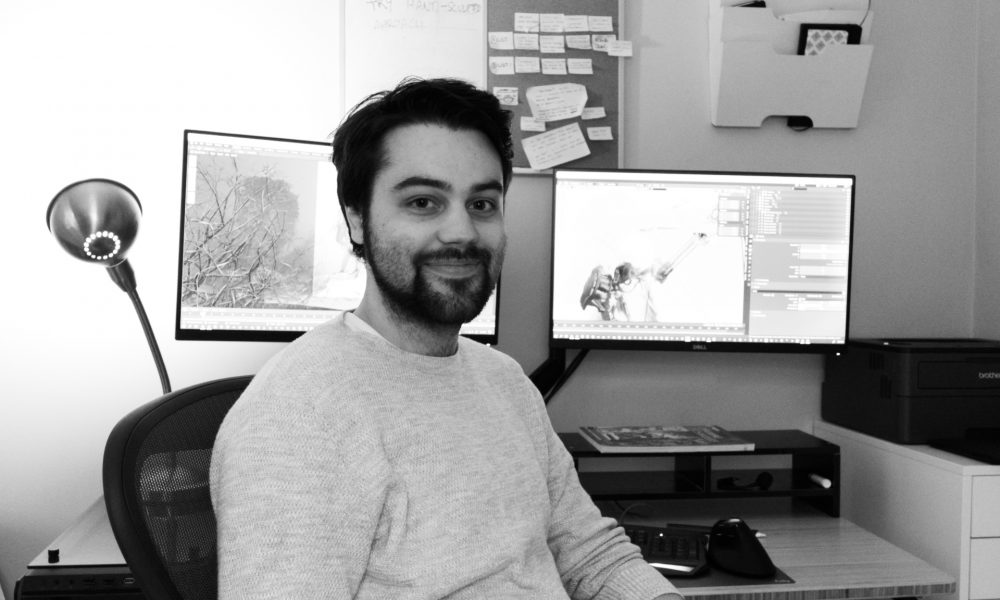 Today we'd like to introduce you to Efflam Mercier.
Efflam, please kick things off for us by telling us about yourself and your journey so far.
If you asked me what my story was, just four years ago, it would have been different. I would have told you about growing up in the countryside of Brittany, France, said you how I started making art with 3D software. Instead, I want to fast forward to a transformative moment; Arriving in America. Amongst French artists, there's this weird mythology as if LA is the kiln in which careers are forged, a macho-crusade from which you return covered in gold.
The myth hit the brick wall of reality pretty fast as I discovered the ugliness of the city I had just moved in; Every inch of concrete is a battle of which the greatest loser is public ownership. Most of the places where you can hang out conveniently happen also to be temples of consumerism. I found an apartment, "We charge a double security deposit for immigrants, regardless of what the rent control board says," said the landlord. I'm pretty sure this is illegal, but they knew I didn't have plenty of choices.
Work was ugly too. The campus was every nerd's wet dream and the pay was good, but no coat of paint could hide it: This place is built on a lie. Once the corporate Kool-Aid I had been drinking wore off, It became pretty clear what was going on. The company kept trying to put out an image of humble beginnings (I.e.: starting in a garage), but It was clear that the founders are spoiled sons of oligarchs, who were given millions in seed funding as an allowance from daddy. With a sense of entitlement to riches also comes a sense of entitlement to women's bodies, the place reeks of horror stories of sexual harassment. It suddenly hit me that every female coworker on my team had their own story.
Disillusioned is a mild way to put it, the pigments on the gigantic American flag covering up the oil refinery down the street were faded. Embers flew in my eyes as I biked back from work, the deep sky red. Should I wear ski goggles next time there are wildfires? I went back home and read the latest IPCC report on climate. It's bad, real bad. A week later, Riot Games partnered with Shell Oil, because that's a relevant brand for young gamers, they thought. I was broken, disgusted by all that I had seen, I hadn't painted a thing in months.
How come people still partner with oil companies? Does the guy who signed the deal understand what kind of demons he's empowering? I need to paint those demons, show them to the world for what they are. I need to paint the world itself, showing what happens if we let them spill all over our beautiful Earth. And lastly, I need to paint fighters, healers, powerful social movements, and Mrs. everyone caught in a climate WWIII.
Can you give our readers some background on your art?
I make digital art, usually paintings using a graphic tablet, but sometimes they are also computer graphics sculptures that I light and render in a virtual environment. Snow can stick to surfaces up to 30 degrees. I tell the computer that this is true via a nodal interface, and it shows me what it looks like. Sometimes I'm drawing such weird stuff that there's no reference guide on it, so I have to guess what a giant space-cat made of jelly would look like. I also work in oil, acrylic, gouache, especially for Plein-air paintings.
All of my art before 2018 is made either out of pure enjoyment or doing something safe until I could get a job. That's all fun and games, but we're in a climate emergency now. Artists have huge power, especially if you know how to craft stories or gameplay mechanics. I feel there's a sense of responsibility. We could do much better. I could do much better.
With these paintings, I'm attempting to revoke the social license of oil companies, their CEOs, their enablers. I paint an elder (which is you and me but in the future) struggling to explain to their smog-born grand-kid what a blue sky looked like before the sulfuric acid geoengineering scattered the sun away from the sky. I paint these situations to warn people; this civilization is deep outside the bounds of what the planet can handle, and it's not something we're going to fix with technology. The physics of net energy doesn't care about a politician's promises of economic growth. The fossil party is over and it's time for social movements to take control of the capitalist machine and figure out the most humane way to put it down. In times of crisis, growth obsession will reveal itself to everyone as an absurdity, that's the opportunity we have: The cracks are showing and this is when we can plant the seeds. Whether you call it a revolution, the resistance doesn't matter. It is simply the refusal, "no!" to be a willing participant of this suicide economy, a deep longing desire to build a world that can afford to slow down, care for each other, and ask "why?" more often.
What responsibility, if any, do you think artists have to use their art to help alleviate problems faced by others? Has your art been affected by issues you've concerned about?
What hasn't changed for artists is that power can sponsor cultural expressions that conveniently do not question that power. If you're invited to participate in an art exhibition for the world bank, you can't talk about degrowth. If your art is bought by the wealthy as a form of tax evasion, you know you can't write "compost the rich" on your canvas. It's not old-school censorship, it's self censorship 2.0; the more you appear friendly and don't ask too many spicy questions, the more chances you have to be part of this ecosystem. Fine Artists have almost become modern court jesters, sugar coating the public anger into digestible funny bites for the king, a sort of cathartic release to prevent the peasants from storming the castle.
The amazing new tools at artist's disposal (2D,3D Animation, games) might look like they can change this top-down problem, with open-source lowering the barrier of entry, platforms to publish independent games, etc. All over the world, successful artists from fairly diverse backgrounds finally see their works picked up by a Kickstarter and elevated to a beautiful entertainment product. If this is happening, why are we not seeing more TV series and games that tell the emotional truth about climate change? Not the sugar-coated "we are all universally responsible, we are all in this together, we must do better, and in the end, technology will save us," but the raw "This is the ugliest cover-up in history, the oil companies knew, and the innocents will suffer the most. Keep it in the ground, shut it all down and prepare equitably for the storm".
 Perhaps these pieces of art exist out there, perhaps you've seen it, it's short films in a niche festival, a 24h game-jam project, climate fiction published in an obscure political ecology magazine. Where are the blockbusters? Can we tell honest stories about climate change that make the youth feel empowered instead of suicidal? What if eco-anxiety isn't just caused by the latest environmental catastrophe, but by the merchants of doubt, the corporation's PR apparatus telling us that there is no crisis? What if defeating the physical manifestation of oil giants in a video-game was a cathartic experience?
I view the role of the artist, or at least my role in this mess, as a question mark, a search for these emotional truths, with art as a medium to communicate my findings. Bonus points if I can support other artists in their quest for honesty.
As things get dire enough, calls for mass civil disobedience, sabotage, worldwide strikes will become an emotional truth. What sounds unrealistic, radical, or hysterical at one point in time can quickly shift to sounding like the wisest decision possible, what we should have done. When the time for these emotional truths comes, as Toni Cade Bambara would explain in eleven elegant words, "The role of the artist is to make the revolution irresistible."
What's the best way for someone to check out your work and provide support?
My main website is www.efflammercier.com, where you can find most of my art, contact info, plus essays and short stories. If you're an artist wanting to do something about the climate crisis, scientists wanting to partner with artists, programmers with dreams of making climate games, check out the Facebook group "Artists vs. Extinction." We also have a Discord server (https://discordapp.com/invite/mePNd6E) If you're a representative trying to engage with local communities on what it means to build resilience to climate collapse, hit me up! I'd love to help.
Contact Info:

Image Credit:
Efflam Mercier
Suggest a story:VoyageLA is built on recommendations from the community; it's how we uncover hidden gems, so if you or someone you know deserves recognition please let us know here.