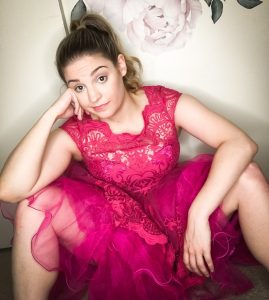 Today we'd like to introduce you to Anna Miles.
Alright, so thank you so much for sharing your story and insight with our readers. To kick things off, can you tell us a bit about how you got started?
Let's get the boring stuff out of the way first: Born: California, the middle part. College: Chicago (BA in Creative Writing and Theater from Northwestern University). Grad School: Providence, RI (MFA from Brown University/Trinity Repertory Company's Programs in Acting and Directing). Now: Back to California, this time the Southern part.
I spent most of that journey pursuing a career in acting, and I've been very lucky to have been able to make a living as a performer throughout my adult years thus far. But while I'm not giving up acting completely, I'm now in the process of shifting my focus primarily to directing – a passion I've always had, but which I didn't fully embrace until 2017 when I directed a production of Daddy Long Legs: The Musical in Studio City, and realized that not only was I most fully myself when behind the table, but that there, I also had a lot more to offer the theater – and the world.
Every artist, and, in particular, every theater artist, is by nature some sort of storyteller. That's what I fell in love with from the beginning: telling vital stories in the most vital way possible. But when you're young and interested in pursuing theater, performing is really one of the only avenues open to you. There are countless youth theaters and regional theaters handing out acting roles to young people, but not a lot of theaters are willing to hand a thirteen years old something to direct (not a lot of theaters are willing to hand an experienced and educated thirty years old woman something to direct either, but that's a tangent for another day). Add to that the extreme adrenaline and dopamine rushes that come from being onstage, and it's easy to build an early belief that acting is your true passion – when really, it's all you've been exposed to. That, at least, has been my experience: my passion for storytelling is expansive. It's global, it's mythological, it's macro and microcosmic all at once. I wanted to revolutionize the ways in which we tell the stories we've all fallen in love with – I wanted to experiment, to create immersive and inventive experiences.
The way storytelling unfolded in my head no longer matched what I was able to do as an actor – I wanted to step back and craft the bigger picture rather than playing my smaller role within it. By now, I've directed many more plays (including A Sad Tale's Best for Winter, my self-written feminist adaptation of Shakespeare's The Winter's Tale, workshopped with Noise Now at A Noise Within Theatre), several storytelling and cabaret events, some film and some multimedia projects (including the interactive Instagram Art Installation Piece, #NeverAlone, featured in the AV Club – you can experience it for yourself by following @cassandra_clemm on Instagram!). I've founded an LA-based feminist artist collective/theater company called Beating of Wings (beatingofwingscollective.com) – a step toward my ultimate life goal of becoming the Artistic Director of an innovative arts organization, but more importantly, a step toward my ultimate goal of reshaping the industry to be a more equitable, accessible, and respectful space for all artists and people. Now, I'm continuing my journey to hone my artistic voice and values: an ever-changing journey, as demonstrated by its alteration during this pandemic.
Can you talk to us a bit about the challenges and lessons you've learned along the way. Looking back would you say it's been easy or smooth in retrospect?
I would be deeply fascinated to hear from the artist who hasn't had a bumpy road, lol. I would say my struggles have been common but very impactful ones. The truth is, the entertainment industry (and particularly the theater industry, since that's what I have the most personal experience with) is an extremely toxic space. From your very first gig or from the very first day you step into acting class, you're conditioned that to be an actor means to accept poor and often inhumane treatment. It means giving up all of your time, all of your life, and erasing all of your boundaries in order to perform the way someone else wants you to. It means accepting little to no pay, it means never admitting you're uncomfortable wearing a certain costume or kissing a certain person because you should be grateful you were given a part to begin with. It means letting agents and casting directors tell you that you need to lose twenty pounds before you'll be considered for jobs.
It means directors and acting teachers making you cry and encouraging harm in order to make something seem more "real." It means early morning cattle calls and staying silent and doing what you're told. It means that all of these things are exacerbated if you're a marginalized person. It means a willingness to suspend your own dignity, to put your self-worth on hold: because speaking up and asserting yourself, we're taught (and often, we experience in real life), will get you fired. They'll give the job to the next person waiting in line, and we can't forget that there is always a next person waiting in line, who is our fellow artist but who we're conditioned to see as our enemy. And we're trained that this is the way it is, the way it must and always will be: but of course, deep down, or even at our surface, we all know that this isn't true. We all know that there's a better, more equitable way. We all know that we deserve so much better and that we are worth so much better. We all know that systems of abuse don't need to be perpetuated. It's just been going on for so long, it's hard to actually imagine how.
So these are the struggles I faced when I was seven years old and just starting out, and which I still face now – and my struggles aren't even close to those of people who have less privilege than I do. I don't really subscribe to the idea that our struggles make us stronger and are therefore necessary or the idea that artists must suffer in order to make good art: I think artists would still be pretty incredible even if they were treated as human beings throughout their entire lives. But, my experiences with these struggles have shaped me and have made me the artist I am today: they made me a revolutionary. They made me want to have a greater impact with what I make. My sophomore year of college, a group of us who were fed up and exhausted with the dehumanizing audition processes and tired of falling through the institutional cracks got together to put on a small, scrappy production of Sarah Kane's 4.48 Psychosis in a classroom. We weren't being given a stage or a voice, so we made one for ourselves. We refused to be forgotten. We refused to be invisible. That experience and that production, led by one of my best friends, launched my journey to create bold self-produced work and began my belief in the astounding power of a community of committed artists; and for that, I admit I feel grateful.
Appreciate you sharing that. What else should we know about what you do?
I would say the mission and value statements of my artist collective, Beating of Wings, pretty much sum up my own personal mission and value statements as well: that is, I'm committed to building a community and creating art which supports women and other underrepresented artists in their journeys to create, develop, and produce vital, socially conscious work. I celebrate and strive to create art that brings forth those voices that have been forgotten, forbidden, and suppressed and which presents unique interpretations of the world that are fresh, new, and necessary. I prize innovative storytelling and approach my work with a true collaborative spirit. While my mission and much of my work and language emphasize women as a primary focus, my work and our collective is for every person, female or otherwise, who has ever felt silenced, in the arts or in life.
​In terms of content, my personal work deals primarily with the idea of myths and modern myth-making: throughout time, myths have been the vehicles through which human beings have understood the world around them. Myths of all kinds, whether they be literal, like the Greek myths, or social, like gender norms and beauty standards, have served their purposes, which have been both useful and damaging. The problem comes when we hang on to the damaging and aging myths which no longer serve us. My work is concerned with building new myths to help us enter in a new age and with rewriting the old myths to become new ones. Because of this, I focus a lot on adaptation: the first full-length play I ever wrote was a feminist retelling of the Hades/Persephone myth, turning a myth about rape and grief into a tale of female power and sexual awakening. Since then, I've written many other feminist adaptations, including a rewrite of Shakespeare's The Winter's Tale and the Phaidra/Hippolytus myth.
My work aims to flesh out ancient archetypes, to simultaneously demonstrate the persistent relevance of these archetypes and their inabilities to full represent complex human experiences. I pretty much exclusively make work about women, and particularly about young women and teenage girls – I'm passionate about lending validity to their stories, as they're so often dismissed as frivolous. I'm also very interested in immersive and site specific experiences: if I could find the spaces, everything I produced and directed would be site specific. I love the idea of the venue and the space contributing to the storytelling, of the form fitting the content. Someday I'll scrape up the funding to do an immersive overnight experience cult play set on a remote farm, but until then, I'll continue setting up experiences in my friends' houses and making site specific online experiences, like #NeverAlone. And while I mostly love and do live theater, this pandemic has allowed me the opportunity to branch out into online and film work – again, you can follow @cassandra_clemm for some true online insanity (wink).
The crisis has affected us all in different ways. How has it affected you and any important lessons or epiphanies you can share with us?
I've learned that I'm much happier when I don't have to constantly be dragging myself to auditions, lol. In that vein, I would say that I hope this dramatic pause in the live arts industry forces us to reexamine together the parts of our industry that are toxic and destructive so that we don't try to just "get back to normal" at the end of this, but rather use this as an opportunity to rebuild and be better. But other than that, I would say the pandemic has solidified my belief that art and artists must always be adaptable and must always seek to innovate the ways in which we tell stories and share work to fit whatever specific times and circumstances we're operating under. It solidified my commitment to the classic question, "why this piece now?" Why do we need this particular video of this particular musical theater song or this Shakespeare monologue now, when people are dying and the world is unrecognizable? It's important for artists to ask these questions and to be responsible about the content we're putting out and why- and it's important "now more than ever." I've also learned I'm pretty decent at film editing lol.
Contact Info:
Email: Annajunemiles16@gmail.com
Website: https://www.annajunemiles.com/
Instagram: @annajunebug16, @beatingofwingsco, @cassandra_clemm, @that.boho.bitch

Image Credits:
Alaura Hernandez Chassey Bennett Chris Meissner Scott Ray Max Herzfeld
Suggest a Story:
 VoyageLA is built on recommendations from the community; it's how we uncover hidden gems, so if you or someone you know deserves recognition please let us know 
here.