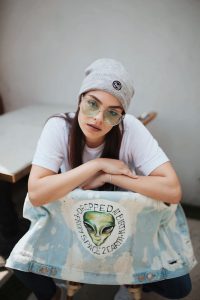 Today we'd like to introduce you to Nadya Lambreva.
Hi Nadya, thanks for joining us today. We'd love for you to start by introducing yourself.
Every life path is unique and special. I believe in the importance of being appreciative of your journey and I really like mine. Sometimes it feels as if I've experienced a few different lifetimes and I am barely at the middle of the path. I am thrilled to see what is coming for me in 2021, as well as what's in store for the world as a whole. Starting my life journey in Bulgaria and living in different places like Dubai, Istanbul, Thailand, China, Texas and now Los Angeles shaped my vision and I feel like all the steps up until now have been preparing me for this new stage of my personal and professional growth. Working for many years in the fashion industry, I used to suppress in some ways my true expression which has always been art and creative thinking. I started my real self-discovery journey when I moved to Los Angeles and the biggest surprise was that I am a total nerd. When I was a model, I used to hide certain parts of myself, now I am fully embracing the most authentic version of me. As a former journalist and TV host, I learned that having your own voice is one of the most important things you can do for yourself and the world. You were not born to copy others, but to be the unique being you already are.

And as an artist, I learned that imagination is actually the voice of your soul, revealing all the possibilities you have in this reality. On a more personal note, after living pretty much as a nomad for many years, traveling the world and exploring my opportunities, three years ago I landed in Texas. A place that was very far from my soul but taught me some of the hardest lessons. While I was there, I did feel like a misfit and an alien, probably because of my nontraditional background and my eastern European accent. I spent a lot of time by myself and in the company of my art. Coming to LA last year on my own with a one-way ticket, only two suitcases and not much to lose was actually one of the boldest moves in my life. It opened a door of possibilities wider than my expectations. Only three months after I started my new life in California, the appearance of a global pandemic shocked the world. By myself and against all odds, I managed to heal from a devastating experience which pushed me to move here and on top of that, created a beautiful life full of passion for what I do. I am a believer that we are capable of overcoming even the biggest obstacles and the strength of our spirit is unbreakable, especially if we set our minds on things that light up our hearts. What lights mine the most is the thought that I can contribute as an artist to this big shift that our world is undergoing and to be of service in one way or another.
Would you say it's been a smooth road, and if not what are some of the biggest challenges you've faced along the way?
I don't think that the expression ''smooth road'' should be in the vocabulary of anybody who is pursuing a creative path, anybody non-traditional or just wanting to get out of their comfort zone and live a life of passion. It has definitely been challenging to pursue my dreams, but it's worth every struggle, sleepless night and every bump along the way. As mentioned earlier, it's been hard for me to fit in the different environments I've been in because of my unusual view of the world and my desire to question the reality around me. But that's also precisely what pushed me to my creative path and gave me the tools to be able to see more of the world.
Thanks for sharing that. So, maybe next you can tell us a bit more about your work?
My work is centered around wearable art and accessories, as well as acrylic art pieces that are very symbolic, celebrate the Devine and address some of society's issues. When I create my commissions, I take into consideration everything that's important to my customer like symbols that are close to their heart. I combine them in a unique way that represents their personality. I enjoy seeing my art walking along with the person who decided to bring the idea to life. I love seeing my art used as a tool to showcase the person's unique expression in the world. Besides that, I also work for a very successful family-run office and I am very grateful to have learned a lot about business, which contributes to the growth of the logical and practical side of me. Working alongside with young and driven alternative thinkers has been a very exciting journey! When it comes to what I am most proud of, it's the little moments when someone purchases my art.
Also, one of the happiest events in my creative career is a fashion show in Texas during which I presented my clothing line side by side with amazing designers from all over the world. Another exciting moment happened this year when my art took part of the biggest online art auction worldwide, supporting front liners and victims of the COVID-19 pandemic. I believe that we can use art and creative minds to raise awareness during these unusual times and I am proud to be taking part in such initiatives. When it comes to what sets me apart from others, it probably is my burning curiosity which is one of the things that are quite non-traditional about me. It's also what pushed me to constantly get out of my comfort zone since I was a little girl. What's different in my process and other artists can relate is that through art, I am able to create another reality and sink in a different world of my own. This has helped me tremendously through difficult times when most people would normally break under the pressure.
How do you define success?
The definition of success is very personal and up to every individual. We are taught by society that success means a fancy car, big house and money in the bank. But I believe that each person should find out what success means to them personally. A successful life in my understanding, is to look back and know that you were brave enough to follow what sets your soul on fire. It's the knowing that you're living a life of wonder and adventure. But most importantly, success is being a good and kind human being, being loved and to know what it is to feel unconditional love with your whole heart and soul.
Contact Info:
Email: nadya.lambreva@gmail.com
Instagram: @hopelamber

Image Credits:
Joseph McMillan
Suggest a Story:
 VoyageLA is built on recommendations from the community; it's how we uncover hidden gems, so if you or someone you know deserves recognition please let us know 
here.