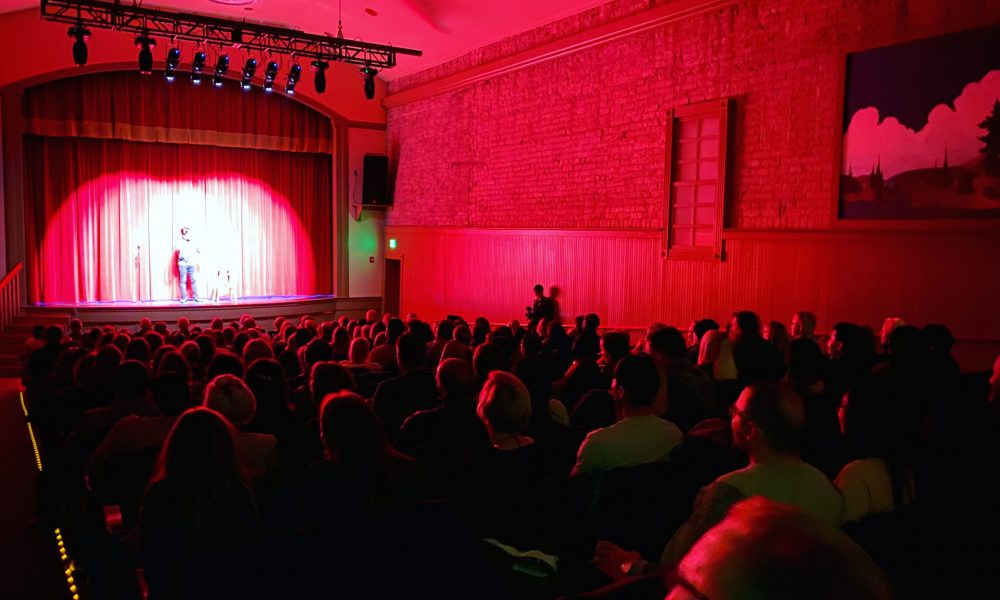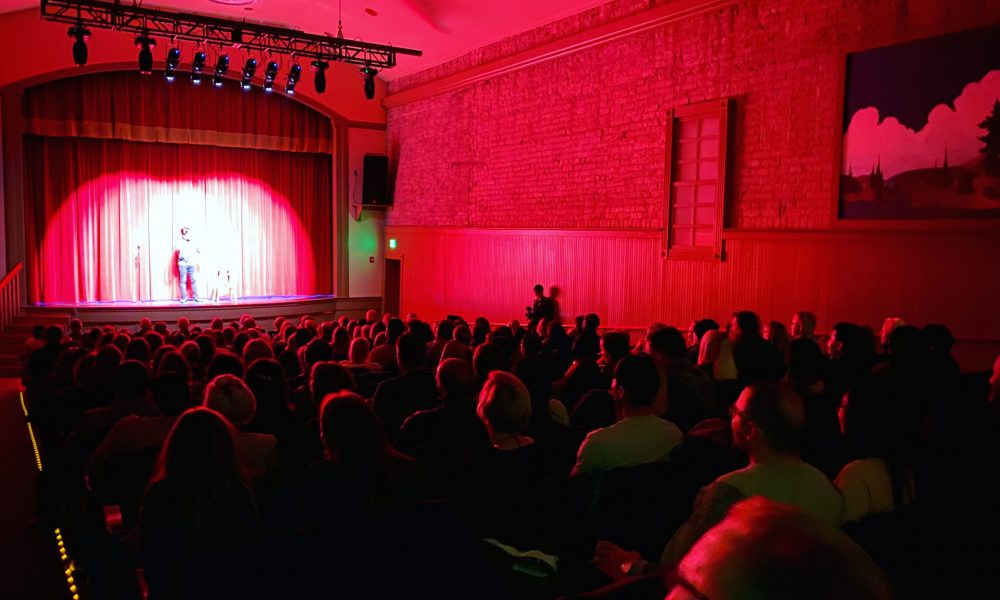 Today we'd like to introduce you to Val Douroux.
Val, let's start with your story. We'd love to hear how you got started and how the journey has been so far.
Life started as a f#cked journey, but the older I get, the better it gets!
I was born into a bi-racial family with a mad black dad, a stressed Italian mom, a brother who blew his middle-finger off with a firecracker, and a sister too shy to ask for ketchup from McDonald's.
We had "things". On the surface, our family looked "well", but behind closed doors, our home was chaos. My dad whipped us with a belt over silly things like touching the wall, and would call our mom a "mille mouth b*tch". My mom would throw dishes across the room and call our dad a n*gger (with a hard emphasis on the "GER")! Apart from their psycho antics, I had an older brother and sister sticking ice cubes down my diapers, stealing my pop-tarts, and duct taping me a chair while they were "babysitting". I never looked up to these people, but I looked up to entertainment.
I love to entertain and I love to be entertained.
I developed all my feelings from TV, movies, books, magazines, and music. My girlfriends and I would shake our little butts and choreograph dances on trampolines. My sister and I would take my Grandpa's recorder and make radio shows with commercials. Entertainment sparked all the joy, excitement, and inspiration in my life.
When I was 8, my family moved from Southern California to Salt Lake City, Utah. It was a total culture shock. All the churches, houses, and people looked the same: Pale skin, blonde hair, blue eyes, like Children of the Corn. The first day of school, I was told: "You're going to hell because you're not a Mormon." I said, "That's fine. At least hell is warmer than Utah."
Utah was hell.
A cold, albino, Mormon hell and I was forced to live in it. I seriously questioned my parent's judgement: Why would we move from sunny southern California with donuts and Disneyland to freezing "freaking" Utah?!
The more I lived in Utah – the more I despised Mormons. I hated everything they represented from their 3.5% alcohol laws, to their ghost town Sundays, to missionaries knocking on our door, to friends inviting me to church, to going to church and hearing every child sound like they were brainwashed in their testimonies. I hated Mormons.
The dominating Mormon influence of Utah made me want to live a life exactly the opposite. I drank, I smoked weed, I ate mushrooms over 50 times, and became woke AF (in my little 16 Year Old mind).
I was introduced to drugs by the D.A.R.E. Program.
Drug Abuse Resistance Education, why are you daring kids to do anything? I come from a drug free home. I only knew about alcohol and cigarettes. D.A.R.E put hallucinogens on my radar, and made me especially curious about mushrooms and marijuana "The Gateway Drug". I remember asking our class D.A.R.E. Officer if he'd ever tried drugs and he said no. "Just say no." If you've never tried drugs, how do you know?
The first time I tried marijuana, and didn't get pregnant or die, I realized that our country was run by idiots. It's like Green Eggs and Ham. "I do not like it" even though I've never tried it. D.A.R.E. was a taxpayer program funded by the government "for the children" that consequently got children interested in drugs they knew nothing about in the first place. Furthermore, imprisoning people for what they choose to consume is a violation of the constitution. It is deeply wrong, sinful, and Unchristlike for our country to incarcerate people for using drugs when our we don't care about the pollution in the air we breathe or the water we drink.
The more I thought about my public-school drug education, the more I wanted to change it. It seemed like it had decent desires, but it was a one-sided experience. The Truth: Marijuana is not "The Gateway Drug". The only "Gateway" is lumping marijuana in the same Schedule 1 Controlled Substance bracket as cocaine, heroin, and meth. It's misleading us children! I'll speak for myself: When I tried marijuana, and realized that it's harmless, I dropped my guard towards the other drugs.
In college, I started the first Students for Sensible Drug Policy (SSDP) Chapter at the University of Utah advocating for sensible drug policies. In specific: Decriminalization. Rehabilitation over incarceration. End mandatory minimum sentencing, and let people grow their own medicine. Our strategy was to educate the public, build relationships on the campaign trail, and hold leaders accountable to enact drug policies that help more than hurt society. During my leadership, I earned the Rising Star Award, the University of Utah received the Outstanding Chapter award, and we were published in High Times Magazine as one of "The Top 10 Activist Schools".
I was proud to do this work in the conservative state of Utah, but my parents were not proud of me. My mom said, "Valerie, you don't want to be like Jane Fonda and the Vietnam War. She spoke out, and people stopped liking her." The more I advocated for change – the more opposition I got from my family. It was a difficult dynamic because I was still depending on them to help pay for tuition, and they didn't support this extra-curricular activity. Eventually, they withdrew their support and I withdrew from them.
On the way to an SSDP conference, I TOTALED a car in Wyoming. I got cut-off by a semi-truck going 85mph, fishtailed, and lost control of the car. We were all very lucky to be alive, but not without trauma. I got addicted to pharmaceutical drugs: Opiates, Morphine, and Clonazepam. The pills made me loopy, sensitive, and self-conscious. My leadership went from leader to flake, and became very egocentric in my thoughts. Inflamed in my guilt. I was ashamed that I was leading a drug policy reform movement, and addicted to pills.
I left Utah.
I moved to the Emerald Triangle and got a job trimming on a pot farm. I smoked so much weed that I no longer had the desire to take pills, and it was a MUCH healthier option. I lived with a family in their spare bedroom and became their Mexican nanny/bud trimmer/dog walker. It was ideal until they stopped paying me.
I was broke AF right as San Francisco hit the tech boom, and left.
I moved from Utah, to Houston, to Petaluma, to New York City to leave my problems behind. To find a decent place I could call home… But everywhere I went, the same problems followed. At that point, I had a revelation: The problem is not all the things you blame, the problem is YOU.
Whether I wanted to admit it or not, I had a problem bigger than drugs. My problem was finding fault in others without finding any fault in myself. I was the problem, and the way I was operating my life was not producing the outcome that I wanted. I was poor with big dreams and nothing to show. I couldn't escape my problems in a new city, I had to go home and address them head on.
I moved back home for the 11th time.
This time was different. I lived with my mom in a condo in Draper, Utah. She heard about a grant from Department of Work Force Services to train people for the growing Entertainment Industry in Utah. I applied and I got in the Film Technician Certification Program! For the first time in my life, I had free tuition and FAFSA.
It was life changing.
I had access to state of the art film equipment, multi-million dollar resources, and fulfilled my lifelong dream of playing the glockenspiel.
In Directing class, I met a cute boy.
His energy was light, calm, and different. I told him that, and he told me he was a Mormon. Gasp! I refused to believe it. He insisted. I denied. He was a Skater, his parents were divorced, he had experience. He wasn't a cliché Mormon. He was a Knight in Shining Armor. He had manners, opened doors, and asked me to be his girlfriend. It was the innocent 12-Year-Old relationship I never knew I wanted.
He lifted me out of the pit I dug.
On a date to "get cupcakes", he and his family surprised me with a "meeting with the Mormon missionaries". I remember thinking: "If things don't work out, this could be why." It's one thing to invite me to cupcakes, but this is not a cupcake. Thanks for the cookies, but also – not a cupcake. That night, the missionaries asked me to get baptized. I said, "I need a little more time to think about decisions pertaining to my eternal salvation." But boy! Was that weird?
He asked me to get baptized, and I honestly thought about it.
I wanted a closer connection to God, I just didn't know how. At that point, I'd been doping for a decade and open to change. I was turning 25, on the verge of a quarter life crisis, and felt like I should have more to show for my dreams. My boyfriend was young, and told me his dream was to serve a mission for the Church of Jesus Christ of Latter Day Saints. It was too much.
I didn't get baptized.
Instead, I got back into pills. One day, I took 10mg of Klonopin, and crashed my boyfriend's car. It was more like a fender bender that a Mexican would happily fix for $75, but on principle: He broke up with me. He broke up with me?! I couldn't believe it.
It was devastating.
It took him leaving to realize that the only light/good example I had in my life was gone. Everyone around me had the same f#cked up energy that I did, and I didn't want that company. I didn't even like myself at the time. He was different and I wanted his light back in my life.
The break-up made me change.
At first I was bitter and it re-activated my hatred for Mormons. Then, I realized: I'm acting like that dude from Green Eggs and Ham, and the D.A.R.E. Officers I despise. I literally hate something I've never tried.
I called and met with the missionaries. At first I ridiculed Joseph Smith. Then I opened my mind to the thought: Why am I judging someone I never knew? I didn't live in the 1800s, how can I act like my values now are even applicable to then? I don't even have values. Besides, I couldn't help but feel good in the presence of the missionaries. It was that same calm/light that my boyfriend had. The more I opened my heart to the message, the more I learned about the divine destiny and purpose of life, choice, and accountability. On the surface, Mormons looked weird, but they also looked happy.
I honestly thought about getting baptized.
I was moving towards the Mormon church with my E-brake on. Everything in my rational mind said, "Are you crazy?! How can a druggie b*tch like you get baptized?" My tweaky esoteric mind said: "Because God is forgiving, and I want you to learn how to forgive. Baptism is a symbol of forgiveness, and cleanses you of your sins." You think water can wash away your sins, ho?! The mental debate was brutal. One side whispered "it's a cult". The other side noticed the light, calm, and happiness in the people. Beyond that, I looked up to all the mansions on the Wasatch Front, and realized there's a correlation between spiritual and financial wealth.
I took my investigation of the Mormon church very seriously. I read the Book of Mormon and Under the Banner of Heaven. I saw the musical on Broadway, and found myself in a weird part of YouTube. As I looked at both sides: Mormons and anti-Mormons, I realized that the anti-Mormons were reinforcing the negative feelings I already had about the church. I wanted to change. I wanted to be positive. I no longer wanted to find fault in other people. I wanted to take accountability for my own actions.  It finally came down to this: If I become a Mormon, then I truly won't give a f#ck what this world thinks of me. I can believe or doubt. Assume or try? I can get baptized, and if I don't like it, I can always go back to my miserable life.
At the age of 25, I got baptized into the Church of Jesus Christ of Latter Day Saints.
It took 3 months of making consistently good choices to realize that my baptism was a good decision. Choices to be charitable. Choices to take initiative. Choices to help without being asked. The energy in my body and in my life transformed. It was lighter. I became light in heart, light in thought, and light in my interactions.
After I got baptized, my financial opportunities increased. I went from selling drugs to decorating donuts. I had to start fresh to relearn what it's like to put a $ sign on time. It humbled me, and it made money more valuable. I gave a talk in Church about my conversion, and Producer Chris Nielsen hired me as a PA for two commercials. With his help and my work ethic, I quickly advanced into a Location Scout and Manager.
I married that cute boy from directing class, and we started a production company called Concise Focus (www.concisefocus.com). Together, we make timeless film and photo assets for mom and pop companies. Separately, we work on major projects for clients Google, Nike, and Disney.
When I look back on my life, and look at all my choices, getting baptized was the greatest, life-changing decision I made. Spiritual wealth and financial wealth go hand in hand and when you have the spirit, money lasts longer. At the age of 29, with a green bank account (not red like the overdraft protection I was using to fund trips to EDC), I looked back on life thinking about all my choices, and had a real revelation to ask:
What dreams did God plant in your heart?
God planted the dream to entertain! God planted the dream to tell stories. I don't care how many people listen, I just care that the story is GOOD and EDIFYING. In the grind of life, it's easy to lose sight of our dreams, but when we're connected to our divine source, we can achieve anything. My dream is to be a GREAT storyteller and edify.
I've always enjoyed writing, and I have experience working in the Film Industry, I love entertainment, and I wanted to do Stand-Up.
I started taking a class with Bobbie Oliver @ Tao Comedy Studio and learned the Tao way. I did my 1st big show on the Flapper's Main Stage and Bobbie said, "You'll be chasing that comedy dragon your whole life." I've been doing Open Mics and shows ever since.
In October, I started Electric Comedy Night and have produced 6 Stand-Up Comedy Shows (3 Sold Out) in St. George Utah.
Tell us about Electric Comedy Night
Electric Comedy Night is my dream comedy experience: A beautiful venue, a nice paying audience, and Comedian's name on the marquee. I wanted to create an opportunity that uplifted comedic talent, rather than pimped comedians for personal gain. More than anything, I needed a place where I could freely have my Cinematographer husband film a professional tape for Comedians.
Coming from the film industry, my first impression of the Comedy World was total squalor. You want me to bring 10 people at $15/each, plus a 2-item minimum, plus a tip, AND you want me to pay you $40 for a BOOTY BAD tape on old technology with dishes in the background?!
Now, that's a joke!
Electric Comedy Night creates electric, hilarious, truth bomb Stand-Up Shows and I'm on a mission to turn this into a $50 million company. Since October 2019, I've produced six shows under the Electric Comedy franchise: 3 shows in a 200 seat Electric Theater and three shows in The Office Lounge (70 seats), and half of our shows have SOLD OUT.
Since COVID, we launched a micro-dose digital series called "60 Seconds of Stand-Up!" Quick, funny, quarantine sets. We have Comedians from all over the world sharing jokes straight to your screen – from their quarantine. Watch it here: bit.ly/60SecondsofStandUp
We're always bombarded by how great it is to pursue your passion, etc – but we've spoken with enough people to know that it's not always easy. Overall, would you say things have been easy for you?
It's as "easy" as I make it.
Stand-Up Comedy is the easiest and hardest thing in the world. It's easy because it's self-reliant. IT'S ALL YOU. You choose the thoughts, words, and delivery.
You design the moment you're on stage.
It's hard because it's A LOT. Stand-Up consists of writing, directing, editing, producing, negotiating, performing, traveling, creating content, marketing, growing numbers, and hopefully staying sane in the process.
Common folk don't get it.
There's a lot of people unconsciously asking Comedians to "tell me a joke", "make me laugh", dance monkey dance, and it needs to heal. I ain't a Court Jester, Ho! Buy a ticket.
Of all arts, Comedy is the most challenging.
The work of a Comedian (at his or her best) is fresh and spontaneous. The work of a Filmmaker can play repeatedly. Musicians sing the same songs, but Comedians are expected to tell fresh jokes all the time.
Has luck played a meaningful role in your life and business?
"Luck" – that's cute.
In a sense, I am lucky, but I believe that hard work, preparation, and choice play the most meaningful role in my life and business. Once I became conscious of my choices and their consequences, I changed course. Changed my choices. Went from having $2 in the bank to earning a $2,000 – $25,000 a paycheck. I read a quote somewhere that said, "The choice you make, makes you" and it's true.
Pricing:
$25 Ticket
$5 Book Audio Download
Contact Info:
Image Credit:
Violette Visuals
Suggest a story: VoyageLA is built on recommendations from the community; it's how we uncover hidden gems, so if you or someone you know deserves recognition please let us know here.