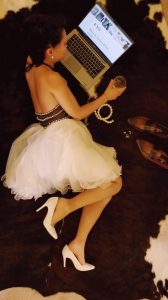 Today we'd like to introduce you to Kimberly O'Neill.
Kimberly, let's start with your story. We'd love to hear how you got started and how the journey has been so far.
Once upon a time, I split my week between DC and NYC. Mon-Thurs in DC and Fri-Sun in NYC telecommuting or at one of our corporate offices in Koreatown. At the time, it was the very beginning of an instant money making market frenzy on Wall Street with Chipolte, Annie's Organic, Noodles & Company and Vapes. Everyone in NYC was looking for the next game-changing company.
During that time, my boyfriend (aka powersuit) kept asking me what the next million dollar idea was with the market craze. We'd talk about why or why not certain companies, trends, the market – since we often forget the rest of the country is not like our very diverse Northeast corridor (Boston/NYC/DC) and consumer buying trends, wants/needs/have-to-haves based demographics, supply and demand, etcetera, etcetera. Every day it was pretty much the same question: what's the next big investment? I probably rolled my eyes a few too many times from the repetitive boring question and said who knows? Then one snowy evening, like usual, I was all fancy pantsed-up with hair, nails, makeup, sexy thigh-highs, high heels in a super hot tight librarian-style pencil skirt. Looking beautiful, feeling super sexy but walking like a total jerk through the slush, ice, and snow because the slippery material from thigh-highs and my high heels just don't work together, not ever. Sometimes I would use hairspray in my shoes to create some traction/friction to stop the slipping and sliding around inside my shoes but let's be honest here, it's gross. It feels gross and it ruins the inside of any shoe.
Over the years, I literally had bought thousands of dollars of shoe products out of desperation, emergency crisis, need-now (only have to make it through a couple hours). The same thing always happened time and time again. The products last 2 seconds and never work. Kind of like the gel that falls out in a matter of steps or moleskin that's hard, bulky, hurts and pushes your foot forward so the front edge of the shoe (by your toes) digs into your skin making red dents from the tight squeeze. And there's always the women's insoles/padding that is too small and the edges of the pad hurt after a while or the foam inserts that are worthless. Anyway, I ended up waiting at the bar for the powersuit. He was late. Hours late to be exact. Work, work, work: 7am–11:59pm, non-stop kind of guy; but, respectfully that's what makes him such a successful powersuit at such a young age. That evening we finally go home, I flop straight back on the bed, kick my leg up and my shoe just goes flying off straight up into the air (because that's how slippery the thigh-highs are or rather the material is). I fall asleep, then sit up, look at the powersuit who's working at his desk and said "that's it!" And the rest is history.
Early on, men started wearing the product to prevent blisters during the summer months when no socks and no break (pant suit cut/length) is super stylish and totally the "in" trend. I guess I knew or should have known men struggle with the same sort of issues in their shoes as women. I've folded a lot of socks over the years and sometimes the edge of men's dress shoes literally rubs holes in their socks (this is the action that causes blisters). Time and time again, I've heard it's not manly, proper to complain about it to anyone or discuss their shoe issues. The inside of dress shoes is hard with a hard leather sole so viola, the men's ball of foot shoe gel was born. It can be cut and placed in the back of the shoe where a heel cup would go, in the front of the shoe for the ball of foot or anywhere. Just remove the lining and stick it in your shoe. It's purpose is to absorb the hard pounding that occurs with every step or to stop a part of the shoe from digging directly into the foot. Yes, there are heel cups but they don't stick. Instead, heel cups flop around in the shoe. Shoe inserts are either worthless foam or thick orthopedic support insoles that actually change the fit of the shoe entirely. By FDA definition, orthopedic inserts are intended to affect the structure of the body which is why they are considered medical devices. If you don't have a medical condition, you don't need a medical device. I've personally found that orthopedic inserts actually end up hurting my foot arch, back and knees. Yes, all 3 simultaneously because I do not need any medical devices.
Current men's shoe trends are slightly changing on the market with lower-end dress shoes using rubber and glue to drive down costs vs traditional leather soles and stitches. Rubber and glue is initially more comfortable but all new shoes need breaking in and there are pro's and con's of everything. The cheaper shoes are well, economically desirable right now this second but over time they wear out more quickly and the replacement cost is frequent. Which is what companies want – buy more, frequently. Traditional more expensive dress shoes can be repaired – replaceable new leather soles with a new shoe lift so once you break them in you're good to go for years with a quick repair. I also hear there's something powerful and dominate about hearing the "click" of your shoe echo as you walk from the leather sole.
Cut, rinse, reuse – add water to any of the products adhesive to make it sticky again (the first time is always the stickiest) but now there are so many more options. torturedSoles products are for men's shoes, women's shoes, all shoes, and other activities like bowling. Anytime you need a cushion or to stop a blister from happening instead of treating an issue that's already happened – because we know it's going to happen. I'm certain we all can even instinctively tell as soon as we try a pair of shoes on. And truth be told we'll never give up our high fashion, the latest and greatest trends or our designer brands – it's entrenched deep within our soles.
Overall, has it been relatively smooth? If not, what were some of the struggles along the way?
This question makes me laugh and cry all at the same time. There was never a business plan because I thought for sure someone was going to stop me along the way. First it was the lawyers, will this product infringe on any existing patent? No. Instead, I filed one and got two trademarks. Then it was actual development. No one would talk to me or do business with me unless I was a business. After that, research was invaluable and learning that not everyone understands or comprehends the same words exactly the same opened my eyes to how tricky marketing was going to become – it's such a science. Every step of the way there was, is a roadblock. It's not easy; but if it was, everyone would do it!
Please tell us about TorturedSoles.
TorturedSoles non-slip cushion grip grabs your foot and shoe at the same time stopping the action that causes blisters. If you've ever gotten a blister and put a band-aid on just to have that band-aid roll-off or rub-off it's because the action that's causing that blister is still happening. The non-slip cushion grip also helps provide traction or grip inside your shoe when wearing hosiery products and of course it cushions. If there's a sore spot from your shoe digging into your foot the super thin water-based adhesive acts as a cushion.
TorturedSoles shoe gel is a ball of foot pad that's larger than leading brands. It comes in clear for women's sizes 5-9 (about 85% larger than leading brands) and grey (fabric that feels soft like suede, about 140% larger than leading brands) for men's sizes 8-12 and women size's 10-14. I personally really like the grey because it's soft on my feet and just feels nicer than plastic. You can cut and place in your shoe for your ball of foot or back heel to absorb the hard pounding on the ground. You can also place the shoe gel anywhere else you find irritation occurs from your shoe digging into your foot. I find them extremely useful in flip-flops, ballerina flats, boots – any shoe with a hard surface inside and even sneakers for some extra cushion. We love all shoes and just want to try to make everyone a little more comfy by giving them as many options as possible!
If you had to go back in time and start over, would you have done anything differently?
Nothing. Everything that has happened has brought us right here today. Everything happens for a reason – Lots of Lessons Learned.
Contact Info:

Photo credit: Luke Walter and Bernadine Abaya
Suggest a story: VoyageLA is built on recommendations from the community; it's how we uncover hidden gems, so if you or someone you know deserves recognition please let us know here.