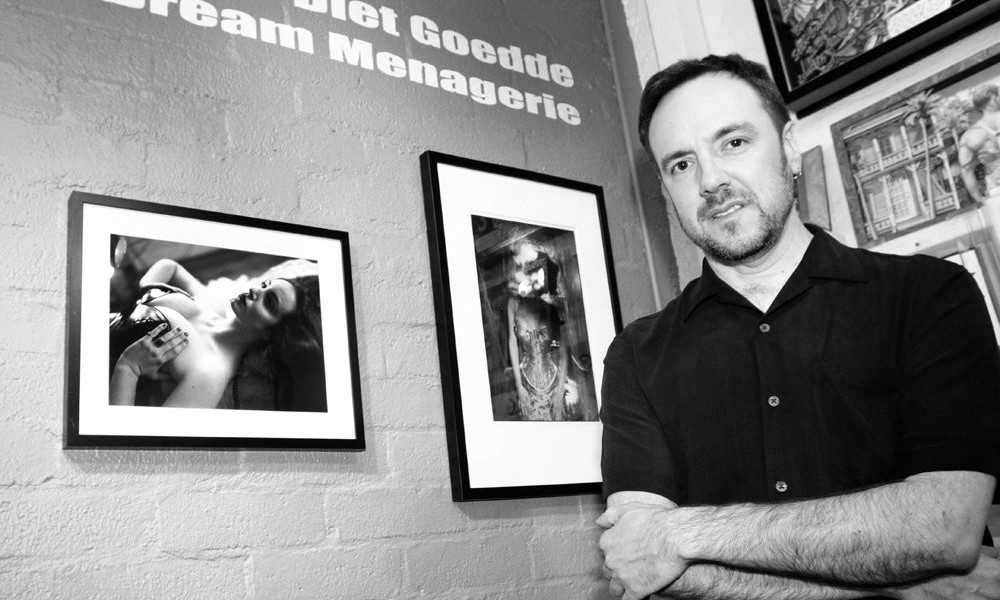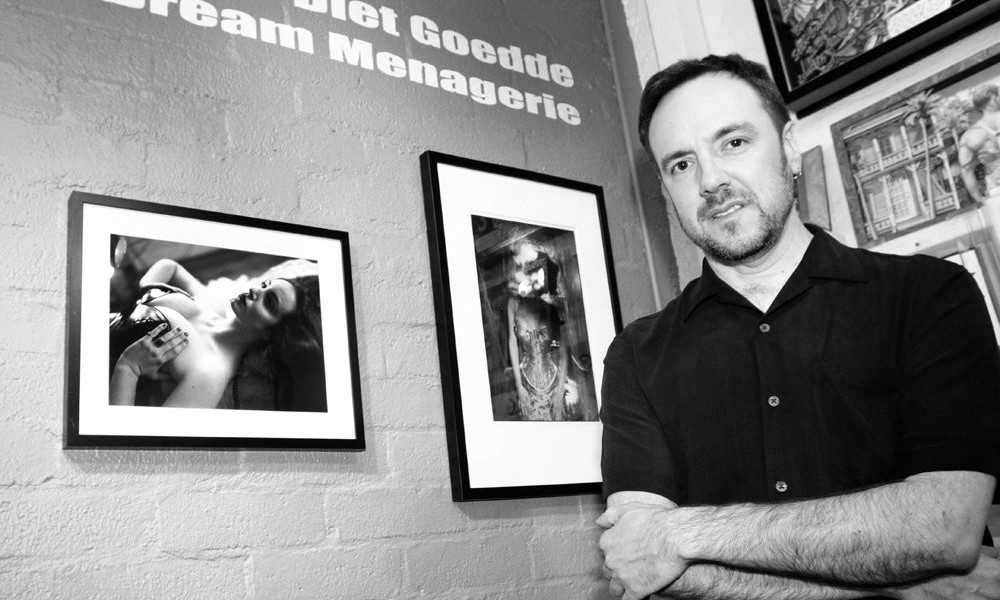 Today we'd like to introduce you to Steve Diet Goedde.
Steve Diet Goedde (pronounced 'die-it geddy') has been a fine art erotic photographer for nearly 25 years. He is known for his subtle approach to photographing alternative fashion in a very ethereal, down-to-earth style. His attention to composition and black and white tonal quality has given him the title of the Ansel Adams of erotic photography. Steve established his photographic style in the early 1990s in Chicago where he photographed the contents of his first book "The Beauty of Fetish" (Edition Stemmle) which was released in 1998. That same year, Steve relocated to Los Angeles where he continued to define his evolving style. This west coast work was later compiled in his second Edition Stemmle book "The Beauty of Fetish: Volume II" in 2001. In 2006, Slish Pix released a DVD compilation of his work entitled "Living Through Steve Diet Goedde". In 2009, Steve has collaborated with French composer Robert Waechter on a CD entitled "GoeddeConcerto" (ReadyMade Music) in which the ConcertMaster of the Philharmonic of Nice, France interprets 21 of Steve's photographs into 21 mini-concertos. In 2015, Steve celebrated his 25 years of photography with a 3-volume book retrospective of his work entitled "ARRANGEMENTS" published by Century Guild. The three volumes will be released over a 3-year period. The first volume was released August 2016.
Has it been a smooth road?
Since I'm a fine art photographer, I'm pretty much allowed to do my art as I please. I only aim to satisfy myself and my models so I rarely have to compromise my vision in order to make a buck or keep up with trends.
Who, or what, deserves a lot of credit for where you are today?
I suppose the most pivotal time in my career was at the very beginning in the early 1990s. It was one of those right-time-right-place scenarios. I had always wanted to explore fetish photography but in a very ethereal, beautiful, and artistic way, a style that hadn't quite been done yet at that time. A friend of mine named Molly, who I'd known since my teenage years, started dressing up for the club scene in fetish-oriented attire (corsetry, leather, latex, etc.), and so she was a perfect muse for me to explore this genre of photography. We quickly built up a nice portfolio of work which was immediately celebrated in the local fetish scene. I then had an audience that loved my work and encouraged me to do more. Molly eventually started her own latex design label So Hip It Hurts and of course had me photograph all her designs. Through Molly, I met, even more, friends and collaborators which led to even more work and exposure, and within a few years, I had my first book deal with famed Swiss photography publisher Edition Stemmle. I ended up doing two books with them, and those books put me on the international photography stage.
Do you have a favorite type of client or project?
Well, as a fine art photographer, I don't really have clients – I just create my work for myself and then sell the work to collectors, show in galleries, and sell books. In terms of projects, I've started producing photography that's more physical as opposed to photography that only exists in digital form. I miss the days of making real prints in the darkroom and crave the sensation of holding tactile pieces of photographic art. It's with this concept that I started doing emulsion transfers, a process of extracting the emulsion layer from a standard Polaroid print and transferring it to another surface such as thick watercolor paper. I had a solo exhibition of this work this past January at the Garboushian Gallery in Beverly Hills which was very successful. I'm now expanding on that and am in the process of creating new work which will be exhibited next year.
If you had to go back in time and start over, would you have done anything differently?
I've often contemplated whether I've had any regrets in my life, especially concerning my art. And after much soul searching, I feel like I've been on the correct path all along and can't think of anything I'd do differently. I mean, there could've been ways in which I made more money or achieved more fame, but my art is so personal to me, that I'm happy I've sacrificed additional money/fame for the love of doing my art on my own terms without very few compromises. That's a feeling that sits well in my heart and mind.
Contact Info:

Image Credit:
All images ©Steve Diet Goedde. All rights reserved.