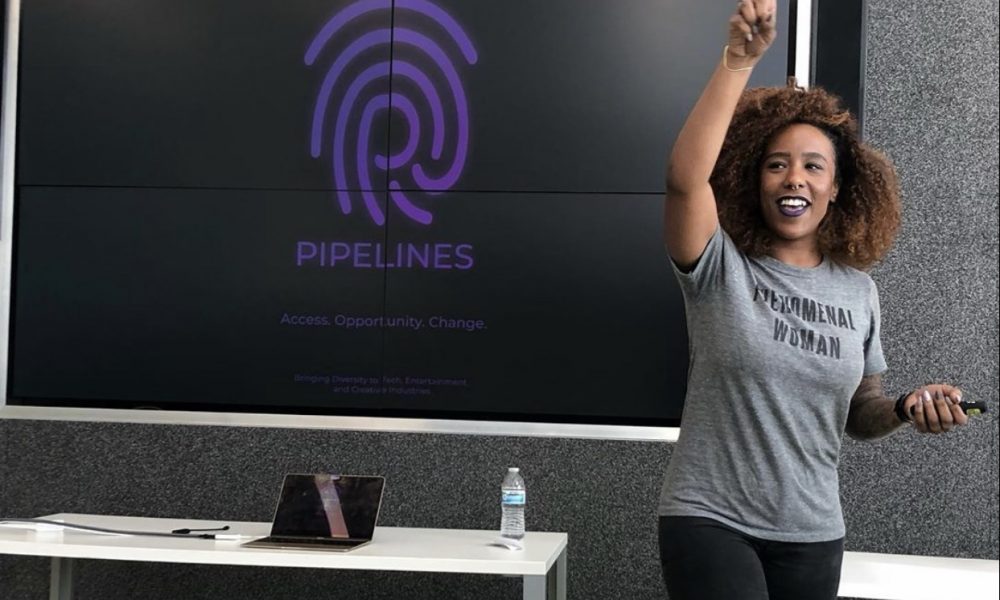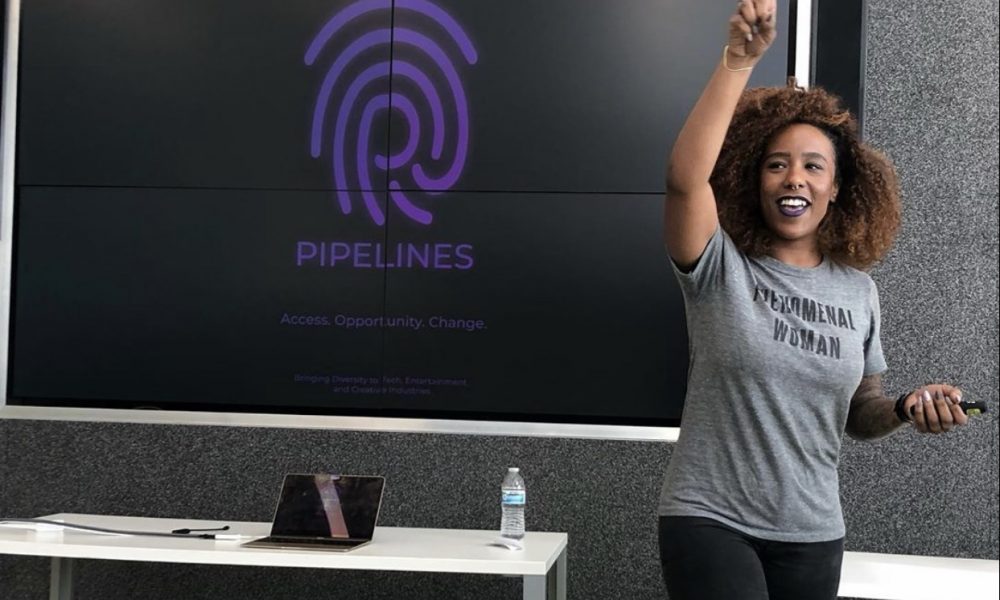 Today we'd like to introduce you to Shari Holly.
Thanks for sharing your story with us Shari. So, let's start at the beginning and we can move on from there.
Born in raised in Detroit, MI I had/have two very supportive parents. My Dad worked and retired from USPS and my Mom works in Supply Chain Management. I didn't know what creativity meant and how powerful it would be growing up. I was in dance class and sang at church, but when it came to my career, I wanted to work a government job like my father because it was considered stable and secure and if I climbed the corporate ladder high enough I could retire with a sweet pension. That's what I believed. I took this goal to Western Michigan University where I graduated with a degree in Business Admin and Spanish. I did well in college but felt like I had force-fed all the information I had learned. I didn't enjoy my classes and the content of what I was learning, it didn't ignite any passion or make me feel alive. I didn't know it then, but this was because I hadn't discovered that I was a creative. After graduation, I left Kalamazoo (yes, it is a real city) and decided to move to Chicago because one thing I DID know is that I'm a city girl. Moving to Chicago, I had no plan, hardly any money, I knew no one there, but I was a determined go-getter who wasn't afraid to build my networks from scratch, which I did. I worked for the Tribune, I got into salsa dancing, and made great friends that I still keep in contact with to this day. The Tribune showed me that I actually didn't want to work for the government, but rather entertainment (way more exciting). I loved the city there, but in the midst of figuring out who I was, I also realized that I was not about the 4-season life, so I decided after two years to move to LA. I had never been to LA ever. I had no desire to be famous nor did I have a plan. I just knew I wanted to work in entertainment. My first job was at a media agency assisting a buyer, my second an EA at a post-house, and one day I just had it. I literally had it. 3.5 years in LA and I still hadn't discovered what I wanted to do/who I wanted to be. I was a robot. I wanted a job with purpose, I wanted to create impact, I wanted to lead, to create. It was time for a career change. I purposely only applied to jobs I knew had these things and jobs I would enjoy and I discovered a Program Manager gig in diversity & inclusion and I applied that day. I wasn't at all qualified for this role, but a woman named Kat hired me because I was passionate, ready and eager to learn, I was versatile, and I knew what I had to offer. In this role, I discovered that D&I was my calling and after a devastating lay-off and another job, Kat is my life-long mentor and I am the happiest in my career that I've ever been in my role at Pipelines. I also continued salsa dancing out here with a team and am apart of the avid salsa community in LA. It's literally my therapy. Ahhhh I'm smiling so hard as I write this because everyday I am genuinely honored and grateful to work in such an impactful space providing education and opportunities to others who are underrepresented like me. It is a real blessing ya'll. God has shown me nothing but favor in my adventures. Life is dope!
We're always bombarded by how great it is to pursue your passion, etc – but we've spoken with enough people to know that it's not always easy. Overall, would you say things have been easy for you?
Not at all. Taking risks are never easy, but at least for me, there's almost always been a reward on the other side. We gotta trust the process. When I moved to LA, I made looking for a job my full-time job. I needed money and moving here was MY decision so I needed to get to work. It was tough, emotional, but there was a personal sense of urgency to find and live in my purpose. I needed to be uncomfortable to realize what I was capable of, who I was, and what I wanted. I had to build both my personal and professional networks from scratch and I am proud of the woman I have become since I moved here in 2011. I honestly don't want a smooth road. How do you grow that way? What do you learn when everything goes your way? Nothing. Everything I learned, the rewards I've received along the way are the result of risk-taking, struggling, and being uncomfortable. I don't think everyone understands that.
We'd love to hear more about your work and what you are currently focused on. What else should we know?
I've been helping Kerstin Emhoff, Founder of PRETTYBIRD build Pipelines since 2016. We started off with a 30 page deck and only an idea when she brought me on lol. I was intrigued by the adventure of building a business; but more importantly, an impactful one that was personal and mattered to me. Now, three years later we have built platform we believe in, are committed to, and are pumped about. Pipelines is a mobile app that connects underrepresented talent to job and training opportunities in tech, creative, and entertainment, and companies to a vast pool of diverse talent. We wanted to create a tool that would address the D&I problem in these industries in a relevant and effective way. We all have smartphones and there is literally an app for everything, so this makes connecting with companies and training programs non-intimidating, tangible, and direct. For underrepresented talent, if you didn't go to a great school, if you don't know anyone, or are aware of the opportunities that even exist, it's virtually impossible to break into these industries. We have the solution (and it's cool too). We understand that it's not enough to connect talent with jobs though, they need education, training, mentorship. That's how the Pipelines Foundation as born. The foundation is a registered 501c3 and is the non-profit arm of our platform. It thrives on collaboration and works to provide the tools (scholarship, training, education, mentorship) our demographic needs to be successful. What sets us apart is niche focus on tech, entertainment, and creative industries which are three robust, influential industries but have some of the lowest, most disappointing numbers when it comes to underrepresented employees. D&I is the central part and is at the core of everything we do. We are the only platform with an aggregator for companies to connect with training organizations in their industry as well. I consider myself a champion for this work. It's so necessary. I really do love my job.
Who else deserves credit – have you had mentors, supporters, cheerleaders, advocates, clients or teammates that have played a big role in your success or the success of the business?  If so –who are they and what role did they plan / how did they help.
Yes yes. God, first and foremost. I can't even begin to express the favor and protection he has shown me. We'd be here forever lol. My parents. They have always supported my craziest ideas and adventures even when they didn't understand (or agree) with it. That means the world to me. They are beautiful, loving humans and I'm so proud and blessed for an infinite amount of reasons to be theirs. Kat. My mentor. She's the reason I'm such an advocate for mentorship. She's modest about it, but I owe my career to her. She opened doors for me no one else would, gave me tough love, and jump started my career. She keeps it 100 too which I respect! Fernando. He's my love. He brings me back and is my peace. Type A, animated, passionate cancer women need that ha! I always thought I needed someone just like me to be happy and he's shown me that opposites really do attract. He's taught me so much. My closest, dearest, and dopest friends. I don't ever take my friendships for granted! I need them, I love them. Kerstin. I get to build this thing with one of the hardest working women in the game. I learn from her. She puts me in positions and situations to grow and utilizes my strengths. That's invaluable. I don't care what anyone says, we need people!
Contact Info:
Suggest a story: VoyageLA is built on recommendations from the community; it's how we uncover hidden gems, so if you or someone you know deserves recognition please let us know here.