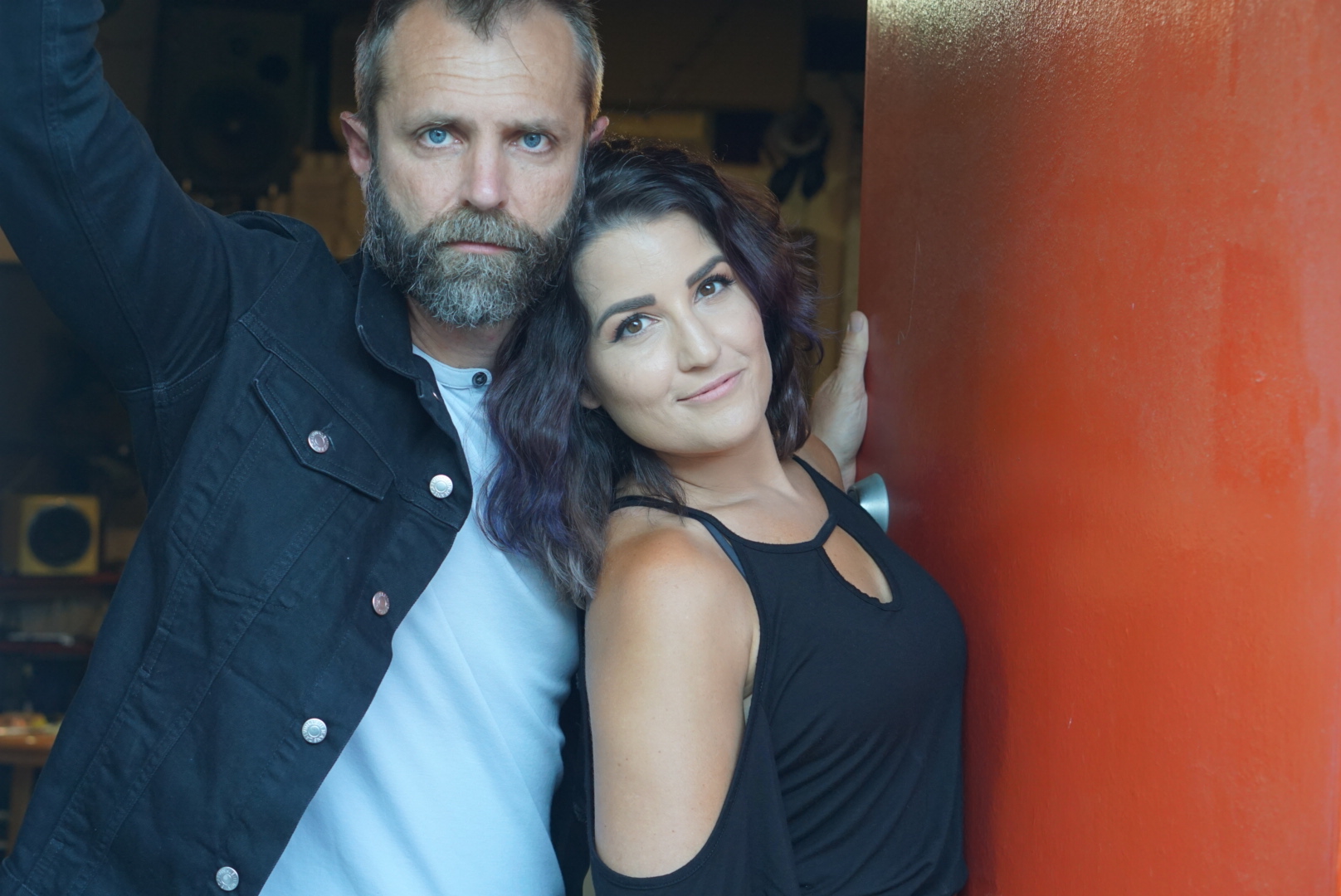 Today we'd like to introduce you to Scarlet Biberstein and Geoff Gross.
Merlot Embargo's official story starts with a nearly-disastrous auto accident: Scarlet and Geoff, two married (to each other) freelance musicians in LA, were two hours short of completing a 24-hour drive to Corpus Christi, Texas on Christmas day, 2014. After Geoff adjusted the radio, they found themselves veering off the side of the road at 80mph. After amazingly walking away (virtually) scratch-free and a few days of collecting their thoughts and emotions, the preeminent feeling was one of "what would we regret if we'd died in the accident." The answer that came to Scarlet was not pursuing her own music.
We'd been making music for years, both together and separately, having been in bands, church bands, jazz ensembles, etc. And although Scarlet had been a songwriter since her college days, we never really pursued writing and producing our OWN music as a unit.
So we recruited our friends, started a band, wrote some new songs, revived some old songs, brushed up on our recording chops, and started making a record.
Overall, has it been relatively smooth? If not, what were some of the struggles along the way?
Definitely not! Here are a few examples.
Being the spotless, pure artists that we were, none of us had any idea about marketing music. So we created this great record and released it into the ether, where it was met with, more or less, resounding silence. Because no one knew who we were, no one was invested in our story, and we were too naive to realize that musical success takes much more than good music. In retrospect, we should have done many things differently and in a different order than we did. i.e., develop a fan base, think about marketing and promotion and all the stuff that most musicians just hate. (we hate it too.)
To add to that, several months after Scarlet put her resignation notice in to focus on our music full time, we found out we were pregnant. We had gone through a few years of heartbreaking fertility and pregnancy losses, so even though the timing of it was complicated, we embraced this (literal) bump as something that would just add to the intricacy of our journey.
Another example is booking shows and seeking out sync placements/interviews/etc. There is soooo much footwork that goes into it that it often feels like you spend more time with the footwork than you do actually making music. It didn't help that while most new bands spend their first year touring and going out every night to network and perform, we were going through our postpartum year with a newborn while trying to make ends meet on one job in LA and promoting our music any other way we could find.
Finally, the pandemic has definitely put a kink in our, and most other musicians, performance opportunities. Obviously, many other industries too, but I suspect that freelance and touring musicians are one of the hardest-hit groups and probably will be one of the last to see their careers return to normal. We've been pivoting on this by doing weekly live stream shows from our home studio. So far, only acoustic shows, but at some point when restrictions lift, we'd like to get the band involved too.
Merlot Embargo – what should we know? What do you do best? What sets you apart from the competition?
We write and record our own flavor of pop/folk/indie music! (We also do a bit of producing for other artists.) Geoff has spent over ten years transforming a little room behind our house into a home studio. It's a huge part of how we are able to afford to produce our own music and videos despite being on one salary with student loans, a kid, and a mortgage in one of the most expensive cities to live in the country.
Our music really specializes in a couple of things: lyrically, we are honest and bare almost to the point of being too obvious. But it's usually clear what we're singing about. I think that honesty and transparency come through in other areas too: our production, even our image, photos, etc. tend to be simple, clear and who we are.
Although we call ourselves "pop" musicians, we don't tend towards the kind of polished, shiny pop music that's been having its moment for the last several years. We're a little more raw and offer a tangibility that sometimes is missing from the more electronic leaning musicianship, as much as that in and of itself is its own artform.
We're also a bit older than most bands who are making a name for themselves. (We're mid-thirties/early 40s) We got a late start on this business, and we've got a young daughter as well, so we have some challenges that some younger musicians don't, but we are enjoying the ride and making the best music we can! On the flipside of the coin though, there's a bit of life experience that works its way into our music that does a lot to connect to a broader audience.
What is "success" or "successful" for you?
The marker for us to consider ourselves to be successful musicians and artists would be that we are never comfortable. It seems like an easy marker, but it involves always challenging ourselves to grow deeper and learn new things in order to make sure our music stays relevant and current and something that reaches into the heart of the listener to shake them out of the stupor that is survival. It means we must do the work first on ourselves to shake ourselves out of our own stupor. To add meaning and clarity to life.
One way we do this is creating music that invokes positive change. Artists have always been at the forefront of social evolution. We have a responsibility to speak to injustice, speak for those who can't or don't know how to speak for themselves, and inspire a feeling of hope for tomorrow and a fire for justice and equality. An artist's work, then, is never done. To us, that means that a successful artist is one that uses their artform and platform to speak into the Now and never stays stuck in the old ways and sounds of the past. We won't always be speaking to the most popular opinion and many artists have been hushed and chastised for raising their voices, but we take that on as a burden we are glad to bear as part and parcel of the job that we have to do.
We would love to be able to have so many streams and placements that we could continue to do our music solely funded by the music itself, but ultimately that is never a guarantee. So it must always come second to that first and most important work.
Contact Info:

Image Credit:
Philip Eastman, Rafael Cabezas
Suggest a story: VoyageLA is built on recommendations from the community; it's how we uncover hidden gems, so if you or someone you know deserves recognition please let us know here.