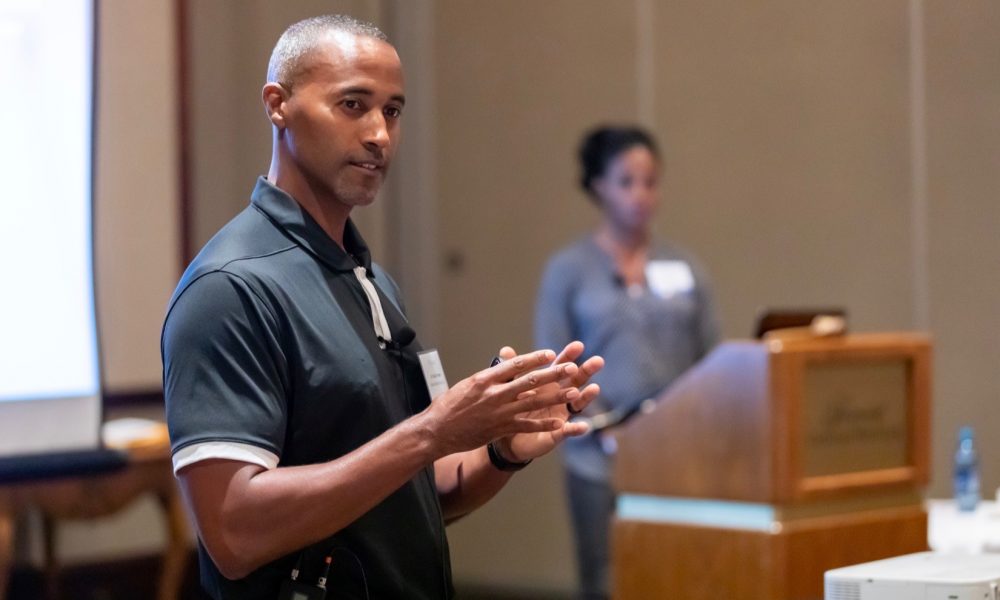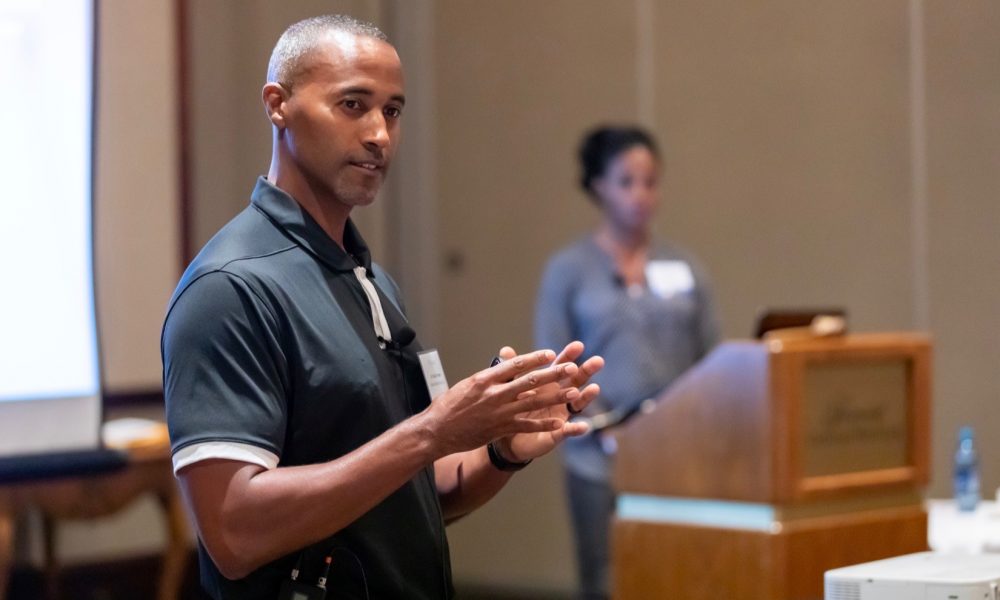 Today we'd like to introduce you to Ross Flowers.
Ross Flowers was born in Seattle, Washington to Robert and Micki Flowers. Ross was a decorated youth athlete, winning five track and field Junior Olympic National Championships in the hurdles. Ross attended Garfield High School and was part of the historic 1986, 1988 & 1989 Triple Crown Winning Metro, District & State Championship Boy's Track & Field Teams. He was the 1988 & 1989 Metro, Regional & State Champion in 110 high hurdles. Ross set the Washington state record in the 110 high hurdles in 1988 & again in 1989. Today 31 years later, he still holds the All-Time Junior Record in 110 high hurdles. Ross was also an honors student all four years at Garfield HS and his senior year he held the position of Associate Student Body President and earned a 101 Club Scholar Athlete Award.
Ross came to Los Angeles after earning a full athletic scholarship to compete at UCLA. After suffering what was believed to be a career-ending leg injury during his first year at UCLA, Ross returned to competition with a titanium rod in his right tibia to help the UCLA Bruins win the 1993 PAC-10 Team Championship title. He contributed by winning 1993 PAC-!0 Championship titles in the 110 high hurdles and as a member of the 4×100 relay. In 1994 Ross earned All-America honors in the indoor 55 hurdles. During the outdoor season, he ran the second leg on the PAC-10 Championship 4×100, which contributed to another PAC-10 team championship title. Ross also earned All-America honors as a member of the 1994 4×100 relay at the outdoor nationals. He was the team captain his senior year and a 4-year letterman while at UCLA. Ross trained in LA and continued competing internationally for two seasons after college.
Ross earned a doctorate degree in counseling psychology specializing in sport and performance from the University of Missouri-Kansas City. During his time in Kansas City, Ross gained experiences in executive coaching, assessment scoring, interpretation and feedback, with would later prove to be valuable exposure. Having just ended his own competitive career, Ross helped coach the men's and women's track and field programs to the university's first conference championship for both programs. Before he graduated, Ross helped both programs to a total of six conference championships and multiple individual championship titles.
Dr. Ross Flowers started his professional career at the University of California, Davis where he designed and created his first position as a psychologist and the director of applied sport psychology in counseling and psychological services and the intercollegiate athletics department serving 26 sports, over 800 student-athletes and 121 coaches and staff. He also supervised the professional development of psychology doctoral candidates specializing in applied sport psychology. Dr. Flowers left UC Davis to serve as a senior sport psychologist for the United States Olympic Committee, where he created sport psychology programs for national governing bodies of sport and implemented services to teams and individuals. Dr. Flowers successfully integrated sport psychology performance services into the culture of an Olympic Training Center through coaching, mentoring, psycho-education, psychotherapy, individual and group consultation, leadership training, team building, capital project requests, research, written reports, educational programming, and training venue development. From 2007 to 2011, he served on 10 World Cup Championship teams, 3 World Championship teams, and attended the 2010 Vancouver Olympics as part of the US Biathlon and US Speedskating teams. He also served US Bobsled, US Men's Hockey, and US Aerial Skiing. Between 2004 to 2011, Dr. Flowers served on 8 US National teams, 5 World Championship teams, 1 North America Central America & Caribbean Championship and attended the 2008 Beijing Olympics as part of the USA Track & Field and USA Canoe/Kayak teams. He also served US Rowing, US BMX Cycling, and US Volleyball.
Today Dr. Ross Flowers is an experienced executive and leadership development coach, psychologist, sport performance psychologist, author and speaker. As a partner in Giles Consulting Group, he has served as a director of sports performance psychology for the LA Clippers, mental health clinician for the LA Rams, sport psychologist to UCLA Track & Field, California State University Long Beach Athletics, San Diego State University Athletics, leadership development coach for the Center for Creative Leadership, psychologist in the California Department of Corrections and Rehabilitation, and international sport psychology presenter, instructor and mentor. Dr. Flowers is also the author of Introducing Your Child to Sports: An Expert's Answers to Parents' Questions about Raising a Healthy, Balanced, Happy Athlete. In the book, Dr. Flowers lends his extensive knowledge and experience to guide parents through most every expected – and unexpected – scenario, highlighting real-life stories and examples, and providing proven practices to raise a healthy, balanced, happy athlete.
Your resume and experience are definitely impressive. You've had an amazing career already – overall, has it been relatively smooth? If not, what were some of the struggles along the way?
The transitions from academia to Olympics to professional sports to private practice, professional speaker and executive coach have each challenged my entrepreneurial spirit and abilities to create. Through each transition, I have been able to innovate and integrate proven research, educational tools and successful performance skills. Yet with all of my attempts to plan and create new opportunities, life happens. The balance of work and family is a constant demand that requires adaptability. A difficult time came in 2017, when my ex-wife and mother of our three boys died after battling breast cancer for six years. Being a single father raising three boys in Chula Vista, CA while working and traveling full-time with the LA Clippers was unnerving. Later that year we moved from our home and community in Chula Vista and relocated to the South Bay of Los Angeles. As my family is establishing roots in LA, I am building a practice as an executive coach, sport performance psychologist, and professional speaker working with youth, college, professional adults, athletes, coaches, parents, colleges/universities and non-profit and for profit business.
Giles Consulting Group – can you tell us more about what you do? For example, what is your coaching philosophy, what do you love most about your work?
As the principal of Giles Consulting Group, LLC. I have unique experiences as a Hall of Fame athlete and Division 1 coach who has worked with every level of athletic and coaching performance from high school, college, Olympic, and professional, with international leadership and development coaching experience working in non-profit and profitable business (i.e., academia, arts/entertainment, construction, consulting, engineering, financial services, food/beverages, government, media services, oil, sales, sport, technology, transportation). I operate a culturally conscious performance and leadership development consultancy, grounded in well-researched theory and proven performance standards. I take pride in being a valuable resource to achieving individual and team success and working effectively to teach skills that are essential to improving performance, so clients can maximize the pleasures of their life and work. My philosophy is to engage individual competency and growth to strengthen personal, professional and team performance.
The best part of my work is meeting extraordinary people, who have growth mindsets and an adaptability to change. Being able to meet people where they are to support personal and professional growth is very rewarding to me. So I work to engage the curiosity, motivation, adaptability and commitment of people and teams using psychological and coaching tools to address personal and professional development. Using extensively researched assessments and one-to-one feedback I will design a personalized program for clients to build skills, improve performance and enrich life experiences. Customized engagements with individually tailored skills-building interventions are designed to address specific areas of improvement such as; adaptability and adjustment, anger management, anxiety/stress, communication, conflict and crisis management, depression, grief and loss, goal planning and execution, injury rehabilitation, lack of confidence, or poor attention to detail.
I believe performance mirrors life. The skills needed to improve performance can be taught to build the necessary skills to excel in life, and transition from one area of performance to another.
My common clients are agents, business professionals, coaches, c-suite executives, entry-level to mid-level managers, entertainers, military, law enforcement, student-athletes, Olympic & Paralympic athletes, professional athletes, parents/legal guardians, and teenagers.
Any shoutouts? Who else deserves credit in this story – who has played a meaningful role?
Thank you to my UCLA coaches Bob Larsen, John Smith, Dr. Tommie Lee White, and Art Venegas. Dr. White is the first person I knew who used the title Sport Psychologist; he also happened to be my hurdle coach at UCLA. What an honor to have a great hurdler not only teach me to be a better hurdler but also how to improve my mental and emotional skills. That was a bonus. Thank you Dr. White for the introduction to sport psychology and for your encouragement to use my temperament, ability to relate well with others, and understanding of sport to pursue a doctoral degree and become a psychologist specializing in sport and performance.
From his years of success at UCLA as the head track and field coach to being a 2008 Olympic Track and Field Coach to coaching Meb Keflezighi to win the 2014 Boston Marathon, Coach Bob Larsen has been a consistent model of performance excellence. He demanded the best from me as a student-athlete and UCLA men's track and field team captain, collaborated with me as I served as the 2008 Olympic Track and Field sport psychologist and I am honored that he and Meb offered their endorsement and words of recommendation for my book, "Introducing Your Child to Sports: An Expert's Answers to Parents' Questions About Raising a Healthy, Balanced, Happy Athlete." Thanks, Coach!
One of my closest colleagues in sport and God-father to my boys is Al Joyner. We've trained together on the track, worked together to teach and support Olympic hopefuls and champions, and supported one-another through life challenges. Thank you, Al, for continuing to compete and for sharing your golden nuggets of coaching on and off the track. You are the epitome of a positive person with a generous heart. You inspire me to be better, and I am truly grateful for your friendship.
When I suffered a severe leg injury in college and the threat of not being able to compete anymore, I was fortunate enough to meet Dr. William Parham. Dr. Parham's ability to relate, his understanding of sport, and his agreeable delivery of useful knowledge was—and still is—very timely. Thank you Bill, for being a leader, mentor, and friend who set a memorable example of how a sport psychologist can create a bridge between counseling psychology and athletics on a college campus. Thank you for challenging me to be more than a student-athlete and for sharing your wisdom and support as I left my comfort zone to embark on a doctoral degree. I deeply appreciate your ongoing mentorship and the guidance you gave as I developed an applied sport psychology program at UC Davis.
I've had an opportunity to meet, work with and get to know not just elite athletes and coaches or incredibly talented business professionals, but amazing people through sport and executive coaching. Yet, my ship sails as a result of my family. My three boys Anthony, Ayden and Christian put the wind in my sail and are a consistent source of energy and pride. My parents Robert Flowers and Micki Flowers, aunt Vicki Giles Fabré and my brother Dr. Chris Flowers offer me a historical world map of knowledge and experience that keeps me fundamentally sound and purpose-driven. My Garfield high school (Seattle, WA) and UCLA friends are my anchors who keep me grounded and always keep it real. My most valuable player and beautiful wife, Jackie Edwards-Flowers has blessed me as an unconditional partner.
Pricing:
Introducing Your Child to Sports: An Expert's Answers to Parents' Questions About Raising a Healthy, Balanced, Happy Athlete – $13.95
Contact Info:
Website: https://www.gilesllc.com
Phone: 619.227.6304
Email: drraflowers@gmail.com
Instagram: drraflowers
Twitter: @RossFlowersPhD
Image Credit:
Ross Flowers, Kristin Zwiers
Suggest a story: VoyageLA is built on recommendations from the community; it's how we uncover hidden gems, so if you or someone you know deserves recognition please let us know here.