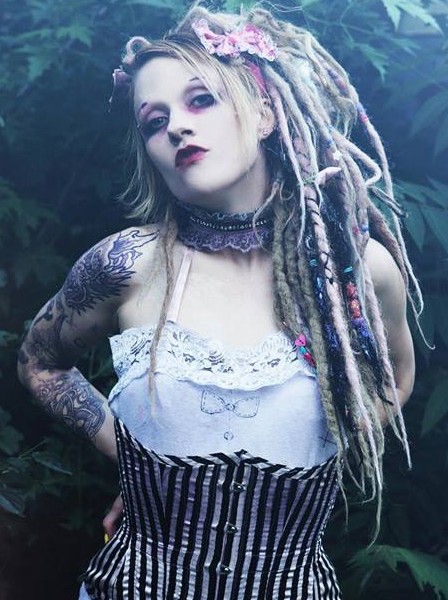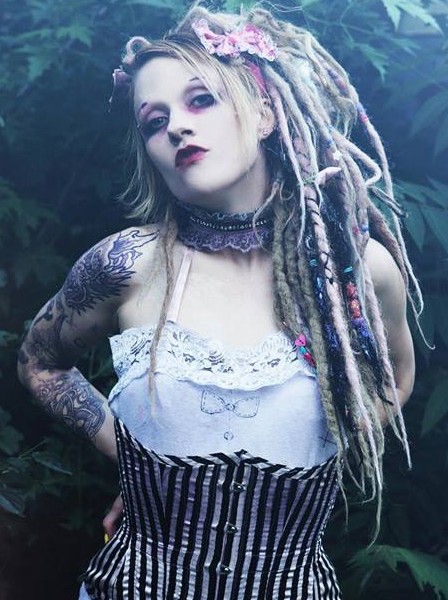 Today we'd like to introduce you to Serana Rose.
Serana, please share your story with us. How did you get to where you are today?
Born and raised on a goat farm in Iowa, my mother taught me how to sew at a young age. I always had a love for fashion and especially things that are unexpected and elegant. I knew in order to express myself truthfully I would have to create my own fashion line. I majored in fashion design while living in the midwest, but left to follow my other dream of performing in a show. I have traveled to 8 nations in the past 10 years in the romantic tragedy known as Show Devils and have costumed some very outrageous performers. My line is inspired by my life experiences as well as the unique people I meet. With lots of touring and attention from Show Devils bizarre stage act (which involved blindfolds, chainsaws, electrocution acts, and stomach pumping), came lots of subculture sweethearts and freaky fans of unique stage fashion. My needlework and heart go into making something as unique as the person wearing it. Handmade with love, I create rhinestone, lace and pearl trimmed bows, dresses, steel boned corsets, bloomers, vests, and headdresses. Born Ugli fashion is made to be minimalistic, extravagant, and easily packed in a suitcase for the traveling artist.
Has it been a smooth road?
It is always a rough road for the traveling daredevil, but one thing the line has struggled with is being widely available to customers. It is difficult to produce a catalog when you create mostly one of a kind pieces. I make many custom pieces and it is what I feel I am best at, however, I have just recently launched my first 2 t-shirt designs for born ugli, as well as postcards of my born ugli characters. The characters are from my horror story book (Scary Fairy, Tragic Magic) and have gained some popularity. You can purchase these items here: www.BornUgli.com
So, what's next? Any big plans?
I look forward to showcasing new and outrageous fashion costumes for my live act. I am taking the show and fashion line on another tour which is currently being booked for the west coast. I hope to complete a catalog and produce a line of unique action figures, t-shirts, patches, and postcards. I'm always looking forward to the next exciting art project.
Let's explore some of the challenges you've faced along the way. What was the most difficult part of your career so far?
Though performing dangerous acts for audiences is difficult mentally and physically, I would say the hardest thing for me was finding enough time to sew. The show took a lot of my time traveling, practicing, recovering, creating fliers, websites, and micromanaging. I could draw my ideas while traveling but I felt that perfecting my needle craft would take more time than I had. I learned to balance the things that are important to me and gave myself the time necessary to excel. I have been sewing for over 20 years and am confident it will only get better from here.
Do you ever feel like "Wow, I've arrived" or "I've made it" or do you feel like the bulk of the story is still unwritten?
I never saw it as one moment that "made me", but a whole series of ventures that created my unique style, interesting history, and made me into the artist I am. I set new goals all the time to keep me motivated. It was thrilling to perform in front of a live audience of 20,000, but I appreciate intimate shows in less traveled areas just as much. My fashion line is inspired by the strange experiences and sweet people that I have met and feel very grateful for the direction my career has taken.
Pricing:
6 Postcards $8
Hair Bows $13-25
Steel-Boned Corsets $150-400
Contact Info:
Website: www.BornUgli.com
Email: bornugli@gmail.com
Instagram: https://www.instagram.com/seranarose/
Facebook: https://www.facebook.com/Serana-Rose-119168801508986/
Other: https://www.facebook.com/BornUgli/