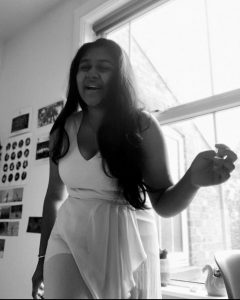 Today we'd like to introduce you to Nila Varman.
Alright, so thank you so much for sharing your story and insight with our readers. To kick things off, can you tell us a bit about how you got started?
I've always been the one to express myself in any way shape or form, whether I'm on stage, on-screen or on-air, I am always doing something. I was born in the Isle of Wight into the most loving South Indian, Tamil speaking family one could ask for. My Amma (mum), Appa, (dad), and my brother have always been the ones to always have my back and are never afraid to tell me if they don't agree with something I do. Though I'm grateful to have them, I'm still surprised as to how they've tolerated me, a girl who is constantly singing, with the loudest personality and a weirdly deep voice that sometimes gets mixed up for my brother's for all of these years. Growing up in Manchester, Amma and Appa allowed my brother to try anything we wanted, from Karate to ballet, to the theatre, art, musical instruments, and sport they always let us try whatever we fancied and supported us wholeheartedly – they continue to do so every day. As a girl of colour, I'd gotten the standard talks growing up – what to do if someone treated me different because my skin is brown, how to love the brownness of my skin, how to be proud of where I come from, how I may need to stand my ground in the future. They also introduced my brother and me to so many cultures and communities, which I'm so privileged to have learned about because it made me appreciate people from all ends of the world.
As someone who has always been a movie buff and believer that I'll be an Academy Award Winner, I used to spend a lot of time watching movies. I quickly began noticing that there was never anyone on TV, in movies or even in books/magazines that looked like me. Those who did look like me never played the main character- they were always portrayed as stereotypical personalities with no opinions whatsoever.
Over the years, I fought personal battles and found myself striving to educate myself on pressing issues about race, mental health, body image, LGBTQIA+ and normalizing bodies of all shapes and ethnicities. I was one of the two Indian kids at school, the other being my brother, and though strangely I'd always been comfortable around my non-brown peers, I was shocked as I got older, as I never perceived that I'd feel as though having a South Indian identity would bring ridicule and shame at the hands of my other brown friends! I was constantly yearning for someone to share their perspectives with who I could relate to but I never did until I got into my late teens.
There are so many societal issues that are not spoken about as much as they should be; and are often relegated to taboo. I've always been passionate about amplifying the voices of various communities including my own, and I wanted to start having those emotional, raw and uncomfortable conversations, so I began my Radio Show, the Nila Extract! On my show, I've spoken about various issues ranging from not feeling Indian enough at times, caste-based discrimination, to body image-related issues and more! I mix these topics with plenty of good music, aspects of my very entertaining and very South Indian upbringing and my overall weirdness – I sometimes have these conversations with myself or with incredible guests from different communities and all walks of life from all over the world. I've been incredibly privileged to have spoken to some of my idols, including activists, advocates and more to dispel stereotypes and help provide those without a platform a place to be heard. I also post educational resources on my Instagram page, which I believe will help to provide an insight into various issues! I'm also an undergraduate Psychology student at the University of Nottingham!
We all face challenges, but looking back would you describe it as a relatively smooth road?
My journey so far has been far from a straight line – it's always been filled with plenty of ups and downs and side bends. Facing discriminatory biases from my brown peers due to my South Indian heritage was a huge hurdle that I have not fully jumped over yet. My parents have always taught me to be proud of who I am, and I always have been, and so when I did my first show about not being Indian enough, I remember contemplating that I was making the worst decision ever by talking about my experiences. When I went to an Indian school in Singapore for a bit, I was often made to feel ashamed about my culture and would find myself trying to explain that just because my family don't originate from a certain part of India, or just because I'm South Indian and don't speak Hindi, that it doesn't mean that I'm not in touch with my culture or that I don't explore other traditions. I've realized now, the ability to identify as being 'Indian enough' doesn't stem from ticking certain boxes from this so-called 'criterion', that slowly and painfully manifested after the countless years of stereotypes and bias, but it's a reflection of how you feel on the inside. And so, I realized that talking about this issue was so important, but at the same time I was worried that I would be losing a lot of 'friends'- But honestly, talking about it was the best decision I ever made. I was so chuffed with myself when Appa said that I'd explained his angst from the past 50 years in 50 minutes. It made me feel like me again.
Broadcasting live and running my page can be slightly overwhelming at times, but it's only made me want to do better so that I keep representing each community in the best way possible and spread awareness effectively. I also speak about a lot of my personal struggles on my show, which has been difficult, but Amma and Appa are always there to encourage me to keep going and doing what I love. There are still some days when I wake up, and I don't like what I see in the mirror. But I think back to the moment I realized that I honestly loved myself and it always helps. It was when I was standing in the middle of the Serengeti having lunch with my family during my last holiday (pre- Covid of course). We had the Jeep doors open in case we had to make a quickie escape from some lions. Serengeti literally translates to endless plains in Swahili, and that was the first time I actually felt the meaning of those words.
All around me there was nothing but nature, my family who I adore, some Zebras and Gazelles, and suddenly I felt so small. My issues and all my worries felt so small. And I realized that I'm just a little brown dot in this massive place, where so many things happen. And suddenly all my worries became small, and eventually just disappeared. There was so much to appreciate around me and so much to love. I'm still learning something new about myself every day, and I'm so grateful for the opportunities I've had! I hope to keep learning more!
Thanks for sharing that. So, maybe next you can tell us a bit more about your work?
Expect to hear me talk about those raw, emotional and uncomfortable topics! I think you can definitely gain a different and broadened perspective on issues that affect us and those around us in certain ways. And also, expect to hear some music, random sea-life facts and funny potato stories. You can listen live on Saturdays at 6pm on URN1350 or on Spotify, Apple Podcasts and SoundCloud. I interview others and have already had the privilege to chat with incredible individuals who have shared their unique and personal experiences from their journeys. It not only helps those listening to learn more and feel heard, but through discussion, I have learned a lot too! I try to play a mix of different music genres, and I love playing Tamil music in the studio too!
If you had to, what characteristic of yours would you give the most credit to?
I think it's always good to take a risk so important to hold a safe space for those sharing a story, I also try to go in wanting to learn new things! Moreover, I'd say that being an unbiased listener is a very important quality, especially during interviews, I am always so privileged that my guest is willing to share part of the lives with me, and it's important that I help them to feel respected, safe. Appa and Amma often say "be curious, be stupid, be foolish, be a teacher, be a student, be a novice, be a role model, be a star, however chellam, always remain a human being to the core" – I couldn't have said it better!
Contact Info:
Image Credits
Credit – Nila Varman
Suggest a Story:
 VoyageLA is built on recommendations from the community; it's how we uncover hidden gems, so if you or someone you know deserves recognition please let us know 
here.