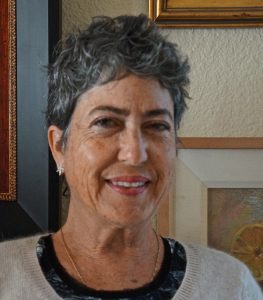 Today we'd like to introduce you to Lori Escalera.
Every artist has a unique story. Can you briefly walk us through yours?
Of course! At 62, I am probably one or two generations older than your mainstay reader. However,  my story is timeless and shaped by my youth. Youth seeks wisdom to go forward but this cannot be achieved without "experience." In my youth I experienced that as an "insecurity" (fear) which most people can relate to – no matter their age. Art students in their teens – and seniors in their 80's – experience the same trepidation. People want to create and do artistic things but they are continually fearful.
Ironically, creative fear and insecurity walk hand in hand for many. I continually walked on the precipice of creating and the fear of failing. Being told as a teenager I could only be an artist if I married a wealthy doctor, allowing me the financial underpinnings to stay home and paint. Without support I left home at an early age, totally screwed up. I stayed in college taking liberal arts and sciences and was afraid of art classes. I attended three colleges and became a Graphic Designer. The Universe had ideas for me: I was fired four times! Devastating experiences they were, but each time I made more money and new opportunities presented themselves in the arts. I consulted, created community murals, instructed Art, and eventually, at almost 40 – became a renowned Pavement Chalk Artist.
I was born "next to legally blind" (severe myopia) got glasses at age three and always could be found with pencil in hand. This early lack of seeing developed a discriminating sense of sound, taste, smell, and touch. My need for exploring creative endeavors in all manner of human senses played equally important roles lifelong. I cooked, played music, went crazy over smells (both good and bad) and tactile sensations overwhelmed me at times. I lived both inside my head and outside of it.
I have not forgotten my roots, vested in abusive artistic relationships which had an equally positive side (discipline and criticism), accepting that with bad comes good. I understand my idiosyncratic curiosity can "pull" me away from what is infant of me at anytime, to explore another world – which will enhance my primary focus. I have struggled with many physical and emotional challenges over the years, and constantly undergo reinvention. I've had four eye surgeries, two hip replacements, two cataract surgeries and recovering from spine surgery at the moment. But, I get up every morning and say "what cam I choose for today?" It is a creative act which some days includes nothing more than organizational responsibilities – but that is a creative act in itself; the next day there is freedom to manifest the next artistic expression.
Please tell us about your art.
My Art is not one thing. It has never been. I would win a versatility award from Los Angeles Trade Technical College at 21, knowing then I was the "Jack of All Trades" type of Artist. This led to lifelong insecurity because most of my friends were/are phenomenal in their trades. Illustration, Advertising, Architectural drawing, Set Design, Painting, Instructional Art Services, Pavement Art, Murals, etc.… and I am blessed just do a bit of it all. The minute I hope to have "arrived" – the Universe steals me off to some other adventure. I don't go along by inspired confidence – only begrudgingly on a scary ride!
Having many skills, in my toolbox has always allowed for a secure income from Art. In the 1970's as a young woman working, I found great paying work in the publication industry. In the 1980's, went into my own advertising & graphic design business. I took advantage of my assets to level the playing field. In the 1990's I began reinvesting in community by "giving back" and working with underserved community members both seniors and disadvantaged youth. I started the Culver City ART Group and wrote grants totaling $110,000 for three murals paying Artists and disadvantaged youth for artistic work. By the 2000's I was in love with Pavement Arts and left commercial Arts to travel as a Pavement Artist. It really served the core of who I always knew myself to be – a person who was curious about others cultures, enjoyed traveling and doing Art! It was a dream come true…. the only thing was – I didn't know the dream was a possibility as a nine-year-old in the 1960's. Then, I could only dream of being a "teacher of art."
In the last two decades, I have turned my interests to painting and Master Methods in Oil paint. I have explored watercolor, ceramic glaze painting, drawing, gouache, acrylic, alkyds, and tempera. One particular method adopted by Master Dutch Artists like Jan Van Eyck and contemporary Master F. Scott Hess is "Mischtechnik" which utilizes white tempera in between oil glaze layers. It is responsible for many historic and amazing oil paintings which have an illumination/luminosity/strength that is not possible with straight oil painting alone. I am very inspired by the technique and love to teach it in workshops to others. My work is diverse – as are my interests. Currently, I am writing scholarly papers (working on my third!) in Art. This interrupts visual artmaking. This also interrupts any gallery who would be interested in representing my work. Going between ephemeral Arts and hard Art is a challenge in marketing or being marketed.
I guess the important thing to know – is being an Artist is not like being other things. Being an Artist is a very vague term. Labels were important to me at one time and I would never wanted to be labeled an Artist because that had such an unflattering connotation! Others would label me as a "printer" or a "typesetter" or "photographer" …. whatever they observed on a surface level. It took me until I was in my 50's to finally be able to stop applying euphemisms like "Art Specialist" and just say "Artist." People will still label me based on what they see me doing. Without the label, however, there is so much more! I am used to a lifetime of being pigeonholed, so please forgive me if I take a roundabout route in describing myself as an Artist.
Finding Ephemeral Art changed my outlook on life. People are very sad when they know the pavement art will be destroyed. I try to explain that when they go to a musical after 2 hours, the show is over. When they go away, they are left with just the experience of it. Street Painting is like that… it's so inspiring for the Artist and the public. People are forever changed after they engage with it. It a very inspiring experience for everyone involved.
Given everything that is going on in the world today, do you think the role of artists has changed? How do local, national or international events and issues affect your art?
Yes, political events affect me greatly. Sometimes they paralyze me. I know this is true for other Artists as well. We are very sensitive, the affront to our senses is too over-stimulating and we shut down. For others, they can distill the impulse and turn it into an Artwork. I spend a lot of time thinking how to turn my brutalized feelings into Art.  In our contemporary world of lightning-fast news cycles it is super effective to use my words to distill a universal statement about current events.
Living through civil rights of the 1960's, assassinations, violence, racism, bigotry, and hate, I feel like we are right back there, now. Subsequent generations just inherited the bigotry of their closedminded ancestors and it is being privileged in today's Trumpian political landscape. I remember being part of the counterculture (1969 – 1974) and things politicians would stay was so out of touch. Overnight in 1974 – Richard Nixon was outed, the Pentagon Papers were published, the Draft ended and our Troops came home from Vietnam. But, it was over on the surface only…because we went back to sleep. The Anti-Establishment grew up, became the Establishment, bought houses in the burbs, acquired amnesia – and now we are here again, once more.
I am a product of a Holocaust Family.  People just don't see how they are caught up in cycles which repeat themselves, over and over. So, it just depends what part of the cycle you find yourself. Sometimes it feels like the people who should be listening the most are incapable. They are dooming themselves to more genocides. If you look at Bavaria, you will see they murdered Jews and exiled them three times in 200 years…. It's like… REALLY? Are people that shortsighted? (they didn't have internet to warn them, right?) But we do now and where is it leading us? It IS STILL the Artists job to shake people up – to get them to question what is in their blind spots – to move them to a place which is uncomfortable – to assist them in evolving. Sometimes that means aiding in the destruction of bad ideologies, sometimes it means lifting them up to inspiring new ones.
It is also the role of Artists to record for posterity. Artists are biased like anyone else. They are subjective and they are human. But what they do is "record" their perceptions. It is for others to figure out the meanings. And they do. And those meanings change as history marches on. But the recording is done by the Artist – such that it remains as it was recorded – so when new ways of thinking emerge the same painting and artist may be reviewed; people may understand in new ways, which they did not before. It would be a mistake to think I didn't just use my artistry on you in words. It's not always a painting or a political message in the street. It is any means I can reach you…and I will. That is what makes me an Artist!
How or where can people see your work? How can people support your work?
People can see me dynamically on Facebook. They are also welcome to reach out to me for private studio appointments. I attend The Representational Art Conference (TRAC2019.org) which is an awesome place for Artistic community. I enjoy being around Artists who also deeply consider the Artists' place in history and appreciate investigating the changing circumstances as history is being rewritten; better understanding the relationship to Representational Art Making. I will be presenting my next paper, so please join us! (day tickets are now available).
At this point in my life, I am relishing advocating more for Feminist Theory as an integral part of Art History. I am devoted to exploring, discussing, and helping promote women and minority Art representation. People don't realize women played a significant part in emancipating themselves and creating many forms of Art (including cooking, domestics, and crafts); and stood alongside of men doing representational art. Women were just left out of history entirely as unimportant – during the Enlightenment when pseudoscience philosophers like Kant said women and minorities had smaller brains not capable of genius. Those "out of favor" by gender, race, ethnic or differing religion were also left out. Two of my previous papers dealing gender ideology in Art and Pavement Art as Art History canon are at academia.edu or you can purchase the TRAC Proceedings books on Amazon (I make no money it's a labor of love).
People can always ask to see my painting and make purchases. (that is a great support!) And they are certainly welcome to follow my travels and come to pavement festivals. I made a Google Map of my community mural work they can visit:
https://www.google.com/maps/d/edit?mid=1Rp0pI7OAZr_RK6B047L3BwyhpEU&ll=34.01293211420092%2C-118.40014025182319&z=16
Of course, my website, to see all the variety of fun
Contact Info:
Image Credit:
Lori Escalera
Getting in touch: VoyageLA is built on recommendations from the community; it's how we uncover hidden gems, so if you know someone who deserves recognition please let us know here.