Today we'd like to introduce you to Joanne Chew.
Joanne, please share your story with us. How did you get to where you are today?
I'm the youngest in a family of four, born and raised in San Francisco. One of my earliest memories is climbing on top of the piano and playing with my feet while my mother was entertaining guests. My favorite part of school was whenever we got to focus on arts & crafts. When I was in the fourth grade, a classmate sitting next to me complained about the mess I was making, and my teacher said, "She's an artist. Making a mess is how she figures things out."
I want to say that was the light-bulb moment of my life and things just took off from there, but I had no idea the magnitude that statement would one day hold. I had a very loving and stable home life, and a core group of childhood friends I met from church, but I spent much of my early years feeling like I didn't completely belong. I had frizzy hair, glasses, clothes that didn't seem to match, was a bit awkward and clumsy, so I was teased a lot in school. I didn't display any indications of being any sort of child prodigy that traditional Asian families tended to hope for, so there was a lot of talk of "hopefully I could marry well in the future," as if that was the only way to guarantee my survival.
High school was an especially challenging time for me (I know it is for practically everyone), and come senior year, I was still a few credits short of what I needed to graduate. A classmate suggested I sign up for an acting class. On the first day of class, our teacher said: "I know most of you are here because you need the credits, and you think it'll be an easy 'A,' but some of you may go on to become actors and actresses."
When I was twelve, I had a bit part in a feature film shooting in the Bay Area. At the time, I was just excited at the prospect of getting to miss school and be paid for it. My parents initially balked at the idea, but casting and my school principal convinced them it would be a great experience for me. My dad finally gave in on the condition that I wait until I was eighteen to pursue any further work in the entertainment industry.
I never gave it another thought until that moment in my first acting class as a high school senior. As soon as the thought entered my brain, I dismissed immediately because I had already had plans to go to college to study to become a veterinarian. It was an "acceptable" profession in the traditional Asian community I grew up in. I felt pretty happy about my decision, but deep down, something didn't feel quite right. After I graduated high school, I heard about an open casting call on the radio. I decided to go on a whim. I hadn't turned eighteen yet, so my mother had to come with me. I remember feeling so light and excited afterward. I begged my parents to let me sign up for more acting classes. I got headshots and signed with a local agency.
I could tell my family was hoping it was a phase that would blow over, but the deeper I immersed myself, the hungrier I got. They allowed me to go to an "acting camp" in Los Angeles over the summer. It was an intense three weeks of reading for casting directors, ending in an agent showcase. Some people ended up getting signed. I didn't, and I remember calling home in tears. My parents tried to console me and wondered if I had had enough. "No, this is what I want to do," I told them. " I want to move to LA and be an actress full-time."
In retrospect, I'm extremely grateful to have had parents that delayed my growing up for as long as possible. My father asked me to come home and go to college for at least two years. Major in whatever I wanted. Of course, I enrolled in everything related to acting and theatre. I had about a year left to go before I earned my degree and was working multiple part-time jobs after school to save up money for the move, but I knew I wouldn't have anywhere close to enough unless I worked full time. My father let me drop out of school and I found work as an administrative assistant at an architectural firm. In less than a year's time, I had earned full health benefits and a 401k.
I thanked them for the incredible opportunity, put in my notice, and came back out to LA. People constantly tell me I'm crazy to have walked away from such a stable situation, especially without having a college degree.
I've never once regretted my decision, even though there hasn't been a day that was easy since I've come out here. I spent so many of my early years feeling like I never belonged, but I don't feel out of place here. LA is home.
Has it been a smooth road?
It most definitely hasn't been a smooth road, which is a true testament to all of us who've stuck with it throughout the years, how much we truly love what we do.
I've run five marathons, (running is another love of mine), and as challenging as that's been, building my career as an actress and surviving life in LA has been infinitely harder. I usually come up with a more sugarcoated, "happier" response, but I've learned that it's important to embrace the lighter moments as well as the darker ones. It makes up who we truly are, and as cliche as it sounds, we won't be able to truly appreciate the light if we don't acknowledge the dark.
I would say the two biggest challenges would be facing constant rejection and having the courage to live with complete authenticity. Rejection is never going to be easy, especially in an industry that will require an endless amount of work, countless hours, many sleepless nights, sacrifice upon sacrifice, and things still may not go your way, certain doors still won't open. I've gotten better at handling it over the years, but it's a kind of heartbreak every time, and we all know those are never easy.
For the longest time, I thought the most important thing was to be likable, and therefore "hireable." While there is some truth to that, I had let it get to the point where I had completely stifled my own voice and opinions. I became afraid to stand up for myself, and that, in turn put me in a very unfortunate position where I was taken advantage of, and a lot of my beliefs were compromised. It had a very negative impact on my physical and emotional health. There was a fair amount of backlash when I started asserting myself more and being more firm with my boundaries. It was difficult at first, but the positive side to it all was it inspired me to get involved with activism and philanthropic efforts. I'm getting better at not worrying so much about what others may think of me, and trusting that I'll keep attracting more of the right types of people and situations the more I am true to myself. It's definitely been a process.
We'd love to hear more about your work and what you are currently focused on. What else should we know?
I was very fortunate early on in my career. Within a year of acting in LA, I got to work with Keanu Reeves in "Street Kings," and Corin Nemec in "Chicago Massacre, Richard Speck." I wound up getting to work with Corin again in "Evil Doctor," which aired on the Lifetime Network last year. I started off doing very heavy, dramatic roles, which was fine because I was just happy to be working. I'm very fortunate my acting coach, Amy Lyndon noticed I had a knack for comedy early on and really pushed me on sharpening my skills for several years. There is a special art to timing and precision in comedy that's completely different from the nuances in dramatic acting that I find completely fascinating. The trick is to find the truth and honesty no matter what you're doing.
After a lot hard work, I was blessed to land some awesome comedic roles. One was a TV pilot "Destroy x Fire," and a lead role in the web series "Three Chen Sisters." Both had successful film festival runs and won awards. I'm currently the lead in another comedic web series I'm not at liberty to name just yet, but it was exciting because it was my first lead role that wasn't Asian specific. We're still currently shooting the last few episodes and hope to wrap by the end of June. The series is written and directed by Michael Mandaville, and it's been an incredible collaborative process, being able to have a very tangible part in developing our characters. It's been incredibly exciting seeing more and more actors of color in lead roles that are out of their stereotypical norm. The push for diversity and representation has been a long time coming.
It's also been a blessing witnessing my activist efforts align with my art. I've been a huge advocate of equality, diversity, and women's' rights. I've had incredible opportunities working on the documentary "I Am Christine Blasey Ford Project," (directed by Skyler Barrett), and the music video "Don't Silence Me," (starring Mhairi Morrison, and directed be Jenn Page). Both projects were helmed by female directors and a primarily female crew and helped to bring so much valuable awareness to the very prevalent issue of sexual abuse and harassment. It's really important to keep the lines of communication for these concerns open so we can keep advocating for eachother and bring about positive change.
I also got to try my hand behind the camera as one of the associate producers of an upcoming short film, "The Divisible," written and directed by Marcus Thomas, who is also starring as the lead. When I read the script, I knew I had to get involved. It stressed the very important message of how important it is that everyone in this day and age utilizes their right to vote, and take control over our futures. We have to keep fighting against prejudice and injustice in order to preserve humanity. There are so many things happening in the political climate today that are so tragic and divisive, and this film urges everyone to remember to look into their hearts. Despite our differences, we are all human beings and we need to be looking out for eachother.
I'm finding that the more I trust and let go, the more these types of opportunities seem to present themselves. Initially, I felt way in over my head and beyond the limits of my comfort zone, but this is the only way to keep growing and expanding. I'm becoming a better artist because of it, and I intend to keep pushing myself.
I studied painting for a few years during my childhood and recently came back to it the last few years. I've mostly been focusing on abstract art. It was just another extension of my creativity and it helped me channel my stress and emotions in a more positive manner. It was another act of kismet when I was protesting at a rally that I connected with an activist who was also a fellow artist, Carrie Lynn Barker. I quickly became a fan of her artwork and thanks to her encouragement and connection, I had my first art showing this year, in March. The proceeds went to CASA of Los Angeles, an amazing organization advocating for foster youths in the Los Angeles community. My third art showing will be at Chocolate and Art Show this July, also in Los Angeles. Proceeds will go towards Artists for Trauma, benefitting civilian and military trauma survivors. It's been a huge blessing to be able to give back to the community doing what I love.
Let's touch on your thoughts about our city – what do you like the most and least?
What I love most about Los Angeles is the diversity. It truly is a melting pot of people from all different walks of life and cultures. I also love the wide range of restaurants and cuisines available. A huge way to experience culture and connect to others is through food (I love eating), and there's just so many places to try, so many outings with friends to plan so we can keep having new experiences.
What I dislike most about LA? Traffic. I think this is pretty universal.
Contact Info: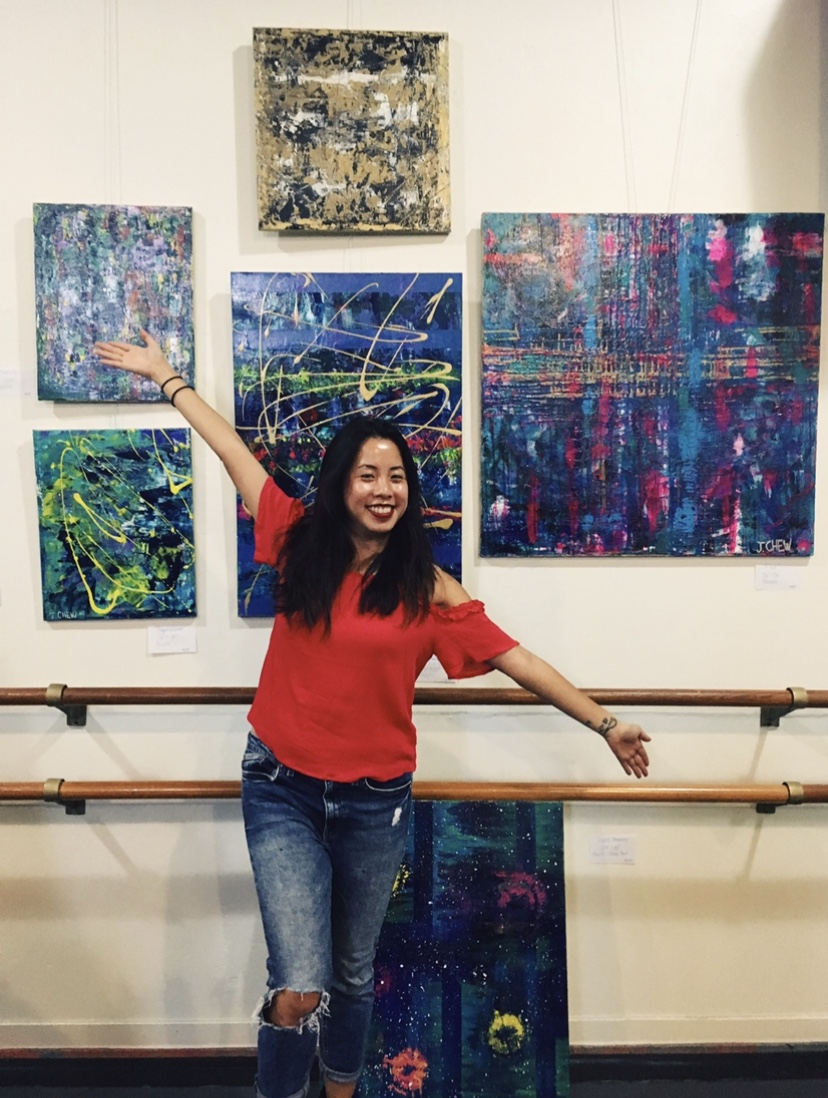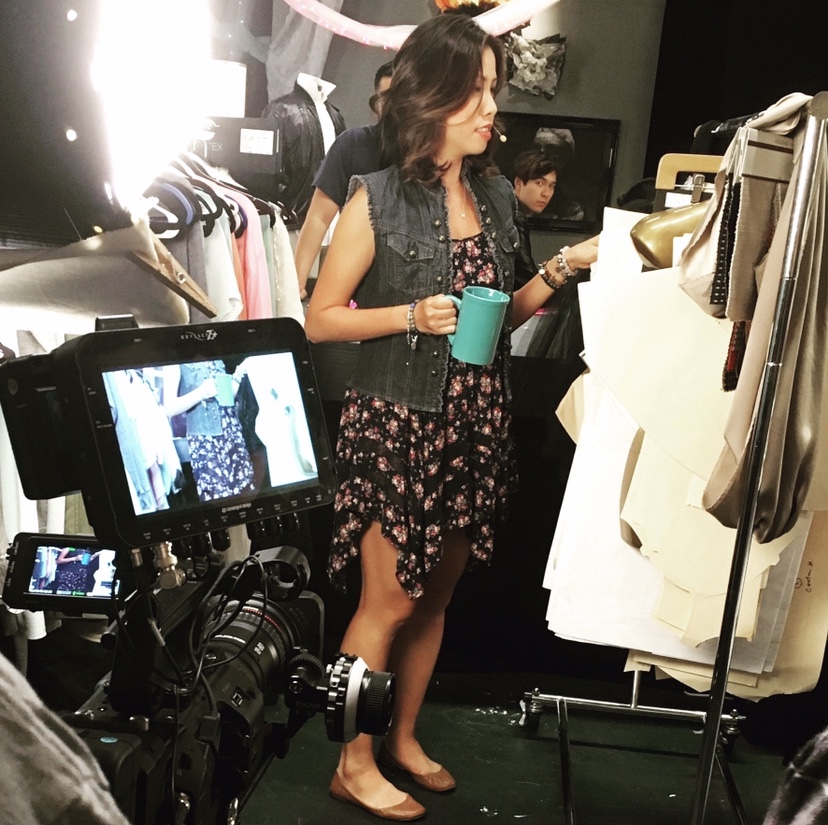 Image Credit:
Richard Munoz, Steve Escarcega, John Mai, Kevin Mathison, MBC News
Getting in touch: VoyageLA is built on recommendations from the community; it's how we uncover hidden gems, so if you know someone who deserves recognition please let us know here.