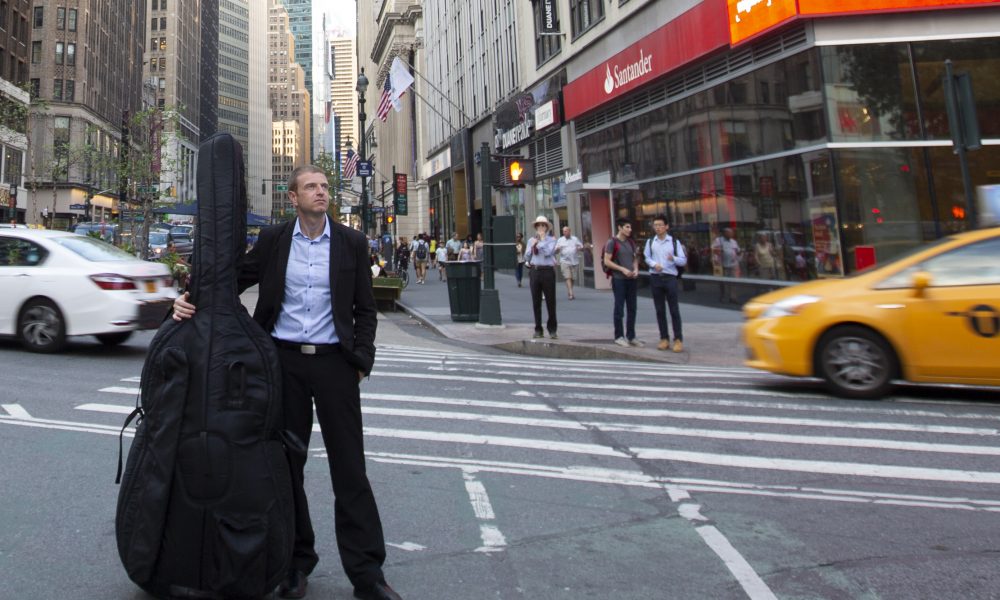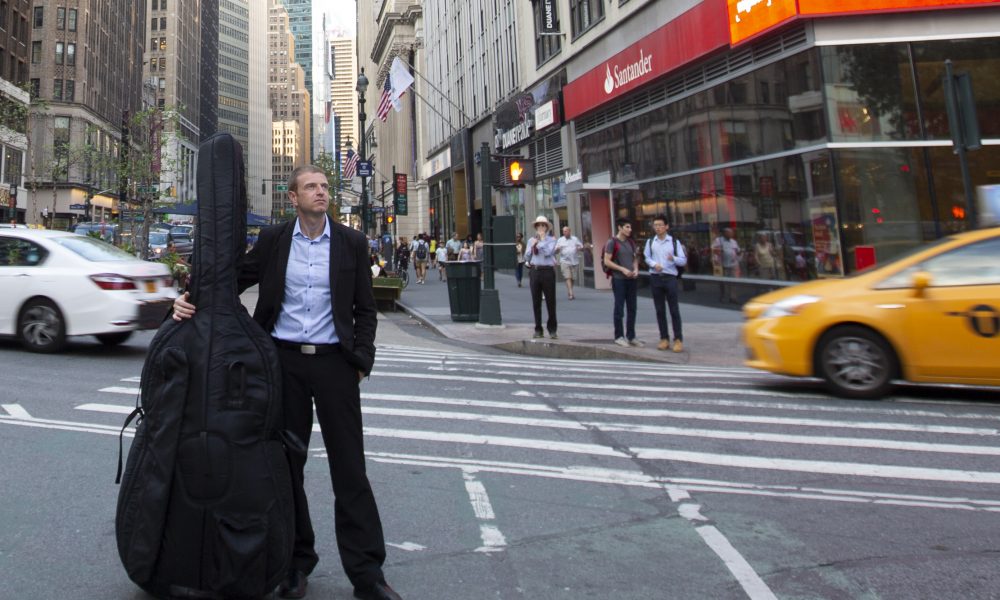 Today we'd like to introduce you to Igor Kogan.
So, before we jump into specific questions, why don't you give us some details about you and your story.
I'm a bass player, composer, and bandleader from Los Angeles. I split my time between playing upright and electric bass on variety of projects, live shows and recording sessions, and composing and producing music for films, TV, and media. I have performed in the U.S. and Europe as a bandleader with my own Jazz Quintet and a Big Band (17 piece Contemporary Jazz Orchestra), and as a sideman with various artists and bands. Some of the venues included Jazz at Lincoln Center, Steinway Hall (NYC), Bern Jazz Festival (Switzerland), Toronto Music Festival (Canada), Red Sea Jazz Festival (Israel), renown clubs in New York and Los Angeles: Smalls, Zinc, Fat Cat, Herb Alpert's Vibrato, Vitellos, Blue Whale, and The Lighthouse to name a few.
My musical journey began in Nizhniy Novgorod (Russia), where I started to play violin at age seven. I was attending an after-school music program, focusing on classical music. When I was 15, I moved to Israel and was exposed to more contemporary music and jazz, then my music teacher inspired me to pick up an electric bass. As I started to dig more into jazz, I fell in love with the sound of the acoustic bass and later bought my first upright bass and started to take lessons.
After finishing high school life took me in a different direction and I went to study in Technion (Israel Institute of Technology), from which I graduated with a bachelor's degree in electrical engineering and started to work in a Communication Technology branch for the Israeli Defense Force. I have never stopped playing music and it has always been an important part of my life. So, after working for several years in engineering, I decided to pursue my music career professionally and applied to a full-time music program. After successfully passing the auditions and receiving a scholarship to the one of the best jazz schools in U.S. – "The New School for Jazz and Contemporary Music" – the decision was obvious and I moved to New York to pursue a music career. This was a very intense time – going back to school again, being a full-time student and working to sustain myself in the Big Apple – but it was a great musical and life-changing experience. I had a chance to meet, study and play with some of the best musicians in the world!
While living in New York, besides performing and recording gigs, I was involved in several Broadway musical productions as an arranger and orchestrator and became interested in composition, arranging and music production for theater, films, and media. I started to get calls to compose music for short films and theater projects and got to produce music for the New York City's Arch Ballet, a national TV commercial for a health insurance company, and the Korean Broadway musical production of "Dr. Butterfly", which premiered at the Rose Theater in Lincoln Center. I liked doing this kind of work and decided to try my luck in LA, where there it seemed to be more opportunities for those types of gigs, especially in the film industry.
Since my move to LA in 2013, I keep busy both as a session and performing bass player and as a composer-arranger. I perform regularly around LA with different groups and bands and lead my own Trio, Quintet and Big Band. I composed, orchestrated and produced music for several films and film trailers, Broadway musicals, including "An American Victory", and a new original musical "Icon" written by Jonathan Kaldor, which premiered at the New York Musicals Festival starring Tony Award winner for the Best Actress, Donna McKechnie. I have also put together and performed with my own Jazz Orchestra and Quintet, and recorded a debut album of my original music.
Do you feel like our city is a good place for businesses like yours? If someone was just starting out, would you recommend them starting out here? If not, what can our city do to improve?
LA has been a great place for me. When I first moved here I didn't know anyone, but pretty quickly I found a very supportive and open music community. There are several different music organizations, which I became an active member of: ASMAC (American Society of Music Arrangers and Composers), NACUSA (National Association of Composers USA), SCL (Society of Composers and Lyricists), ASA (Academy of Scoring Arts). There are a lot of professional events happening almost every week around town – either it is a music concert, film screening, workshop, or master class featuring some of the best in the industry. For example, just recently there was a tribute event in a memory of Emil Richards, a legendary vibraphonist and a studio percussionist, who worked with George Shearing, Frank Zappa, Sarah Vaughn and many others, and played on a countless number of records and movie scores. I got to meet Emil not long before he passed away and it was a big honor to know him and to be at this event together with hundreds of LA top musicians, composers, and producers who have shaped the music industry throughout the years. The event took place at the Eastwood Scoring Stage at the Warner Bros. Studios, where many soundtracks for the most iconic Hollywood movies were recorded. It was a big inspiration to be in this room with other top music professionals, and it is one type of experience that can happen only in LA.
There is a lot of talent in this city and it feels good to be in this creative environment and to meet likeminded people, collaborate and share mutual interests and love of music. You never know whom you're going to meet the next day and what opportunity it is going to bring. This is not about meeting the celebrities (although it was quite cool to meet Quincy Jones, Herbie Hancock, Stevie Wonder, Justin Timberlake, Nile Rodgers and some other famous people in person), but the real advantage of living here is the opportunity to meet other creative people and the joy of working together and helping each other to realize our artistic visions with the help of each other's skills and talents.
I'm very grateful for the opportunities this city has presented to me and the people I met here. On my recent record, I was very fortunate to collaborate with nine-time Grammy Award nominee and incredible jazz vocalist Tierney Sutton, who added so much to my music. About three years ago, I was able to put together my own 17-piece jazz orchestra, consisting of the younger generation of ones of the best LA jazz musicians to perform my original music, and we played in the best jazz clubs in town. I also had a chance to record an original orchestral suite, which I composed for the classical orchestra and recorded at the Capitol Records – a legendary Hollywood studio, where Frank Sinatra, Michael Jackson, Paul McCartney, and other legends made some of the most historic records. This is a dream come true!
Besides the music scene and my professional career, I'm very connected to the nature and I like LA's lifestyle. As cliché as it sounds, the weather is always great! You can ski in the mountains and the next day play volleyball on the beach – that's pretty cool!
I would definitely recommend LA to people who pursue a career in the entertainment business, music, or film. LA is probably one of the best places to be. That being said, nothing happens overnight and it takes years of dedication and hard work to establish yourself, to find the right people, and to build professional relationships; so you have to be patient, always do the best you can, take risks and embrace the opportunities.
Great, so let's dig a little deeper into the story – has it been an easy path overall and if not, what were the challenges you've had to overcome?
The road has never been smooth and I believe this is true for anyone, either in music or other field. Being an independent artist, especially in the position of a bandleader or a music director, has its own challenges. Besides working on music and honing your skills as a musician, you also have to deal with other business and organizational aspects, such as hiring other musicians, putting together the right people for the right project, organizing rehearsals, booking studios, sessions, gigs, et cetera. It is a lot of work and responsibility, but it is very rewarding at the end to see your vision come to life. It gives you a great feeling of self-accomplishment and personal growth as an artist and as a person.
With the development of technology, the music industry has changed a lot over the past couple of decades. The ideal picture of coming to LA and working as a studio musician or as a staff film composer/orchestrator doesn't really exist anymore, as many of those jobs were drawn out or simply disappeared. No one really talks about it at music school, because the main focus is on studying music and practicing your instrument. But when you face the reality you start to discover things that are different from what you imagined. I had to adjust myself as well, and actually my engineering and technical background came in handy, as I learned how to do sound recording and audio/music editing for films and media productions, which was very helpful in sustaining myself when I first moved here. This also led to meeting people in the film industry, which brought me other projects as a musician, composer and sound designer. I think it's important to be open to other opportunities, be flexible and learn new things along the way. It doesn't mean you have to compromise your art, but it does help to broaden the vision. For me, music has always been a priority, but being able to work in sound and audio helps to open more doors and allows me to keep developing my music career.
This city has a lot to offer and sometimes it can be overwhelming, especially in the age of social media when everything is accessible all the time and there is too much information that can be often very destructive and easily throw you off the track. I think it is important not to compare yourself to others, stay true to yourself and your own vision, and do the best you can at the moment.
Contact Info:
Image Credit:
Julie Mark, Abraham Joseph Pal, Donald Barnat
Suggest a story: VoyageLA is built on recommendations from the community; it's how we uncover hidden gems, so if you or someone you know deserves recognition please let us know here.
Sponsor Shoutout: Check out @dafreckledpoet on Instagram or some of her work below: