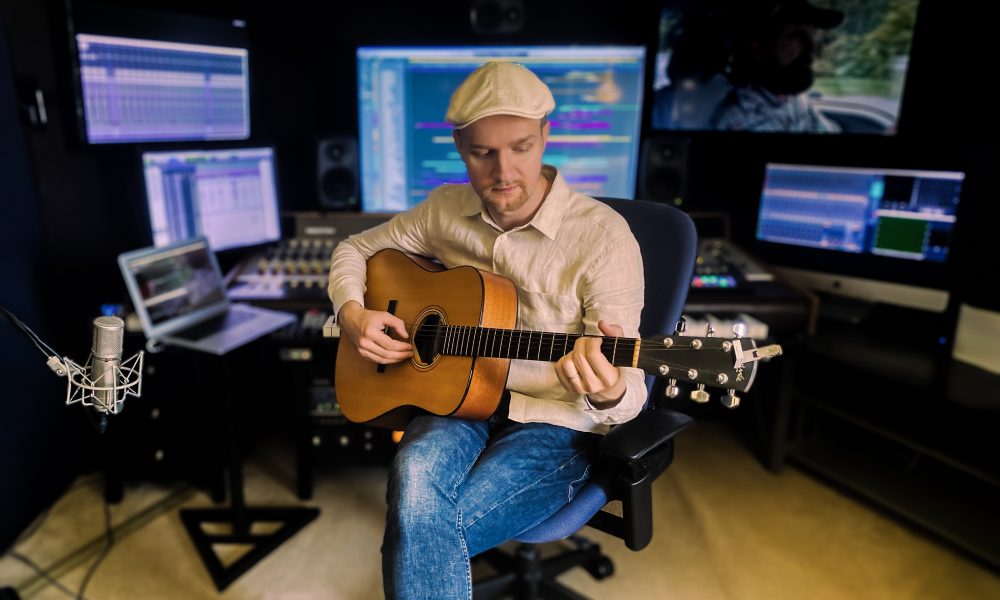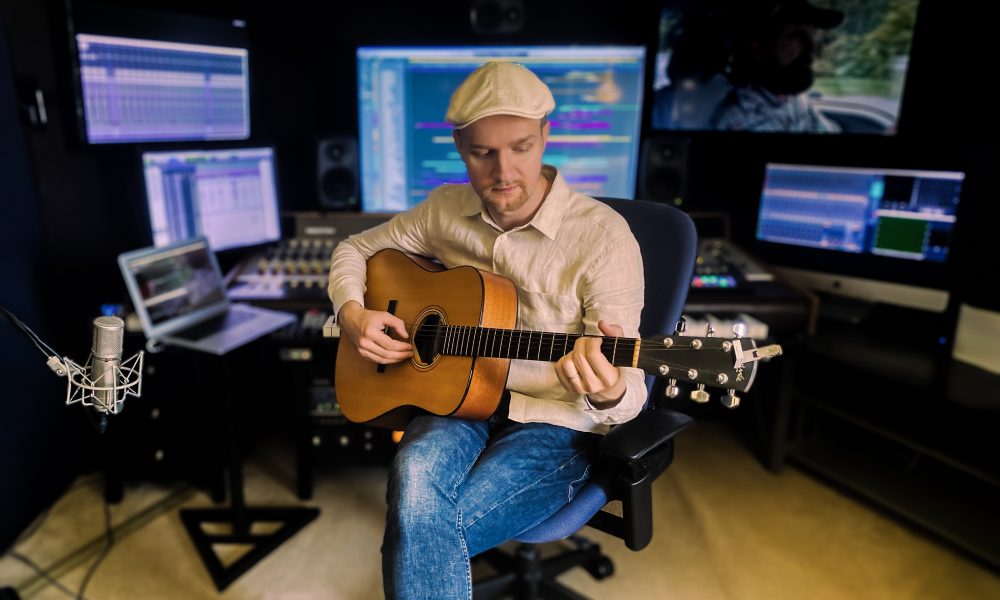 Today we'd like to introduce you to Henrik Astrom.
Hi Henrik, so excited to have you on the platform. So before we get into questions about your work-life, maybe you can bring our readers up to speed on your story and how you got to where you are today?
I've always been passionate about music–as long as I can remember. I started playing piano at the age of five at my childhood house in Gothenburg, Sweden. My father had a rather unique profession and was a well-known archaeologist who traveled all over the world. He also brought me and my mother along on excavations until I was 18. When I was at home in Sweden and not attending school, I was usually sitting by the piano and teaching myself to play. I liked to mimic famous TV themes from the 80's such as Lonesome Dove by Basil Poledouris. I also had a great interest in synth music from bands and artists such as Tangerine Dream and Jean Michel Jarre.
I took a few piano lessons in my childhood but I was never particularly interested in playing classical piano. Despite my interest in music, I ended up studying mathematics in high school, but I soon realized that it was a bad decision and I left home when I was 18 to study music at the Stockholm Music Conservatory instead. There I connected with some of up-and-coming Swedish musicians and bands and after graduating the conservatory, I decided to open my own small recording studio in central Stockholm. I ran A-Stream Studio for ten years between 2002 and 2012 and I ended up working with well-known acts such as 'Miss Li' and Glen Matlock from the band 'Sex Pistols'. My true calling had always been to write film music though and I finally made the move to Los Angeles in 2011.
We all face challenges, but looking back would you describe it as a relatively smooth road?
It was an uncertain time at first since I had left my established business in Sweden behind and I needed to start over with almost no connections in the US. I also needed to go through the difficult process of getting a visa. I now hold a dual Swedish/US citizenship which allows me to work both here and in Europe, but the road there was long and stressful and I feel fortunate to be here still.
During the last year, the pandemic affected the film and music industry severely. Film and TV productions stopped shooting or became canceled. I have colleagues whose lives were significantly affected by the pandemic. Many composers lost their only source of income and musicians were forced to face a world without live performances or recording sessions. Over the last year, I've been interacting from my home with clients located all over the world over Zoom. I'm thankful for my wife who has helped me adapt to this work-from-home situation. Even though the last year was challenging for me, personally my thoughts go out to those who suffered so much more from the consequences of the pandemic. Just surviving this pandemic is not something we should take for granted.
Thanks for sharing that. So, maybe next you can tell us a bit more about your work?
For the last ten years, I've been focused on writing music for film and TV. Most recently, I did the original music score for the documentary series 'Secrets of the Viking Stone' that's currently airing on Science Channel and streaming on Discovery+. I also did additional music for seven episodes of the CBS series 'The Stand', based on the novel by Stephen King that came out in December last year.
I work a little differently than most composers since I like to start working on a film early on in the production. If I have a chance to see the director's previous films, it's a good start, because it gives me an idea of how they think. I often get a chance to read the script before the film is shot and I try to record some ideas that come spontaneously to capture my feeling of the story at an early stage. The process can be completely different from case to case though. I have no fixed way of working where I start with piano or guitar for example—I need to spend some time trying out different ideas to figure out what the film needs. When I see the final cut later on a lot of material has often been cut that was in the script. I end up knowing a little more about the plot than the viewer will see in the finished film. This allows me to add subtle clues with music to things we never actually see in the film.
I perform most of my film scores myself and I play piano, guitars and percussion. Most work is done in the computer with sample-based instruments today but I try to perform as much as possible with real instruments. The actors' performances are important for me and I try to imagine what the characters are feeling when I'm playing. They all have their strengths and flaws that I need to illustrate or support musically, and sometimes I keep the takes that are bit rough or imperfect if I feel that they match the film. I usually try to build my music with different melodic lines that complement each other, rather than just support each other. They all become puzzle pieces to what is happening in the movie, sometimes contrasting what we are seeing on-screen. When I feel that I have all the pieces in place, I try to sit back and watch a scene as if I was a first-time viewer at a movie theatre. If I feel that the music is not working or distracting me from the plot, I try not to be married to it. I actually prefer to throw a piece of music out completely rather than try to fix it or adapt it. It enables me to work a little faster. The decision that the music is finished will most often be based on a gut feeling rather than being well arranged according to music theory.
I also intend for my scores to stand on their own outside of the film. It can be a challenge since most film music needs to be very subtle and shouldn't overpower the events on screen. I think scenes can often be more powerful on their own without the support of music. I believe that melody is the key to reach the core of the movie and I wouldn't be able to create music for a whole feature film without coming up with a melody that I feel captures the essence of the story. Unlike traditional film composing, I tend to stay away from using motifs to represent different characters, and instead I try to write a melody that I feel incorporates the whole film and can be matched with different dramatic events. Because I use this approach, I can create music that feels fluent to listen to even outside of the film.
I'm mainly a pianist but I need to be careful not to always start composing with a piano. It often fits quite well can therefore make me a little less creative. The music takes form and grows organically for me. It is very improvisational in nature and I like to capture moments of exploration when I'm not thinking too much. A downside of this is that it can take a little more time. I try to set everything up in my studio so that I have microphones ready to record and guitars tuned. After this preparation, I put the film on my screen and I immediately play and record the first thing that comes to mind as I am watching a scene. I don't always work with click tracks or fixed tempos and just try to make the music flow with the film.
I think it's impossible to be good at everything so I try to find the movies that I feel I can truly add something to. For me, it's a lot about searching for a unique sound. I spend the most amount of time on that, and also with instrumentation and melodies so the music doesn't become too predictable or formulaic. Films that have enough room for the music to grow into a character of its own are the ones I would like to work on.
Who else deserves credit in your story?
Many people have influenced my journey towards becoming a film composer. My older brother Rickard Åström, who is also a pianist and composer in Sweden (and specialized in the Swedish folk music genre), inspired me to be a musician early on. I often went to the concerts where he performed when I was growing up. My mom has always been understanding of my career path and supported me in every way too.
One of the most impactful experiences in my career was in 2008 when I wrote experimental music for the dance performance Void with the talented Swedish performer Frauke. It was my first real commission as a composer for visual arts and I was invited to perform my music live on tour in theaters in South Africa in that same year. It was an unforgettable experience and I met with wonderful people from a world that was so different from the place where I had grown up in Sweden. I saw how segregation was still very present in the country and how the poor majority of the population was living without electricity while the wealthier were living behind fences, only a stone throw away. It's so different to see this in person than on the daily news on TV. After the premiere of the dance performance, I was invited to visit the homes of some of the crew members. We talked about our different hopes and dreams for the future. I learned from one sound engineer, who was of the Zulu tribe, about the concept of Ubuntu which means "humanness" and the strive to treat everyone with respect. Much later, I realized that I probably wouldn't have chosen the path to become a composer if I hadn't done that tour in South Africa. It gave me the confidence to leave Sweden later on and follow my dream.
I'm now drawn to projects that I hope can bring us a little bit closer together as humans. In 2017, I had the opportunity to work on the Albanian feature film 'Internment', directed by Kast Hasa, that took place during the 1980's communist era. When I worked on the film, I realized that I was not just writing music but also trying to create a stronger connection between true events that actually took place and the viewers. It's clear to me that music can tell important stories and be much more than just melodies on paper. It can reach out directly to our hearts no matter who we are. This realization gives me the most inspiration while I compose. I feel incredibly fortunate to be able to work on meaningful projects and connect with directors from all over the world to help share their stories with others.
Since I came to the US, I've connected with a few wonderful composers that I consider my mentors, most notably the late Daniel Licht who is known for the TV show 'Dexter' and Frederik Wiedmann (composer for 'The Dragon Prince'). I've also connected with filmmakers such as actor/director Peter Stormare (from the original Fargo movie and American Gods). A recent collaboration I value is with composer Nate Walcott who also plays keyboards in the band Bright Eyes. Last year we co-composed the score for the upcoming documentary 'Ariel Phenomenon'. When he was hired to write the score for 'The Stand' together with Mike Mogis they brought me on to write additional music for the series. Being a long-time Stephen King fan it was an unforgettable experience to be able to contribute to this adaptation of one of his most well-known works.
Contact Info:
Suggest a Story:
 VoyageLA is built on recommendations from the community; it's how we uncover hidden gems, so if you or someone you know deserves recognition please let us know 
here.