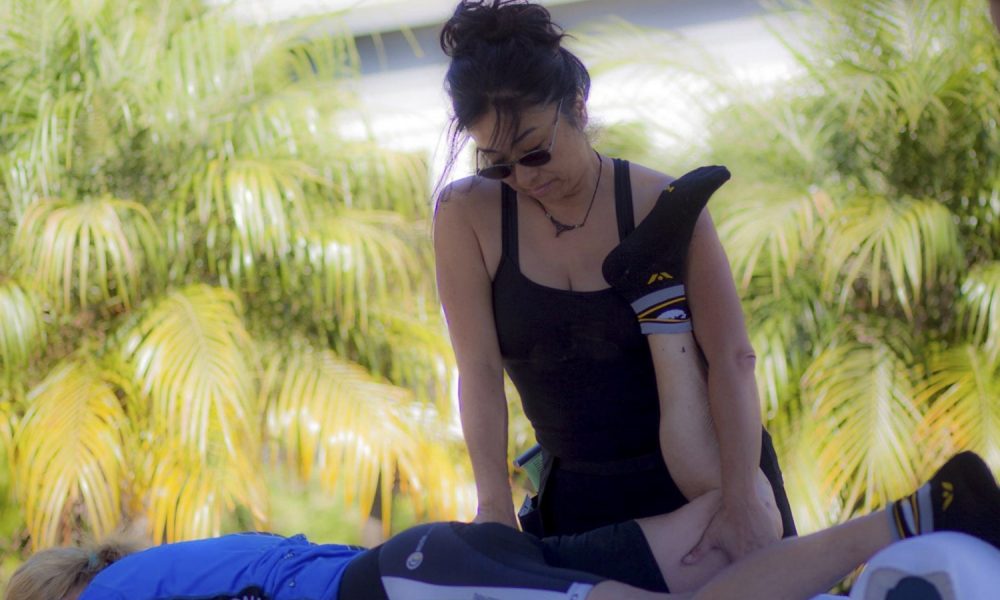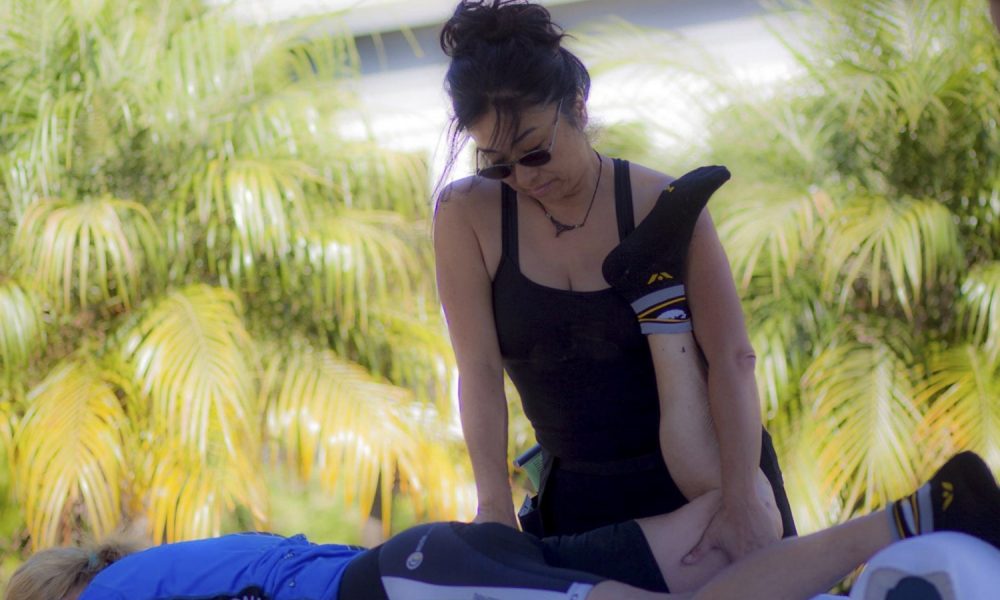 Today we'd like to introduce you to Gwinn Ioka.
Gwinn, please share your story with us. How did you get to where you are today?
In the Beginning, I knew at an early age that I had a gift for massage therapy. As a 12-year-old girl I remember my aunt asking me how I knew where all the knots were. My response was, "I don't know; it's like reading braille."
Since then, I have been blessed to have crossed paths with different Grand Masters and have learned many different modalities. Within the healing arts the modalities that incorporate Tai Chi, Chi Gong, energy work, and Shiatsu are some of my most proud accomplishments.
I first learned Anma Shiatsu from Grand Master Doanna Kaneko, a second-generation practitioner who brought this ancient technique from Japan over 30 years ago. On my 21st birthday, as a present to myself I enrolled in his classes.
Early History of Massage Industry
In 1980s, Shiatsu was a fairly unknown modality in Western countries and the traditional practice was done on a futon – a mattress-like floor mat – rather than a table. California began a certification process to establish standards and regulations for massage therapists. Until as recently as September 2009, practitioners had to register as adult entertainers to work as massage therapists.
Long History in the Entertainment Industry
I refused to be categorized as an adult entertainer, so despite my passion for massage I began a career in the entertainment industry, working in production with on-screen credit for several A&E "Biography" episodes, and working for several celebrities and C-suite executives in major entertainment studios.
Throughout my life, I have attracted high-achieving individuals and worked for them in the entertainment industry or studied with them in my personal enrichment process.
Returning to the Healing Arts
In 2013, I returned to massage therapy as a profession, learning both Eastern and Western modalities at the National Holistic Institute, a well-respected school in California. I became a mentor, teacher's aide, and ambassador, which launched my massage career and helped to develop my company.
I specialize in sports and medical massage therapy, where I integrate both Eastern and Western modalities and use Tai Chi movements to help the fluidity of the process.
People who seek out my services usually have repetitive motion issues and are seeking fuller range of motion. My private clients include celebrities, musicians, speakers, computer users, photographers, and professional athletes. Clients who are creative thinkers, clench their jaws, are program developers, and are innovators. Stressed individuals enjoy Neuro-Linguistic Programming and light hypnosis techniques that can help overcome mental blocks and issues.
Creating a Legacy / Finding My Life's Purpose
I've found that, as successful I can be as an individual, my lifetime goal is to create a legacy company that helps talented therapists on their career pathway in a boutique concierge company setting. My dream is creating a company that I would have wanted to be a part of as a young massage therapist, with the structure and resources to help begin the process.
I have a thirst for advanced education and strive to help other dedicated massage therapists. I love to mentor individuals who I believe possess the unique qualities of character, personal integrity, passion for service, and intention to always enrich their education through learning from top instructors. These are people whom I want to learn from and share with others.
I am dedicated to the advancement of the healing arts and helping others to achieve excellence; that's why I created a company called Access Massage Professionals. However, the realization dawned that the name was too long, and Opurea, Inc. was born. Opurea provides and encourages advanced continued education by subsidizing classes for our massage therapists.
Giving Back to the Community – Volunteering Lifestyle
Having a blessed life, my personal philosophy is that giving back to the community is mandatory. Opurea is composed of people who volunteer with the belief that our work can be powerful and giving is a way of life. Sharing knowledge and skills with others, and giving time to organizations that create goodwill generates a company based on higher morals and integrity.
Associations with Organizations & Advisors
The organization that I have been associated with for more than 20 years has helped craft my general knowledge base and shown me how to model my business. Starting with the Association of Celebrity Personal Assistants (ACPA-LA) helped me to develop a foundation for connecting to excellent vendors.
Having a connection to Grand Masters gives me a greater perspective, and there is a distinction that is indescribable. Aligning with mentors in Tai Chi, Chi Gong, energy work and Shiatsu has been a vital part of my healing arts practice.
Great, so let's dig a little deeper into the story – has it been an easy path overall and if not, what were the challenges you've had to overcome?
As a boutique company, we can identify with the issues most companies go through, such as recruitment and retention. Our struggles have varied, from technology to competition with similar companies.
Since I have worked for several self-made millionaires and high-level executives, I naively assumed the road would be easier. In time, several mentors and advisors were added to the company to provide the support and additional structure needed. The combined wisdom of all my resources has proven to be invaluable.
Unique Business Model
As a company, we focus on quality and do not advertise, which can have its challenges. When developing a business plan that does not include traditional marketing, emphasizing quality over quantity allows you to offer a premium service with an exclusive clientele.
I was able to leverage the various organizations that I have been a member of to help connect people and companies that pride themselves on giving back to their employees.
We work with high-end speakers who want to give back to their community. Companies that put employees first are my kind of people, and I select my associates carefully.
Identifying Challenges and Struggles
Competing with on-demand massage companies when Opurea is a closed community that does not market is challenging. I soon realized that competing head-on with companies that have lots of funding and more resources would not be wise.
Redirecting and Corporate Culture Expansion
Soon after the company's formation I began to expand my services, giving the average company or individual access to financial wellness, mediation, wellness life coaching, and high-end yoga services.
Not everyone is interested in learning from the best in their field; however, those individuals who know the difference and want to make this a priority find Opurea. Of course, not all people are interested in the highest levels of learning or can afford it, and just want to begin the process of wellness. We have levels of pricing that will fit most needs.
Our high-end services are developed to enhance corporate culture and wellness giving structure. We have levels of service that start around the same cost as a paid lunch meeting, developing goodwill that is memorable, and when bundled with other packages becomes a must-have service.
Creating the Opurea Community
Once a company, conference, convention or individual is part of the Opurea community, we offer special private (not open to the public) tours and discounts to theme parks, etc. Being longtime members of the Association of Celebrity Personal Assistants, we use the knowledge and several vendors for Opurea's community perks and extend these to our closed community.
Opurea, Inc. – what should we know? What do you guys do best? What sets you apart from the competition?
Leading by Example – Opurea's Corporate Culture
"Most excellent executives believe that people come first. If you take care of them then they will take care of your business. They make the health and culture of their employee's paramount." — Sir Richard Branson
Bringing Excellence to Wellness
This is the cornerstone of Opurea's philosophy and I am proud to work with companies with the same beliefs. Working with individuals who have high standards has sharpened our ability to handle details with the tact needed to meet requests with finesse and imagination. We've successfully created a one-stop company for quality wellness programs.
We use a team of recognized professionals to maintain excellence in wellness. Our financial wellness programs (university professor and entertainment industry C-suite clientele), meditation programs (had own radio show), life wellness coach (wrote a book and toured Canada) and massage therapists (celebrities, professional athletes, musicians, touring therapists) are all part of the Opurea Team.
Exclusive Opurea Community
Opurea is a closed community and the only way to become a member is when a corporation has utilized our services or you are invited by someone who is already in our community. This benefits our current members, as they have a hidden gem that they can gift to their high-end clients as a thank-you, or simply enjoy the bragging rights that they have exclusive access to Opurea, giving them an advantage over their contemporaries.
Our programs were created as if I was the client. We are a word-of-mouth company that survives because we create custom programs for the specific needs you may have at your current level, and we have ways to expand programs both in level of proficiency and services.
I am proud of the complimentary or discounted services we offer to the Opurea community, providing group and individual entertainment and unique programs.
Finding Opurea's Niche
In the beginning, we tried to go outside my zone of built-in resources (the entertainment and technology sectors) and worked on competing directly with companies that focused on on-demand massages.
We are not an on-demand service. I will not send someone over within an hour. Of course, we try to accommodate emergency requests but that is not our business style because we base the company on respect for our practitioners and clients, and booking in advance is required.
Diversifying services and focusing on embracing our unique quality of services was a game-changer for Opurea. Our exclusive membership is a privilege, and people want to be in an exclusive group that they have the power to include others in as a hidden secret.
Although quality and consistency has a higher cost, it has been the cornerstone of Opurea. We've found success in restructuring the company to include different sectors of wellness and practitioners whose qualifications are above the rest.
Customizing Corporate Services
Opurea concentrates on corporate culture and how to best enhance the goals of each company or individual.
Opurea can help expand both current corporate culture and bundle programs. Once you are a member of the Opurea community we extend great discounts and opportunities to exclusive locations that are not open to the general public.
Each company is unique and we treat each client's needs accordingly.
Contact Info:
Address: Mobile company – Los Angeles & Valley areas
Website: www.OpureaTeam.com
Phone: 310 439-8232
Email: Opurea@gmail.com
Instagram: @OpureaTeam
Facebook: @OpureaWellness
Twitter: @OpureaTeam

Image Credit:
Christine Ryan
Debbie Lefever