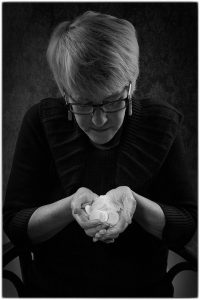 Today we'd like to introduce you to Denise Weyhrich.
Hi Denise, thanks for sharing your story with us. To start, maybe you can tell our readers some of your backstory.
I was privileged to grow up in LA, Rolling Hills with incredible parents who were leaders in the community and in their LA families. Surrounded by brilliant adults changing the world who were fascinating and inspiring me to look up, look around, and to make a difference. Our home was an open door to all, always evolving and celebrating all occasions and cultures. We never met a stranger, so I inherited that. With a radial love for all forms of art-making my hyper self has an enthusiastic joy of life preceding! As an art teacher turned graphic designer, designer turned professor, and installation artist, then retired professor turned curator… I love transformations and new horizons. By 2004 my failing health caused me to leave my students and the classrooms letting go of my professorship. This wonderfully allowed me to co-found SEEDS Fine Art Exhibits, a nonprofit that transforms galleries into sacred spaces. My constant partnership, with Cindi Rhodes as co-curators, SEEDS has been a great joy of service and support to others. Again all this makes sense to me as I was raised in LA 1960's with a mission to make the world a better place.
Artist's statement: Recording moments in time and the thrill of seeing the camera's view is ingrained in me since my kindergartener's hands were trusted by my grandmother and my dad. We become amalgamation of our life experiences! Wishing to record the lives of others through their once touched belongings and or words, I love implying the human life with the actual, i.e. clothing and objects as portraits. When amassing the elements for my installations, it is a quest for authenticity. As an university art professor, my artworks were my voice. I gathered historical images (via photos, rubbings and ceramic molds) from graveyards throughout USA & UK, and sought to reawaken lost voices and testimonies of saints. I love the act of sharing art installations in community and all the human interactions that occurs. Community installations are such a spontaneous rush! Especially compared to the isolation of daily studio practice quietly focused on creating/collecting/preparing elements for a larger work. In so many ways with my art, I am panning for gold and unearthing the lost treasures of the voices of faith.
About our 501(c)(3)SEEDS Fine Arts Exhibits: Cindi Rhodes & I found that there were little avenues for artists of faith to share their artworks that revealed their deepest life challenges, troubles, hurts. We wanted the galleries of So CA to be asking the hard questions, while being transparent and encouraging. Thus SEEDS Fine Art Exhibits began with an idea and a heart for others, to create community in a grassroots gatherings thru exhibitions. As two graphic designers, we returned to our fine art roots (Cindi worked for Saul Bass/Yeager and SONY records) but being nonprofit focused, we designed, produced, set up all PR and imagery for create SEEDS to reach across the nation and globe. Our exhibits have mainly been focused in So Ca, but traveled to Chicago & Nebraska as well.
Can you talk to us a bit about the challenges and lessons you've learned along the way. Looking back would you say it's been easy or smooth in retrospect?
So like most, yes life is a struggle.
But for me, it has been an amazing life with nothing but miracles that I am here to even write you too! It has been a wild ride with surviving stage 4 ovarian cancer 2016 and these last two years tracking down liver cancer. I am living with a miracle new chemo drug for since 9/19 and answers to lots of prayers. As a graphic designer, educator, nonprofit ministries my heart has always been one of problem-solving and assisting others since a child in LA with folks building churches and orphanages in Mexico. As a hyper person who just happens to be with cancer, celiac, with sever type 1 diabetic…(a truckload of undiagnosed diseases I just though every kid felt this way) these health challenges keeps my head and heart in check to keep a balanced life.
The huge step of leaving the paying graphic design world, yet with creating a non-profit fine art outreach during a recession was insane. So came the financial trials, keeping food on the table, keep working without pay, then as our parents dying of cancer…you get the idea. The doctors discovered my childhood diabetes, sjrogrens, celiac…then came the fight for life with West Nile virus…. As I was working on projects I completely believed in, projects that made a difference, following my mother in creating community!
For me those hard life experiences created deeper artworks; lack of funds spurs artworks with reclaimed materials; mixing eclectic graphic design skills keeps all medias available; with a great love for working collaboratively with others I stay in community despite Covid: AND helping others is so much more rewarding.
Thanks for sharing that. So, maybe next you can tell us a bit more about your work?
My current work of "Casting Crowns" has amassed 1500 covid newspaper articles folded as paper airplanes prayers, thus taking the hurst and pain of Covid news and losses and giving releasing those cares to God. I have had daily paper airplane flights, then started gathering prayer circles with friends, then families gather, then larger community events. At meaningful points of covid losses friends throughout the day of prayer our yard. Praying and flying 100, then 300, 700, 900 folded airplanes. In January 2021 a group came to Saddleback church campus to fly 1275 planes in the middle of a large field. Many have taken their local newspaper, folded it into a plane and mailed it to me, even from Japan. At Christ Cathedral, the OC Catholic Dioceses, one of my former students is leading her 5th graders in joining in prayers too. Most of all I look forward to what is next and gathering for prayers for healing. Oddly enough my next door neighbor was over picking oranges, yet distracted with this in the piece in the middle of our yard, Rob Tran asked to film and photo the work. His work is amazing and collaborating has been a complete blast. Rob's photos of "Casting Crowns" project has been featured in CIVA Voices journal nationally as well.
During the month of November during my artist in residence at The Saddleback Church, we hosted a Gratitude Walk through Thanksgiving. This journey was likened to the stations of the cross, but for healing during covid and turning over our hurts. A few of my ceramic installations were displayed outside along the pathway. Then using molds I cast from old tombstones were offered for others to make positive images and place them into a memorial mound. Turns out over 1500 clay tablets made up this memorial. I was equally able to create a larger mound at my city of Orange on the St John's Lutheran campus, that combined multiple artworks to create a 400 tablets memorial of thanksgiving, then on Thanksgiving day everyone had a historical tablet to take home. To build, share, and give away is perfect full circle!
My self-imposed time constraints to complete the gathering of the elements are the heart of these installation. In "Tabernacle" 70,000 communion cups passed through the hands/souls 70,000 times during 1½ years of communion from Lent to Yom Kippur. "Beacon" created light beacons of 99 used worn salt shakers. "Seen" collected 99 images and 7 actual found gloves captured on site. "Seen" was just exhibited in Saddleback's closed lobby but installed for the summer for those on campus. Smaller works result with our trying times: "it's complicated" comes from my wrestling with racial inequalities, demonstrations and deaths; while "present presence" trips over the trials, losses and hope of our covid days.
What are your plans for the future?
COVID has been a period of responding by creating series reacting to the events of the world, globally, and smaller works both privately in the studio and publicly. I am always thrilled whenever another gathering to fly "Casting Crowns" comes. Still each day I am folding/praying over paper airplanes of the daily newspaper for that next installation in community, so "Casting Crowns" continues to grow. When the global Covid healing comes, so will this project will end too. We all are hoping for that to come soon! Waiting as Christ Cathedral is desiring to safely share "Casting Crowns" on the cathedral grounds with all their students. Globally we are past 4 million deaths and more praying still. I am hoping to see a retrospective exhibit of my works happen in 2021.
SEEDS also awaits for "Epitaphs" at Saddleback next as well. As SEEDS Cindi and I are preparing our next installation of exhibition "Epitaph, what dreams may come" and publishing the catalogue. This has been a six years project that began with an exhibit at Warner Brother's Theater on Hollywood Blvd, with 5 different versions including 100 artists. We are to open this latest new version of Epitaphs at Saddleback in 2021.
I am still taking daily photos of my chemo pills to mark the healing and gift of life for each day I have. This is being recorded onto playing cards "The hand you're dealt" a collection of 17 decks of 52 different cards dating from Jan 2020 through the present. It seems everywhere I turn new artworks keep appearing in my thoughts. Hoping to be safe to travel abroad and collaborate with other artists while also hoping to be back to my pre Covid life of being in LA bi-weekly attending concerts, cafes, galleries and our museums like everyone else. … and to be with and hug my kids again.
Contact Info:

Image Credits:
"Casting Crowns" 2 photos, Rob Tran "Tabernacle" Jeff LeFever & black & white portrait
Suggest a Story:
 VoyageLA is built on recommendations from the community; it's how we uncover hidden gems, so if you or someone you know deserves recognition please let us know 
here.