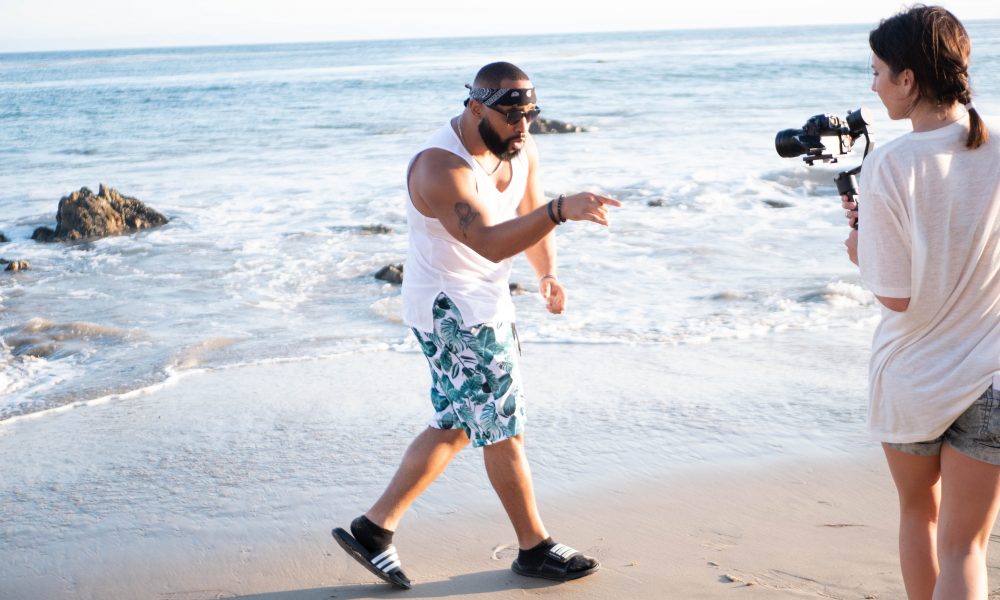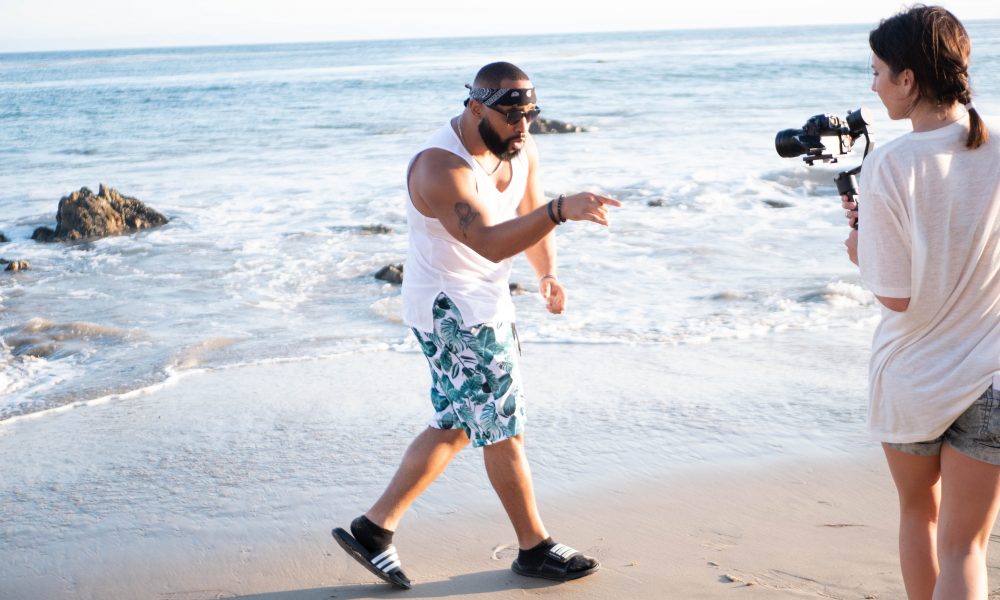 Today we'd like to introduce you to David Je'.
David, please share your story with us. How did you get to where you are today?
I was born in Newark, New Jersey at Beth Israel Hospital. My love for music started very early being that at six years old, my mom took me to see Michael Jackson live in concert here in California. That combined with coming up around a lot of cousins and extended family singing in church, singing and dancing were like second nature. I grew up in the South Orange and Maplewood area, going to the same middle school and high school as Lauryn Hill. We didn't attend at the same years as she is older than me, but you would definitely see her around from time to time. I could for sure be caught singing and dancing like Michael Jackson anywhere I was as a kid, including the hallways at school. By eighth grade, I was about 5'10 or so and that's when I stopped focusing on my creative side and started playing basketball. Basketball was my focus from that point on, and I didn't sing much outside of church until my junior year in high school when I joined the gospel choir. I only joined because my girlfriend at the time was in it, and it gave me a chance to see her after school when I wasn't in practice. But when it was time for a concert and all the males had to 'audition' for the lead vocalist they chose me. I sang Fred Hammond 'No Weapon' and I think this was the first time my parents actually realized I could sing for real.
After that basketball was still my focus and I never thought much of singing again until my senior year when my girlfriend's mother passed away. This really got me thinking about life being way bigger than basketball and my purpose. This is also around the time when my cousin who had a label deal with Interscope Records at the time, asked me if I knew anyone who was a rapper. I told him no but that I wrote songs and he told me to come to the studio. I had a notebook full of songs I had written about my girlfriend but had never sang them out loud to anybody. When I sang them for him, he told me I was a good songwriter and that he liked them. This got me being around the studio more and less and less focused on basketball. I ended up playing one year in college but by then, my creative gifts had been awakened and I had lost my passion for basketball. Being in the studio felt like home and I got a first-hand look at what creating top quality music was all about being around my cousin's producers and artists. Outside of just sitting in on their recording sessions, I would spend time around my now big bro Vertical Jones who went by 'Coly' then. He and his good friend D.K. Davall are who became my first mentors, not just in music but in life as they were the first people to ever tell me that I had a real gift and could be great.
I love them dearly to this day for believing in me. After a few years under their mentorship, I ventured out to start my own company called So Real Records. It was my first company and I served as producer, songwriter, and vocalist, working with various independent artists in New Jersey. Not too long after this, I reconnected with my younger cousin who also had his own company at the time and was a singer, songwriter, producer also. We started working together and later became 'The HitList'. In 2013, I went through a very dark time as my father, who was sick with cancer ended up passing away on the day before my birthday. I had almost given up on life, but my faith in God, music, and my close family and friends are what held me up.
Six months later, my cousin and I moved to LA to take our gifts and our company to the next level. For me, this was also a breath of fresh air, and a somewhat new lease on life after being in darkness for a while. This led to working with artists such as Chrystian Lehr, Jake & Papa, Eric Bellinger, and R&B sensation Mya. Mya enlisted The HitList along with other top producers to create the full album 'Smoove Jones', which garnered a Grammy Nomination for 'Best R&B Album' in 2017. Since then, I have expanded my capacity as a creative and invested in an independent film as a film producer, landed a few small acting roles, written a script for a series, and put out music of my own that has just landed in one of the hit shows on Amazon Prime and UMC called 'A House Divided'. Now no longer working in The HitList, I am more focused on continuing that creative expansion with my new company Dream Walker Entertainment going forward. I just recently opened my new recording studio 'D2R Studios' and am excited to continue working as a recording engineer, songwriter, producer, and artist myself.
Overall, has it been relatively smooth? If not, what were some of the struggles along the way?
It has indeed not been a smooth road, but the path to becoming 'successful' at anything in life rarely is. Loss has taught me a lot in life and losing my father was probably the biggest struggle for me. A lot of my dreams were tied to me enjoying reaching certain goals with him and when he died, it seemed like I lost those dreams. Another struggle that shook me to my core was the sudden loss of my cousin K2 who was also a phenomenally gifted singer, songwriter, producer in the family. He was a Multiple Grammy Nominee and had written songs for Fantasia, Faith Evans, and Trey Songz to name a few. He passed away suddenly from a blood clot in 2015, and this also hit me very hard as we had been close since we were kids in the church. His passing is I guess what you could call 'the straw that broke the camel's back' because shortly afterward, I began my journey with panic and anxiety attacks. There were obviously other things such as disappointments with big artist situations falling through, to A&R's saying they don't see anything special, but these family losses above all else are what I consider my biggest struggles.
Please tell us about Dream Walker Entertainment.
Dream Walker Entertainment is my new baby/company and I'm very excited to grow it and the brand. I am a Grammy Nominated singer, songwriter, producer, vocal producer, and recording engineer. I think my true calling is connecting with people through storytelling, and that comes out in whatever way the situation calls for. Sometimes it's singing the song, other times it's writing the song or producing a track. Either way I have the gift of telling a story and having it connect on a deeper level with people, which if anything is what I would say I specialize in. I would say I am best known for my songwriting, vocal producing, executive producing and being a dope recording engineer. What I am most proud of as a company is what it stands for, which is excellence in everything you do. Walking in your greatness and making your dream a reality by being your true king, our queen self. I believe what sets me apart from others is my ability to create, shift, and carry if need be the energy in a given space. The darkness I have had to overcome in myself and my life experiences allow me to connect with other creatives on a deeper level, which then breeds better art. Artists who have worked with me will tell you I am a sort of life coach while we work. I help people see the greatness in themselves and walk in it, and that is what I feel is priceless. I always say 'I can't give you what you don't have. The greatness is already in you and I just help you let it out'. This is also my daily message to myself so I am not just talking to them when I say it.
If you had to go back in time and start over, would you have done anything differently?
I believe everyone thinks that they wish they could change some things in their past. But once you change one event then everything after that changes. You can't love who you have become and hate the things that made it possible for you to become just that. So I, for one am grateful for my past even with the darkness and heartbreak because it made me this man today. I believe that it all happened the way it needed to for me to be who and where I am now and is setting me up for who I am becoming still. This being said, I wouldn't change anything in my past.
Contact Info:
Instagram: @itsDavidJe
Twitter: @itsDavidJe
Image Credit:
Cammi Bright, Roger Will
Suggest a story: VoyageLA is built on recommendations from the community; it's how we uncover hidden gems, so if you or someone you know deserves recognition please let us know here.