Today we'd like to introduce you to Connor Bond.
Connor, we appreciate you taking the time to share your story with us today. Where does your story begin?
Born in Burbank, CA, I have been involved in entertainment and performance my entire life. The son of an actor and a teacher, I have never hesitated to get up in front of a crowd and or seize an opportunity in performance. Showing an early interest in drums and dance, I would take this interest to dance lessons as a toddler and in high school and begin drum lessons at the age of ten. After six months of lessons, I began my self-taught journey in the world of drumming and became one with the instrument. Playing in bands through middle and high school, as well as performing with the school show choirs, I continued to perform for several different audiences through college.

Staying involved in high school activities, I was in charge of Event Planning for the school ASB, a member of many clubs at the school, and won Homecoming King my senior year. An interest in Hosting was born during my high school years through hosting and MC-ing school events, and this would eventually take me to attending the Radio Program at Pasadena City College. Hosting my first radio show at the PCC school radio station, "The Moment", solidified the interest I had in being a personality. I majored in Communications and Radio Broadcasting and was very involved in the school's radio program, Lancer Radio. While attending school, I also developed a love and passion for Producing when I got FL Studio on my College Laptop. A brief stint as a rapper would further build my bond with beat-making, and this soon became my main focus throughout the rest of college. I had an internship at Power 106 FM from ages 19-21, and this was an incredibly impactful time in my life. The internship began in my final years at PCC, and at the time when I was starting to take the idea of having a professional career in Entertainment more seriously.
Simultaneously developing an interest in DJ-ing, I began to further develop my musical arsenal. Through the knowledge and game gained at Power 106, I emerged from college with confidence and experience in several different fields of the Entertainment Industry. My talk show, "The Moment", ended after my senior year of college, and I began to focus solely on music at this point in time. With music becoming my main interest and passion in my young 20s, I began to DJ several different events in Southern California, as well as evolve my music production into making Electronic Dance Music as well as Hip-Hop. Through connections made from events, gigs, parties, and more, I soon saw myself making more moves and bigger connections in the LA music scene. Under the alias "red leef", I spent multiple years DJ-ing and producing music after college and enjoying the time as a performing musician in the LA scene. In addition to red leef, High Topz was born, an Electronic duo I started with my best friend, Ben Hobson. Following years of performing as solely a DJ and producer, an opportunity at a friend's Graduation party brought another opportunity into my life… and the drum sticks would soon be placed back into my hands. Joining the band, PRETTY.
At age 22, I mixed the drumming into my rotation of musical projects. It brought new experience, taste, and talent back into my wheelhouse and helped me excel in all areas of my musical endeavors. Bringing a new side of the industry and style of music into my life, in addition to building my DJ and production career, the band catapulted me into a new and exciting time in my life. The past several years have been spent performing in all different kinds of venues across the United States and for all different types of audiences. DJ-ing, drumming, producing and hosting are all different hats that I wear depending on the gig/performance at hand. The On-Air Talent hat will return into my rotation as "The Moment with Connor Bond: Podcast" is set to launch in February of 2021. I enjoy creating music and performance that others can enjoy and give them a break from their day to day lives. I think the joy and excitement experienced through live music and dance is very important and healthy for the soul and something everyone should be allowed to experience. My favorite part of performance is sharing the emotion and expression music creates with others, and I really believe in leading through love and community.
I'm sure you wouldn't say it's been obstacle free, but so far would you say the journey have been a fairly smooth road?
Though it has been an enjoyable and blessed road thus far, there have been different challenges along the way. Beginning with time-management and sacrifice, a lot of time has been put into the Entertainment lifestyle I have chosen. I am grateful for any opportunity I get, but the preparation and time I invest in these opportunities will make me miss out on several events others would consider important to be apart of. Balancing the several acts and schedules that can come with it becomes overwhelming fast, and there is little downtime in between projects. The uncertainty of a performance career is one felt by many, and especially with myself and my financial position. The quality of work put out might not always be met with a matching financial compensation, and I have had to make several sacrifices others would not to keep my bills paid, needs met and continually investing in newer and better gear for my craft. Mental health is a very serious thing in this world, and I know many others deal with it in their own ways.
Speaking for myself, the uncertainty and schedule of entertainment can often create unhealthy habits, as well as an inconsistent routine. I have had my fair amount of bouts with Anxiety and being overstressed and overtired from my work. Though it does not ultimately hinder me or prevent me from accomplishing my goals, the physical properties induced by anxiety have been roadblocks and challenges for me to overcome at times. As the entertainer or host, the main focus is to provide a good event for the audience or party that you are playing to. This can often mean working through the performance while having an awful day physically and having to prioritize other's interests over yours in that moment of performance. Anxiety can induce very unpleasant moments of physical sensation, uncomfortable strain in your body, as well as create a foggy and almost unreal feeling in the mind. Having to work through these moments while on the road or performing is a must, and though it was very challenging during certain gigs, I have learned what my body and mind need to do to ultimately deliver the best performance I can.
Appreciate you sharing that. What else should we know about what you do?
By definition I am a musician, and with that comes being an entertainer. I specialize in DJ-ing, Producing music, and drumming. A similar theme between these three hats is creating a rhythmic environment for people to express themselves through and add my piece to a musical soundscape and environment. As a DJ, I am simultaneously mixing records in and out of each other to create a continuous vibe and pocket for people to "party" to or enjoy their time. These mixes can be focused on making people dance, providing background noise, or even adding hype or excitement to an event. With music production, I am creating bodies of music from scratch through sampling and or collaborating with others. This includes composing the melodic, chord-based, and percussive elements of a song, and this is done using live instrumentation or virtual instruments. I have been drumming since age 10, and I play in a band. My role is providing the backbeat and groove for every song we perform, and I love being the rhythmic aspect of the group. As a DJ and Producer, I am known for incorporating my influences and old school elements into my current sound. I am a big fan of the 70s/80s musical soundscape, and I feel like there are important properties of sound from that period to incorporate into my work today. I will regularly mix in 2000s and 70s hits into a Top 40 mix, as all generations can enjoy a genuinely good tune and one that will make them dance. Though my age might suggest I would only play a certain pocket of music, I have been known to pull out all kinds of music in my arsenal, whether I was alive or not for when the song was popular and frequented in clubs. I enjoy looking to historic and current magic (music) to provide a good time for the people I am performing for.
What sets me apart as a DJ and producer is my ability to read a crowd and read a room and truly DJ for the people. I am able to know which song would be the best to play in a mix, not only because I enjoy it, but more importantly the crowd will know it and react well. It is very important to remove ego as a performer and remember you are playing to the people. With that, you definitely have to know your forte and what you enjoy doing, but it is important to create a relationship with the audience. Through all of my work, I am able to resonate and share a moment with people in the crowd, regardless of their background, gender, age, or experience. I am most proud of my ability to connect all different kinds of people through my work and allowing them to be themselves on the dance floor and enjoy their moment. As a drummer and DJ, rhythm and dance is very important to my work, and I love allowing people to escape what they need to for even a few minutes, as well as enjoy their moment and live their best life. There have been many gigs that I am humbled by and truly enjoy playing, but it is always the moments of connecting with a crowd or seeing someone enjoying their time that matter the most to me. It is a special connection, and I love seeing everyone on a similar frequency and vibe enjoying their time.

What are your plans for the future?
My plans for the future are to continue performing in the different projects I am apart of, as well as publicly promote a healthy lifestyle; physically and mentally. I feel like many performers in my field do not prioritize their health, and it is a change that needs to happen sooner than later. Through everything I have experienced, the highs and lows, it is very important to ultimately invest in yourself and make sure you are there for the right reasons. I want to help others realize that they need to invest time in their craft, be confident in that, and also remember to keep their body running at the best form that they can. I have learned a lot from overexerting myself… as well as also learning there is a way to accomplish all that you want to while being in good health. Prioritizing and realizing who you around/working with is a big step and an important step forward to make for yourself.
I look forward to expanding my creativity and musical sound over the next several years. I am beginning to score film and television, as well as produce more Pop and R&B records. There are many possibilities in music and I am open to creating all different types of vibes and works. The industry is continually changing and shifting and ultimately allowing more possibilities for creating new and different types of music. I hope to have my music take me further around the world as well, I would love to travel while doing what I enjoy most. It is special to connect with new people and culture through the principles of rhythm and melody, and I look forward to the many adventures that my music will bring me. I hope to continue to spread positivity and joy to others through my work and help anyone feel more comfortable in being themselves. As the venues might get bigger, the overall theme of a good show still remains the same to me; connecting with the audience through doing what I love. Performance and the ability to play is a gift, and I enjoy using this talent to help others benefit as well.
Contact Info: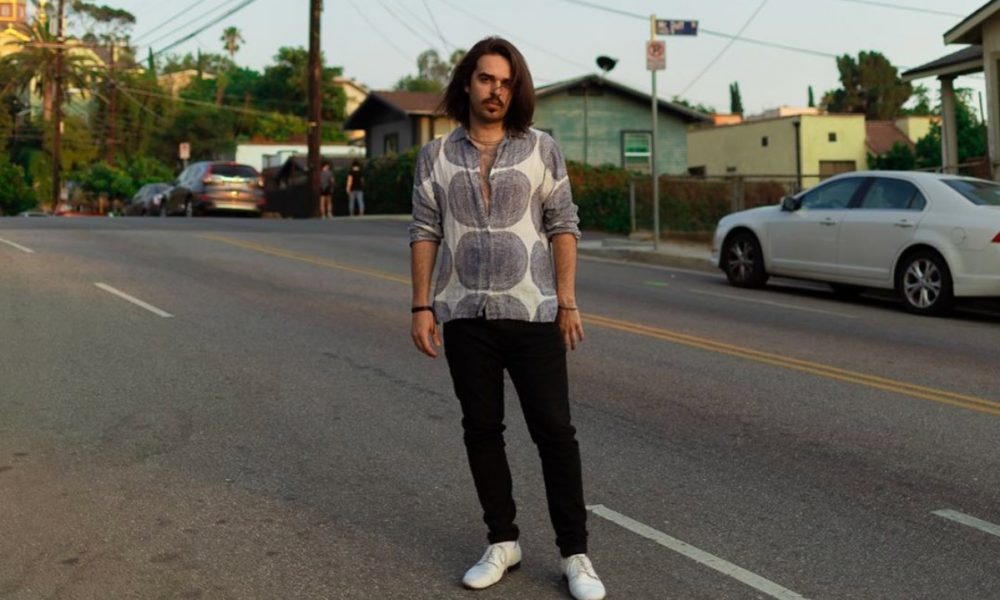 Image Credits:
j.richphoto, em1wee, Ana Karotkaya
Suggest a Story:
 VoyageLA is built on recommendations from the community; it's how we uncover hidden gems, so if you or someone you know deserves recognition please let us know 
here.