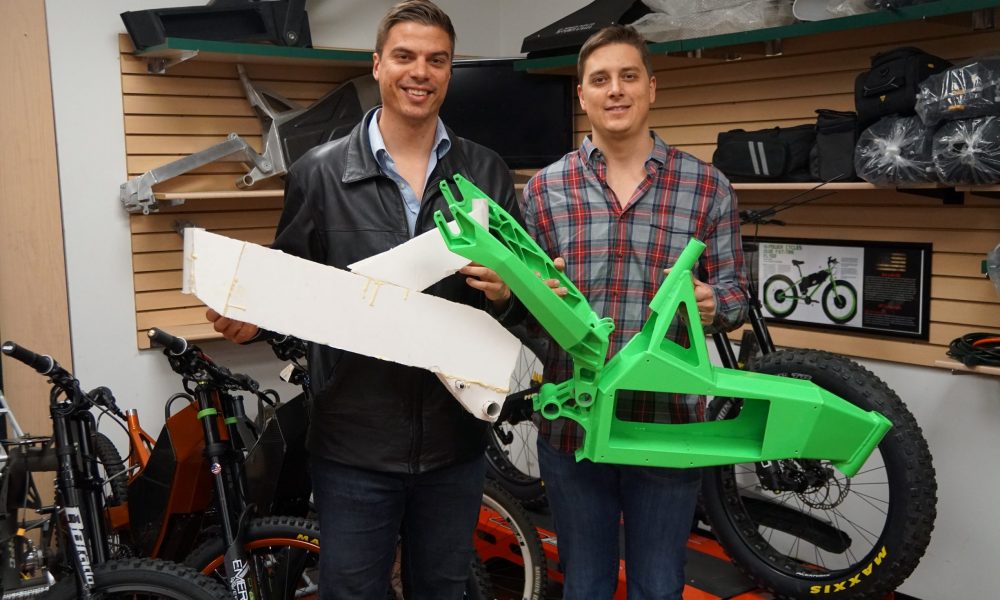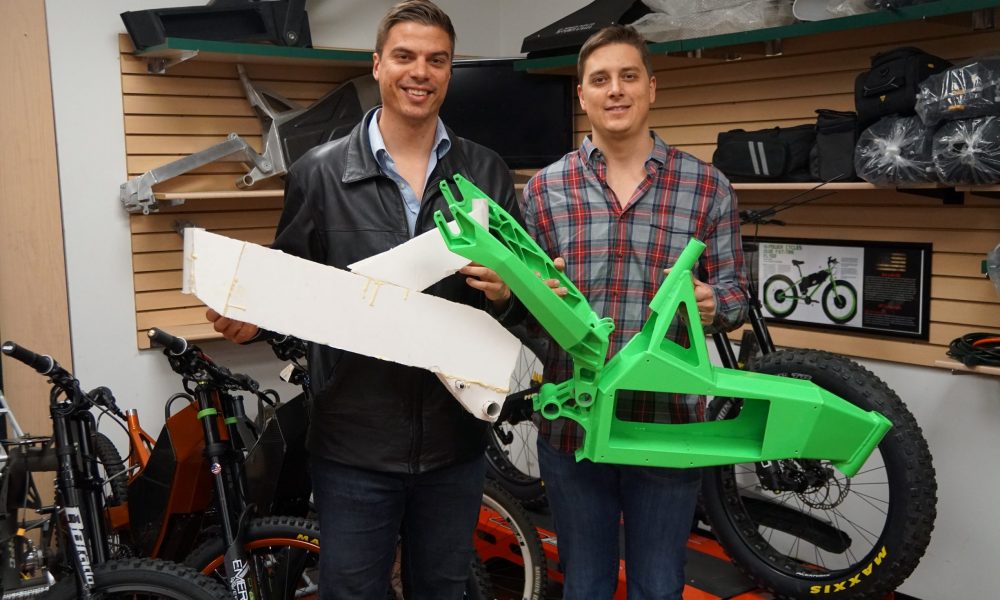 Today we'd like to introduce you to Chris and Derek Hunt.
Thanks for sharing your story with us Chris and Derek. So, let's start at the beginning and we can move on from there.
My brother (Derek) and I founded Hi-Power Cycles, LLC in 200. Since 2008, we have formed an incredible team made up of engineers, e-bike enthusiasts, top-tier mechanics and professional bike athletes to push the limits of what our electric bikes can do. Every product you see on our website has been not only vetted by our engineers but has also been field tested in real-world applications by our professional riders to stand up to and handle the toughest situations. Unlike other e-bike manufactures, were are not simply "throwing together" pre-fab bikes using inadequate components for the rigors of high-speed riding. Instead, we meticulously craft each bike from the ground up in our Los Angeles warehouse with an incredible attention to detail and pride. Every single component has been hand selected by our knowledgeable team to offer the best overall performance and unparalleled fit and finish compared to our competition. Each handcrafted bike proudly displays the signature of the highly skilled mechanic who lovingly built that bike. We love what we do and love making our customers happy!
Our Mission
To be an industry pioneer that provides groundbreaking technology to our customers for competitive prices. We take great pride in our company, our commitment to customer service, our commitment to manufacturing in the USA and it shows in the products we sell. We proudly work with OEM manufacturers, dealers and retail customers. Our passion and knowledge drive us to innovate and set the standard in the electric bike industry for all to follow. With our team of engineers, designers, expert bike mechanics and industry professionals, we are able to make these dreams a reality. Don't settle for anything less than a high-performance Electric Bicycle meticulously crafted by our master e-bike mechanics!
Our Story
In 2005, I was attending College at the University of California, Davis when I quickly got tired of my pedal bicycle. I would arrive exhausted and sweaty to class constantly and quickly thought "there has to be a better way!". I was embarrassed to talk to girls when we were wet and sticky from the 15-minute ride to class. I quickly scoured the internet and stumbled upon a 2003 Currie E-Ride MTB. I previously had experience with an electric bike I received as a Christmas present from my parents back in 2000. That first electric bike lasted a good 6 months and was fun, but the SLA battery technology was old, heavy and simply unreliable.
I quickly purchased the 2003 model Currie E-ride MTB, hoping it could serve to get me to class faster and free from sweat! I rode the bike daily to class and quickly realized with a top speed of only 16 mph or so, many of the standard bikers who were in shape could easily pass me on straightaways. I promptly modified my bike for 36V operation instead of the standard 24V. This allowed me to get a top speed of near 25 MPH and allowed myself more power and speed for off-road use. Many people inquired about where they could purchase a bike like this, and I told them that they would have to build in themselves since no one really built a high-performance Electric Bike.
Fast forward a few years, and while attending Occidental College in Los Angeles, CA, I was chosen to build a solar-powered two person surrey style bicycle with dual hub motors for the physics department. Upon completion of the project, my Professor at the time told me that he had an eye for quality and attention to detail and that I should think of making it a full-time job. I spoke with my brother Derek who promptly began writing a business plan while studying Economics at the University of California, Santa Barbara.
Newly incorporated Hi-Power Cycles, LLC sold our first bike (A converted Schwinn Mountain Bike) on eBay: dsc-1398.jpg
The lucky recipient of our very first bike was none other than Officer James Hill of the Seabrook Police Department of Seabrook, Texas. After taking a direct hit from Hurricane Ike, Hi-Power Cycles' very first bike was put to use immediately and ended up literally saving lives. Here is his incredible testimony:
"Hey Chris, we had a direct hit from Hurricane Ike. The City of Seabrook suffered MAJOR damage and a complete collapse of infrastructure. I can not convey in words how bad it is. We were hit by a 16 1/2 foot storm surge of water plus 110 mph winds. All I can say is, it was complete devastation. Our police department building was flooded and half of our department was trapped on the 2nd floor until the water receded. The other half of the department was in was trapped at our local Holiday Inn Hotel. We did this so at least one half of the department could be functioning. After the storm, we emerged and secured our city. That was on Saturday, September 12th. By Monday morning the 14th, we were out of fuel. I was ordered out on bike patrol because we did not have enough fuel to run our patrol cars. We had numerous agencies helping us and it consumed all of our fuel supply. FEMA was not able to get fuel to us until the 16th. Our police bikes were stored at the Police Station and destroyed by the storm surge. We were only able to get one functioning. Luckily I had taken the bike you and your partner built for me to work before the storm. I was able to use the bike in a real-world disaster zone. The bike was the only way to access certain areas in the aftermath of the storm. Unfortunately I had left my bike helmet in my car which was flooded and a lost. I found a bike helmet in a ditch and used it for 2 days until a store opened and I could buy another one. I want you to know your bike Saved lives. I could not have accessed certain areas of the city without it. There were broken gas lines, fuel spills from boats plus sand and tons of debris everywhere. The bike has been thru Hell and back along with me.
Just today, I was riding with my partner and we were flagged down about on a man beating up a female. I was able to catch and tackle the suspect who never saw or heard me coming. I had to respond to an 84-year old elderly female who had fallen literally split her skull open about 7 inches. I beat all other units to the scene and was able to apply direct pressure and stop the bleeding. The bike is being used constantly with the batteries being charged back up as soon as they go dead. Today, was the 1st day I got to go home to my family and send you this Email. Even though my house is damaged, I felt it was necessary to let you know what is going on while everything is fresh in my mind. I have attached three pictures because I wanted you to personally see what your bike is doing. There were lots of people taking pictures so I will try to find more later. I now work everyday on bike patrol. The looters are everywhere and the bike is a must have at this point. I work 12 hours on and 12 hours off with no days off. The bike is taking some very serious abuse but it is still functioning. I just wanted to say thank you for making me a very good bike that is saving lives including my own. When the SHIT hit the fan your bike had my back and I thank you for it."
We were in awe that our creations could have such a profound impact on people's lives and resolved to push the industry to new heights. We dreamed of not only building potentially lifesaving machines but building bikes capable of true off-road exploration. We wanted to build a bike without compromise that could climb to the top of a ski mountain in total silence.
We worked tirelessly out of a garage for two years and pioneered the use of lightweight, high performance lithium batteries as a power source in lieu of traditional SLA or NiMH batteries. By doing this, we could drop more than 40lbs from the bike and gain more range and power simultaneously. We pushed industry manufacturers to make more powerful motors and soon high performance lightweight geared motors that could take up to 2000w were brought to the market that added a new dimension of fun and maneuverability never seen before in a light electric bike. The combination of lightweight lithium batteries combined with the ultra-lightweight 9lb geared hub meant a sub 50lb. bike that could literally run circles around the 90 lb. bikes with only 1/4 of the power output! The high performance, lightweight electric bike revolution was born.
Sales boomed, and in 2010, we quickly outgrew our garage and moved into a warehouse where we could have more space to build our bikes. We sold our high powered e-bike conversions at a startling pace. Within a year, we opted out of our lease in order to move to a building more than three times the size of the previous one. In 2011, we added employees and began to heavily invest in our own frames and proprietary battery systems. Throughout the next year, we started to passionately build our own branded bikes from the ground up entirely in Los Angeles, CA. We are very passionate about keeping these high performance bikes hand-made right here in the USA. Even though it can take up to 16 hours to build a single bike, we refuse to compromise and make every bike with very strict QC and high attention to detail. Today, we offer some of the highest performing bikes in the Industry and heavily invests in R&D to usher in the new age of some of the world's highest performing motors, batteries, and bikes!
We have a rapidly growing network of more than 20 dealers worldwide, and are fiercely dedicated to offering some of the highest quality and most technologically advanced lightweight e-bikes and conversion kits that money can buy. Hi Power Cycles will keep innovating and pushing electric bike technology to its limits while maintaining strict quality and safety controls for the world to enjoy!
We're always bombarded by how great it is to pursue your passion, etc. – but we've spoken with enough people to know that it's not always easy. Overall, would you say things have been easy for you?
Growing organically. It has been tough turning down money constantly being dangled in our face, but it was important to my brother and I that we grow organically and never dilute our shares of the company with outsiders.
So let's switch gears a bit and go into the Hi-Power Cycles or "HPC" story. Tell us more about the business.
We make ultra high performance American made electric bikes. Most companies use generic Chinese bikes and slap a label on and start a kickstarter. There are literally thousands of these companies.
We have been in business 10 years now – since April of 2008. We are proud to be one of the few companies who not only build 100% in house down to the wheels but also design, engineer and manufactures purpose-built USA made ebike frames. All of our battery packs are made right here in Los Angeles, CA as well, which is very unique in the industry.
We are most proud of building bikes that bring out the smiles and inner child of adults, as well as building bikes that save lives.
Has luck played a meaningful role in your life and business?
The harder you work, the luckier you get. We put ourselves in a great position to "get lucky." Time and chance have definitely been on our side.
Contact Info:
Getting in touch: VoyageLA is built on recommendations from the community; it's how we uncover hidden gems, so if you know someone who deserves recognition please let us know here.