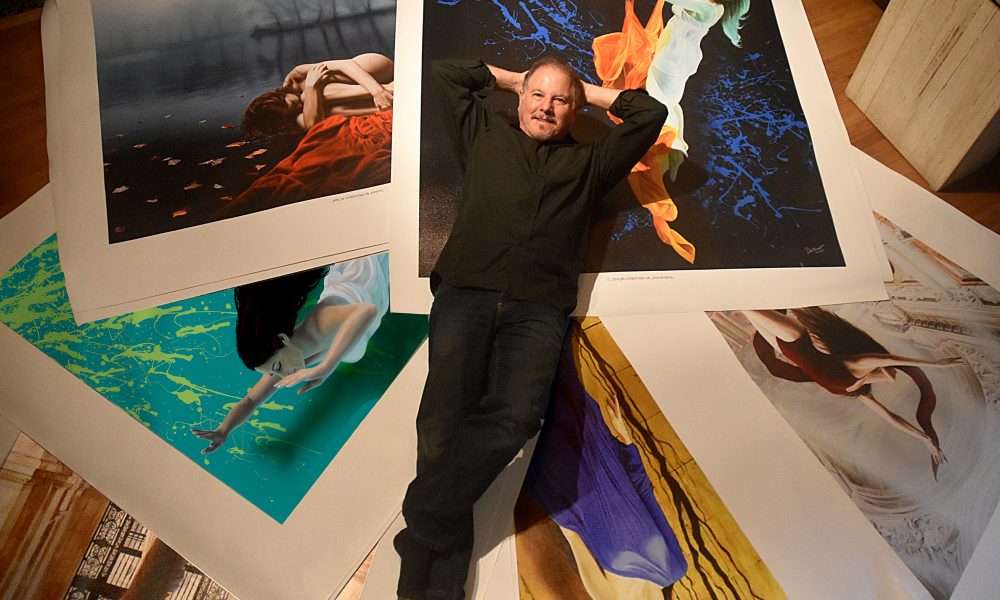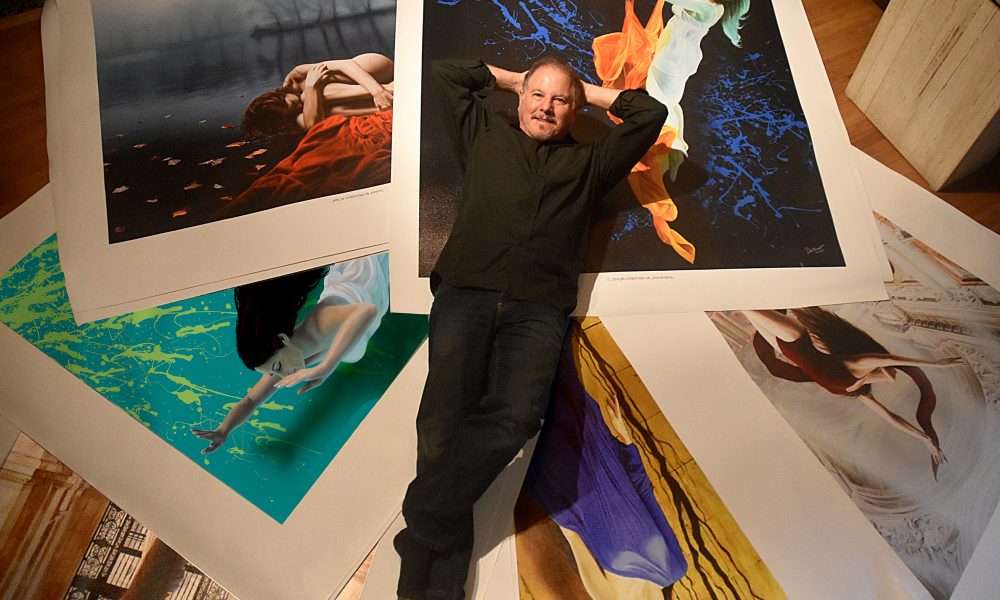 Today we'd like to introduce you to Chris Dellorco.
Every artist has a unique story. Can you briefly walk us through yours?
I'm the rare native of Los Angeles. I grew up in Laurel Canyon, amidst the movie stars, famous musicians, artists, and filmmakers of the 1970s. Growing up in that kind of unique environment, made the decision to become an artist not that unusual. Though I did attend U.C. Berkeley and received a degree in Economics, I still moved forward with a career in art, beginning as an illustrator and later becoming a gallery fine artist.
During the eighties and nineties, I was widely considered one of Disney's top illustrators for print advertising, specializing in Home Video packaging. I did covers that ranged from the award-winning "The Lion King," to Beauty and the Beast, and everything in between. If you owned one of Disney's animated titles on VHS or DVD, I probably did the cover.
In the film industry, I have illustrated numerous movie posters, which include "Conan the Barbarian," "Revenge of the Nerds," "Coming to America," "The Marrying Man," "The Firm," and others. I received the Silver Medal award from the influential Key Art Awards for the poster "Eating Raoul," First Place for my work on "Who Framed Roger Rabbit," Second Place for "Snow White," and Finalist for "Aladdin-Prince of Thieves." I also was a finalist for the prestigious Belding award for advertising art. I've also shown my artwork for many years in the Society of Illustrators Annual West Coast Exhibit, winning Best of Show in '91 and '95. I was recognized with a Lifetime Achievement Award from Artist's For A Better World.
Currently, I have focused my artistic talents on fine art and left the advertising/illustration world. I show my fine art oils and limited edition prints at galleries spanning the United States, including the Wyland/Signature Gallery in Las Vegas, Coast Gallery in Laguna Beach, Cordair Gallery in Napa and Art Connection in Pompano Beach, Florida. For many years, I've been showing my work at prestigious art festivals and shows throughout the US, including the local Beverly Hills Art Fair and The Other Art Fair, along with Art Expo NY, Red Dot (Art Basel) and many others. I've been featured on the cover of Premiere Magazine, Art Business News, Society and Décor Magazine. I've also been recognized among "50 Top Artists for 2012" by Art Business News, named as 100 Contemporary Masters by Art Tour International and appeared in the Gold Edition of Art Market Magazine.
Please tell us about your art.
Well, as an illustrator, I initially worked mostly utilizing the airbrush. However, when Photoshop first was introduced, and I became one of the first illustrators to start creating full illustrations entirely in Photoshop. You could say that I was the last of the conventional illustrators and one of the pioneers of the transition to digital art. However, when I decided to shift from advertising art to fine art, I went back to traditional methods, of basic oil painting on a canvas while still utilizing Photoshop to concept the work.
I do have an interesting methodology that embraces both the newest technologies and the most traditional, techniques of classical painting. Generally, I photograph the models in my studio, or, in the case of the underwater pieces, in a controlled swimming pool. I also travel extensively and photograph architecture and landscapes that I can use for the backgrounds in the work. I concept most of my work in Photoshop, which I had become highly skilled at during my advertising art days. Once I have concepted the work, I return to very traditional techniques. I sketch the image onto the canvas, and then paint it, utilizing the very standard painting methods that artists have used for the past 300 years.
I mostly paint the female figure. For me, the female form is a vehicle to represent emotions. All of my work depicts some characterization of a unique emotion, and I find that the human body, in just the way that it moves, can demonstrate that emotion. It might just be something as subtle as an outstretched hand or a clenched fist, that projects the emotion that I'm trying to capture. Other times, it might be a dramatic full body pose or the model in a fetal position.
I consider my art more as an exploration than any attempt to provide a message. Often, when I am concepting my work and even during the entire painting process, I consciously don't allow myself to know what the meaning of the painting is or what I'm trying to say. It is only when the piece is completed that I step back and say to myself, "What is this painting about?" Then I discover it's meaning. Ultimately, the painting tells me what it's about, not the other way around. I realize that this seems backward, but I want to trust my intuition and allow the concepts to find me. If I started with a meaning or an idea first, I think that my paintings would just become clever and pre-meditated, instead of allowing a deeper more profound aspect to them.
Choosing a creative or artistic path comes with many financial challenges. Any advice for those struggling to focus on their artwork due to financial concerns?
It definitely is not an easy path and takes a strong disposition to handle it. This sounds obvious, but keep your credit score good. There are times when you have to live off your credit cards until something comes in. I've been fortunate that I have not had to have had any other job than being an artist, but that has meant a lot of ups and downs financially. I can't stress enough the power of discipline, focus and hard work. I never suggest that artists dream. I suggest that they do. You have to create your career. As much as we would all like it handed to us, it is a constant job promoting, refining and selling your art. Doing the business aspect of being an artist is not in conflict with creating art, as many artists feel that it is. Actively selling your art is exactly what allows you to continue to paint and not have to supplement your income in other ways. The other aspect is not allowing success or failure to affect your self-esteem, either positively or negatively. You can't feel affirmed if your art sells and you can't feel like a failure if it doesn't. The art doesn't get better or worse whether it sells or not.
How or where can people see your work? How can people support your work?
I show at a number of galleries in the US, but, unfortunately, none in Los Angeles. The closest ones are Cordair Gallery in Napa and the David Kairey Gallery in Las Vegas. However, I do a number of art shows locally, including the Beverly Hills Art Show in May and October, and The Other Art Show at the end of March and also in October. Probably the best way to view my art and connect with me is to go to my website: www.dellorcofineart.com and sign up for the newsletter, which previews new work along with announcing upcoming shows, etc. Original paintings and limited editions can be purchased directly from the website. I also have pages on Facebook and Instagram: dellorcofineart.
Contact Info:
Image Credit:
Chris Dellorco
Getting in touch: VoyageLA is built on recommendations from the community; it's how we uncover hidden gems, so if you know someone who deserves recognition please let us know here.