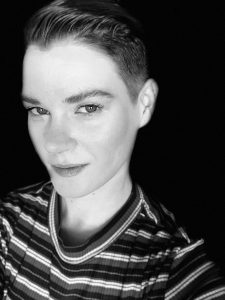 Today we'd like to introduce you to Casper Bryant.
Thanks for sharing your story with us Casper. So, let's start at the beginning and we can move on from there.
Like an etch a sketch, in order to understand my story you have to be willing to consider the first design until it's shaken up and at some point turned into something new.
I spent most of my childhood drawing, acting, and otherwise being artistic.
In kindergarten, we were told to draw a picture of whatever we wanted in class. I created an elaborate stage with actors on it in crayon. My teacher watched as I took a red crayon and furiously colored over the entire picture I had spent so much time on. She gasped, "Oh, why did you do that?" I looked up at her and simply said, "Because the curtain came down." My Mon explains that that's when she knew I was an artist at heart.
After my first year of college when I moved to California from Texas at 18 years old, I gravitated towards any way to have artistic expression and work with children. I worked for an Educational Theater Company with Kaiser Permanente that traveled throughout Southern California. Kaiser provides these services free of charge to schools and communities. We performed in shows and held workshops for kids and their families around conflict mediation incorporating drumming and live theater.
At 22 I was surprised to find myself pregnant. So were many others and hearing "What are you going to do?" was more frequent then, "How can I help?" I did find help in two women who made sure I was safe during my pregnancy, as well as my best friend in Texas, and I am indebted to them.
I started taking classes again in college to become an early childhood educator, landing an Assistant Teacher role at The Garden Nursery School just after my child turned one. I found that I could fully bring in my artistic abilities and empathic connection with kids to the forefront. After four years of teaching I realized my own child needed more of me. I was about to be married, and it seemed a good time to start focusing more on my own family and my deepest heart's desire of writing for children.
I left my teaching job and shifted my focus to writing. I joined SCBWI (Society of Children's Book Writers and Illustrators) went to classes, and started a book club with fellow SCBWI members, learning all I could. I met Antonio Sacre through his story telling at the school I taught at, and he became an invaluable mentor to me. I also found my brilliant critique partner who makes everything I write make way more sense.
And then my own child showed genetic effects of mental illness. So I fought to make sure they would be ok. I'm still fighting and advocating. I never wanted them to know the struggle of mental health challenges, yet they taught me that we need to be talking about it more not less, de stigmatizing these very real illnesses.
After my previous suicide attempts and hospitalizations as a child, I was categorized in my twenties as Bipolar Mix, with C-PTSD, anxiety and ADHD. I discovered Nuerofeedback therapy, which I credit in part to saving my life, while bridging me to the most phenomenal Doctor I have ever met who has helped our family in numerous ways.
There are so many people who have helped, and continue to help, on our journey, and I am deeply grateful to each of them. My own child continues to be one of my greatest teachers, because the strength they have shown to survive and cultivate Light in this world, is greater than anyone I have ever met.
Recently, I returned to teaching part time, at the same school that hired me years before. I found an agent, Ann Rose of Prospect Agency in NY, to champion my writing. My time now is spent teaching, helping my own child, writing, and fighting to be who I always have been and wasn't allowed to be.
Has it been a smooth road? If not, what were some of the struggles along the way?
Abuse has a way of diminishing who a person truly IS, it can warp your sense of self to a point beyond recognition. It took me many years to healthfully process through it. I am still processing through it.
I've never been confused about who I am, so much as I have been "figuring myself out." I have spent most of my life unraveling what I once knew to be true. If you had asked me at 3 years old, I would have made sure you knew I was a boy. Recently, I came out as male transgender and nonbinary. My pronouns are He/Him/His.
Science continues to prove that the foundation of early childhood education has the power to shift a child's life in numerous positive ways. I wanted to do that with all of my heart, hoping to change the path that had been given to me.
On average, the brain does not stop maturing fully until 25 years of age. To treat children as if they are a miniature version of an adult is something that I believe to be Inappropriate and wrong.
This is not to say that children are not intelligent. Children are, and always have been, way more intelligent than many adults give them credit for. I don't believe that that equates to treating them like a full-grown adult with a brain that has gone through the stages of development into maturity, and capable of maneuvering in the world in a way that children cannot yet.
I have the opportunity to help cultivate muscle memories in children. That their body is their own- not the property of adults. That they have the right to say "no." That they have powerful voices that deserve to be listened to and acknowledged.
Growing up, many of the adults who were meant to protect me hurt me, to the extent that I preferred to be alone. I was still exceedingly curious about other people, because pain caused a well of empathic depth to grow from a very early age.
Once I created a fortress in a storage closet in the middle of our house in the sweltering heat of Texas. A tall and narrow closet packed with books, stuffed animals and trophies from theater competitions. I clambered high up onto the tallest shelf It easily supported my under nourished body. Peacefully content for hours at a time- reading, writing, drawing, thinking, or buried under my plush protectors. In this space I could block out the very real fear I was trapped in. These are my safest memories of childhood.
That brief peace in space and time was disrupted by teachers who used me for their own warped sense of self that created a shell of a child who would do anything to be wanted. So much was my blind trust when this began at 12 years old, (with a brain already structured by trauma) that it didn't occur to me how wrong it was that these teachers methodically and systematically groomed me for specific relationships that were abusive.
My underdeveloped brain knew nothing other than the abuse I lived in. I felt shame, and fear, and ultimately believed it was my fault. My deepest fear is harming anyone, possibly because of the harm done to me. It wasn't until my mid-thirties that I fully understood the depths of abuse I survived. At that point, I felt like my world had been ripped out from under me. How could I trust anyone anymore?
The answer I found to that question is this: I am no longer that wild, panicked animal frozen in place because biology categorized me in the FREEZE mode of 'fight, flight or freeze' bracing to be attacked. I am not the receiver of unwanted touch or verbal assault. I am not the little puppet I was turned into. I have found my voice, and my light. And I will continue to fight every day to teach children that they too have a choice in this world.
Tell us about your business/company. What do you do, what do you specialize in, what are you known for, etc. What are you most proud of as a company? What sets you apart from others?
I've used facepainting, often in collaboration with Abira Ali of Wisdom Arts Laboratory; a nonprofit artistic space for children; murals, chalk and other forms of art as a way to help children. I've created numerous safe spaces for children with needs that vary from over-stimuli and sensory challenges, to mental health, physical and emotional disturbances.
Trauma shapes growing brains, but stronger still is the will to survive. Through my own mistakes, addictions, self mutilation and more, I have come through to the other side with the courage to change those deep set grooves in my brain. No one can take that away from me.
I am working on a revision for a middle grade novel that is near to my heart, running around after my students and trying to be the best teacher and parent I can be. I have found great therapies for myself and maybe some unorthodox ways of coping with the trauma and reclaiming it so that I am now in control. This has helped me heal immensely. It also helps that my partner is, as my best friend would say, "the closest thing to Mr. Rogers you'd ever meet." And it's true. Somehow after all the terrible relationships, I was blessed with a person who not only values who I am, but loves me no matter what odd idea I throw at him. He's a brilliant composer, and I still get chills hearing him create music.
I will continue to teach and write for the kids who need to be reflected in stories that resonate with them.
All of us deserve to be seen.
What do you like best about our city? What do you like least about our city?
I really love Los Angeles. I love that I am constantly surrounded by people who challenge my way of thinking and help me understand the deep facets of injustice, racism and abuse. I want to always learn and fight to change that, because regardless of my own differences, I wear the privilege of the color of my skin. I have much to learn.
Dislikes would be… how entitled people can be. None of us deserves to be treated with more care or kindness more than someone else. You never know someone's story. I wish everyone worked harder to listen to a stranger's story… maybe by paying attention to how they carry their body, or treat a child. There's so much you can discover about someone by being silent and observing. No one is immune to hard times.
Pricing:
Pricing for facepaint/murals are individualized to size of party/etc. For more info contact 

Casper

.3.br@gmail.com
Contact Info:
Image Credit:
Casper Bryant; Abira Ali and Wisdom Arts Laboratory; The Garden Nursery School
Suggest a story: VoyageLA is built on recommendations from the community; it's how we uncover hidden gems, so if you or someone you know deserves recognition please let us know here.