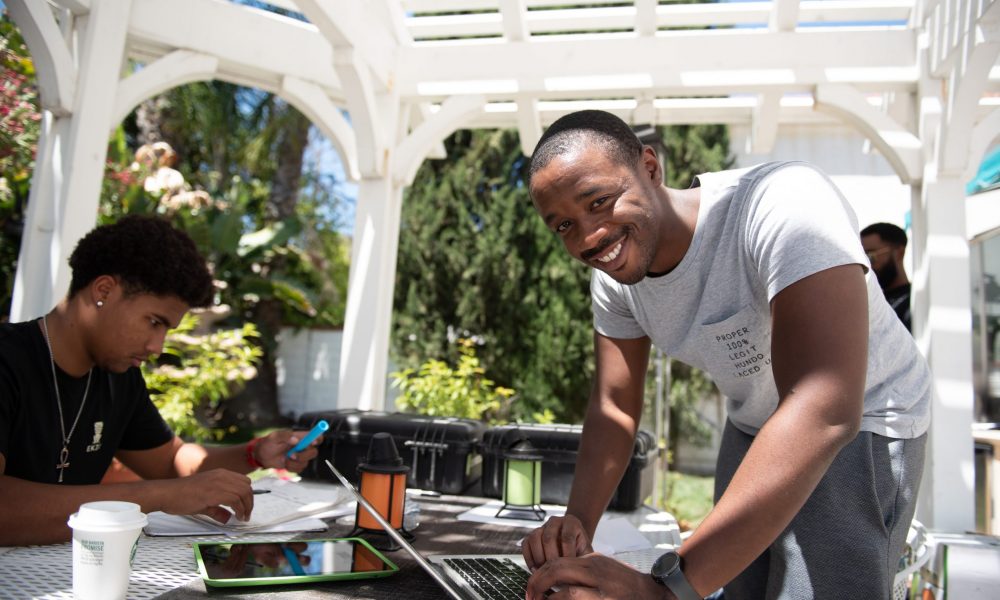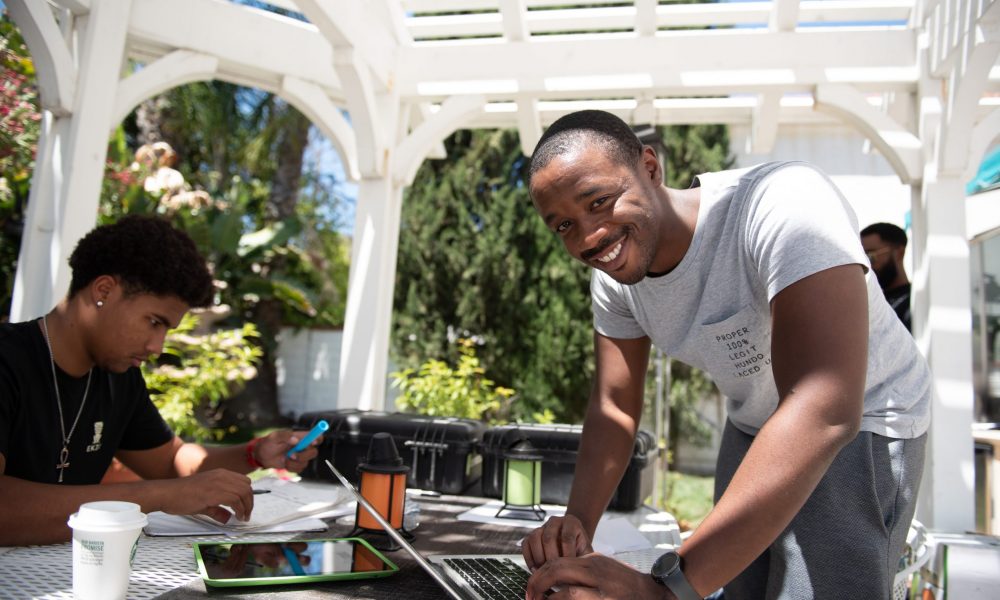 Today we'd like to introduce you to Artii Smith.
Artii, let's start with your story. We'd love to hear how you got started and how the journey has been so far.
I'm a proud First-Generation Sierra Leonian Queens New Yorker. I proudly wear that badge on my chest because it's partly because of that amalgamation of culture during my upbringing that I'm a filmmaker now. Growing up the way I did, it was as if I had three different teachers schooling me through life. Since my parents weren't initially raised in this country, I learned so much from them about taking pride in my culture and what it meant to be an African. The many neighborhoods of Queens that I spent time running around in taught me all of the pivotal life lessons that helped me stay out of trouble stay safe, and most importantly, taught me how to connect with people. But the T.V., the black box which was my gateway into so many worlds beyond my own, taught me how to navigate life through this large and mysterious world.
The T.V. was my companion when I wanted to be alone, it was my getaway when I needed a break from reality, it was my motivator when I needed to see something inspirational, and it was my educator when I wanted to learn something new. It was back then that I first toyed around with filmmaking even though I didn't really know what filmmaking was. I was about 16 when I convinced my mother to buy me a cheap digital camera at Toys R Us to take photos with. It pretty much looked like a disposable camera or like a super early version of one of those Canon Powershot cameras. The resolution was horrible on the thing but when I realized it could shoot videos up to one minute, I started to video everything I could. I recorded people freestyle rapping at school, I recorded people break dancing around school, I even taught myself how to edit on Windows Movie Maker and started editing low-quality basketball highlight reels for my cousin.
But back then it was just a hobby, and to me movies and TV Shows were just these magical things that I enjoyed watching. All I knew at that time as far as a career goes, was that I wanted to be an entrepreneur. It wasn't until I randomly took a Cinematography class during my freshman year at Penn State Greater Allegheny, taught by Professor Dr. Clifford Manlove, that I realized a career in the Film Industry was actually a thing. I fell in love with the process of dissecting every scene of a film and learning the meticulous amount of detail that went into each frame that was shot. From then on, I slowly started to take the craft more seriously. I dipped my feet further into the craft by producing, directing and editing various small projects: a student government campaign video, a web-commercial, a PSA for charity, and eventually my own little documentary.
Eventually, I made the leap and moved to LA to pursue a Masters degree in Film and Television Producing to nurture my passion for Directing and Producing. Since I've moved out here, I've had the pleasure of working at such companies as Revolt Media and TV, Fox, Uproxx Studios and Buzzfeed. Under some fantastic leaders who taught me so much more about the industry. I've since Directed and Written Seven Scripted Short Films and One Feature Film, as well as, produced 20 different projects including four additional Scripted Short Films and 57 episodes of Live Television.
Has it been a smooth road?
No. Not at all. My best metaphor for it is that it's like climbing the tallest and most treacherous mountain you could think of. It may take years and even a lifetime to reach the peak of this mountain. And along your trek up this mountain, you'll lose your footing a couple of times. You'll get bruised up during a couple of trips and falls. You may even slip and plummet down the mountain a couple of feet losing a ton of the momentum you've gained. But then the kicker on top of all of that, is that this same peak you're dying to reach, that you're sacrificing everything to reach, grows another several 100 feet further out of reach every year. That's my best way of describing how it feels
The easiest part was getting here. It was like once I decided to move to LA to pursue my filmmaking dreams, God and the Universe conspired and did everything in their power to make sure I got out here as quickly and seamlessly as possible. But once I got here, it was like they said "Aight you're on your own now. Good luck.".
I've been through a slew of personal and professional setbacks, or what I'd like to call "Progressive Struggles", while being out here. During my six years living out here, I've moved around and lived in five different areas of LA, including a short stint in Huntington Beach, mostly because of lack of funds. I've slept on friends' floors and couch surfed a bit when I didn't have enough money for rent. I almost lost my life in a motorcycle accident a couple of years back. And despite all of the positive reviews and all of the effort I put into making my first feature film, it flopped in a blaze of glory due to a number of reasons that would take all day to get into. And this is just the shortlist.
But in spite all of that, there's always been positive signs and affirmations sprinkled along the path to keep me motivated along this journey, both small and big. When I was on my last dime, with no job in sight, and bought a one-way ticket back home to NYC, ten days later I received a job offer and hopped on the first flight back to LA. When I was beating myself up about not directing enough content and needed a boost to help get my creative juices flowing, I got accepted into The Greenhouse Arts & Media Creative Lab. Then when I wasn't sure if my creativity or my filmmaking skills were good enough and I was second-guessing whether I should continue pursuing this dream, a short film I directed, 'Office Sweats', got accepted into the Jack Daniels' Real to Reel Short film Competition where I got to experience 200+ attendees enjoy, applaud, and relate to my film. And again this is just the shortlist. Little signs like that have continued to pop up along this journey giving me just enough sustenance to keep going.
I bring all of that up to show that it's not all bad. Every journey will have its ups and downs, but we can never give up, we just have to choose how we interpret and process those highs and lows. I totally understand that I've been immensely blessed along this journey to receive those positive signs and affirmations. Especially when I'm sure there are many others who haven't received them yet. But the one thing I do believe in my heart of hearts is that everyone who keeps pushing for their dreams to come true will eventually receive their own positive signs and affirmations whether it be small or big. But even if the victories are small, eventually each one of those small victories will build upon each other and compound to an even bigger victory.
I wouldn't trade this experience for anything else in the world. I believe with each "Progressive Struggle" I've faced out here, I've become more resilient, more compassionate, more grateful, and overall a better human being. Which all make me a better filmmaker because at the end of the day this is what I'm out here for, and this is what I've sworn to pursue and do for the rest of my life no matter what it takes.
So, as you know, we're impressed with ArtHouse Stories – tell our readers more, for example what you're most proud of and what sets you apart from others.
I am a Director, Writer, and Producer. I specialize in developing and creating scripted cinematic content whether it be for film, television, commercials or music videos. I currently produce and direct under my moniker ArtHouse Stories but I'm always open to working with different collaborators on their own in-house productions. I'm currently in talks with multiple entities to direct several short narrative films and web series'. I'm still in the early stages of creating content under the ArtHouse Stories moniker but I'm most proud of the project I just shot with a group of key collaborators called 'Don't Try This Alone'. It's probably the most ambitious project I've shot yet in terms of scale and length within a limited amount of time. I believe there are two things that set me apart from others. The first one is my ambition. Every project that I approach, I go in with the mindset of pushing its limits as far as it can go. The more ambitious the project, or the approach, the better the project can become in my own personal opinion. The second thing that sets me apart is my unique perspective on life and filmmaking. I love to highlight the humor within the darkness and the joy within pain. I love creating content that is both dramatic and comedic enough that if two people watched the same movie and each left with two different feelings that it leaned either more dramatic or comedic, that they'd still enjoy the film nonetheless.
Let's touch on your thoughts about our city – what do you like the most and least?
I love that the city feels so relaxed; that anyone and everyone can be comfortable in their skin and who they want to be. I don't dislike much about this city. I choose to focus on the positivity because there's so much of it filling every nook and cranny of Los Angeles that it's hard not to be happy here. But I would say something I notice, that I'm also a perpetrator of myself, is that not enough people slow down to smell the roses and enjoy the present for what it is, a gift. Most times we're so focused on the future we miss out on what's right in front of us. And it's definitely something I have to be better at as well. Oh, and let me not forget about the Earthquakes. I hate the damn earthquakes.
Contact Info:
Image Credit:
Most Photos taken by David Walker (@davidnwalker.co), Some Photos were taken by Matt Polizzi (@mattypolizzi); One Photo Taken by Kseniya Yorsh (@kseniya_yorsh)
Suggest a story: VoyageLA is built on recommendations from the community; it's how we uncover hidden gems, so if you or someone you know deserves recognition please let us know here.