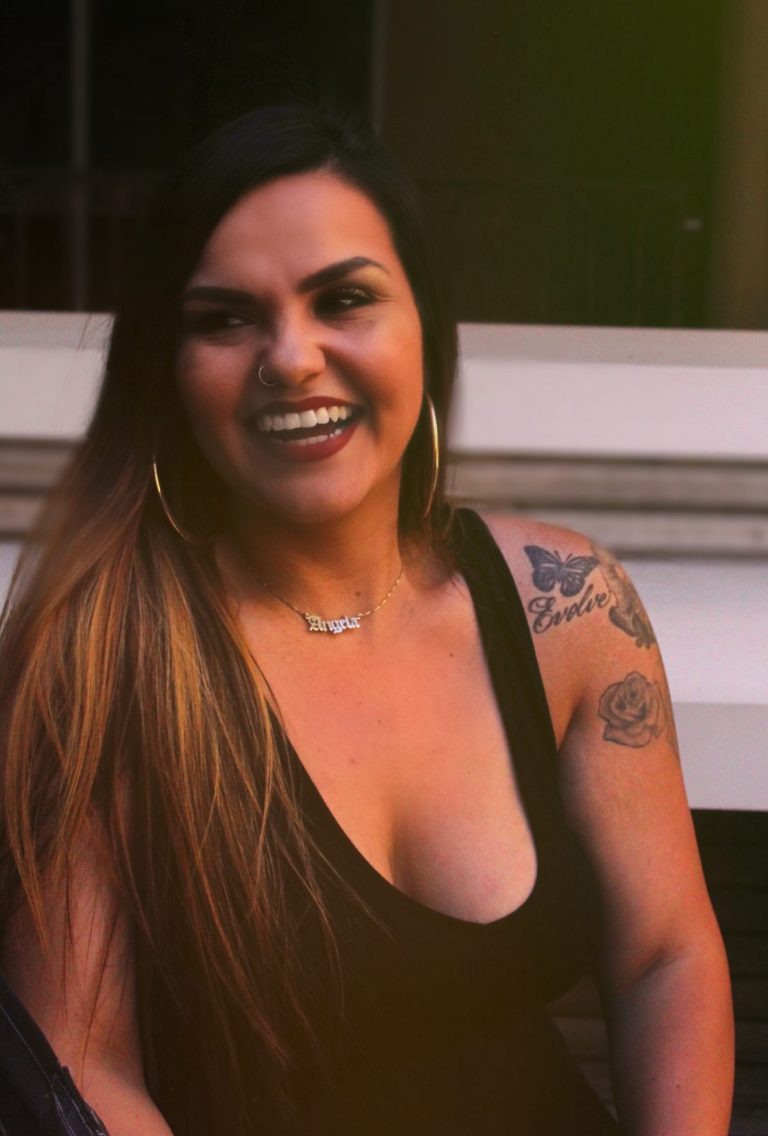 Today we'd like to introduce you to Angela Aguirre.
Angela Aguirre, otherwise known as "Millennial Mija" is a Chicana-Italian Feminist author, speaker, and teaching artist based in Los Angeles. She graduated from California State University, Los Angeles with a Bachelors in Communication Studies with an emphasis in Rhetoric and Social Change. Angela is an outspoken and unique voice, who brings passion to everything she does. She is a fierce advocate for women and girls and believes in using her art and platform to empower her community.
Her first book of poems and writing prompts was published in 2016 and is titled Confessions of a Firework. Her work has been featured by Latina Magazine, All Def Digital, BESE, TherapyForLatinx, ADDitude Magazine, as well as a viral article she wrote for The Huffington Post, titled "How I define my Chingona Fire." She has been performing since 2010, and has taught workshops and performed keynotes at middle and high schools, and universities all over the country.
As an advocate, Angela has been working with people with disabilities in classroom and educational settings for over ten years. As a person living with mental illness, she is very open and candid about her struggle with ADHD, anxiety, and Bipolar Depression. Especially on Social Media, which has allowed her to create an incredibly supportive and responsive "instacommunity" of over 7K followers.
We're always bombarded by how great it is to pursue your passion, etc – but we've spoken with enough people to know that it's not always easy. Overall, would you say things have been easy for you?
Hell no! After years of treating my dreams as a side gig, I recently took the leap into becoming a full-time artist. It's so ironic that I had to stop working in order to learn what work really was. For me, working in education and recreation was not real work; because I wasn't living in my purpose. I've been an artist my entire life. I have a creative brain. Which is why after a while, I began feeling bored, then useless, and ultimately, deeply depressed and eventually heavily medicated. The things my brain wanted to think about or do were applauded at work but never rewarded. Never treated as important as the real work. Even though I was starting to see that outside of work, my creativity; even as a side hustle, was earning me more money and more respect than the jobs, I planned my whole life around.
After a year of being denied a raise, I eventually had a breakdown and was put on stress leave from work. I used that time to reflect on what it means to live in my purpose. I realized how deeply unhappy I was at work, how undervalued and underpaid I was, and how much my mental health had been impacted by that. I realized the jobs I was doing could be done by virtually anybody, as long as they met the requirements and could perform the same daily tasks as me. I decided I could no longer couldn't allow myself or my potential to continue to be ignored. By me or anyone else. When you come from poverty, living in fear is also known as survival. In the hood, playing it safe means staying alive. Risks are for people who can afford to take them. This is the kind of warped fear based wisdom passed down by poverty and addiction. For years, I was trapped in a cage of my parent's fears. Living in fear will have you believing that the benefits and retirement plans of a government job is a much safer bet than taking a chance on yourself. Nevermind the drama, nepotism, and salary caps- Where I'm from, a "city job" was the goal. The safest bet. The easiest way to "come up." And yes, there is truth to that. City jobs are definitely safe, but keeping my brain locked within the confines of such rigid work environments was not anymore. My brain, spirit, and soul were suffering so much because they didn't belong there.
And that was a very painful and scary realization to come to. Because it meant I could not go back. My mental health wouldn't allow it. So for me, when I say the real work didn't begin until I left my jobs, what I mean is: the real work began when I stopped living in the cage of other people's fear and started living in my purpose. The real work began when there was no longer a job description or a boss or a work schedule to hide behind or to use as an excuse. That shit is all gone now. It's just me. No more bullshitting. I took the leap. I'm free falling into my purpose. And honestly, I'm terrified. But I think that means I'm headed in the right direction.
What were you like growing up?
My big sister says I was annoying as hell. Lol, My mom played poker at night and my sister Toni always had to babysit me. But that never stopped her from turning up. She would just bring me with her. To house parties and everything. So I thought I was grown at a very early age and I always wanted to be in the mix with her and friends. I am told I was bossy, dramatic, theatrical, funny, kind-hearted, and very fair. I never liked seeing people get bullied or made fun of, so much so, that I often took on other people's battles because I felt obligated to intervene. I was a chubby little brown girl with long black hair who loved Lisa Frank school supplies and worshipped the Spice Girls.
Contact Info:
Website: millennialmija.com
Email: angelanicoleaguirre@gmail.com
Instagram: @millennialmija
Getting in touch: VoyageLA is built on recommendations from the community; it's how we uncover hidden gems, so if you know someone who deserves recognition please let us know here.