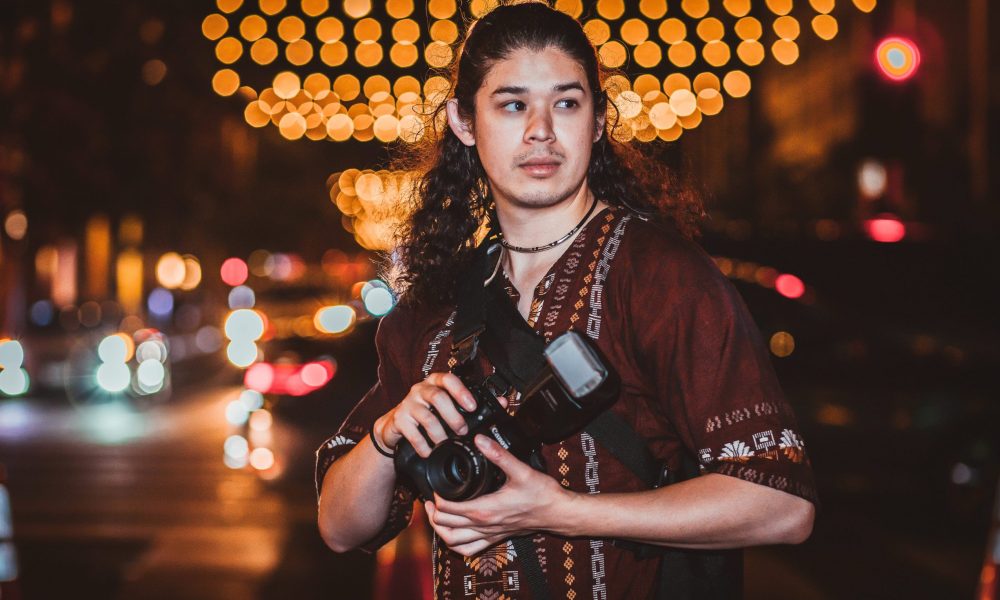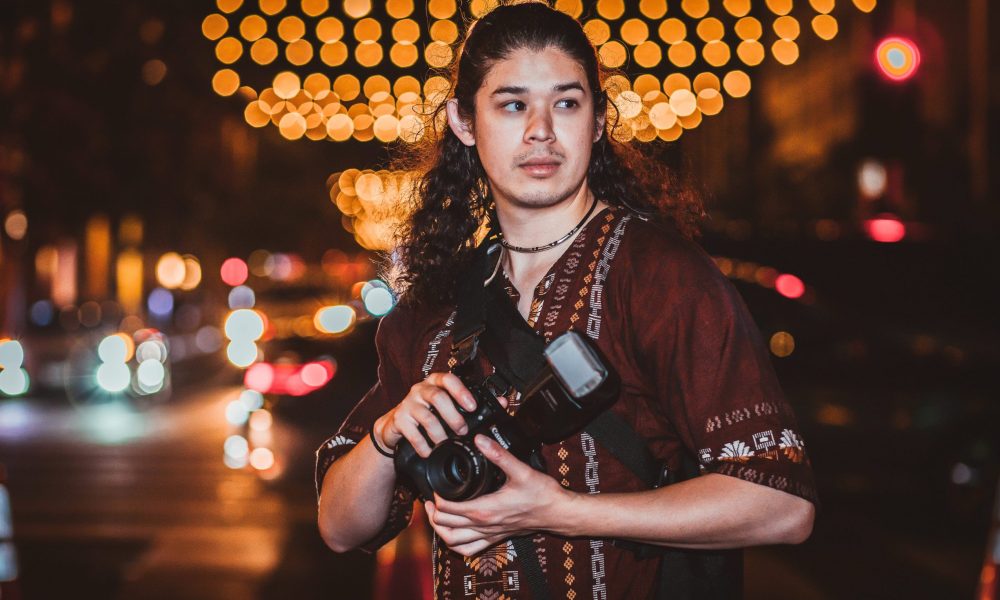 Today we'd like to introduce you to Andrew Chenault.
Thanks for sharing your story with us Andrew. So, let's start at the beginning, and we can move on from there.
I picked up photography during college at the University of California Irvine where I was focusing on filming, production, and fight choreography/stunt work. And what started as a hobby quickly turned into a passion of mine. I initially picked it up because I was always surrounded by cameras and thought It would be a good idea to finally learn since I'd always had an interest in photography, but never had the ability to actually really take photos. So I would rent out a Canon 70D, a 50mm prime, and a 85mm prime pretty much every week to practice. A lot of those practices we're my friends and I doing any type of shoot from portraits, to night photography, themed photography, nature, action, clothing, landscapes, light manipulation, and shutter manipulation. And patience, lots of patience lol.
Abusing the rent schedule, I was pretty much able to have the camera and equipment every day. I got to know the equipment room staff pretty well too since a frequented them so often. Learning the basics, I pushed to improve my photography by being a photographer for a start-up production company that I'd been working with. There I was able to really experience variations of commercial photography. I worked live events, red carpets, commercials, photo shoots, anniversaries, weddings, etc. It really allowed me to expand into the various photography avenues that not everyone gets a chance to get experience in when they're first starting off.
After college, I would still work with the production company here and there, but began moving into my own freelance cliental. Over the years, I've volunteered a lot with Non-Profits, and so I began with them. I would shoot live events, products, and venues for them and was able to continue building my network until they became official cliental. This has allowed me annual business with Non-Profits and a continuous option to photograph businesses as I meet more people through my previous cliental.
I got pretty lucky with it. But it did take years of doing the work, and lots of those times it was initially for free or pro-bono. Looking to expand my photography, about a year ago I got into newborn photography and family portraits. This has allowed me to saturate the days with shoots when I'm in between scheduled shoots with my cliental and has given me a different experience in how to work with newborns and families.
On the side of work, I really enjoy going out and shooting stuff that involves light manipulation, smoke, colors, and creative sparks that tie back into my occasional film work. I really love shooting low light work whether it is on the street or space of my choosing. I've been really trying to improve my off-camera flash and light work for everything I do. I really hope to bring my vision for colors and lowlight work to my professional work some day.
Overall, has it been relatively smooth? If not, what were some of the struggles along the way?
It's definitely been a struggle. Photography and film are incredibly saturated markets, as well as being a labor of love that is generally considered to be the most expensive hobby to have. Maybe besides cars. But yah, it's been tough, it's been a road of learning and pushing myself to be better, work harder, and find ways to actively seek more cliental and markets that I can appeal to not only push my photography to be better but to sustain a living.
I'm a social introvert and was very shy for a period of my life, but I can safely say photography has pushed me to be more engaging as a person and to have more confidence in both myself, and how I present myself. Before I was scared to put myself out there, and it did more harm than good. I had to find the confidence to present myself to others so that they could see that I had the skills and experience to do the work they needed. But that wasn't going to happen unless I presented myself in a demeanor to back up my work.
Money has been a big obstacle, I mean photography is definitely a developed and practiced skill, and though the equipment isn't everything, and I truly truly believe that. It doesn't hurt to have the money to invest into the better equipment to really improve the quality output of what you know you can do. I currently still use my Canon 80D, and I love that thing to pieces, and it's served me so well over the years, but I'd like an upgrade. All my money goes into lenses (primarily primes) some lighting equipment like light rods that change colors and off camera flashes.
Everything else is pretty much bills and living. Oh! I don't have a car… lol! I get around everywhere by public transit. Whether it is the train, metro, buses, or lyfts. Luckily I primarily work in LA or LA county, so this isn't that much of an issue, but a car would definitely be nice. But you need money for that car, and I'd probably much rather drop money for new camera equipment than a new car. But time and money will tell.
We'd love to hear more about what you do.
I primarily work with newborns, family portraits, non-profits, and businesses, I've become very comfortable with doing family and newborn shoots and use this to saturate my daily to weekly shooting schedule. I think this flexibility to shoot comfortably with newborns or toddlers sets me apart from a lot of other photographers because not too many people, in general, know how to handle or deal with small children let alone babies. I've grown up with four brothers, four sisters, and a whole lot of cousins. This combined with my experience of being an elementary level teacher in KTown for a bit has given me the experience to work with these people and capture those moments that only a niche group of photographers can.
Beyond that what a lot of people know me for is my creative Photography. I love to shoot and have become pretty good at shooting low light and colors. I love to play with different color tones on people. And I love going out and finding new locations on the street to shoot. I do a lot of urban exploration to add to my list of locations that gives the best backgrounds for bokeh, color, smoke, long exposure, and themed shoots. I really believe this stands me out because I try to push this extra creative twist with every shoot I do. Someone asks me for just headshots, and my mind is spinning up ideas of light manipulation and bokeh to fill their background or tone instead of just them in front of a backdrop.
And while I have no quarrel with that, it gives me the confidence to know that I can get that other look, that other feel or edge to their photo that maybe other photographers aren't thinking of or aren't confident shooting themselves.

I love doing collaborative shoots. Whether that means just shooting with friends, or hitting up other artists and creatives and coming up with a collaborative themes to put in front of the camera, or even urban exploration shoots. One of my favorite Urban Exploration shoots I've done was with some of my good friends and a mutual friend of ours who came over from Hawaii. I looked up to her photography so when we brought her out to LA we all got together a night before she flew back and did a shoot in an abandoned mall. We had to climb in through a wall, up the piping, across that piping, slide down and then come out through another wall and slide down, just to get in. That process always took the most time (reasons why we don't go there more)(also it's like really dusty) But after that we explored this massive pitch black maze of old concrete and metal framing and we we got some of my favorite shots. We did some smoke grenades with an Okami mask in a room falling apart and we did some shots with steel wool on a bridge. They came out incredible. Every time I look back at those photos, it's a reminder of not only the story that comes with it, but the experience and the struggle that came with getting those photos. What we had to do in order to get that shot in the first place and what we did to adapt to getting it. I love shooting in new locations and putting new themes in front of the camera but just as much I love the story that comes with making that photo happen.
What is "success" or "successful" for you?
Success to me is really the small things that have come along with my photography work. Things like learning a new skill, improving on previous skills like studio lighting or off-camera flash. Getting further experience in shooting a commercial or a form of photography that I don't frequent often and not only having it come off well but the experience that comes with it. The story that I can retell from looking back at the photo.
When someone can trust me with their vision, and I can pull it off, or even give them something they didn't expect, that's just as enjoyable. That's success to me. I want to keep improving in my craft and creativity, but also push what I currently know to be better.
Money is always nice, and I think the more I'm making definitely makes feel a bit more secure, but If my photography, editing, and communication with my models and crew isn't improving with each shoot, then I know I'm not exactly moving forward. I don't just want to be doing better as an artist; I want to be a better artist.
Pricing:
Pricing is very based off the type of shoot I'm working on, time there, location, resources needed, etc. But I generally charge $150 as a base starting point when being hired for photos.
Contact Info:
Image Credit:
Kelsey Gregge
Getting in touch: VoyageLA is built on recommendations from the community; it's how we uncover hidden gems, so if you know someone who deserves recognition please let us know here.