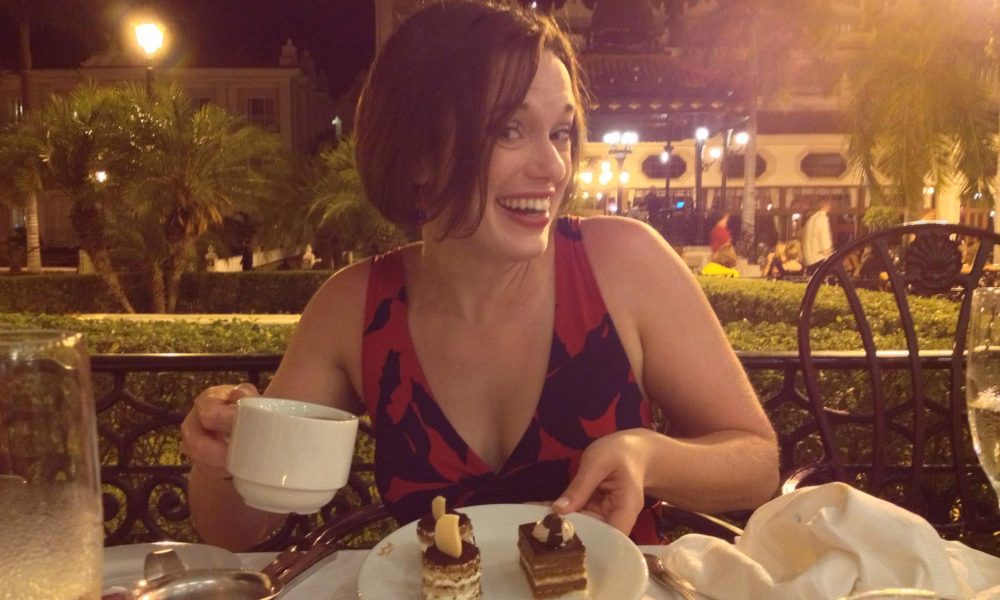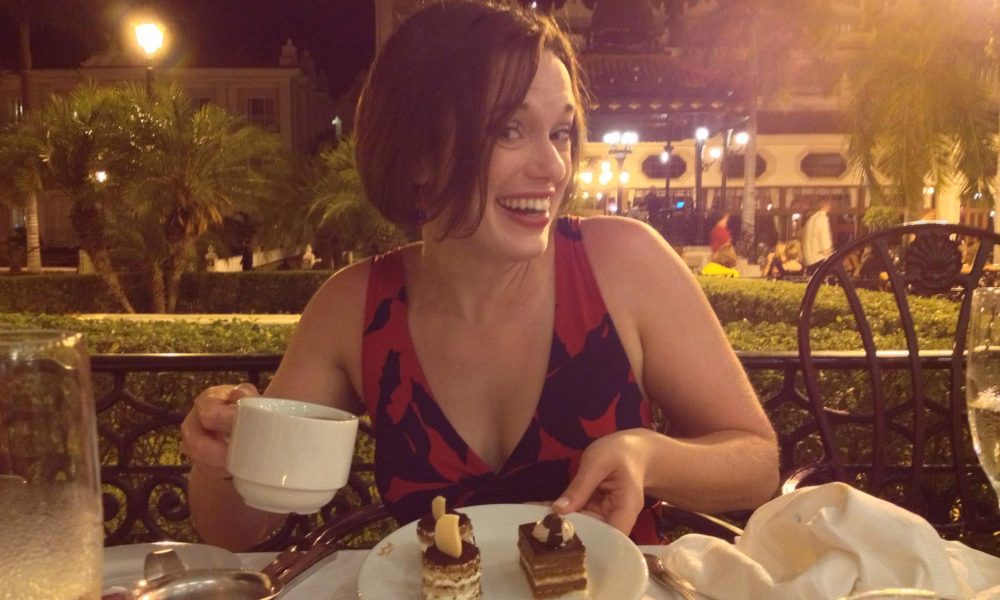 Today we'd like to introduce you to Amy Dellagiarino.
Amy, can you briefly walk us through your story – how you started and how you got to where you are today.
I was always an artistic (and kinda weird, let's be honest) child, so pretty much right away it was obvious I would go into something creative. I was very lucky to have encouraging parents who never made me feel like I should pursue something more practical (to this day I'm pretty sure it's my mom's greatest dream to have me and my sister write for The Muppets, so if you're listening to Jim Henson people… Margie Dellagiarino would REALLY like to make that happen…)
I fell in love with the theatre pretty early on. I think, as an introvert, acting was an amazing way to get to live out all these colors I felt protective against showing other people in my own life. I was 100% positive I would live in New York forever and be an actor, and I did do that for a long time.
I got my BFA from NYU's Tisch School of the Arts and lived in a teeny tiny railroad style apartment (New York people know what I'm talking about) with way too many other people, until one day I woke up, looked around at my room (which was really a glorified hallway) and at all my clothes stuffed onto a rolling garment rack (because there were no closets), and at the tiny shaft of light from my super skinny prison/castle style window that looked DIRECTLY INTO MY ROOMMATE'S ROOM and thought "… what am I doing?"
So I decided to pack it up and move to Chicago and do theatre out there for a while until I was ready to come back to New York. At some point during my time in Chicago, theatre was making me more frustrated with life instead of less. It just seemed like all the fun parts in plays were always male roles. I was REALLY tired of essentially playing the 17-year-old who's trying to get a date to prom (I mean, I get that when you're a 17-year old that stuff can matter, but when you're in your 30's it sort of… isn't the most rewarding character arc to explore.)
I started writing, mostly as a creative outlet so I didn't go insane. I worked on drafts of two different novels, wondering if maybe that was a direction I should go in, but never had much success with that world. And then one day after seeing a friend's show I had an idea for a beginning of a play. So I started writing it. A million drafts later, that play is called "The Value of Moscow" and is now being produced by Sacred Fools Theatre Company in Los Angeles as part of their 22nd season.
At some point between that very first draft of my very first play and today, my brain made the switch from acting to writing. I cannot even really explain it, it just felt like my way of expression was switching from one medium to another. The feeling I get from exploring an entire world with wonderful, strange characters all fighting to be heard inside of my head is so rewarding — I know that I've finally found what I'm meant to be doing.
And yes, I realize that I'm not in New York. From Chicago, I moved to LA so… in the opposite direction. But I'll get back to New York one day. I miss those fruit carts too much.
Overall, has it been relatively smooth? If not, what were some of the struggles along the way?
Oh my goodness NO. I had been an actor for so long I had a real struggle with letting it go. I had a miserable couple of years where I just couldn't get cast in basically anything, and I felt like theatre was trying to push me out entirely. It was awful. I wrote out of desperation because I didn't know what else to do. When I finally acknowledged that I was getting more reward out of writing than acting it felt like I was breaking up with someone I had been dating since I was 12 years old. (Sorry for that kind of gross image.)
For a long time, I felt like I didn't know who I was or what my purpose was. I locked myself in my apartment and painted a lot during that time, mostly because I had no idea what I was supposed to be doing. Once I fully felt called to writing and started pursuing that, it definitely did not get easier. When people ask what you do, and you say you're a playwright, it sounds fake. Seriously! I felt like such an asshole responding with "oh, I'm a writer" or "oh, I'm a playwright" when people asked what I did. It was really hard for me to own up to it.
People want to know where your stuff went up if they've heard of it, how many productions you've had, blah blah blah… and when you're just starting out it gets really depressing. Even though I had tons of scripts I was working on, it still felt like I wasn't really doing anything. It was a lot of submitting to theatres who had no idea who I was and therefore most likely never even opened my email, let alone cracked open my script(s). It was a lot of work, constant writings, readings held in my apartment with friends, revisions, going to theatres to see their work and meet the people in charge, endless submissions, and feeling like at the end of the day I had zero to show for it.
But honestly, that's the hardest part about any creative life. The way to become successful isn't like any other "normal" job — there's no ladder to climb or list of points to make sure you check off in a certain order. It's a crap shoot. And you can't control a crap shoot. You just have to work hard, be pleasant, and hope for the best.
We'd love to hear more about what you do.
I consider myself a playwright primarily. That is where my heartbeat is.
When I work on a script, I rarely have the plot points figured out for the first draft. I usually decide on the space where the action is taking place, maybe what the overall problem is going to be, and then just sit back and watch characters start to inhabit the space. I love working like this because it really becomes about the characters and their relationships more than anything else — and relationships are what endlessly fascinate me. Human beings are so strange! Why do they make the choices they make? Why do they say (or not say) the things that they do? What do they find funny? What scares them? Working like this is a blast because usually, I end up getting surprised by where the characters end up taking the story. There's nothing like letting the characters write the play for you. It is like magic.
I think I have a very specific style and tone in my work. (I have been told by some that I have a McDonagh/Sorkin quality to my writing, which I am repeating here because I desperately want it to be true.) The easiest way to describe it is "dark comedy," but I'm not sure if that's even right. All my characters are exploring something, and all my characters are broken, but they all use humor in different ways as they explore the places where they are hurting the most. There's something about the idea of not knowing where you belong, or what life IS exactly, that I am endlessly exploring (probably because those will always be questions I ask myself and never quite know the answers to.)
Above all, I am COMMITTED to writing complex female characters. I remember this gripe from my acting days all too well — I refuse to write characters that are just one thing. For example, if a 17-year-old prom queen DOES show up in my script for whatever reason, she's probably got something else going on. Maybe she's a serial killer. I don't know. Just saying… it's possible. Everybody's got secrets.
If you had to go back in time and start over, would you have done anything differently?
I honestly have no idea. I think all my time acting was absolutely not wasted — I think it's what gives my scripts life and makes me the kind of writer that I am.
I guess maybe I just would have been kinder to myself. Probably that's something we should all be doing for ourselves.
That being said, I HAVE always stated that if I could live TWO lives, in the second one, I would be a marine biologist. So possibly I would have become a marine biologist. But who knows. I think I would have found my way to the arts eventually, even if I was surrounded by majestic sea creatures.
Contact Info:
Website: www.amydell.com
Email: amydee116@yahoo.com
Instagram: @amydee116
Twitter: @amydee116
Getting in touch: VoyageLA is built on recommendations from the community; it's how we uncover hidden gems, so if you know someone who deserves recognition please let us know here.