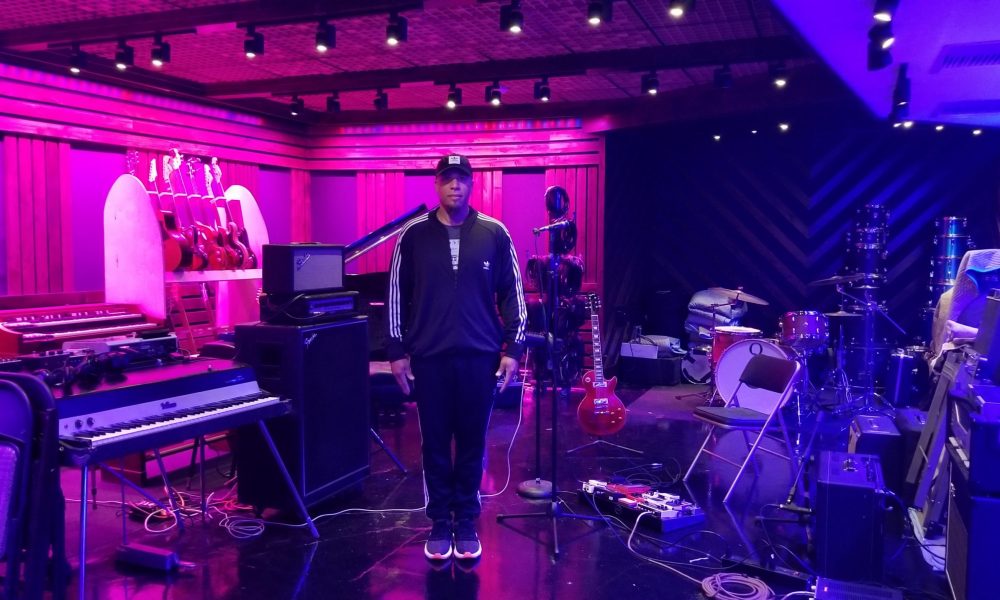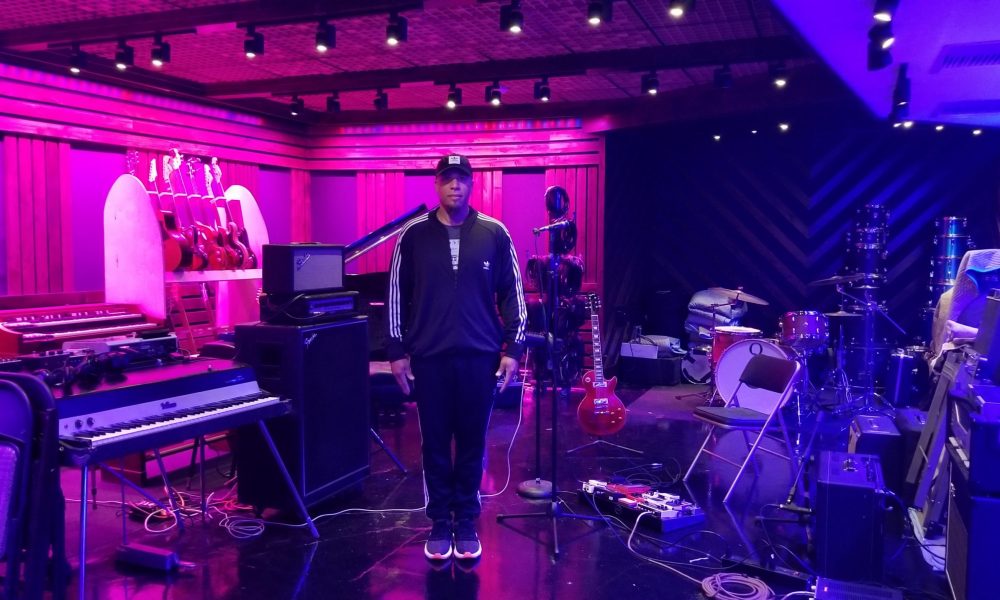 Today we'd like to introduce you to Amilcar "PRO" Welton.
Thanks for sharing your story with us Amilcar. So, let's start at the beginning and we can move on from there.
I am a proud Los Angeles native. I grew up throughout L.A. county but my adolescent years were spent in Gardena, California. Like many Black youth, I was raised listening to timeless music on vinyl that my mom, dad, and family members had in their collections. Earth Wind & Fire, The Isley Brothers, The Commodores, Stevie Wonder, Marvin Gaye, the Motown Roster, Gladys Knight & The Pips, Michael Jackson, Prince, Isaac Hayes, Diana Ross, Donna Summer, there are too many to name. My rebirth came in the 5th grade when I asked my teacher would she allow my friend, Anthony "DJ Outlaw" Birch, to play records on our classroom turntable for our end of year party. She agreed and my life changed forever when he played something that I had never heard before, Hip-Hop. The record was "Jam On It" by Nucleus. I still know that record word for word, it's a key element in my musical DNA. My adolescent years had several music evolutions as an MC, DJ, breakdancer and entrepreneur.
After the completion of my U.S. Army enlistment, I was feeling the effects of not being deeply connected to music when my childhood friend and mentor, Kifani "Doulos" Thompson, challenged me to start an independent label, UH-HUH Entertainment, with him. With no experience, I was tasked with handling the business activities for the label. I'll sum up the experience by saying it was a trial by fire soaked in gasoline. However, it is the template which allowed me to evolve and later successfully birth CREATE.Digital Music. The need to generate quality releases and lack of a focused roster forced me into becoming an artist. When the label eventually dissolved in amicable fashion, I pursued a successful independent rap career. This path led me to meet two special mentors Eugene "Nap" Napoloen and Lathan Hodge, who eventually put me in position to enter the then brand new digital music space under the leadership of Chuck D (Public Enemy). That was my introduction to digital music aggregator, INgrooves, who was recently purchased by Universal Music Group.
The early experience of the digital music space and my continued business growth organically positioned me to become a local leader by transitioning away from being an artist to becoming a sub-label and/or digital distributor. At that time, access and knowledge of the digital space was limited and the financial picture was a black hole. Peers that worked at the major labels and music publishers at the time, literally use to laugh when I talked about full focus on the digital space. We all know how that part of the story turned out. I followed my passion, maintained focus, and continued my education on the industry.
CREATE.Digital Music's inception was based on supporting talented independent music creators who needed the tools to learn and navigate the digital music space on their own terms. Powered by our aggregation via INgrooves/Universal plus strategic partnerships with Universal Music Publishing (Hong Kong) and Songtradr, we continue to evolve by providing creative content solutions for select music creators throughout the U.S., Canada, and the U.K.
Has it been a smooth road?
Anyone that you speak with within the music/tech industry will say that a constant struggle is the ability to retain a team, no matter the amount of funding available. True entrepreneurship requires that you make constant adjustments and that includes friends, family, staff, vendors, strategic partners, etc. The human resources that you surround yourself with have to align with the energy, mental build, skill sets, and understanding of what you aim to accomplish.
Because we are a client-based business, it took some years before I learned how to properly deal with departures. Losing clients and content always felt like a personal violation. Especially as the venture capital funded digital distribution services began to appear (i.e., TuneCore, CD baby, DistroKid) then the ultimate industry leader Empire. Clients weren't necessarily more astute regarding digital distribution but they were increasingly aware of major options due to mass marketing and major success stories. However, I soon adopted the discipline that if a client left or we lost some content from our catalog, We would replace that loss 2x minimum with the same or higher quality aside from our normal acquisition efforts. That discipline has allowed us to maintain and/or increase the value of our catalog consistently.
A constant challenge for music creators on the business side are the music/tech industry shifts. A music industry veteran would refer to the time when the business changed every 2-3 years with minor shifts every 18 months or so. Today, there are new tools, guidance, legislation, platforms, court decisions, revenue streams, etc. specific to the music industry every 90 days or so. The business moves fast and most cases independent creators want to focus on just creating but the current industry dissolves those that don't evolve the entrepreneur aspect of music.
So let's switch gears a bit and go into the Create.Digital Music story. Tell us more about the business.
CREATE.Digital Music is a music content and data distribution company partnering with top-tier aggregator, INgrooves (Universal Music Group). Signs, on-boards, and manages sub-labels. Oversees daily operations and implements process improvements. Manages the content catalog, internal staff, interns, various music creators, and technical support vendors. Project manages content workflow from creation to market. Our mutually beneficial and symbiotic relationships with our valuable clients is primary identifier.
Built a catalog that includes songs featuring Snoop Dogg, Flo Rida, UGK, Lil Wayne, Too $hort, DJ Skee, Yo Gotti, Slum Village, Daz Dillinger, Kurupt, and more. As well as songs produced by J. Dilla, Jake One, Raphael Saadiq, E-A-Ski, Kay Gee, and DJ Battlecat.
Signed multi-platinum, award-nominated and winning, producers, musicians, brands, and songwriters such as platinum, 5x Dove Award winners, GRITS; the World Famous Wake Up Show mixtape series (Sway & King Tech); and Charlie Bereal (Jay-Z, Kendrick Lamar, Snoop Dogg, Aaliyah, Diddy, and Kanye West).
Secured a strategic partnership with Roland (US) that exclusively placed high-end product in the multi-media complexes of Dr. Dre, Snoop Dogg, and Too $hort.
Secured a strategic partnership with Native Instruments (Sounds.com) and Make Believe Studio to create sound design revenue streams and increase the brand strength for elite musicians, music producers, and youth creators.
Secured a strategic partnership with Songtradr focusing on innovative synch licensing and digital distribution for creators within the CREATE.Digital Music ecosystem. In addition, CREATE.Digital Music has licensed music for TV, film, and sports including the Golden State Warriors (NBA), Empire (FOX), Black Lightning (The CW), and Unsung (TV One).
How do you think the industry will change over the next decade?
With the passing of the Music Modernization Act, there will be continued critical developments, in particular the "mechanical licensing collective" ("MLC") to administer the blanket license, and a "digital licensee coordinator" ("DLC") to coordinate the activities of the licensees. This impacts all music creator's revenue derived from music works. Please educate yourself. If we don't pay attention to this process, we will be right back where we were in the next 3-5 years.
The admin for releasing, publishing, and synching music is returning to a state of reinforcement. This means that music creators who do not properly register music works, complete song credits, submit robust metadata, will be restricted from certain opportunities and platforms ultimate negatively impacting their revenue. Proper admin drives the success the creators and the entities utilizing content and data for profit. When you read up on the Music Modernization Act be sure to slowly read the section on the "Black Box" monies.
"Real Music" never left but the shift back to an artist's ability to organically create a fan base (with assistance), perform quality live shows, conduct insightful and inspiring interviews, and engage with the human experience offline, be multi-faceted, etc. This will greatly overshadow AI fabricated artists who dominate streaming numbers and accolades. I support both in the ecosystem but there has to be balance.
Contact Info:
Suggest a story: VoyageLA is built on recommendations from the community; it's how we uncover hidden gems, so if you or someone you know deserves recognition please let us know here.