Today we'd like to introduce you to Richard Zelniker.
Richard, we appreciate you taking the time to share your story with us today. Where does your story begin?
I love movies. I love television. I love storytelling of every kind — mid-length, episodic, shorts, music videos and documentaries. I am thrilled when I'm transported to a place and time by riveting and compelling characters. That's probably why by the age of 15, I was writing poetry, by 19, short films and by the age of 21 one-act plays. I wrote my first feature film at 22. I love being transported to unknown places, traveling on treacherous and unknown roads with characters of all kinds! They steal my heart. Take my breath away! Captivate my spirit! For me, the storytelling process in the visual medium is like a spiritual adventure. When we touch the humanity in an audience, I believe we touch the soul in every person who watches. Once I began writing professionally, I was fortunate to have the National Film Board of Canada fund my first film, then I was able to develop and write for independent producers in Canada. With this budding early success, I ventured to L.A. to pursue my film career but found myself at a crossroads when I was overcome by some personal challenges and trying times. I had no choice but to stop drinking and abusing substances and clean my life up. This took a toll on me and my career. It forced me to step away from film and focus on "getting right"… After a number of years of being away from the thing I loved most I decided it was time to jump back in and create again, with the goal of directing my own material.
Fortunately, several people got behind me and I was hooked on storytelling and filmmaking once more and never looked back. Over the past several years, the success of my teen thriller, As Night Comes has led me to even more opportunities. Now with several award- winning shorts, such as Beckoned, starring Ciara Hanna; Unspoken, starring Jamie McShane and Michael Beach, there has come more professional and personal development. Two life-altering events have come out of my life's journey thus far, one being married to an amazing woman, Callie Nguyen Zelniker, a marriage filled with creativity and a common yearning for storytelling. Callie being a creative herself has given us the opportunity to collaborate on two TV series, B-Side and Paper, both of which are in active development. Several features, including the award-winning Following Brendan and the teen thriller, BFF which are both being tracked towards production. Callie and I collaborated on my award-winning short film, Beckoned which she wrote and produced with me. The other game-changer came when some up-and-coming actors asked if I would personally coach and teach them my film acting technique to which I said yes. I knew it was time to give back and take these young creatives on.
Over the past four years, I have had the honor of nurturing aspiring actors and writers to help them realize their own dreams; Unspoken was written by the late Stephen Alkus, a man whose dreams came true when we turned his script into an award-winning film. A young actor, named David Mudge, co-starred and acted alongside the talented, Ciara Hanna, a dream come true for him. We just completed and are releasing a music video, Gotta Go, with musical artist and actor, Sandra Dar, who is now realizing her dreams of a career in both music and film. I am so grateful to be a part of all their creative aspirations. Currently, Lucid Pictures has a pre-production slate of three shorts, Grey, written by award-winning writer/actor Connor Keene, The Cottage by award-winning short story writer, Cade Scott and The Scent of Life by the veteran actor Steve Barr. Plus, with a slate of a dozen features and three TV series being packaged for larger funding sources, Lucid Pictures promises a bright future ahead. My life is lived on a spiritual and creative basis, rooted largely in giving back to the planet and to all the children who live here. Storytelling gives us hope and is one of the loving ways I know to contribute to those around me. It is humbling and purposeful. I love what I get to do every day! Create and love!
Can you talk to us a bit about the challenges and lessons you've learned along the way. Looking back would you say it's been easy or smooth in retrospect?
There are always obstacles and challenges to overcome in life. With creativity, there come additional bumps in the road that come in all sorts of ways. Whether personal or professional, there are times we all have to fight, battle and even claw our way to remain true to ourselves. But I believe hard work, grinding it out, and the "no matter what" work ethic always wins the day. I believe in the fueled by failure drive, the get back up and be forever ready for the next round. Endure. Stay the course. So many people are naysayers, they say; you can't do this, you can't do that, it's impossible to get the financing, impossible to get this made or that project off the ground. They say no, you can't direct this, you can't produce that, and will discourage you repeatedly. This only makes me work harder, and find other ways and means of getting the job done. Because in the end, we are really the only ones who can get in the way of our creativity, our forward movement and forward-thinking. Self-doubt and second-guessing ourselves is the real enemy of a creative life. I am blessed to have two remarkable children and I get to watch them forge ahead through their own challenges and obstacles. I get to encourage them to work through any doubts and fears they have. It is so satisfying to observe their tenacity in sports, in education and in personal relationships No matter how people may reject our work, turn our work away, turn our stories, our purpose, our visions away, it is up to us, the creative force in all of us that can keep us from achieving our goals. I encourage anyone in a creative field, to not let anyone detour them from their dreams. I believe anything is possible. Anything is possible with love, creativity, determination and purpose. Waking up every day with the sole purpose of contributing to the planet and to the people amongst us is the best way to overcome obstacles. Making people feel loved and understood and heard and cared for helps me stay on the creative plain each and every day.
Alright, so let's switch gears a bit and talk business. What should we know about your work?
My work can change from week to week. Day to day. Being creative. Being an artist in all areas of my life is fulfilling and enriching! It means I get to be a storyteller. A filmmaker. A Father. Husband. Activist. Friend. Mentor. As I mentioned in my story above I have many jobs. That said, my work is made up of different responsibilities from day to day. Some days I'm locked up in my office writing or rewriting, sometimes in short form, sometimes full length, sometimes episodic. Sometimes from my own stories. Sometimes from other people's work. Some hours of my week are devoted to coaching and teaching. I teach new writers the grueling and tenacious nature of writing, other times I'm guiding new actors toward the spiritual nature of film acting. Some weeks, I'm in pre-production, preparing to direct. With that, I get to do many different things; I get to engage in costume design, production design, hair and makeup and rehearsing actors. I love making films, all aspects of the process, from conception to production, to the edit, to the sound delivery, to the delivery of final color correction. It's all deeply creative and collaborative. I get to collaborate with talented people who help me realize my vision. Being a film director is the greatest job in the world. With its ups and downs, I wouldn't trade it for anything. I consider myself the luckiest man on the planet. Blessed and grateful. Even for the struggles. Because without the struggles we wouldn't ever know the joy and satisfaction.
We'd be interested to hear your thoughts on luck and what role, if any, you feel it's played for you?
Funny, how the question of luck in the creative world is thought of. I consider myself incredibly lucky in that I get to work in the creative field I cherish so much. I feel blessed and fortunate to make my living this way. Not sure if it's luck though. I am lucky (or fortunate) to have had people recognize my talent over the years and help support me in getting my projects to the next stage and sometimes even made. I'm lucky for having agents, managers, producers, partners, alongside me helping me push the ball up the mountain. I feel lucky in that I have the "never say die" attitude in times of adversity and struggle. Luck plays a role in so far as fellow creatives; actors, cinematographers, creative producers, co-writers have been willing to go down the road with me even when we had to go lower budget to make it work. But, for me, I believe we make our own luck. Luck doesn't just come along. Yes, we have to be in the right place at the right time. But I believe, perseverance and staying the course is likely what conjures up what some people call luck. Does luck determine fate and destiny? No, my experience has shown me, the universe will conspire with us when our purpose and intention is on target to create something bigger than ourselves. When we have a vision for creating something  that moves, touches and inspires an audience. That's when lady luck seems to take our hand. Purpose seems to be everything. The universe will always conspire with us when we go after something with a greater purpose than personal glory.
Contact Info: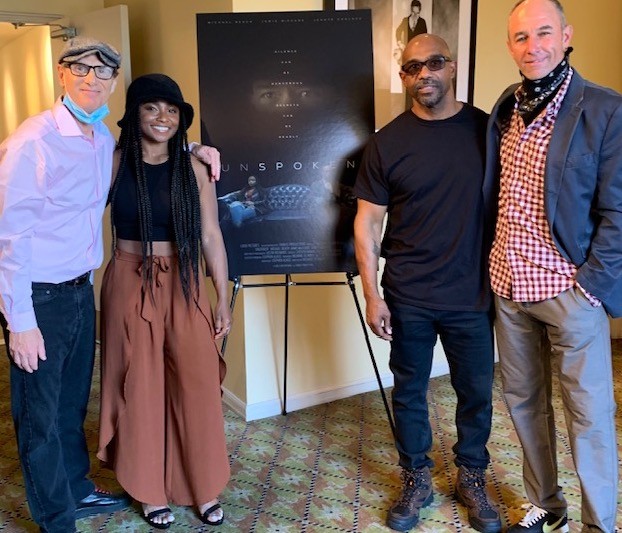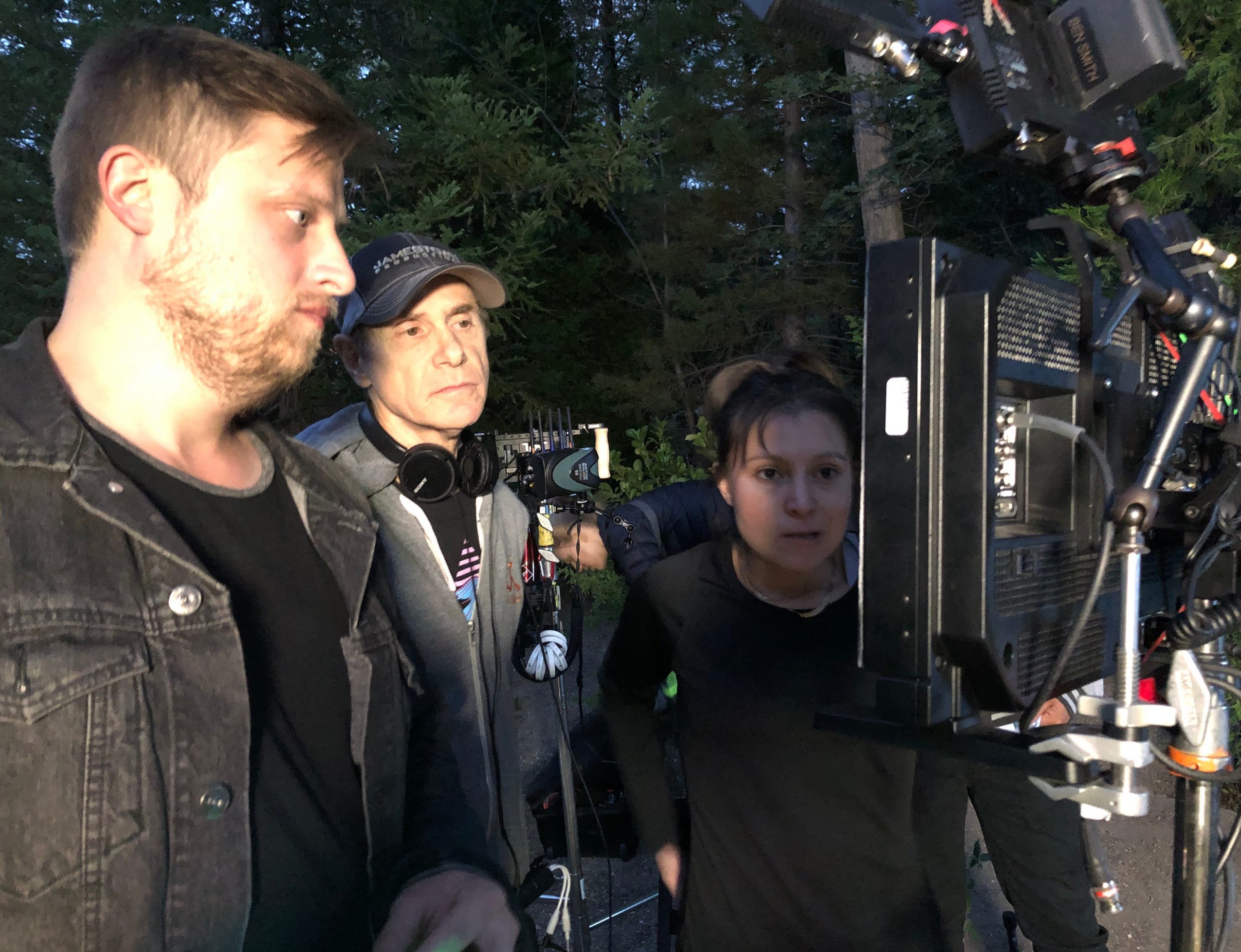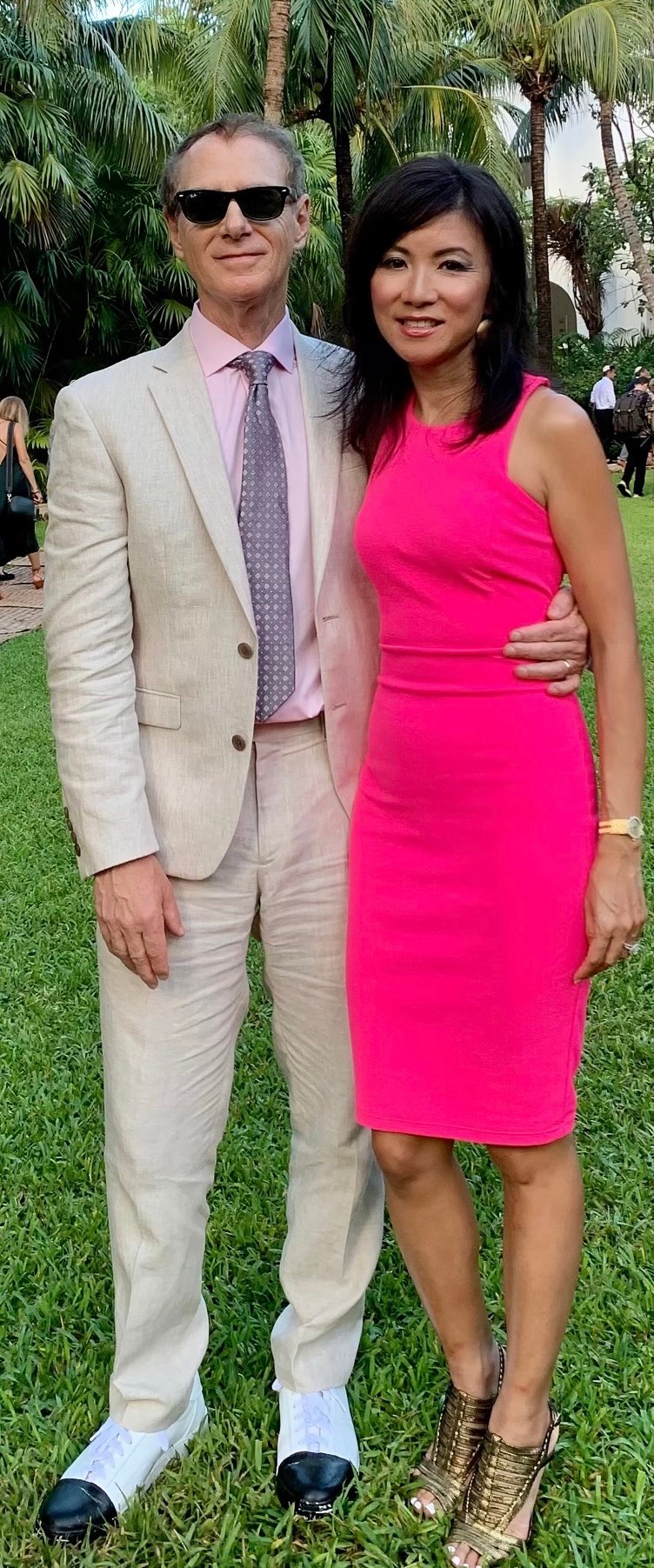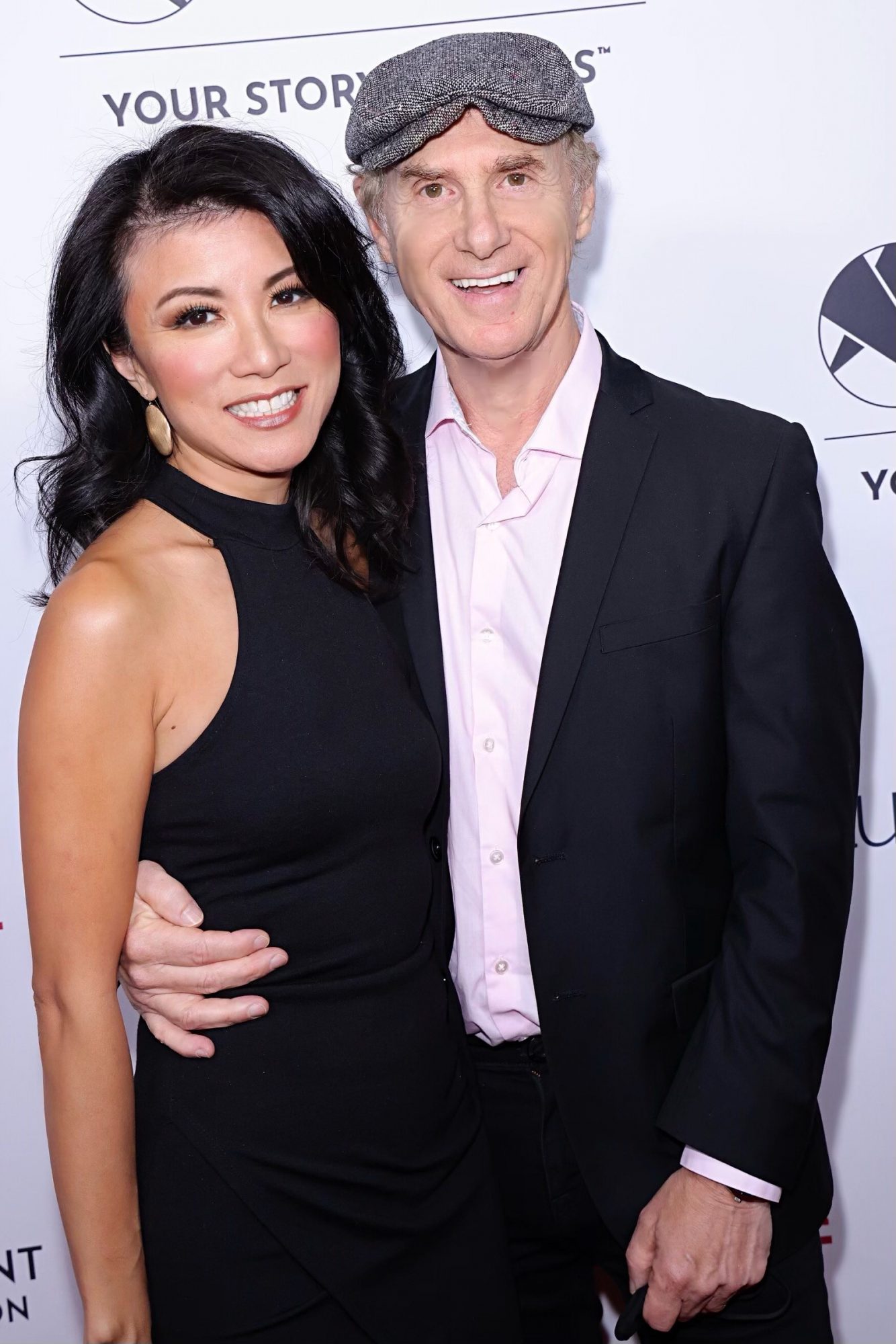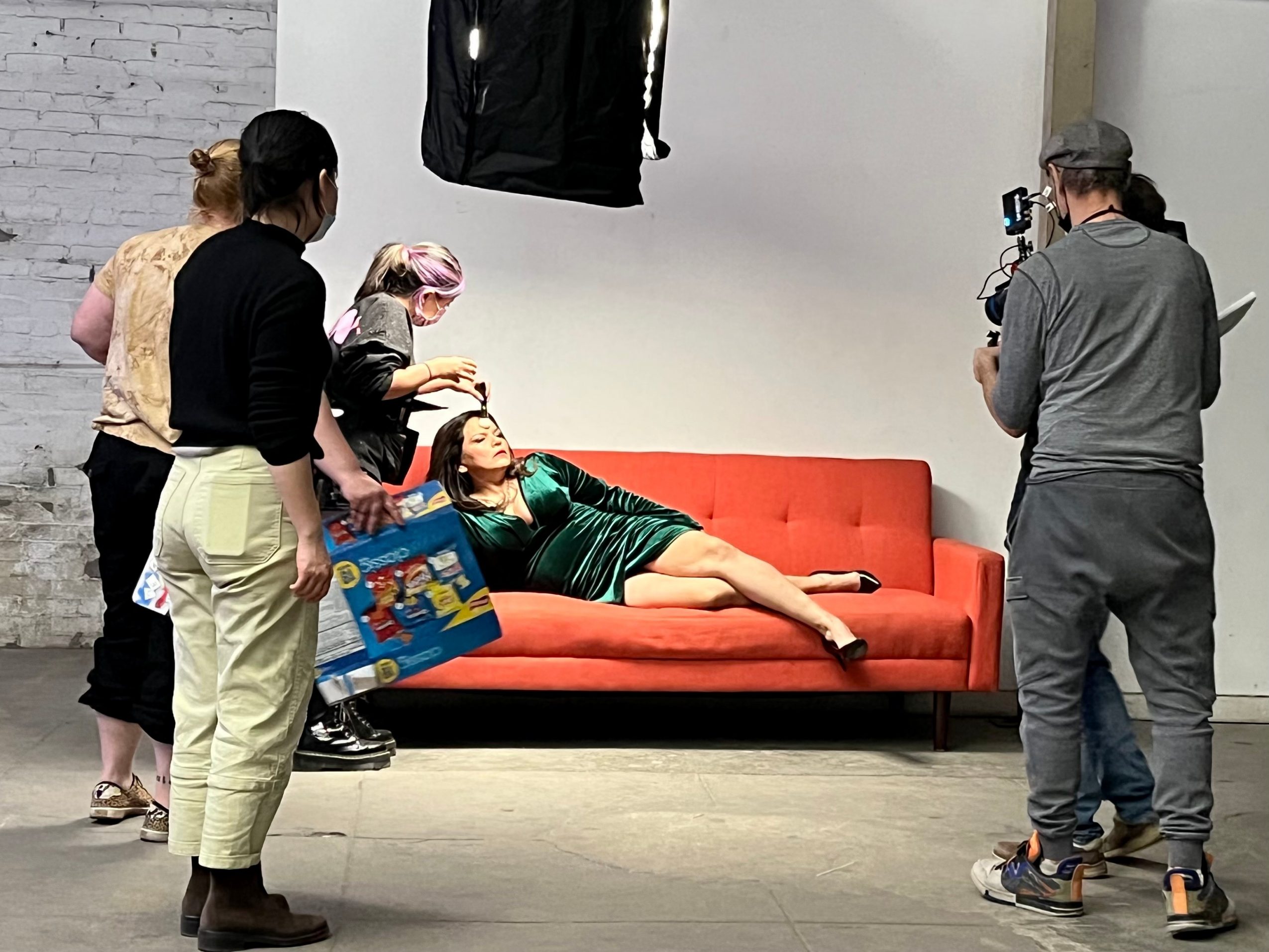 Image Credits
Pic#1: At the Raleigh Studios premiere of my film, Unspoken with cast members, Jeante Godlock, Michael Beach and Jamie McShane
Pic#2:  Me and 
screenwriter Stephen 
Alkus on a Q&A panel with the Unspoken cast: Michael Beach, Jamie McShane and Jeante Godlock
Pic#3:  Me in front of the monitor with my DP, Tim Banks and script supervisor, Alyssa Lana on the set of Beckoned.
Pic#4: A portrait of me years ago for a photo shoot.
Pic#5 In front of the monitor for another short content shoot, Clementine, with crew members, Kevin, (gaffer) Charles (key grip) and Justin ( DP)
Pic#6 Me and my wife, Callie Nguyen Zelniker.
Pic#7 Me and Callie Nguyen Zelniker on the red carpet of the NOHO CINEFEST 2021.
Pic #8: At the Beckoned premiere with my two lead actors: Ciara Hanna and David Mudge.
Pic#9: On the set of my recent music video shoot, Gotta Go for musical 
artist Sandra 
Dar along with some of the crew members.
Pic#10: On the set of Unspoken with some of my crew; First AD, Ivy Liao and DP, Justin Richards.
Suggest a Story: VoyageLA is built on recommendations from the community; it's how we uncover hidden gems, so if you or someone you know deserves recognition please let us know here.