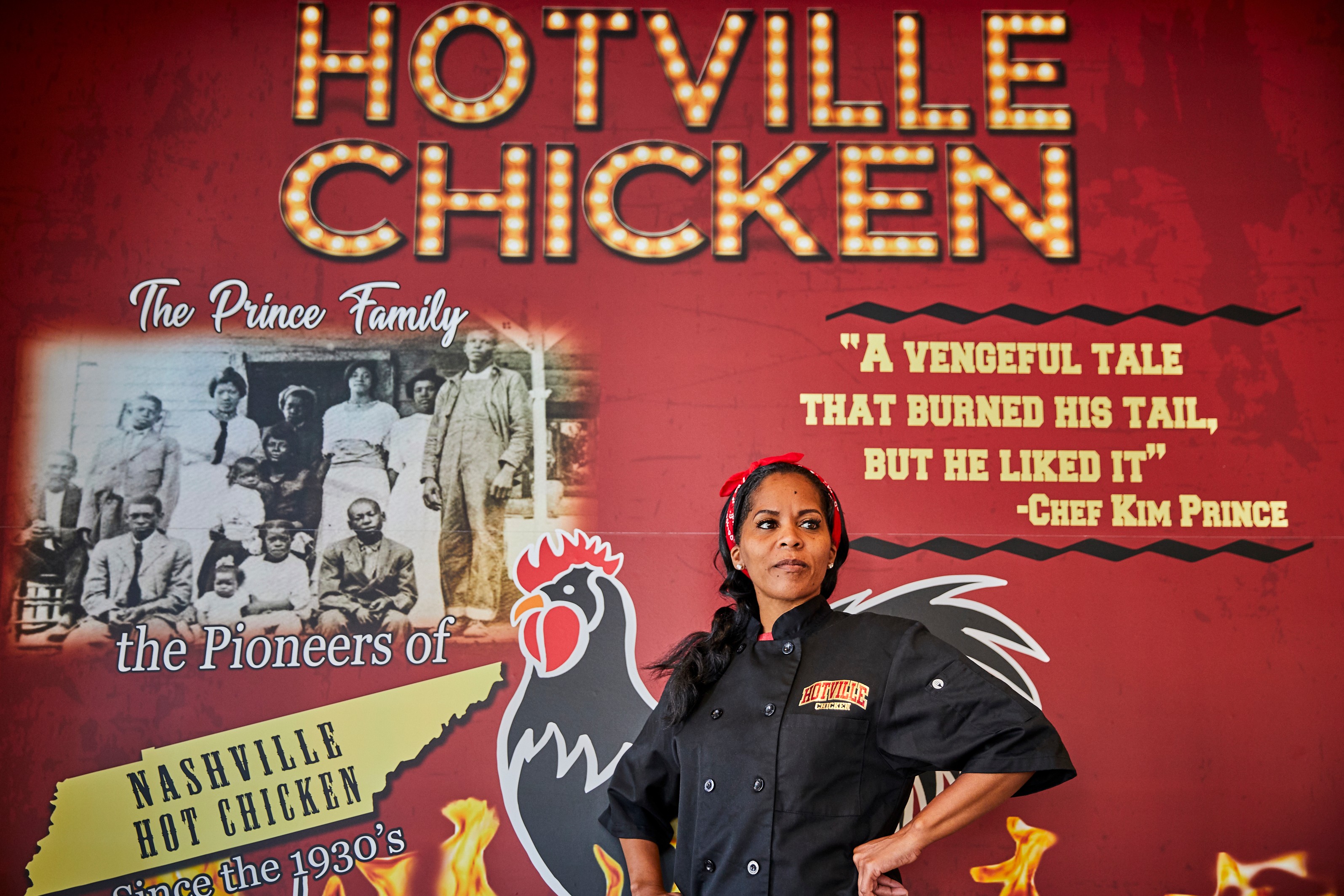 Today we'd like to introduce you to Kim Prince.
Hotville Chicken is a fast-casual restaurant providing authentic Nashville -Style Hot Chicken and southern sides, prepared by Chef Kim Prince of the legendary Prince family. Chef Kim is from Nashville, Tennessee and is a direct descendant of Thornton Prince who is awarded and recognized as the first Nashville Hot Chicken business in America. Chef Kim proudly came to Los Angeles in 2013 with an agenda of opening her own hot chicken business. In 2016, she launched the Hotville Chicken concept as a popup restaurant. Hotville Chicken cause quite a stir among media outlets as the popup restaurant garnered a loyal following of thousands. In 2018, Chef Kim formalized Hotville Chicken as an LLC with her business partner and long-time restauranteur, Greg Dulan. A native Los Angeleno with four decades of restaurant ownership under his belt. The pair strengthened Hotville Chicken's brand and operation into the entity the world has come to know today. In December 2019, Hotville Chicken opened its first permanent brick-and-mortar location in the heart of a food desert, south central Los Angeles. The community is known as the Baldwin Hills – Crenshaw corridor. Hotville Chicken boasted six-figure gross sales in the first quarter of 2020 and was voted best new restaurant of 2020 by Los Angeles Magazine. The space was a turnkey-miracle find.
Hotville Chicken started off on a mission of goodwill toward the community by participating in food give-away events to introduce the menu to others. Articles in Los Angeles Times, The Guardian, and the New York Times featured Hotville Chicken as a "flaming bird" that has finally landed. This vote of confidence has secured the trust of the community's residents and quickly became a local favorite. March 2020 was the big shift for Hotville Chicken due to the COVID-19 Pandemic. The ban on indoor dining was so abrupt that we experienced a 60% drop is sales within a 48 hour period. The sales slump virtually shuttered our business, but owners had a gameplan. We initially did not offer delivery nor phone orders but quickly pivoted our operations back into to "popup" mode. We added Postmates to our delivery service and online ordering, curbside pickup, and finished the production of a food truck. While our business has not fully recovered 100%, we are on a delicate climb. Never looking back and keeping our faith forward, Hotville Chicken is positioning itself to be COVID-19 and Pandemic Proof. The journey has not been an easy road, but we intend to fry every chicken that crosses it.
Thanks – so what else should our readers know about your work and what you're currently focused on?
I have been dubbed "Hot Chicken Royalty" by many. I guess that's attributed to my last name being Prince and the fact that my family is awarded and recognized and the first family of Nashville Hot Chicken legends. It's a badge I wear with pride and strive to work daily to keep that nod of approval from the seniors in my family. I started working in our family restaurant, Prince's Hot Chicken Shack in Nashville, TN when I was about eight years old. I have the fondest memories of being surrounded by family in the business. It's where we gathered. The adults talked business and gossip, and the children (me included) played around them. The business was very busy, and I assumed a number of tasks when I worked. My favorite role was getting the pickles to be placed on top of each fried chicken order. In the mid-1980s, my father moved us to Los Angeles, CA. I was able to complete high school and go on to Fresno State University (FSU) where I studied Public Administration. I was also a FSU Football and Basketball cheerleader. As a student, I worked for the Fresno County Economic Opportunities Commission where I learned to write grants. In 1997, I moved to Los Angeles and between writing grants for various nonprofit organizations, I started working in television production and themed entertainment. I worked for Walt Disney Imagineering, ABC Television, the WB, and Paramount Studios. I had some of the most wonderful life experiences working in television production and development, but duty to family called.
In 2005, I returned to Nashville, TN to help the family business. I also got a job working in TV Development and Production for Country Music Television Network (CMT). CMT promoted me and I relocated to the Santa Monica, CA offices to work on the network's first scripted project in 2010. After an amazing experience on set, I returned to Nashville in 2011. Worked for a stint in PR and Communications for Nissan North America, then returned to Los Angeles. More experiences in television production allowed me to travel to Seoul, South Korea with the production unit of America's Next Top Model in 2014. Then I rounded out the last of my career in television production working for NBCUniversal from 2015 – 2019. Sidebar story: I recall being interviewed by a Senior VP at NBCUniversal. She looked over my resume and expressed how overqualified I was for an administrative position. She wanted to know why someone with my background wanted to return to the office versus being on set. I felt like this SVP could handle my truth, so I blurted out, "Honestly, I want to open a restaurant. I need a day job to help me take care of my daughter and eventually, I am going to fry Nashville Hot Chicken into retirement!" She laughed and we spent the next hour talking about my family's heritage and hot chicken. That particular SVP became one of my biggest cheerleaders and best customers. She really pushed me to follow my dream while working alongside her. The popups were born while I worked at NBCUniversal and I cater for them as well. I always knew the business of frying hot chicken would be an attainable goal. It was just a matter of when, where, and how.
Do you have any advice for those just starting out?
Starters must have the mindset of FINISHING. If the vision isn't clear, write it down and then pray for clarity. See, I asked God for direction and relationships. I didn't want to be distracted by frilly offers because they sound good, and I certainly was not afraid to do the hard work. Starting a business means you'll lose sleep, friends and not always have the popular approval from family. But, don't you dare quit. Remember, I said to write it down. Set some goals. Do your research. Find someone who's doing what you want to do and similar at least. Take notes. Ask them if you can shadow them for a day or be mentored by them. Be a GLEANER. Absorb and observe. Take up the art of "ear hustling." By that I mean, keep taking notes and learn from the activities around you. When I started, I knew a lot of the don'ts in the restaurant business. I watched my family struggle with one restaurant for years, but together we became strong enough to launch multiples. Los Angeles is very different from Nashville as well. So, when I started the Hotville Chicken popups, I needed help navigating the waters of business here. Then I met Greg Dulan who is now my business partner. It took his mentorship and wisdom to help me navigate, and here we are now! Wish I had met him sooner! LOL
Pricing:
Most Popular Menu Item is the Shaw Chicken or Fish Sandwich Meal for $12
Contact Info:

Image Credits:
All images are to be credited to: Andrea D'Agosto Photography for Hotville Chicken
Suggest a Story:
 VoyageLA is built on recommendations from the community; it's how we uncover hidden gems, so if you or someone you know deserves recognition please let us know 
here.