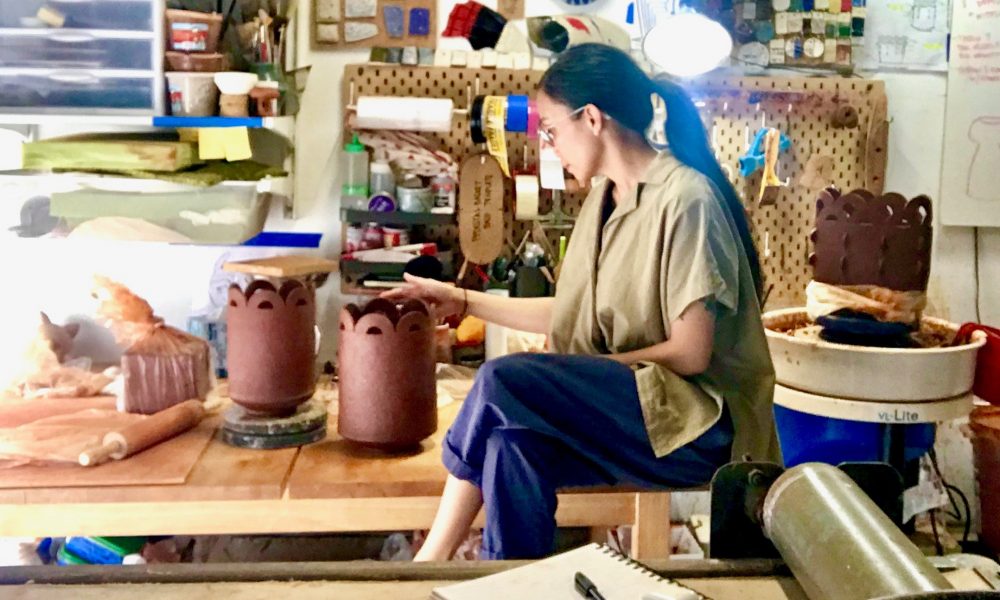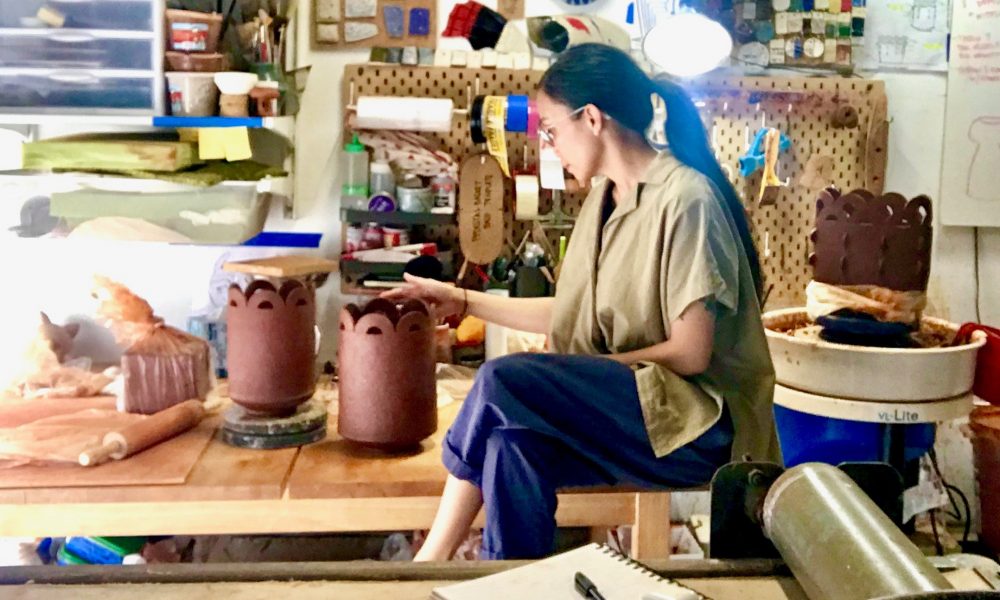 Hi Kat, it's an honor to have you on the platform. Thanks for taking the time to share your story with us – to start maybe you can share some of your backstory with our readers?
I was born in the Philippines and grew up in Brooklyn, NY with my parents and three brothers. My family has always been creative, one of my lolos (grandpa in Filipino) was an oil painter and my mom was a soft toy designer, like teddy bears and stuff, plush animals. As far back as I can remember, I was surrounded by creativity, whether it was drawing, painting, making paper lanterns, even cooking, there was always some kind of creativity happening in our household. Moving to New York City was such a change for our family, especially us kids. Our childhood quickly went from running around and climbing trees to riding subways. As immigrants in a big, new city, it was definitely hard on our parents. I didn't know it then because I was a kid, but looking back as an adult, I know now that my parents struggled. We were latch key kids; our parents worked all sorts of hours.
And because money was tight, I can only imagine that's why we always visited museums, they were free, or at least donation based. My mom always kept us busy, cooking, cleaning, drawing, painting; whatever she could tell us to do. She even used to have me take apart teddy bears and trace their patterns, just to keep me busy. I began learning how to sew at an early age, and in middle school, I'd sew backpacks and sell them to my friends. Even as older kids, we entertained ourselves. My brothers and I would go to museums and just sit for hours, drawing statues, or at home, we painted together, gathering all in a row. As I got a little older, in my late teens, I became a part of the 90s NY club scene. I worked at a store called Patricia Fields, where it was kind of like a safe haven for all walks of life. At the young age of 19, I worked with gay men and women, drag queens, cross dressers, transgenders (and anything in between!) and they were my chosen family. I was accepted for my uniqueness and I was validated just for being me, giving me comfort and solace in my creativity.
I'm sure you wouldn't say it's been obstacle free, but so far would you say the journey have been a fairly smooth road?
I was never classically trained, I didn't go to art school; my parents didn't have the money to put aside for college. And as for me, I moved out when I was 18, so I had to work to pay rent. A real college education wasn't in the cards for me. But that didn't stop me from applying for jobs that I wasn't technically qualified for or didn't have the degree to show for. I hustled. Before ceramics, I loved fashion; just living in New York probably had a lot to do with that. I worked retail for years and then I first started to apply for designer's assistant work and then eventually design work. Even though I didn't have that piece of paper to show I was qualified, I convinced them to give me a chance. And with that – I gained experience.

A few years later, I met my husband and we started a family. I even started my own kids' clothing company, which was great for a couple of years; our daughter was my muse and inspiration. In 2013, we decided to move back to where John is from Newport Beach. Boy was I in for a ride! I had never moved as an adult, I know that sounds silly but I was in absolute shock. (I'd never even had a driver's license.) Everything I thought I was ready to leave behind was gone and I wasn't ready. I was sad, frustrated, everything I knew about myself was suddenly out of place. I was lost. John saw that I needed to focus my energy on something creative, so he bought me a gift certificate for a ceramics class. And since then, I was hooked.
Thanks – so what else should our readers know about your work and what you're currently focused on?
I am a ceramic artist, I hand make all kinds of things out of clay. I took classes at Aardvark Clay & Supplies in Santa Ana for a couple of years until I slowly built up my own studio in our garage. By having a studio in our home, I feel very lucky to have the convenience and time to teach myself and learn new things along the way by experimenting and of course, failing. Currently, my body of work emotes my need to feel connected with everything, especially with all of 2020's drama, I dive into my work to escape, to transcend creatively and spiritually. Though my pieces have modern silhouettes, they are treated with aged and antiqued surfaces. Those design effects are meant to question time and place.
The patterns of the lattices that adorn the forms give a nod to classic Filipino woven baskets, my way of connecting with my culture. As an immigrant and a person of color, I am especially proud to support and donate half of our proceeds to charities for change and equality for all. Societal issues concerning immigration, the Black Lives Matter movement and the LGBTQ community mean a lot to me and my family. So far, we have supported and donated to Until Freedom, Color of Change and the ACLU, and we look forward to supporting many more, especially in these dire times in the world.
In terms of your work and the industry, what are some of the changes you are expecting to see over the next five to ten years?
I hope to see a better representation of women, trans, gay or people of color in the art world. Art has historically and always told the truths of humanity and we need to see and understand all of it especially from those perspectives. I can also tell you that I hope big money and corporations will take a back seat and that the general population will support small businesses and local artists more and more. In light of this pandemic, we need to support each other as humans and SEE each other again.
Pricing:
Contact Info:
Email: wisp.ceramics@gmail.com
Website: wispceramics.com
Instagram: @wisp.ceramics
Suggest a Story:
 VoyageLA is built on recommendations from the community; it's how we uncover hidden gems, so if you or someone you know deserves recognition please let us know 
here.