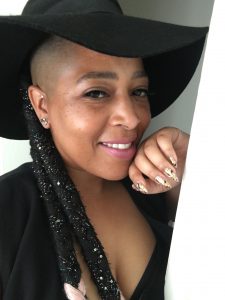 Today we'd like to introduce you to Taryn Dean.
Hi Taryn, please kick things off for us with an introduction to yourself and your story.
Among the few actual LA natives, I was born in Hollywood and raised in Leimert Park. For those unfamiliar, Leimert is a mecca for art, culture, & design in the BIPoC community of South LA. So I got to grow up around a wealth of black artists and influencers before that term even existed. My exposure to art and artistry showed me at a young age that I could create a life that didn't follow traditional means or career trajectories.
Though the neighborhood is currently gentrifying, when I was growing up there in the late 80's/90's Leimert sat on a precipice, gently wedged in between 'the hood' and 'the hills' – touted as part of the 'Black Beverly Hills', Baldwin Hills, View Park, and Windsor Hills sit less than a mile away and to this day still top the lists of the wealthiest black neighborhoods in America. Having that proximity to wealth and growing up with friends who mainly lived in these areas exposed me to luxury beauty, wellness, and fashion spaces. I learned about all types of therapy and wellness techniques that my family had barely even heard of, let alone tried.
So it's no wonder that my trajectory eventually turned from fashion to beauty, and to my surprise, from beauty to metaphysical wellness and healing. After walking away from a full-ride scholarship at USC, I spent several years working in the fashion industry pursuing a career in design. But much like my time at USC, I came to find that I disliked the industry, the people, and the kind of person I felt I would have to pretend to be in order to find success. As I was in the midst of searching for a new career path, I happened to have a friend at the time who had just opened a business doing eyelash extensions. She offered me a part-time job helping her grow her business as I figured out what I wanted to do and I jumped at the opportunity. The field, at the time, was exciting, new, and very few artists existed. Within a year, I was a trained lash artist attending esthetician school to receive my skincare certification.
Today, almost a decade later, I have built a business using my experience working in top LA salons like GBY Beauty in Silverlake. My career sprouted from sheer intuition. I didn't choose the paths that I ended up on so much as I simply found myself in a space of opportunity and seized the moment.
My company, The Beauty Mage is yet another piece of my divine intuitive inspiration. The Beauty Mage is an all-encompassing beauty initiative curated to build bridges, not walls. My work goes beyond the substantial realms of beauty and spirituality, including lash artistry, facial massage and aesthetics, healing, activism, and energetic therapy.
The Beauty Mage utilizes a process of diving inward, beyond mental activity, to help you experience a state of pure awareness and grace. My treatments spark your deepest inner reserves of energy, creativity and confidence to eternalize 'whole beauty' – the foundational concept behind my popular Transcendental Beauty service which combines metaphysical healing, beauty techniques, and energetic therapy to remove mental and physical blockages and empower my clients.
Would you say it's been a smooth road, and if not what are some of the biggest challenges you've faced along the way?
Money! Always money. Especially in the beginning, those first two years are clutch. If you are like me working full-time while building your business as a side hustle, you will have to get extremely creative with your financial decision-making.
From the outset with my business, I have always been protective of not giving away my sovereignty in exchange for dollars. Honestly as a black woman born and raised in America, I never considered that I had another choice than to bootstrap. I knew I wasn't going to walk into a bank and get a loan and I didn't have any relatives or friends to ask for startup costs.
I also grew up in a household where my parents were constantly robbing Peter to pay Paul in order to keep everything going, so my thought patterns still have an irrational aversion to debt. Though I am educated in economics and finance and understand the difference between good and bad debt, the thought of owing anyone anything makes sick to my stomach. It took at least a year of unlearning and coaching from some black businesswomen to shift my perspective toward accepting investments. The journey continues.
Beyond the financial aspects, I would say the other looming challenges I've faced along the way include imposter syndrome, decision fatigue, and a heightening of my existing mental imbalances. If you have any existing struggles, like anxiety or depression, starting your own business will only amplify them. And, if you have any chance for success, you must make a commitment to yourself to use those challenges and a boatload of SEVERAL kinds of therapy to cope, grow, and scale upward.
It often bothers me how little therapy is talked about as a necessary tool for starting or growing a business. And not just one kind! I had a therapist that helped with emotional blockages like a traditional talk therapist, a therapist to help me grow and visualize for my business and one who helped me achieve balance through sound healing. Additionally, I also found therapy in meditation and my own witchcraft practices which mostly fall into the realm of hoodoo and native indigenous practices. Without all of these individual therapies I would never have survived those first few crucial years of defining concept and mission.
Great, so let's talk business. Can you tell our readers more about what you do and what you think sets you apart from others?
I started the Beauty Mage almost as a natural extension of a phenomenon that already existed and probably has existed since the dawn of intimate personal care services. Personal care practitioners, especially those who see clients on a routine basis, end up developing special bonds with those repeat clients. Often your clients will treat you as a sounding board for their lives because you have gotten to develop a deep sense of trust. You know all about their lives, their jobs, their successes and their failures. Eventually, your sessions just turn into full on therapy sessions. Often, the therapy goes both ways! But what I was noticing as the years rolled on was that my counsel with many of my clients was so valued and respected that I was actually delivering a two-pronged service. There was a spiritual aspect, a meditative aspect that perhaps should be allowed a larger space.
Human beings are experiencing a time that is more stressful and more unpredictable than ever before. With that unpredictability the rates of anxiety and depression have skyrocketed. We are finding it harder and harder to find peace, calm, and hope in our daily lives. So it dawned on me that there was a space where a service should exist that combined metaphysical healing techniques coupled with beauty treatments. History has shown us that even in harrowing times, beauty services persist. We have a need to adorn ourselves even when hope is lost. For some of us, it is the glue that can hold reality together. For us, these treatments are their own form of therapy. And to me, all forms of therapy are valid.
As I was on my own spiritual course, connecting with the ideals of modern witchcraft, I was sharing my experiences. I took bits and pieces from what practices were working for me and observed what I thought was working for my clients. Together those practices became my Transcendental Beauty service. With a foundation in lash and brow artistry, the TB services are all about increasing a 'whole-istic' sense of peace while also providing the enhancement of a beauty treatment. Transcendental Beauty sessions are meant to transport you to a feeling of completion. They are a safe haven where you know a space for your healing will be held wide open.
They begin with some light talk therapy, then transition into a reiki session and aura cleansing. After reiki, the beauty service begins. And finally, we close out with a quick tarot pull and a gift of a small ritual jar for you to continue your meditations. Transcendence comes at the nexus of belief, vision, and purpose all aligning for progress. The spirit urges us to move through emotional growth. The mind urges us to move through intellectual growth. But how does the soul urge us to move forward? Intuition. Dreams. That still small voice. Your inner child. Whatever you prefer to call it. You already know it.
Our treatments grow your confidence and help you speak your truth. The service ritualizes soul care. It is based around a foundation of six core elements – release, breathe, cleanse, connect, enhance, transcend. Give yourself permission to release all that is not serving you. Breathe in the full expanse of support that the universe is offering you. Cleanse your spirit of any doubt. Connect to the divine within you that is conspiring for your highest good. Relax into an Enhancement ritual that will leave you feeling not only beautiful but empowered. Walk away knowing that you have achieved true Transcendence from whatever's been holding you back.
From the roots of this service, I have expanded my offerings into ritual products for personal and home use including floral beauty wands (or ritual smoke cleansing herb wands/smudge wands), smokeless 'smudge' sprays, eucalyptus shower wands, smoking/burning blends, magnesium salt baths, merch, and more. These offerings can be found over on www.shopthebeautymage.com and the collection is ever-expanding. I'm currently working on a candle collection as well as a variety of suncatchers & wind chimes. Each of my products is specifically tasked with easing your ability to reach a state of peace whether in your sacred spaces or out in the world.
I am most proud and most excited about these products because I believe that I have created the kinds of tools that I would like to see available for use in spiritual practices that just don't exist yet. I've tried to build upon what I loved about each product's essence and then boiled my own magick into it. It was important to me to create these products because I believe they can offer newcomers to alternative therapy and metaphysical practices beautiful bite-sized portions of my philosophy. Further, for those that don't live close enough to do in-person sessions, these products can be my invitation into your homes in another meaningful way.
Who else deserves credit in your story?
My clients, friends, and family. 100%. None of us achieve any level of success alone. There's always a village of support, shoulders available to cry on, and hopeful cheers for every single success, big or small.
Pricing:
Eyelash Extensions start at $125
Transcendental Beauty sessions start at $300
Reiki $150
Metaphysical Products from $10 up
Contact Info:

Image Credits:
Kawai Matthews of Air Philosophy took photos of the models.
Suggest a Story:
 VoyageLA is built on recommendations from the community; it's how we uncover hidden gems, so if you or someone you know deserves recognition please let us know 
here.