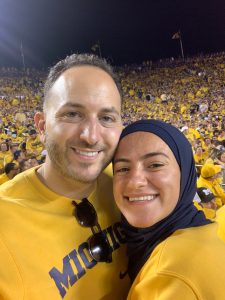 Today we'd like to introduce you to Ali Imad Fadlallah.
Hi Ali, so excited to have you with us today. What can you tell us about your story?
I grew up in Dearborn, MI, which is home to the highest concentration of Arabs and Muslims beyond the Middle East, including immigrant and refugee families from Yemen, Syria, Lebanon, Iraq, and Palestine, among other places. My father grew up in poverty and war in southern Lebanon, the eldest child in a family of nine, and came to America alone at age 16. He used his talents as a mechanic and handyman to buy and fix cars before reselling them and remodeling run-down basements in the summer. Then he brought his parents and each of his six siblings to America. When he was in college, he met my mother, who was the go-to woman on campus for everything from preparing taxes to translating documents. He obviously found more than tax help!
Their story sets the stage for mine. I get my entrepreneurial spirit and passion for education from both of them; my mom is an avid reader and pharmacist, and my father paved my path into education as a turnaround principal in Dearborn Public Schools. They didn't think of things in these terms back then, but they are also seasoned entrepreneurs; especially my Mama, who risked her job as the highest paid pharmacist in the state of MI, to branch out on her own in a rough area of Detroit, where she built Motor City Pharmacy from the ground up.
So whether it was taking the risk to move to Minnesota for college; join Teach for America and teach in Clarksdale, MS – one of the nation's poorest and most underserved regions; gain a top-20 MBA from Goizueta Business School (Emory U) in Atlanta; or earn a full-ride for my Doctorate in Education Leadership from Harvard; my parents set the standard as I took risks and trail-blazed my own path ahead, with this joint passion for education and social entrepreneurship, or doing business with a cause.
Today, I'm a successful entrepreneur in the truest sense of the word success – meaning I'm content with what God has blessed me with and grateful for my opportunities to serve. And I'm most eager to publish the book my father and I were working on for the last three years of his life – and that I've been working on for the last seven years total – chronicling the Dearborn experience, including his as principal of Fordson High, and mine as a student at Fordson and beyond, in a city and country riddled by Islamophobia, anti-Arabism, low-expectations for most public school minorities, and bigotry. But as God says in 8:30 of the Quran, "they plan, and Allah plans, and surely Allah is the best of planners." So if you want my story in one sentence, I'm just trying to be a good servant amidst the unfolding of God's plan.
Can you talk to us a bit about the challenges and lessons you've learned along the way. Looking back would you say it's been easy or smooth in retrospect?
Far from smooth. Lots of temporary setbacks that were self-imposed through poor choices, choices that were a result of ignorance and not loving myself right, in part because I grew up in a society that did not teach me to do so. I've struggled a lot with mental health in the past. But by the grace of God, I'm on the other side of that journey now, though it took nearly six years of seeing a therapist, once a week, and doing a lot of personal healing work, before I got to a place where I felt like I was loving myself and making consistent choices that were aligned with my Islam, and therefore in my best interest. I learned a lot of lessons the hard way – including that marijuana and substance abuse is far more dangerous than society claims it to be. And when I say society, I'm talking about our peers. Just ask someone you know who recently graduated from medical school. If they've ever done a rotation in a psychiatric inpatient hospital, they'll tell you how many teens and young adults suffer from psychosis, including auditory and visual hallucinations, that resulted from nothing other than marijuana abuse. Marijuana is no joke. Anyone who tells you otherwise – especially a doctor – is simply uneducated or untruthful.
As you know, we're big fans of you and your work. For our readers who might not be as familiar what can you tell them about what you do?
Well, last time we spoke I spoke at length about my roles within Medina Media LLC and aliimad.com, which primarily consists of supporting applicants to elite colleges, graduate programs, and jobs as a professional editor and admissions coach. Since then, I recently launched an online program, the DreamSchool Program, that serves as a one-stop-shop for high school seniors applying to elite schools – saving them time, stress, and money by giving them access to short recorded lessons, live feedback sessions and coaching calls, and a Facebook community, all in service of helping them write winning essays and prepare a world-class college app. I'm really proud of the program – I've seen nothing quite like it out there. So aliimad.com is my main "m.o." as they say.
But right now, I'd rather focus on my book, "Dearborn," because I'm starting to see the finish line publishing-wise, and I couldn't be more eager to share it with the world – especially with Dearborn, the center of my world! Here's the "log-line" or teaser for my book:
"Dearborn" is a gut-wrenching true story about adulting in America's famous Arab & Muslim city, told by the son of a poor, Lebanese immigrant and relentless principal who saved Fordson High before his sudden death. With chapters from his father, Ali chronicles a raw, Hip-Hop rooted, coming-of-age, from trauma to triumph, as we follow him from Fordson to Harvard, to Hollywood, and back home to Dearborn, MI.
So maybe we end on discussing what matters most to you and why?
Pretty sure this is a Stanford MBA essay prompt too, haha.
What matters most to me is God and following the example of God's last Prophet, Muhammad (swsa), and the Holy Imams that are referred to collectively as the people of his household, or in Arabic, "Ahul al-bayt." I have 7-8 books in my library that I know I can never outgrow – foremost the Quran, followed by books of "hadith" or verified sayings from the Prophets and their progeny. These are spiritual, universal truths for all – not just self-identified Muslims.
I'll leave you with one verse from the Quran and one hadith from the Holy Imam Jaafar.
Quran, 3:92: "You cannot attain righteousness until you give to charity from the possessions you love."
Al-Kafi, Ch. 1, Hadith 17: "The most perfect in intelligence are those who are the best in moral discipline."
Salaam, and thank you!
Contact Info:

Image Credits:
IMG_7424: Erik Paul Howard (@erikpaulhoward)
Suggest a Story:
 VoyageLA is built on recommendations from the community; it's how we uncover hidden gems, so if you or someone you know deserves recognition please let us know 
here.