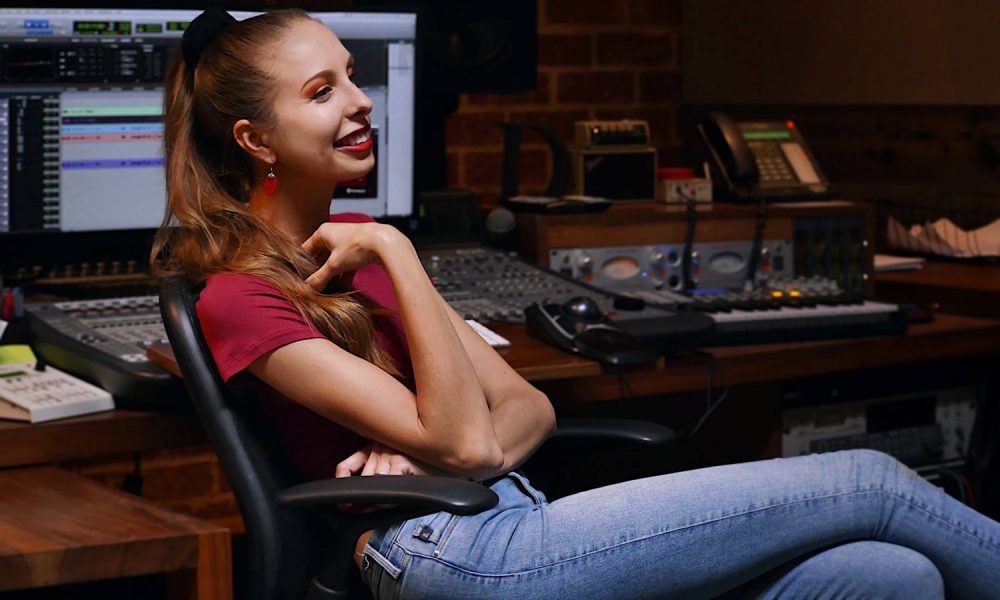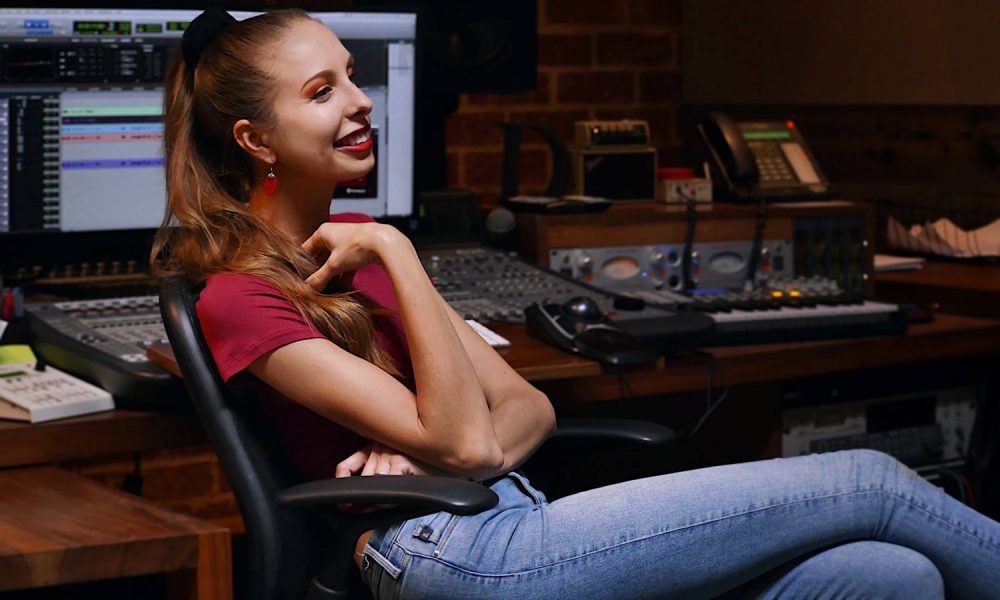 Today we'd like to introduce you to Aggie.
Aggie, let's start with your story. We'd love to hear how you got started and how the journey has been so far.
I come from a small town in Poland. When I was 14, two life-changing things happened to me: brain tumor (which I live and struggle with to this day) and buying an electric guitar. The latter brought me all the way to LA. That, and the obsession with the Red Hot Chili Peppers.
Growing up in a small town where an academic degree was the only thing to strive for was crushing my dreams of working in music. I didn't want to just move to a bigger city. I was dreaming of California.
LA has always felt like home to me. I moved here at 19 with big hopes and even bigger dreams. Since I didn't know anybody here, I had to learn everything the hard way.
First, I put effort into my education, because that's always been important to me. I graduated from various colleges with a few degrees, all related to music, sound, and music business, but obviously, it didn't happen overnight. Throughout the years, I've worn many hats in the entertainment business. My approach to life is to always say yes to an opportunity, whether or not it is related to my line of work.
I started as a guitar player gigging with local bands. In the meantime, I went into modeling and did random runway shows and photo shoots. I did some solo trips around the US and Europe, too. Somewhere along the way, I kind of gave up on my dream of playing guitar forever and I wanted to specialize in something other than just music. Little did I know that this decision would determine the rest of my life, at least up to this day.
I picked my major randomly. I decided to study sound and recording techniques, because I've always been a technically minded person, so learning this aspect of the music-making process seemed like a good idea. I knew absolutely nothing about it, aside from having the prestigious experience of sticking an old microphone in front of my guitar amp to record covers on YouTube (in 2009!).
From day one of the classes, I knew that it was something I wanted to pursue. Both while in school and after graduation, I took every opportunity there was to do sound. I interned at more places than I'd like to admit, but then again, this approach allowed me to grow and expand in many different directions. I got to attend various sound conferences, trade shows, and workshops. I landed jobs at both independent and major recording studios, live music venues, and audio equipment companies.
In the meantime, I got a degree in the entertainment business and I studied music production at UCLA to gain more experience in producing, as well.
I had continued my sound engineering career while picking up side projects related to social media, branding, and promotion. I was never really committed to the business side of things though, so I stuck with the more creative, yet technical, area of the industry. Here I am today, doing what I love, and still exploring many different aspects of sound.
Has it been a smooth road?
It has not been a smooth road, but it'd be boring if it was. I've struggled with a brain tumor and its complications since I was a teenager and that has put a lot of stress and trauma on me. I basically live from one scan to another, in fear of losing everything all of a sudden. Although, I think this might have become the driving force behind everything I do.
Being a female sound engineer can be very challenging. 5 % – about this much of all audio engineers are women.
For the most part, male engineers in LA are very open-minded and supportive. Then again, you meet people who have issues with a woman doing "their" job. No matter how polite you are, their attitude is out of place. This is extremely discouraging, especially for the young women who are just starting to get into this field. Over the years of dealing with discrimination or sexism, you grow a thick skin and eventually ignore those people, but it doesn't mean it stops bothering or hurting you.
There were so many times I heard, "Oh…we didn't expect a woman…" or "You're too pretty to work here. You should be a model instead." I had been asked if I worked in the kitchen (at a studio) or if I was a singer or somebody's girlfriend. I often had to take care of mundane things like paperwork, kitchen duties, or picking up phones, just because I'm a woman, while all the guys were doing technical tasks.
Many people, including musicians, simply aren't aware of female engineers and producers. They often shake hands only with my male coworkers and address their sound requests with them, even though I'm the one in charge and I'm standing right there. I know they don't do this on purpose. I just wish it wasn't unusual to see a girl and think that maybe she's running sound. Hopefully one day this will be the reality.
At audio school, being the only girl (or one of the two) in every class was a little intimidating. I felt pressure to up my game in order to keep up with the rest. I spent a lot of time studying after hours. As a foreigner and a woman in such a male-dominated industry, I was proud to be top of the class student throughout the entire program. My teachers and classmates were amazing!
My advice for women who are just starting out is to never compromise your worth, skills, and happiness. At work, be open about your goals and draw the line from day one. You deserve the same respect as your male peers. Always stand up for your values and yourself, even if it means losing a job. Be proud of your accomplishments and don't stress if anyone underestimates you. Always be kind, curious, and flexible. Don't worry if something doesn't go the way you planned it and be open to other possibilities. Lastly, take time to appreciate your life as it is at every moment, because you never know when you might lose all of it.
Please tell us more about what you do, what you are currently focused on and most proud of.
I think "sound engineer" sounds too serious… I like to say that I help artists make their music sound as great as possible. This can be done in various ways. Recording, mixing, producing, composing, editing, and the list goes on…
I specialize in mixing and recording. I love it and cannot imagine doing anything else. Seeing how my skills and knowledge can help someone get closer to their dreams is very satisfying.
Recording is always fun because you get to witness the process of capturing the performance that will be set in stone forever. It's exciting. Mixing is freedom. That's when you shape the sound of a song. You have control over everything and you can change the way it sounds. The end result and quality depend on your skills and of course the artist or producer's vision.
Recently, I've gotten more active on Instagram. I'm trying to create colorful photos and spread a little positivity through my story. I'm also planning to start a YouTube channel, but I haven't decided its content yet. I love trying new things.
I'm most proud of my education and versatile experience. I'm also proud to live my life with integrity. Despite the obstacles, I think I managed to remain true to my values and myself. With my hand on my heart, I can say that I've always given 120% and I don't regret (almost) anything.
Do you have any advice for finding a mentor or networking in general? What has worked well for you?
Like I mentioned earlier, saying "yes" to every opportunity is the best way to gain experience, meet new people, and find mentors. I heard about audio schools that offer mentorship programs. They match you with industry professionals and let you work with them closely. This sounds really cool. For me, staying in touch with teachers and more experienced peers worked best and I've learned a lot that way.
If you are looking for a mentor and you are just starting out, don't be afraid to reach out to people in your area who do what you want to do, and offer them a coffee or lunch. That's how you get to know them. I've done this before, and I've also been approached like this a few times and never said no.
As far as networking, it's something you have to get used to. It feels forced at first, especially for an introvert, but it eventually becomes second nature. I think it's important to approach people on a personal level instead of offering them your service or product, because networking is about building relationships, not selling things.

Image Credit:
Jeremy Nichols, Joshua Rubin
Getting in touch: VoyageLA is built on recommendations from the community; it's how we uncover hidden gems, so if you know someone who deserves recognition please let us know here.