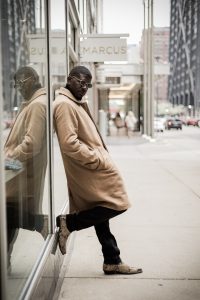 Today we'd like to introduce you to DeMarcus "D . A . P" Porter.
Hi DeMarcus "D . A . P", we're thrilled to have a chance to learn your story today. So, before we get into specifics, maybe you can briefly walk us through how you got to where you are today?
So my journey really began back when I was a baby even from my mom dressing me as a kid, I was always into fashion I had my baby suits, my Oshkosh outfits, etc. I used to win best dressed for certain years in school from middle & high school.
One thing that was very hard for me was figuring out my sexuality, I was in the closet for SO many years not knowing or being able to confirm how & what I was feeling; it started at a young age.
A lot of people don't understand & will never understand how HARD it is to come out & be you. When some many people are judgmental, making you feel like your worthless, not good enough, bashing The LGBTQ community.
One of the biggest things was when I came out to the everyone back in 2015, it was extremely hard & scary telling my family. Because honestly, they were the main & only approval that I needed to be me. It's scary because so many men & women are denied or pushed away on a daily from their families, & not loved by them they disown their children. So that was one of the scariest things for me being denied from my family. So once I actually did come out, they did not disown me or push me out there life, but it was hard for family to understand & accept but I just know that timing is all that it took.
So in 2010 is when it started for me as an adult me & @Eddybaker for a while doing music with EddyBaker we started together in the music he was the Rapper & I was his DJ. We had some sold-out shows threw L.A. & the Inland Empire. The main reason I started doing music one is because it ran in my family not knowing until a Little later on but for me when I was young, I've always had an ear for great music & that passion for music. I feel like music is a lot of people's go to for escaping the world for a moment. So a little while down the road, I had stopped doing music to focus on working. I've been working also since I was 15. I'm 30 now. So with me having a full-time job which was for Stater bros as my first job & UPS as my second, being raised by a Strong Black Queen in a single-family home, at the time as a young black man growing up I knew I needed to focus on working so that way I would be able to help my mother out & pay for the things I needed for myself having a car, car insurance, cell phone, etc. So over the time frame of me working, I had to fall back on the music to focus on things happening right now/ but back then.
So after a few years, I started to come back in the industry not for Djing just yet, but for modeling I had an ex-friend of mines had hit me up for a Photoshoot to collaborate with him on. So when the opportunity came, I was like okay bet, let's get IT going. One thing is I've always been photogenic & conceited a lot of people would call me because I loved taking pictures of myself. "I used to always say don't be jealous" lol in a joking way. So after we did that photoshoot, it took from there back in the beginning of 2019. Then from there, I started my modeling page on Instagram which I was going by @ZaddySiir, & even still I go by that. Another reason I wanted to start modeling at that moment was because I was on the Plus Size models & I absolutely LOVE my body can't no one tear me down or talk bad about my body. Because of what anyone had to say to me about my weight I didn't give a darn… It's self-love that's part if the LGBTQ part or our everyday life whether you are straight or Gay or Bisexual. So I wanted to start being an advocate for the BODYPositivity & Self-love community. To say "FORGET WHAT ANYONE HAS TO SAY ABOUT YOU!!" ALWAYS REMEMBER THAT YOU ARE BEAUTIFUL & YOU ARE ENOUGH FOR ANYONE & EVERYONE.
#Self-love
#Body Positive
#WeAreEQUAL
Also, towards the end of summer is when I had the opportunity to walk in TME The Model Experience Summer fashion show. Where I had the opportunity to meet Rio Summers & work with her, she's a great individual. I also got to meet & connect with a bunch of models, photographers, & designers, & celebrities. I have had the honor of being around some dope artistic individuals in a few music videos, acting, etc. which are things I'll always be a part of.
From the moment of my first photoshoot to my first runway ever, I knew that this was my lane. So from that point on, I've been in multiple fashion shows, multiple photoshoots, have gotten to work with some dope designers. So after a crazy year like 2020, I thank God every day for that I am blessed to still be here on earth healthy, blessed, loved & highly favored.
I'm forever thankful & grateful for my mother, my queen for being such a phenomenal role model in my life & for raising me, teaching me, giving me the tools & knowledge to get out here & get it. From a mother that has always done the best for her two kids working two jobs going to College full-time etc. as well to get your business & Master's degree while working on her business as well "FMO".
"For men only NAIL LOUNGE" in GA "Make Sure to Check out FMO you will not be disappointed it's one of the best male pampered lounges for men in the U.S.A.
I am also very thankful & grateful for my grandparents on my mom's side of our family for everything.
Also, I wanna give a shoutout to my partner that's been by my side through ups & downs for five years were going on six years of being together.
I knew that my possibilities are endless especially when you go out into this world & take the W's & L's that come along with it, that anything is possible as long you remain humble, Prayed UP always, count your blessings the Good & even the bad ones. Stay focused & dedicated & you never know where life will take you.
So coming to 2020 & 2021, I've been praying & putting things into play more as far as my entrepreneurship & working towards the life I want for me & my future family to come. I currently am a Model, Stylist, Designer, Photographer / Videographer, brand influencer, DJ, Etc. One thing in life is we have to realize that we have to tools to do so much within life, but people have to realize that it starts within YOU / US.
"Time waits for no man or women".
So right now as well, I have my partnered brand right now which is "Dappered EGO" with my business partner // Aquarian sis @IAmSJacquis. You can check out our page on I.G @DapperedEGO which is a Brand for Men & Women stay tuned on that. We're bringing that Dapperness to your E.G.O
I'd like to give a Shout Out to the team // Clothing brand that I'm a part of as well @1_WorldPeace which is a clothing company that started back in 2014 with a message for the World. That the world needs to hear which is "WorldPeace" it's definitely something that is lacking in our world today that we live in but has been for generations. But we been rocking for a min & have done countless shows out in LA & traveled to other states within the United States for the Fashion TakeOver. Still on the rise.
As well make sure to stop by the O.W.P Unity Shop in DTLA @ "223 W. 6st DTLA"
I also have my Production page that's on the Rise @D.aproductions which is for Photography/Videography as well for all types of events. If you would like to collaborate or get some work done let's get IT. Please DM me @D.Aproductions.
I also have more stuff coming in the works stay tuned.
Alright, so let's dig a little deeper into the story – has it been an easy path overall and if not, what were the challenges you've had to overcome?
Now I would say the road to success is never an easy road unless you were born into that lifestyle. Then that's different but even then I still think it rough road… But oh yeah, life is a Roller coaster with ups, downs, loops, etc. You never know how something can go.
Also, being a Black male that is bi-sexual in a world where it's not as accepting just yet, I feel there are still times that the LGBTQ community is still treated unfairly or not as equal. But it's definitely not an easy road for most of us.
But one thing is that you have to always remain positive, stay Prayed UP it's so quick for a negative situation to such the positive energy of us it's crazy. Or how we let one small situation blow up into something bigger than is should be. You know we all have our struggles in life but you have to know how to put your big boy or big girl pants on & know that the current situation your going through is just a storm that GOD is putting you through to see your outcome of how you can handle something like that. You have to remember that things will not always be like this or like that on what you are going through. But only the strong survive you have to take the Good with the bad at times.
Like The Great Nipsey Hussle said "Any man is defined by his reaction to any given situation. So who would you want to define you, yourself or someone else."
That quote there is big facts especially in this world we live in today.
So some struggles could be that I was being turned down from something I thought was big or things not going how smoothly I would have thought some things would have went. But you also gotta remember that you were turned down for a reason or it's not your loss it's theirs. Or things happen for a reason.
Another saying I'm big on is "TIMING IS EVERYTHING"
JUST LIKE WITH GOD, HE MAY NOT COME WHEN YOU NEED HIM, BUT HE IS RIGHT ON TIME.
I would say one of the roughest times was last year in 2020 having the thought of what's gone happen next when we first had hit the pandemic. I know for ALOT OF US, it was our first dealing with anything like that. It changed our whole lives for good & bad. But also having that moment where we didn't know what was next as far everything being closed which isn't normal for us.
But it's nice to see the hope, positivity that some of the worlds has shown.
As you know, we're big fans of you and your work. For our readers who might not be as familiar what can you tell them about what you do?
So one thing with me is I'm great with customer service. More than the majority of my work experience has been in the customer service field, so I definitely feel thats one of my strong points & I would say that it separates me from others because not everyone is born with the gift to satisfy customers or gain that trust of customers also having a creative mind, having goals & visions that I have set for myself that are coming into play. You just never know.
What's next?
Future plan is to definitely continue to go strong how I have been, to turn up the notch some more. Have my brand more out in the world, to be more established in life. Definitely leave my mark in Cali before heading out to a different state. To continue to inspire & be a Role Model for the youth & people around my age.
Contact Info:

Image Credits:
Photographers @MikeharrisPhotoLA @Hopedreamproductions @Daniel.iso
Suggest a Story:
 VoyageLA is built on recommendations from the community; it's how we uncover hidden gems, so if you or someone you know deserves recognition please let us know 
here.