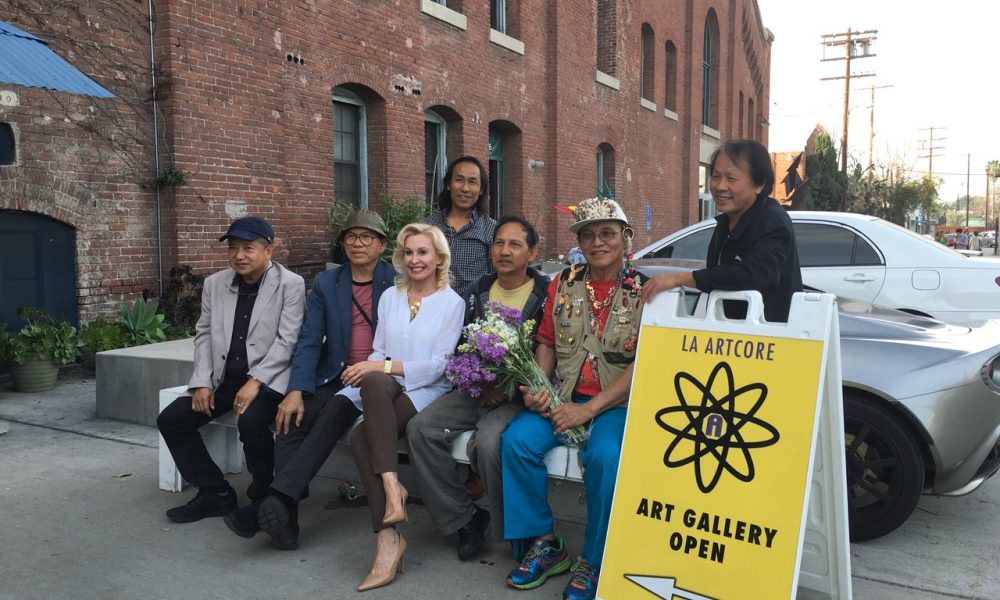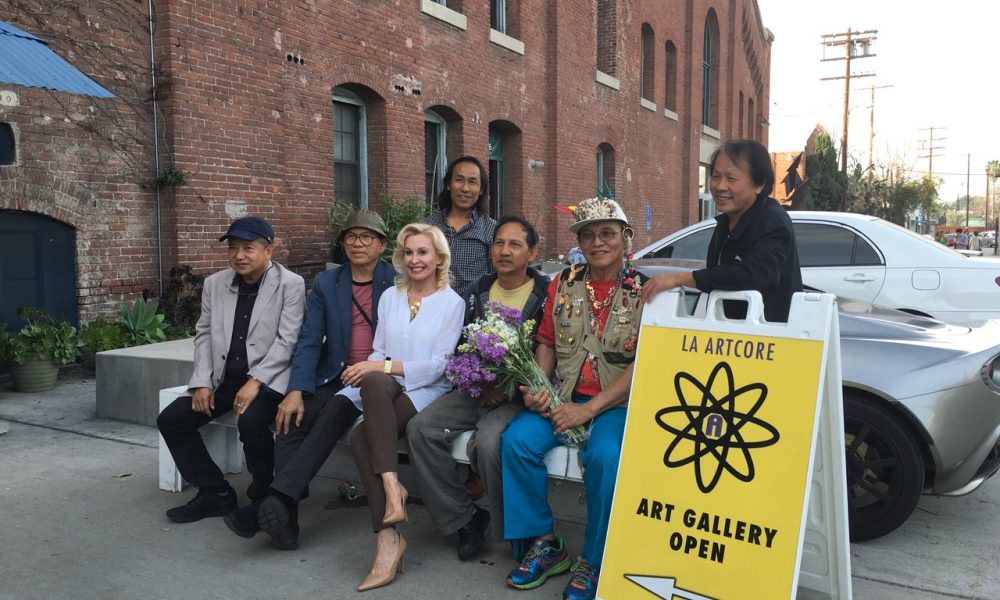 Today we'd like to introduce you to Julienne Johnson.
Please tell us about your art. What do you do, make and create?   How?  Why?
As a multi-disciplinary artist, my work includes drawing, painting and sculpture, as well as video art and installations. Mostly I like to play in the abstract realm, working intuitively where I can investigate more deeply – with my heart. There is no plan;  my art leads – mostly. Although I get in its way from time to time. I also enjoy making representational art;  although it can become a snooze – so I keep it in small doses.
It all started with drawing for me. As a child I could just do it;  and one teacher, in particular, took notice. I adored her. She planted that seed in me;  told me I was born an artist; I trusted her – believed her. Thirty some years after dropping out of college I returned to art school, beginning at Otis College of Art and fast forwarding to Art Center College of Design.
I've been creating art on a full-time basis since 2010; and besides the excitement, it's taken discipline, and sacrifice, to have arrived on this international platform. Yet, what has gone on with my career is bigger than anything I could orchestrate on my own. When leaving school – I had no expectations.  Except those of myself. It's been a wonderful gift, which I humbly accept, knowing that there are a multitude of artists – a whole lot more deserving.
I make art to communicate what I cannot communicate with words. To answer my own questions;  to figure out where I fit in the mix. Life is being sorted out through the mix of media as I manipulate and alter materials. Real life scenarios take place on the canvas in the process. I'm fully invested, emotionally, in six to eight pieces simultaneously. Various creations are just different paragraphs or chapters for me, with a powerful story-line pumping through me onto them. We're having a conversation, the artwork and I;  the paint, the many objects that I incorporate – we talk to each other. It's deeply personal.
There's the addiction here – as well as a fix. What's left when a piece is completed is the residue of my experience. A sort of remnant of a teaching vehicle; used to get to the bottom of things. When it's finished, there's a disconnect. Perhaps that's why I tend to drag things along [if I'm not meeting deadlines]; so I can savor the experience – make it last; because when that paint is dry – it's over. It's not mine anymore, nor is it personal. I'm spent – and it belongs to you.
I don't start with a concept or begin with a sketch. I don't have a verbal understanding of everything that I create, yet it's absolutely precise, organized – exactly as I want it. I'm not an artist asking friends to tell me when it's finished. I know! Blaise Pascal, the French philosopher, penned it perfectly when he said, "The heart has reasons, that reason cannot know."
Most importantly, I believe that art is a chosen lifestyle, rather than something separate from ourselves. It's the only way I know how to live. And I was blessed to have that modeled for me during my youth. Not that my family thought of their way of life in those terms. It's the reason I've been able to endure many jobs over the years that I probably wouldn't have chosen. I simply made the duties of the job a sort of art form for myself. Which turned it into a problem-solving situation for me; allowing me to have control [over my feelings] and be able to work toward making the job one that pleased me [while pleasing my superiors], creating "a thing of beauty." There is also no time for competition or judgement when working in this manor.
What's the message or inspiration, what do you hope people take away from it?
I'd like them to take note of how they respond to my work. What feelings are aroused? Does it make them happy? Sad? Confused? Is it unsettling? I'd like them to leave my work feeling and thinking. I'd like my work to evoke any strong response. There's no right or wrong answer. I'd like people to be affected by the work. And since we're dreaming here, when they walk into a museum or gallery and see my work, I would like them to leave changed. That's the most humbling of my dreams. It's been thrilling for me, to see people moved to tears with particular paintings. And be able to talk with them about what they felt before they knew that I was the artist. To experience them as they see their own soul in my work – tells me I'm in the game. Tuned in! We are the same species. That catapults me! But look, I don't have the power to control another person's perception concerning my work. Nor do I give it a thought. And, if I did, I would probably just make a cup of tea and get back in bed. But no matter, I know there's life living in this artwork, and even though it may have been channeled through my own cognizance, flawed as that may be – it still cries of hope. And when you create an artwork that you don't understand verbally and someone that you've never laid eyes on, explains it with words that you couldn't even begin to communicate – well, that's as good as it gets.
What would you recommend to an artist new to the city, or to art, in terms of meeting and connecting with other artists and creatives?  
Without hesitation, if they are an artist, I'd recommend that they familiarize themselves with The Los Angeles Art Association (LAAA) and join as soon as possible.  Applications for membership are accepted several times a year.  This is a professional art organization;  so  it can be challenging to get in – but worth the effort.  Secondly, for artists, as well as lovers of the creative community, I would suggest that they visit the exhibiting arm of LAAA, which is Gallery 825 in West Hollywood. Gallery 825 is an excellent exhibition venue,  and  my  go-to place to keep abreast of resources, opportunities and services available to artists [at every level].  And it's a wonderful source for collectors and everyone who who enjoys surrounding themselves with a fun creative community;  additionally, Gallery 825  houses the corporate office of the association. And if you're lucky when you visit,  you may have an opportunity to meet Peter Mays, the Executive Director, who does all he can to keep Los Angeles at the forefront of the art making world.   I'm very appreciative of this organization. The day I received my acceptance letter for membership into the Los Angeles Art Association – I cried.
Given everything that is going on in the world today, do you think the role of artists has changed? How do local, national or international events and issues affect your art? 
No! I don't really think that the role of artists has or should change; although I see that there is an ill wind blowing throughout the art world in a desperate attempt to shape the culture and ideology of our world. It's being done by an attempt to dictate what artists create, and by controlling which art will – and which, art will not be preserved.
All my expressions, including internationally published art, poetry and Grammy-nominated music, has consistently been about humanity:  how we are affected by what's going on around us and to us. Not about what we see – but about that which we don't see. Presently, there is an overt prevalence in the art world, under the surface, daring to dictate the subject matter to be discussed through our work, no matter the discipline. Interestingly, artists have resisted this kind of intervention throughout history. Yet at this moment in time, they have been programmed and pruned other-wise. I am saddened by the current state of affairs. Yet full of hope that artists will find the courage to think for themselves, open their eyes, and make art through their own consciousness rather than through the interests of others for social or political gain. I believe that is our job! Nothing has changed.
What should we know about your artwork?
My work is not about what we see – it's about what we don't see. It's passionate urgency speaks of what's going on with us – the people.   I'd also like people to understand that because my art is deeply personal – it is therefore profoundly universal. My world is big.  Huge!  Exactly where it began.  My family is like the league of nations.  I lived as a child with people that didn't speak English;  some of whom read strange newspapers from the right to the left.  My relatives cross all borders and boundaries, and their skin color varies.   The world continues to be my playing field, so I've been comfortable with 22 international exhibitions in 7 years. I've never been  a foreigner – not anywhere. Nor can my art be divided by country, culture, language, skin color, or any other divisive gimmicks our culture is using to separate us. My attitude is all over my work, although it comes without conscious thought. It all belongs to me and I take responsibility for it.  To understand abstract work – is to know the artist. Look for the truth in my work.  Find your own story.  This work is not about answers.  It's about questions. I'm looking for answers myself. And don't be confused by my darker works;  if not for the darkness,  how would we recognize the Light.  Know that in my paintings, what you see are 25 to 30 layers of paint and glaze, with every single piece placed exactly where I want it. And know that the foreign print that you see in my paintings is never collage. Too easy! Those are transfers: print transferred  directly onto my paint.  A very tricky business. And those languages are all speaking in unity. Look for the metaphor and symbolism.  Nothing is random or thrown in to look interesting. Some of the artworks have taken over 500 hours to complete. This is serious stuff.  I'm in over my head.  Know this about my work.
How or where can people see your work?
People can see my art at exhibitions and art talks, by visiting museums where my work is on permanent exhibition and by reading my art books. I'll personally invite them to scheduled events if they sign-up to be on my mailing list: see the CONTACT page of my site. They can also go to my site to find museums that have my work on permanent exhibit. Books can be purchased by going to the BOOKS page on my site, where they can also view details. The LINK under each book will take them directly to AMAZON for purchases. However, beware of 3rd party booksellers. A bookstore in Orange County has a couple of my books listed for over $500, and I saw a pop-up that said my books were unavailable except through a 3rd party bookseller. For all VoyagerLA readers, I would love to personally sign any books they purchase, without additional charge if they contact me through my site or let me know that evening that they had read this feature.
An upcoming exhibition on the local  scene will take place at  Gallery 825, West Hollywood, December 15-January 11, with an opening reception on December 15, 6-9pm, Curated by Cynthia Corbett of London. Upcoming international shows include:  Galleria Area Contesa Arte, Rome, Italy, December 15-December 30, 2018;  Palazzo della Provincia di Frosinone, January 3 – 16, 2019 ; and I am delighted to announce a solo exhibition April 1-April 30, at Galleria Area Contesa Arte, Rome, Italy. All three Italian shows are Curated by Alfio Borghese.  Stay tuned to my site for everchanging information.
How can people support your work?
Such a kind thought. Thank you for asking. People can support my work through attendance at my openings and art talks. If they let me know by email that they are LA Voyage readers and will be attending, I'll have a gift for them: a small collection of my art postcards. I would love to meet them.  They can further support my efforts, by purchasing art for their personal collections, they can also commission a work, and my signed books can be purchased to display on their coffee tables, or to give to friends. Another urgent way they can support me is through corporate sponsorship or private funding for museum exhibitions. If anyone is in a position to partner with me in this endeavor or direct me to someone who may have interest, I would be very appreciative.
In 2014, the Museo Ospedale degli Innocenti in Florence, Italy was introduced to my work through the Egyptian/Italian curator of the Venice Biennale, Aida Eltorie. My art was accepted for a solo exhibition. My "Touched" work captivated their interest because at it's the deepest level, "Touched" is about our life-supporting need for human connection, through the guise of technology and social media. This particular museum happened to have been the first orphanage in Europe and the first renaissance structure designed by the famous architect, Filippo Brunelleschi, in 1914. I was crazed with excitement that a museum had such a thorough understanding of my work that they would want a solo exhibition, even though I was not an Italian. Sadly, it did not take place.
The museum could not obtain funding for an American artist, and I was too busy with upcoming exhibitions to explore funding possibilities myself. In 2016 the same scenario took place with the curator, Alfio Borghese of Rome, at the Museum iL Vittoriano located in Piazza Venezia Museum, also known as "The Wedding Cake. Again, the museum could not obtain financing for an American artist's solo exhibition. I was heartbroken! Yet remained hopeful, because both potential exhibitions shed light on the fact that my work is relevant on an international stage. However, what they don't teach in art school, is that it takes more than an artist to get it platformed. Funding is essential; if you should know of any corporations or private art supporters who might desire to be a participant in this endeavor, please connect them to me. This is how you can support me.
Getting in touch: VoyageLA is built on recommendations from the community; it's how we uncover hidden gems, so if you know someone who deserves recognition please let us know here.