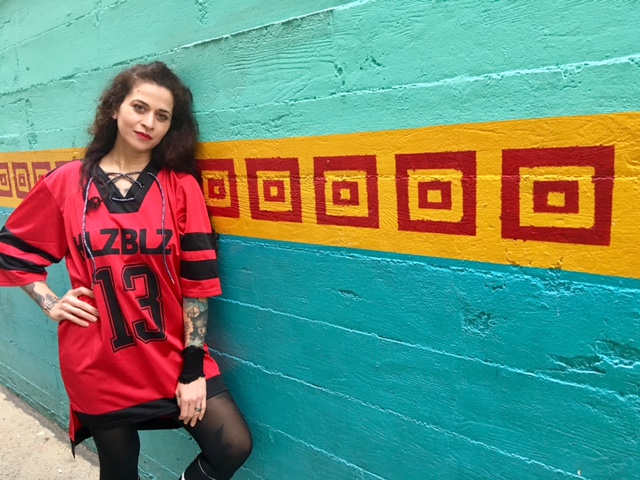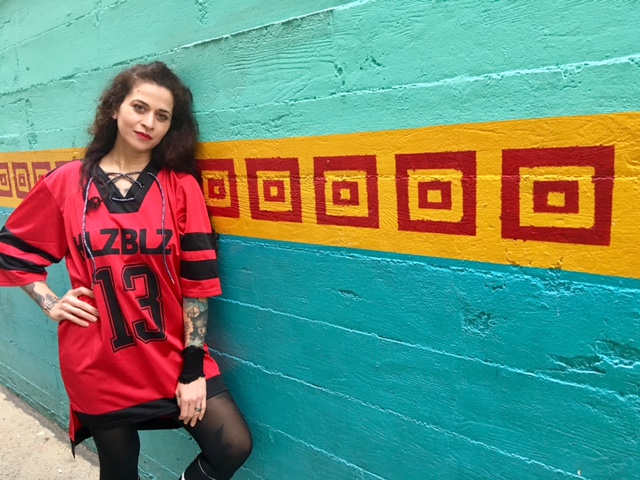 Today we'd like to introduce you to Chantal Menard.
Chantal, please kick things off for us by telling us about yourself and your journey so far.
I was born in Pasadena, California and spent my teen years living up and down the West Coast. I have a family that instilled the importance of creativity and the arts in us. I grew up playing the piano, taking photos, making collages, writing poetry and short stories.
It was during my time living in Santa Cruz, CA and the Oregon Coast that piqued my creative curiosity. My sister and I would find forgotten objects in the barn in the back of our parent's house. We would gather our rusty treasures and create shadow boxes and mini "shrines" incorporating our findings. I would walk around school with a point and shoot, and take photos of my friends. And of course I would continue to make my little collages.
After graduating high school, I moved back to Pasadena, to study graphic design. Somewhere in the mix, I had fallen in love with piercings, tattoos, and body manipulation. While going to school in the mornings, I worked nights and weekends as a piercer's apprentice in a tattoo shop in Pasadena. I found the world of tattoos and body piercing to be the answer to unspoken questions that had been deep inside me for quite some time. Not only was body art beautiful to look at, but it resonated with me in a spiritual sense. How cool is that you can wear something of your choosing for the rest of your life, and with some intelligent planning, you could become a work of art yourself.
I was really inspired by what my coworkers were doing, not only as far as tattoos went but paintings, illustrations and photography as well. It was really cool listening to the hum of machines all day, and watching them paint during downtime or in between clients. I would work on collages, or make assemblages in my piercing studio in between clients. The creative flow was constant it was always fun to see what everyone was working on.
Also during this time, I had befriended some painters from Art Center, who had asked me to sit for an alla prima portrait, this was the beginning of the journey as a portrait model. I find it difficult to imagine my life as an artist and a portrait model as two totally separate or unrelated facets; they sort of bloomed simultaneously, and both play equally significant roles in my life.
Can you give our readers some background on your art?
I work in an array of media. I utilize found ephemera and incorporate elements such as bone, hair, mirror, lace into my work. I use the terms, "reliquary assemblage," and "memento mori" to describe my work: that which memorializes and honors the living and the dead. Each piece is a visual narrative. I enjoy using symbolism, metaphor, hidden and double meanings to recount a particular story. Sometimes the stories are my own, a person of historical relevance, or some sort of event that has taken place that I am personally moved by.
I draw a great deal of inspiration from an array of subject matter, ie. religious iconography, mourning rituals, music, magic, metaphysics and poetry. I would be lying if I said I was not influenced by going to Catholic School for most of my life. Also, Music…musical themes and instruments are very prevalent in my work, I think due in part to growing up in a musically inclined family and playing piano since I was a little girl. Often times, my pieces revolve around old blues songs and musicians such as Billie Holiday, Robert Johnson, civil rights movement, feminist issues.
In regards to my use of certain materials, I tend to work with a lot of bones and disregarded objects. In a way, It is also sort of like recycling, reincarnating, re-purposing something that may have otherwise been lost, forgotten, or left by the way side.
In your view, what is the biggest issue artists have to deal with?
"Time and Money" seem to be the challenge for artists, and most people in general. There are a lot of artists/creatives who have another gig in order to shoulder the burden of paying the bills, and struggle to find time for their personal artwork. Finding balance is key.chantalmenard.bigcartel.com
What's the best way for someone to check out your work and provide support?
You can visit my website chantalmenard.com for most recent updates on current projects and art shows. I have a big cartel store where you can purchase artwork directly at
I mainly show my work in galleries here in Los Angeles: Copro Gallery in Bergamot Station, also the Shag Store in West Hollywood. This September, I will be participating in "Crime on Canvas," curated by M Modern Gallery, at this years "Life is Beautiful" festival in Las Vegas. Private commissions are also welcomed.
Contact Info:

Image Credit:
Chantal Menard, Sonya Palencia, Steve Martinez.
Getting in touch: VoyageLA is built on recommendations from the community; it's how we uncover hidden gems, so if you know someone who deserves recognition please let us know here.