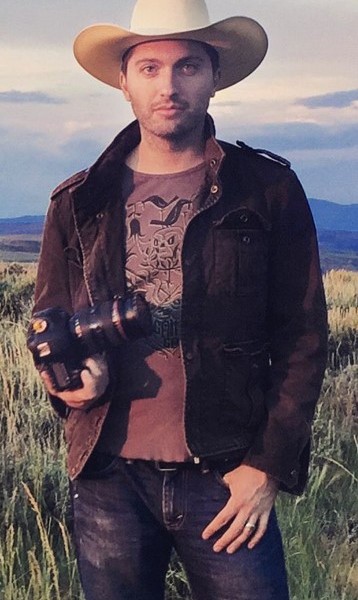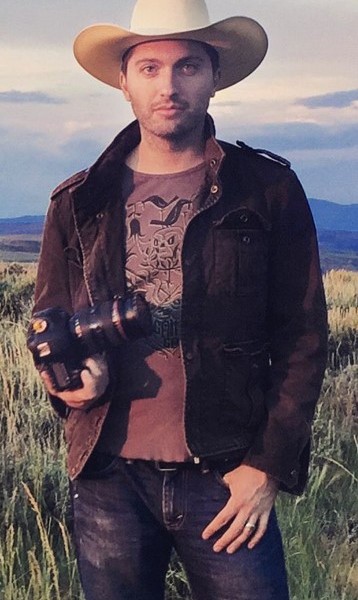 Today we'd like to introduce you to Nicholas Reid.
Nicholas, please share your story with us. How did you get to where you are today?
I grew up on a sheep ranch in Wyoming. I went to college in Denver CO studying photography. After I graduated I was doing well doing small photo jobs and assisting. But the market in Denver is pretty limited and it can be hard to make a living. But as it turned out I wasn't going to stay in Denver for long.
It all started with a chance meeting in an elevator in Denver in 2005 that landed me an internship in Los Angeles with David LaChapelle. I was offered the internship on Thursday, I packed everything that would fit into my really old 1982 VW Rabbit (named Jessica) and I was at work in LA on Monday. The internship turned into a job. Hotel LaChappelle was my introduction to LA. It was very crazy time. Lots of celebrities and huge productions and of course drama. I loved it all, but it was hard work. Working for David LaChapelle was an education. He basically had huge budgets and unlimited creativity. Which is every photographer's dream. It was great to learn about the creative process and managing creative people. But it had its drawbacks. Sometimes things fell apart and everyone to scramble together and get everything back on track. There were many days that I didn't sleep.
That job got my foot into the door in LA and from there I have been working in the industry since. For a few years, I assisted photographers and managed photo studios and did some freelance retouching. Then I got a job at Getty Images in their creative department. Working in a team creating original content. I was the head retoucher and digital tech. Out on the shoots, I ensured everything was captured well, and then in the office I retouched them.
Every job that I have had I have learned something really essential that has helped my career as a photographer. David taught me how to be the ring leader and channel everybody's creativity toward a common goal. And working for Getty, I learned from the team about how to run shoots efficiently and within a budget but produce a large volume of really high-quality images. It was the total opposite of David. But really essential, because both sides are essential to being a successful photographer.
In 2009, the LA creative office closed down. I took this as an opportunity to go at it on my own as a photographer. Using all of the connections that I had created over the previous years I started out doing small photography and video jobs. I turned down everything else that wasn't a photo or video. There were some hard years but I kept at it.
My first break was getting hired to do the website photography for a linen and clothing company called Matteo. They had no consistent imagery on their website or catalogs. So their art director and I worked together to create their visual identity. Normally bed linens are shot very traditional in a nice room on a well-made bed. We had such a small budget that we didn't have money for locations so we had to get creative. With only a big empty room. We came up with the idea to pin them to the wall so we made the bed setups on the wall. this allowed the fabric to hang drape and really show the texture of the fabric while also being visually unique. Once we established the look we kept the theme running throughout their products until we had a really great collection of consistent imagery. I am really proud of what we did. The work that I did for Matteo got the attention of Diane Keaton and Bed Bath and Beyond and that let to working with her on a couple of projects. From there I started working with ad agencies working on projects for Coldwell Banker, McDonald's, Lexus, Lulu Lemon, Coca-Cola, Walmart.
One of the benefits of working freelance is whenever I have a month free of commercial work I will take off for some distant part of the world. I love to travel and explore, and the great thing about being a photographer is it gives you a great excuse to do that. On these trips I will wander until I find someone or something interesting then I create photo stories of my encounters. I love people and interacting with them, when you have a camera in your hand it opens up worlds that you normally wouldn't have access to. Travel and photography are my two passions and I am so glad I can do them both.
This last year I have been doing a lot of videos and fine art photography. My video jobs have been keeping me busy taking me around the world working on documentaries and TV shows for National Geographic, Discovery, and Smithsonian.
When I am back home in LA I am working on my Fine Art photography. Currently, I am working on a book and collaborating with a gallery here in LA to create some really cool imagery for an upcoming show. So that is where I came from and where I am now, I am not sure where I am going to end up but I'm sure I'm going to enjoy the trip.
I still drive old cars.
Has it been a smooth road?
Over the years there have been a lot of challenges.
Moving to LA not knowing anyone. Not having anywhere to stay when I got there. Not really knowing anyone. Luckily a lot of people came through the studio and I was able to make friends. But for a while there it was pretty stressful.
One was when I stopped assisting to be a full-time photographer. It's really hard making the switch and showing people that you are a photographer and not an assistant anymore. Even when it means turning down steady money. I had to make lifestyle sacrifices to ensure that I could continue with my dream.
One of the hardest thing about the job has been sticking with it. Being in this field you are perpetually unemployed you have to constantly be looking for the next job. Even when you have a job you have to be looking for the next one. Because before long that job will end, and you better have something planned or else you are going to be loosing momentum. It really wears on you and it can be tempting to take the 9-5 with a steady income.
But that is how you become successful. When I first started out I had a bunch of photographer friends but slowly and steadily over the years they have dropped out, until one day I was the only one still doing photography. But I can never feel safe because there is an army of creative people behind me vying for my job. But what I have that they don't is the experience.
Even I feel like I have been slowly drifting from photography because of the amount of video that I have been doing lately. But then I pick up my stills camera and start taking pictures. The joy that I experience when I am shooting is amazing. So I will never stop photographing
However the market the trend has been towards video. I don't know any photographers that don't do both these days. Once video became obtainable clients began asking for it, and in order to stay in the game, I had to learn a whole new set of skills. But I was lucky because the transition happened when I was just starting out so clients understood that I didn't have a lot of experience so they let me learn on the job. I charged less and I made mistakes but I was still able to create some really great work that I am still proud of today.
Sometimes clients want both video and stills at the same time. It is really a challenge because it is two very different mindsets and ways of working. Video is amazing but your mind has to be focused all of the time on the technical to make sure your subject; is composed well, is correctly exposed and focused, 24 times a second. With video, time exists and you can let the story unfold in the piece. With photography, you have to do everything the same as video but only a frame at a time. Time is static, so all your focus and efforts have to be directed to making that single frame tell as much of the story as possible. I love that challenge and when you get it right it is really rewarding.
Have you ever wanted to stop doing what you do and just start over?
I don't think that there is a photographer out there that at one point in their career didn't think about quitting. It's the same for me. My lowest points usually come when there is a lull in work and I start to get a little stir crazy. How it usually happens is I will be busy on a job or a few jobs for a while and I neglect my promotional duties. Then when the jobs end I am left without anything lined up. The first week or two are nice for relaxing but then the fear creeps in. I have to spend the next few weeks reconnecting with clients. Those weeks of no work are maddening. In the photo world, it is either feast or famine. I have since learned and I have tried to always have a personal project going so when free time strikes I have somewhere to direct my energy.
But honestly, being a photographer and videographer are such a deep ingrained part of who I am and all that I know that I cant be anything else. I have been doing this for so long that if I were to take another career path I would have to start at the bottom. Honestly, that is more terrifying than anything. I love doing what I do and I cant imagine doing anything else.
Let's change gears – is there any advice you'd like to give?
Buy the best lenses you can afford. And buy a used previous model camera. Cameras get updated every few years it is impossible to stay on top of them, A good stills lens will last you a long time.
Get everything insured you never know when something is going to happen but when it does you will be happy you had insurance. I have has two instances where I have lost most of my gear the first time I didn't have insurance. I was devastated. The second time it happened I was insured it still sucked but it didn't sting as much.
Don't afraid to be hungry. The threat of being broke should not stop you. Nobody gets into this for the money so don't expect that you will be rich. If you are lucky you will get to have a life where you can do photography as your only occupation. That being said when you just start out there are going to be some really lean times. Don't let that scare you. The memory of hunger is stronger than the hunger itself, use it to fuel your desire to keep going and to never let yourself slip back.
Don't be scared of other photographers. And don't feel jealous of others success. If someone is doing really well that is great you can too. Learn what they are doing and adapt it for yourself. Make as many photographer friends as you can. They are a great resource and will help you out when you need help. Just don't try and snake a friend's clients that's a dick move and a surefire way to get a bad reputation. Certain jobs are not right for all photographers and they will pass along the work to their friends. I have received more work from my photographer friends that just about anyone.
Back up everything! The hardest part is coming up with a file management method that you can consistently stick to. It is hard to get started but after a while, it will become easy. What I do and works for me is; I have a two bay hard drive dock that accepts bare 3.5 and 2.5 drives. I back up everything to both drives and only work from one. When I finish something I move it over to drive 2. Once a drive is filled I catalog it and then file them. I keep 1/2 of the drives in a file cabinet in my office that has a big block of ani-static foam with cutouts for each of the drives to slip into. And the duplicate drives I keep off site. The advantage of this system is you don't have to store bulky cased hard drives and all of their cables. Also If a computer port becomes obsolete ( ie:USB 1.0-firewire 400- firewire 800 – esata- USB 2.0) all you have to do is update the dock which is really cheap. Once you have an archive system it will become really easy to find old jobs if you ever need to. I am still surprised how often that I have to bring up jobs from 7 years ago.
Learn accounting/bookkeeping, invoicing and marketing. 90% of being a photographer is desk-work, and the remaining 10% being photoshoots.
Always have a personal project that you can work on when things are slow. That way you can always be busy and create something cool.
What are you most excited about these days?
I am looking forward to the future.
When people ask me what are my favorite images that I've taken, I always tell them it is my latest work, and it is true. As a photographer, I feel that I am always growing and taking my work slowly higher with each shoot that I do. I am constantly learning and improving. As long as I am challenging myself I guarantee I will be producing work that I am proud of. I can't wait to see the work that I am going to be producing in 1 year or even 10. it is very exciting.
Contact Info:

Image Credit:
Mattia Biagi, Matteo, Lulu Lemon, Coldwell Banker, LG