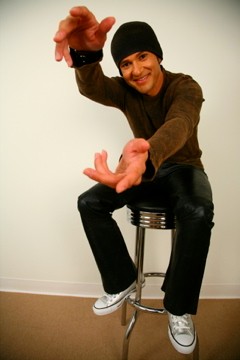 Today we'd like to introduce you to Neil D'Monte.
Neil, we appreciate you taking the time to share your story with us today. Where does your story begin?
I was born and raised in Chicago, Illinois on the North Side of the city — The Andersonville Area. I grew up in a multi-cultural neighborhood so we were exposed to a lot of different families and ethnicities and nationalities. We lived in a fairly large Brownstone home with a pretty large family – my mom and dad, my two sisters, my cousin and my grandparents on my mother's side. My mom worked as the secretary to the VP of Jack Daniel's and my dad was an HVAC technician. They were both working full-time so my grandmother helped raise all three of us. I was exposed to the entertainment industry at an early age. We all sat in the living room together and watched shows like Mutual of Omaha's Wild Kingdom, That's Incredible, Dark Shadows, Kolchak: The Night Stalker and Family. We also watched a lot of variety TV shows like Donnie and Marie, Sonny and Cher and Lawerence Welk. My family used to also throw a lot of house parties where my Grandfather would sing, my mom would play the piano and sing and my dad would play guitar. This led me to want to be an entertainer. My mom enrolled my sister Michelle and I at the American Conservatory of Music in Chicago where we trained in classical piano and had recitals. She also enrolled us in theatre classes at the Goodman Theatre of Chicago and at the Edgewater Center of Dance and Drama in Chicago where we studied acting and performed in numerous plays growing up.
While this pretty much set the stage for me wanting to be a performer, watching 70's and 80's cartoons like Battle of the Planets, Starblazers, G.I. Joe and the Transformers made me want to pursue art. My mom used to buy me magazines like Famous Monsters, Starlog and "making of" movie magazines like Blade Runner and Star Wars. These magazines fascinated me and got me into special effects and filmmaking. And of course comic books like X-Men, Batman, Alien Worlds, Heavy Metal and Alpha Flight influenced my artwork, thus peaking my interest in doing comic books and graphic novels. After playing drums in local punk and metal bands while in High School, I graduated and went to Oakton Community College to study Architecture. I got my Associate's Degree and was offered a job as a planner for the City of Schaumburg, Illinois. As much as I loved the offer, I really felt that L.A. was calling. So I applied to a few universities in So Cal and was accepted to the University of Southern California where I planned on getting my BA in Art. My friend Arli, who also wanted to move out to LA at this point in time, joined me for the cross country trip. We packed a U-Haul and moved out to LA. Los Angeles was fun and a bit of a culture shock for the both of us! It was fricking insane! After classes were over myself, Arli and my new friend Manny started hitting the L.A. clubscene hard – partying with rockstars and girls and the drinking got way out of control. But I managed to do the bare minimum to keep my financial aid coming in so that I could graduate and get out of there. While I was in school, I used to enjoy my spare time in between classes by going to the film school, checking out movies and watching them with the commentaries on. I learned a LOT about filmmaking by doing this! I watched a lot of the Oscar Winners and nominees from previous years — classics like Gandhi, The Graduate, The Paper Chase, Breaking Away and The Godfather.

At this time, I really thought that being a film director was something I might like to pursue seeing that I was falling in love, so to speak, with the art of filmmaking. I graduated in the Spring of '96. Out of school, it was a VERY DIFFICULT time for me. It was so hard getting any kind of film work as I did not know how to break in. And no one I went to school with was in the film business at that time. I could not even get a receptionist job as my computer skills were not up to par at that time. Temp agencies with whom I registered only sent me out for jobs like testing video games and doing filing; I could not make my bills with the money being paid and I began sinking more and more into debt. This went on for about two years. Until one day, out of the blue, my friend Mark introduced me to his friend Dean Jones. Dean was a special effects makeup artist who was working on Star Trek: Deep Space Nine and a host of other films. Dean also was working towards being a director. I met him when he was teaching makeup school classes and we hit it off. He liked my work and began paying me out of pocket to do mask illustrations for his students to build in 3-D. While doing this, I used to visit him on set over at Paramount a few times a week and met a ton of people. Dean also introduced me to a bunch of friends and co-workers of his who also started giving me small art assignments to do. I did this for a number of years while also working full-time as a mural painter with the Hollywood Beautification Team (HBT now LABT) of Los Angeles.
Having both of these gigs slowly got me out of debt and started off my art career. I tried getting into comic books as a penciller but there was just not enough money in it, sad to say. I was pretty discouraged. My friend Nick worked as a P.A. for films and tv shows at the time. He saw my comic book work and suggested I do storyboards. He said storyboard artists make a lot of money and that the artwork needed is not as 'involved' as comic books but more like quick sketches, style-wise. I decided to give it a try and bought a copy of SHOT BY SHOT by Stephen D. Katz. Within 5 minutes of reading the storyboarding section, I taught myself how to do it. Dean referred me to an up and coming director friend of his named Michael Keller. Michael was looking for someone to storyboard his indie film VAMPIRES ANONYMOUS. We met over lunch and I told him that I knew and have boarded a feature-film before. He took a chance on me and hired me to do the film. A few weeks into boarding the film, Michael and I were sharing jokes and I started making him laugh really hard. He asked me if I thought about acting. I told him that acting is something I was thinking of doing but did not know how to get into it? He mentioned that I could try out for the part of lovelorn vampire Juan Rodrigo. After working with him and giving him some ideas on what I would do with the character, I went in for the audition and got the part. My first day of working, I was Taft-Hartley. The second day, I was SAG Must Join.

I then continued on to act on and off since then. This film paved the way for me as an actor but also started my career as a storyboard artist. I worked as a storyboard artist and a concept artist for a number of years, making a decent living. I still do it but I wanted to try something new. Directing was starting to catch my eye and I found myself, once again, asking myself "How do I get started?" Friends of mine at Spectrevision suggested that I try my hand at making a short film so began asking around, seeing if any friends of mine had a project that they thought I could shoot. My friend Jon Simon had a script for a political pilot, a comedy called FRONT MEN. We met and I gave him some thoughts on how I would approach it as a director. We saw eye-to-eye and I started crewing up while Jon got the cast together. We shot three episodes as an intended 'web series' but then decided to edit it together into a 30 min pilot episode. Once shot and edited, we teamed up with our friends Brent Kappel and Doug Herzog (who had their web series LIKE THEM ready to go) and then LRM Publicity to have a premiere for both shows at DTLA's Downtown Independent Theater. The premiere went well and I have been directing short films and commercials since. I am now writing a few feature films that I would like to direct.
I'm sure you wouldn't say it's been obstacle free, but so far would you say the journey have been a fairly smooth road?
Definitely not! But hey, it made me a fighter. Getting my foot in the door was a major biohazard because no one wanted to give me the time of day. I had no credits and had an "art school" portfolio which was of little to no use. I also was not making a living at that point and no one around me was really there to help me out financially. I used to steal ketchup and mustard packets at local restaurants to make sandwiches as all I could afford was a handful of bananas and a loaf of bread. It really sucked. But I really wanted to be here in LA and I knew that if I had taken my family's advice and moved back home, I would have failed miserably. Financial stability was probably the hardest thing and is still the hardest thing to deal with. You are a freelance employee for the most part and rely on working gig to gig to make your money. So you have to save up what you make in case the next gig does not come around for a while. If anything, that was the biggest struggle along the way. Luckily I had friends and family who were emotionally supportive and who always had my back, giving me the energy and courage I needed to keep hustling.
Thanks – so what else should our readers know about Robots of Awesome/Sony Pictures?
I currently work as a director + producer with the production company Robots of Awesome. We are located on the Sony Pictures Lot. As a producer + financier l acquire, review, develop + present projects to executives for film, television and streaming platform production and distribution. I specialize in action, supernatural thriller, sci-fi and horror genres. I also work as a storyboard + concept artist on feature films and tv series. And from time to time, you can see my work as an actor or as a drummer in the summers when I am on tour. My musical background definitely sets me apart from others in my field. I let music dictate everything that I do, whether it be directing or creating visual art. I "see music" and "hear colors" when I put on bands like The Bullitnuts, Brian Eno or rock bands like Rush or Pink Floyd and just let the rhythms guide me.

As an artist, my own personal projects are my favorite – particularly my graphic novel-to-film franchise Clan of the Vein. I really put my heart and soul into it with my partner Neo Edmund. Even though I worked on projects from Jurassic World to Palm Springs, Clan of the Vein is my personal baby. I am relatively new as a producer. I was hired at Robots of Awesome in late 2019 as a financier + producer and became the Head of Development as of July last year. I brought the property KILLKICK to our production company and we are currently funded and set to start filming in March. Robots of Awesome (ROA) is currently seeking to produce genre films and that is our primary focus. And of course, I am looking to produce + direct some of my own properties through ROA. We also work with another company that helps in terms of co-producing and sales, both foreign and domestic.
Is there any advice you'd like to share with our readers who might just be starting out?
Yes! Don't fall into the party scene and become a debutante/partier. Going out to events without working will be your downfall. Press is important. Meeting people is important. Making connections is also important. But if your IMDb page is full of cobwebs and if you don't have a reel or any legitimate credits, people cannot see your work and thus will not hire you. Also, make time to meet with people face to face instead of constant texting back and forth. A simple coffee or lunch meeting in a public place can lead to future gigs. Take classes to hone your skills, of course! But don't hide behind classes as a substitution for the work. Get together with friends and shoot a short film or a web series, do student films and take scene-study classes. Stay focused! I wish I learned way back when to keep my mouth shut and to listen to others. At that point, I felt the need to have to prove myself to others by telling them what I could do. Truth of the matter is the work you do shows for itself. When people see that, they will either call you or refer you to others.
Contact Info:

Image Credits:
Main Pic – Pascal Cooper/KillrPix Metallica T-Shirt director pic – RENARD GARR Red Carpet Cinemoi Pic – Glenn Francis Front Men BTS scene directing Jon and Nicole – Jethro Alaba Front Men Cast group shot in studio – Jethro Alaba
Suggest a Story:
 VoyageLA is built on recommendations from the community; it's how we uncover hidden gems, so if you or someone you know deserves recognition please let us know 
here.