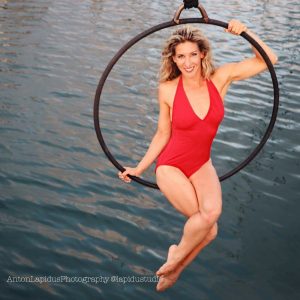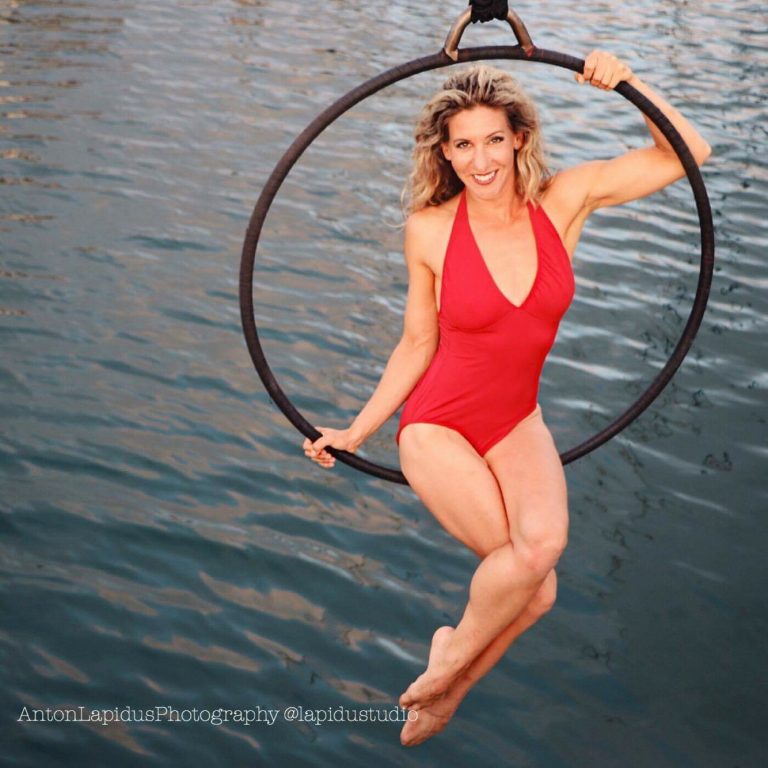 Today we'd like to introduce you to Maya Kramer.
Maya, let's start with your story. We'd love to hear how you got started and how the journey has been so far.
I am an aerial artist and performer. I've lived in LA for seven years now and am originally from Israel. I started off as a dancer, started ballet classes at age four in Israel while also learning gymnastics and later on acting. When I was 19, I left Israel to pursue a career as a performer.
I moved to New York where I studied in two acting schools, HB studios and later Stella Adler while also studying dance at PeriDance center and Steps on Broadway and getting voice coaching. I was specializing in musical theater, especially Fosse style. I danced with a few modern companies and did a couple of broadway projects when my US visa expired. I went back to Israel to apply for a new US Visa and was denied. It was soon after the 9/11 attacks and US Visas became difficult to obtain. I moved to London for a short while and then Sweden.
In Sweden, I got lots of work as a dancer-choreographer and teacher. And it is also where I discovered circus and aerial arts. As a dancer at that point I felt like I needed to find my own voice, I danced ballet, modern, jazz musical theater, Latin dances, and belly dance, but none of them felt like they were the one place where I want to focus my energy, there was something and I was not quite sure what it was. I then saw Cirque du Soleil for the first time. When I saw the Aerial pas de deux, I knew that was it! That is what I needed to do with my life. But where, I thought, I Gothenburg Sweden was I to find training for such a thing? At the time Aerial was unheard of, these were pre YouTube days. I had never seen it before and thought I needed to seek out training in the US or Russia for it. The next day I walked into the gym where I was teaching yoga at (oh yes, also a yoga teacher) and in the teacher's room there was a picture of a girl on silks!
Mind you I had never seen this before and there it is, the next day, where I work! Shocked I mumbled to myself, who is this?? One of the other teachers was standing behind me and said, her name is Maria Zeniou, I know her from another training, would you like her contact? I contacted Maria that night. It turned out she was the only person doing aerial in Gothenburg. I expected her to not even answer. At the time I didn't have a lot of money and didn't know what she would charge to train me so I suggested to her to create a collaborative artistic piece with me dancing on the ground and her in the air. I just wanted to be near her, get to know her and try this magical thing. She got back to me the next morning saying, I'm so glad you contacted me, I'm so bored of being the only person here who does this. She invited me to come to her training.
At the time there were no aerial studios in Gothenburg, Maria was sponsored by a volleyball playing indoor space with super high ceilings, there were no mats only sand under us She first introduced me to the silks, or tissue which is the French name used around Europe. Her silks were stretchy, which any aerial student today can tell you how stretchy silks are ten times harder to begin on, I did not know at the time there were non stretchy fabrics people learn on nowadays. After a couple of session of me building up my completely non existent at the time upper body strength, Maria got a call from a traveling circus in Holland, they wanted her to go on tour with them for the summer, they also wanted her double trapeze act. Maria has an act doing double trapeze with another acrobat but her partner retired, she looked at me and said, you're going to be my new trapeze partner! I looked at her like she was crazy!
Isn't trapeze that crazy thing you see on tv with people swinging and flipping around one bar to another? Aren't you supposed to be doing this from when you are born and have to be born to a circus family? What are you talking about? Trapeze??? She laughed, no, it is stationary trapeze, and you are perfect, from here (pointing at my chest area) down. Basically meaning, I had the core, flexibility, lines, and grace of a dancer, I was just missing some arm muscles to actually pull myself up. Maria trained me for two hours every day for six months, and we were off to my first circus job. An actual circus! With animals, elephants camels and zebras, living in a caravan and building a tent every other morning in a new city!
We did our double trapeze and I also had a solo dance and short comedy bit with the clown. It was a really special experience. When we got back to Sweden I asked her to teach me more things, like silks. She said no, said I was getting good and she didn't want any competition. So I went and bought the fabrics she had, got a rigger at one of the theaters I was working with to hang it up and went in there either early in the morning or late at night when no one was there training myself from memory of what she did in the circus. I had to get really strong really fast because if I got stuck in the position there would be no one to save me until morning so I better figure out a way to get out of it. At around that point, there were auditioning for the second season of So you think you can dance in Israel. I went to the auditions and got the show!
I moved to Israel for the show and after it was done decided to stay, I was married to a Swedish guy at the time and he moved there with me. In Israel, I was dancing in pretty much every major production. I also joined Israel's premiere circus company circus Y. It was a small company but had their hands in pretty much every major production, which is how we met. With the artists at circus Y, I continued to learn all the aerial apparatuses. Trapeze, silks, hoop and more. For the next three years in Israel, I've worked at both a dancer and aerialist on tv and in major stage shows. But I wanted more, I wanted to go international, work with Cirque du Soleil and other productions. At that point, my husband and I broke up. I had the freedom to go anywhere and I went to Vegas to audition for Cirque du Soleil. I did and passes through the auditions! I got in their base of potential artists for shows. I then booked a show in Singapore and moved there for almost two years. That was a dream come true. I got to work with artists I had only dreamed of. Victor Key, world's best juggler! Alekseii Goloborodko, Guinness world record holder for most flexible man, Aurelia Kats, world-renowned trapeze artist (I think I misspelled all their names) and more!
I got to learn so much, wushu martial arts, bungees, tumbling and more. I got to understudy and perform for Aurelia when she was out for an injury. I got to work with Guy Caron, first artistic director of Cirque Du Soleil. Met so many incredible people I loved and respected. I also got to explore many countries in Asia and teach some workshops. After two years in Singapore, I was ready to go back to the west. I had always dreamed of living in LA, since I was a kid. I had saved enough money to do it and so I moved to LA. Got my work visa as an extraordinary artist and later a green card.
In LA, I have gotten to work with some of the most incredible artists and ever met and beautiful productions. Some of them include working with top Japanese pop artist as a choreographer, doing tv shows such as the muppet show, the voice, and the big stage, and last winter I got to perform with the Rockettes on the radio city Christmas spectacular in New York. I am based in LA and have some regular shows here working in some night clubs such as Pour Vous and Romanov, as well as teaching private classes and workshops and in some studios around town. But I get flown out often for shows all around the world so I get to travel a lot. I absolutely love what I do.
Has it been a smooth road?
It has not been a smooth road. There are and have been so many challenges. My first challenge was when I was not able to get a US visa in 2003, all my dreams went up in smoke, everything I worked for I had to start over, at the time in NYC I had an apartment, a boyfriend, a cat, a choreographer I revered who took me under her wing, working at the dance studio. And here I found myself in Israel with nothing having to start over, I could not even go back to the US to get my stuff.
Then moving to Sweden, new country where I didn't speak the language.
Getting a divorce was devastating to me.
Getting injured, especially when doing something so challenging on the body.
But each of these challenges brought with them lessons and opportunities I grew from.
We'd love to hear more about your work and what you are currently focused on. What else should we know?
I specialize in aerial performance. With a very strong stage presence and very graceful movement. I am known for being one of the best in the business. For having worked for over a decade all over the world in the best productions. I think what sets me apart is my passion for my art, the level of my international experience, my stage presence and my heart in my art.
How do you think the industry will change over the next decade?
Oh this Industry has changed radically. From starting in 2006 with no one doing this at least where I was, to having aerial studios everywhere and kids learning it.
The shift that is happening is going from aerial just being something in a circus to it being included in pretty much every show from stage productions to night clubs or is becoming like dance in many ways.
With it, it is important that artists keep getting compensated right for our work. With so many people learning aerial and living it, it is easy to forget that we are literally risking our lives every time we go on stage especially since there are no mats nets or harnesses keeping us safe. Some people want to work so much they will do it for free or for very low pay.But we need to respect not only our art but our bodies and lives and get compensated right for it.
Contact Info:

Image Credit:
Anton Lapidus, Gal Abahel, George Simian
Getting in touch: VoyageLA is built on recommendations from the community; it's how we uncover hidden gems, so if you know someone who deserves recognition please let us know here.