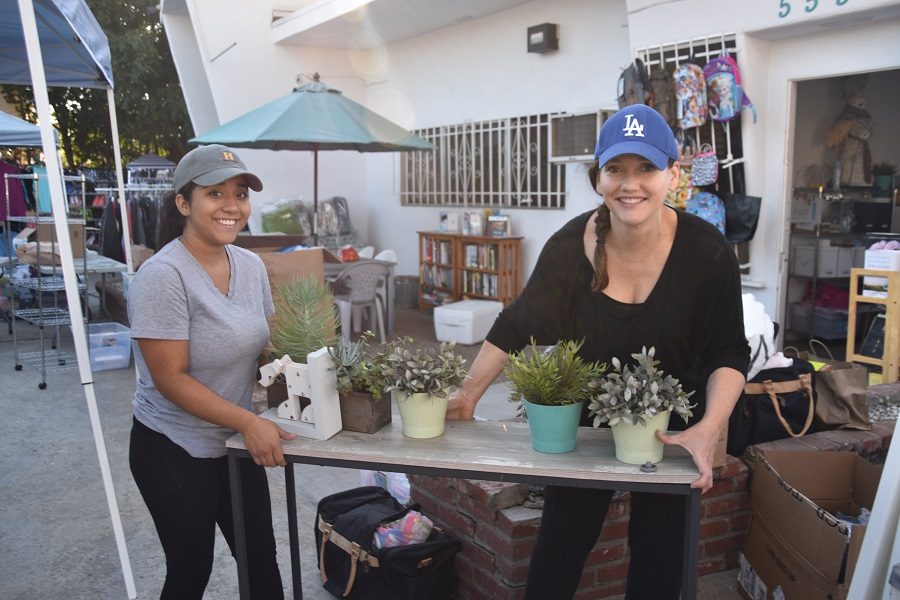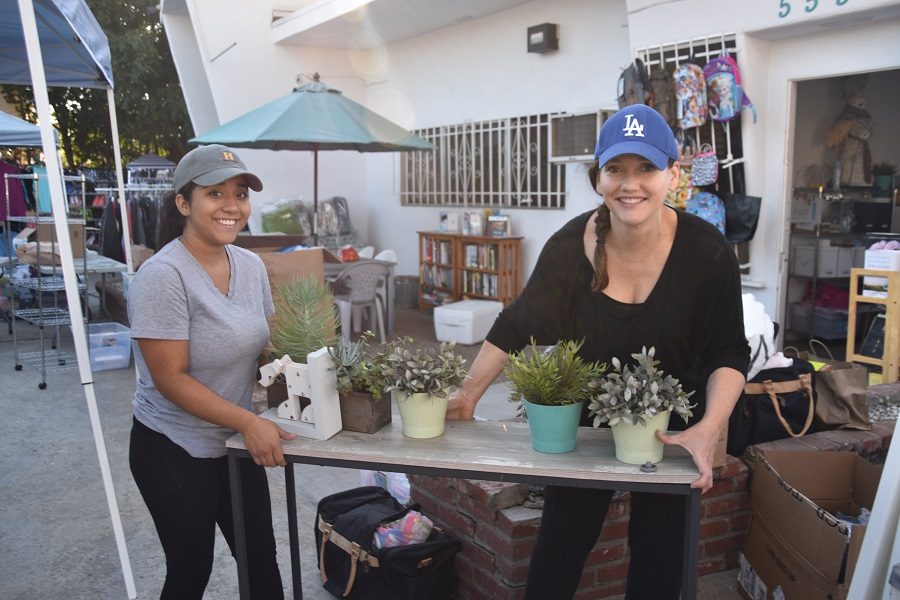 Today we'd like to introduce you to Marsha Austen.
So, before we jump into specific questions about your nonprofit organization, why don't you give us some details about you and your story.
Hope in a Suitcase was born out of a chance introduction between myself and Rebecca George outside our kids' former elementary school. Rebecca's mom was a social worker and she grew up hearing about the difficulties that children in the foster care system face. One image that always stuck with her is that many children entering foster care – especially in emergency situations – don't have a suitcase or duffel bag, and so they have to carry their belongings in a plastic trash bag.
There are so many things about the foster care system that are complex, and this is one that we can realistically solve. It seemed "meant to be" when Matt Casden (the husband of the friend who introduced us) immediately agreed to donate storage and distribution through his company, West Coast Archives. He said, "If you're telling me there's a little boy or girl down the street without a secure family situation, and with a couple of things in a trash bag, I'll walk the suitcase there myself." Luckily, Matt and the tireless team at Westcoast Archives have trucks!
We figured a lot of people would feel the same way. We had a little meeting at my kitchen table about a week later, with Eufe de la Torre, who has 20+ years of prior experience as a social worker, and Danelle Geller, who had experience in the nonprofit world. Friends Stacy Kravetz, Dr. Lauren Crosby, and Nicole Brzeski agreed to help fill in our skill-set. Foster Care Counts provided a huge assist by incubating our organization, and Hope in a Suitcase was born.
The Buckley Lower School hosted our Kick-off Drive and first Suitcase Packing Event in January of 2016, and Children's Bureau agreed to pilot our program. We initially thought we'd pack a couple hundred suitcases in Year 1, but it really snowballed. We got so much community support, we ended up serving close to 2,000 children in Year 1. We'll serve 3,000 children in 2018 alone, and by year's end, we'll have served almost 8,000 kids. That's a lot of kids who will be spared the indignity and lasting memory of arriving to a new home or a community carrying a trash bag. Of course, with 30,000 children in foster care in Los Angeles, there's still a lot of work to be done.
Has it been a smooth road?
Whenever you try something new, there's a lot of trial and error, and there are going to be struggles. We've had to pivot more than once.
Knowing that kids often initially enter the system with nothing but the clothing on their backs, we initially thought, "Well, all of our kids have clothing they've outgrown that still looks great, so let's give them that." Which quickly left me and Danelle, and our homes, literally buried underneath "Like New" clothing donations…some of which was truly lovely and "Like New", but the time and effort to isolate the wonderful from some of less than lovely or even the crazy stuff people gave us became paralyzing. My favorite donation was probably the bag that contained a cheese cutter and an enormous teapot – not exactly high need items for a child entering foster care who only gets to bring the few belongings he or she can carry!
We learned pretty quickly that even kids who don't have much – maybe ESPECIALLY kids who don't have much and are feeling down – really don't feel special when they receive someone else's used clothes. They can feel the difference! We quickly switched to ALL NEW items, and we and the foster youth we serve, are much happier for it.
We also realized that fully packed suitcases aren't ALWAYS the answer for ALL agencies. For example, the Cottage at Wayfinder (formerly known as Junior Blind), is one of four organizations in Los Angeles County that provides safe, temporary shelter for abused children while they await placement with a foster family. The Cottage opened just as Hope in a Suitcase was starting out, and while packed suitcases sounded good to them in theory, it soon became clear that when kids arrive at night or need immediate essentials and comfort items, their workers were having to reach into a beautifully packed suitcase and pull out, for example, just the pajamas, stuffed animal and sweatshirt so the kids could go to bed.
We realized what they really needed was a Hope Closet, with bins of comfortable and basic new clothing organized by size and gender, along with a supply of empty duffel bags and comfort items.These closets contain all the necessities that we would normally include in a pre-packed duffel bag, allowing Emergency Response staffers to easily grab exactly those items that suit each child's specific emergency needs.
With children's basic needs met, staffers and initial foster families are free to focus a bit more on healing, connection, and repair. The children can change into clean and comfortable clothing or sleepwear, and they can also pack their new duffel bag with an additional change of clothes, comfort items and toiletry items to get them through their first days in a new home. This allows them to meet their new foster families with some sense of dignity, without the lasting image of arriving with a trash bag.
So, as you know, we're impressed with Hope in a Suitcase – tell our readers more, for example, what you're most proud of as an organization and what sets you apart from others.
Hope in a Suitcase is a volunteer-driven, nonprofit group benefiting foster children. Our mission is simple. We provide children and teens in foster care with a suitcase, along with basic essentials and comfort items, to make their transition into the foster care system and their circumstances just a little bit easier and more dignified.
There are approximately 30,000 youths in foster care in Los Angeles County alone. Many children do not have a suitcase or a duffel bag when they enter foster care, especially in emergency situations. They often have to bring whatever belongings they can fit into a plastic trash bag. And, unfortunately, the foster families welcoming the children have had very little time to prepare for their arrival.
Despite efforts to provide a stable family environment for each child, some children in foster care have to move several times before being reunified with their birth-families or before finding a forever family through legal guardianship or adoption.
Our hope is to provide a suitcase, with essentials, to the children of Los Angeles as they enter foster care and as they join a loving foster family. The intent of our gesture is to not only reassure children that we value them as individuals, but also that their personal belongings deserve the same respect and care as they do, no matter where they go.
Recognizing the unique needs of older youth to choose their own items, Hope in a Suitcase now hosts regular Shopping Days where referred foster tweens and teens can shop – entirely free of charge – for new clothing, luggage, and books. Our Shopping Days allow foster youth, who often feel like they are at the mercy of other people's decisions, the opportunity to choose the items that make them feel great and which fit their personal body types, tastes, and needs.
Two important things that distinguish Hope in a Suitcase: 1) Our goal is to provide children in foster care with the comfort and items we'd want for our own children if they were going through a difficult time. Unlike some other organizations, we provide quality NEW ONLY clothing to the children we serve; 2) We are not a "One Size Fits All" operation. Children in foster care range in age from newborn all the way up to and through 18 years old. In Los Angeles, space is at a premium. We don't just drop 100 generically packed duffel bags at an agency's doorstep all at once. We work closely with our partners to tailor what we provide and how we provide it to best fit their needs.
We're very proud of our collaboration with the people of our community, and also with other organizations that serve foster youth. These partnerships have been key to our small, grassroots organization's ability to serve almost 8,000 kids by year's end.
"Kids Helping Kids" is a keystone of our operation, and by way of school and community drives and efforts, we've helped mobilize thousands of children throughout Los Angeles to write personal notes of support and collect new items for children in foster care. They learn about the needs of the children in foster care and also how simple acts of kindness at the right moment can make a world of difference.
We've also collaborated with Foster Care Counts and The Book Foundation/Make Good Inc. to open The Emporium: Foster Resource and Literacy Center, which is a tremendous resource for both current and former foster youth. Our shared headquarters at The Emporium not only gives Hope in a Suitcase space to engage more volunteers and distribute more packed suitcases, but it also especially allows us to better serve and recognize the individuality of tweens & teens. Once kids hit 11 or 12, there's a big variation in size and personal style. Not only do they need to try clothing on for fit, but only they know what they like and need. At The Emporium, tweens and transition age foster youth (TAY) can shop – entirely free of charge – for the casual and business clothing, basic essentials and literacy materials they want and need.
By partnering with the Book Foundation, we're able to layer in a valuable literacy element. In addition to donating virtually all of the new books Hope in a Suitcase includes in packed suitcases, The Book Foundation also provides a wide selection of books that the tweens and TAY visiting the Emporium can choose from. Being given the opportunity to make one's own choices about what to wear and what to read goes far in building self-esteem and confidence. Offering ALL NEW high-quality clothing and high-interest titles helps to break down socio-economic barriers and 'levels the playing field'.
Where Hope in a Suitcase leaves off (after age 17), and with some overlap for older teens, Make Good Inc. and Foster Care Counts pick up with activities aimed at former and transition age foster youth, who are likewise invited to shop for casual and interview/career clothing, toiletries, school supplies, totes and books at no cost to themselves. Our coordinated effort at The Emporium is envisioned to provide seamless support as youth mature, to help ensure that no youths "fall through the cracks" as they transition from young teens to young adults. None of this would be possible without incredible support of The Pritzker Foster Care Initiative, The Water Buffalo Club, Shelter Partnership and many, many individual donors, corporate sponsors and volunteers throughout our city.
Some of the moments where I've really known we're making a difference? At every Shopping Event, I meet kids who arrive visibly closed off, who leave smiling and feeling confident about how they look and excited to go to school in their new clothes and shoes.
As the Program Coordinator for Children's Bureau put it: "Hope in a Suitcase…builds up children and youth by instilling hope, conveying unconditional positive acceptance, extending kindness, modeling agency, and empowering participants to use their voice and choice…If I could duplicate Hope in a Suitcase for every agency serving children and youth in foster care, I would."
Another social worker, who has referred dozens of high need kids to us expressed it: "It is an amazing transformation not only in appearance but in spirit. You have to see it to fully understand it."
Let's touch on your thoughts about our city – what do you like the most and least?
What do I like least about this City? The fact that it's so spread out has the upside of giving us distinct neighborhoods that are full of special character, but that separation also sometimes makes it easy to forget how connected we all are. Foster youth really are a connecting point, because they can be from any ethnicity and from and going to any neighborhood.
We all know that foster youth are going through an unimaginably difficult time through zero fault of their own. Hope in a Suitcase and our efforts at The Emporium really highlight that there are a tremendous number of wonderful people from every neighborhood and from every background who want to help in some way.  Once people stop and think about it, there's an inherent understanding that by lending foster youth a helping hand, we lift up the entire community, because these kids can be anyone's children, and your own children's classmates, and our current and future friends and colleagues. It's important to help them understand NOW that they matter and are cared for. I've lived here for most of my adult life, and I've never felt more connected with the people of Los Angeles or realized how much good lives in our hearts as I have since starting this work.
Pricing:
Every $125 donation covers the cost of providing essentials for a child: One Fully-Loaded Suitcase or Duffel Bag, each generally containing a blanket, pajamas, comfortable changes of clothing, a sweatshirt or jacket, undergarments, socks, toiletries and age-appropriate comfort items (e.g. a small stuffed animal, a journal, a book, a nightlight, a handwritten note of support, etc.).
Contact Info:
Address: Mailing address for NEW clothing donations (for large donations, please email us to make delivery arrangements at our mid-city headquarters):

Hope in a Suitcase, c/o Ruth Stalford, 9663 Santa Monica Blvd, Beverly Hills 90210
Getting in touch: VoyageLA is built on recommendations from the community; it's how we uncover hidden gems, so if you know someone who deserves recognition please let us know here.