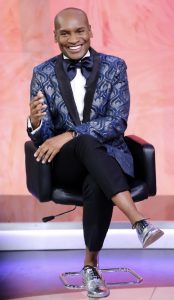 Today we'd like to introduce you to Marcellas Reynolds.
Actor—Fashion Stylist—TV Host—Writer. That's a lot of hyphenates, and it's just the beginning for "Walking, talking fashion Wikipedia," Marcellas Reynolds. Obsessed with all things style and pop culture, the newly-minted bestselling author of SUPREME MODELS has become a fixture on morning talk shows where his one-liners and sharp wit keep his co-hosts and the audience rolling with laughter. Catch him gleefully chatting fashion and entertainment news on Daily Mail TV and Good Day LA.
A native Chicagoan, at fifteen, Marcellas began his fashion career selling women's designer clothing. However, it was while working his way through college that his life took the first of many incredible turns. While waiting tables, Marcellas was discovered by legendary model agent Marie Anderson, who is responsible for starting the careers of supermodels Cindy Crawford, Colin Egglesfield, and Matt King. New York, London, Paris, Munich, and of course, Milan, Marcellas traveled the globe, working with fashion's top designers and most celebrated photographers.
For five years, Marcellas modeled for clients like Brioni, GAP, Tommy Hilfiger, Ralph Lauren, and Nautica but, it was when asked to style a cover and eight pages for British Vogue, that Marcellas discovered his true passion, wardrobe styling. Editorials for Amica, British GQ, Grazia, and InStyle magazines, as well as advertising campaigns for Anheuser-Busch, H&M, Macy's, and United Airlines, soon followed.
Styling celebrities Rebecca Hall, Jayma Mays, David Schwimmer, Sharon Stone, and Justin Timberlake, led Marcellas to Hollywood, where his star turn on Big Brother made him a highly sought after television personality. You've seen him on Bossip! On WeTV, E! Live from the Red Carpet, Good Morning America, and most recently, The Tamron Hall Show.
In Fall 2019, Marcellas published his first book, SUPREME MODELS: Iconic Black Women Who Revolutionized Fashion, the first-ever art book devoted exclusively to black supermodels. SUPREME MODELS is available now online and at bookstores everywhere. For more on Marcellas, please follow him at facebook.com/MarcellasReynolds, instagram.com/marqueemarc, instagram.com/suprememodelsbook, and at twitter.com/marqueemarc.
Has it been a smooth road?
In fall 2019, I released 'Supreme Models: Iconic Black Women Who Revolutionized Fashion,' a book highlighting over 70 Black women who have made the fashion industry what it is today. It took eight years to research the book, interview the models included, and get the book published. In the spring of 2011, Vogue Model: The Faces of Fashion, a book dedicated to models who appeared in British Vogue, was released. The book, which spanned the 90-year history of British Vogue, arguably the most diverse fashion magazine in the world, only included two Black models—Iman and Naomi Campbell.
Those are the slights people of color regularly deal with because no one tells our history! I mean, how could British Vogue only include two black models? In 1966, British Vogue was the first Vogue to put a black model, Donyale Luna, on the cover. That's eight years before American Vogue put Beverly Johnson on its cover! Angered, I wrote a scathing review of the book on Amazon; "Where is Veronica Webb, muse to Herb Ritts, who is one of the few black models ever to receive a cosmetics contract? Or Liya Kebede, the current face of Estée Lauder, who had an entire issue of Vogue Paris dedicated to her. And where is Tyra Banks? The model mogul! Few models have been more successful than Tyra!" That lack of recognition of the triumphs, that's why I wrote Supreme Models.
As a fashion stylist and former model, I've been on many sets and seen the mistreatment of models and people of color. We're often paid less for the same work. I've seen models be told by White hair and makeup artists that they couldn't do our hair or didn't have makeup for our skin tones, as though their lack of skill was somehow our fault. But still, we thrive. I created a book that celebrates our successes.
We need more people of color, not just African Americans, but all races—art directors, fashion designers, hair and makeup artists, marketing directors, photographers—making decisions and leading the conversations around diversity and inclusion. Would the recent Gucci, H&M, and Prada missteps happened if people of color worked at those companies at decision-making levels? I think not!k not!
Let me be direct: it's not lost on me that it took a black, gay man to create a book celebrating the beauty of the black woman. Historically the black female's story has been told through the lens and biases of the White, straight male. That said, fashion is a celebration of beauty, and most of the people who work in fashion do not have a racial bias as it pertains to creating something beautiful. It's when money becomes a factor, that changes. Then the conversation becomes, frankly, ignorant. "Do black models on the cover sell magazines?" "Does this designer want certain communities wearing their clothes or buying their products?" Ridiculous.
I hope that Supreme Models becomes a beautiful part of the conversation surrounding diversity and inclusion in fashion.
We'd love to hear more about your work and what you are currently focused on. What else should we know?
What sets me apart from other multi-hyphenates in entertainment and fashion is my desire to grow and willingness to pivot. I consider myself an artist, so I'm always looking for different ways to express myself. Yes, I believe fashion styling, television hosting, and writing are all art. The business of fashion has been devastated by the COVID-19 pandemic, but fashion was in trouble before this. Brick and mortar stores are struggling. The legendary Barney's New York is gone, and Neiman Marcus has filed for bankruptcy. As a fashion stylist, I'm cautiously waiting to see how the business of fashion continues to change, but I'm not walking onto any set anytime soon.
I'm also a television host and entertainment reporter. The entertainment industry is also in wait-and-see mode, though I'm getting calls to audition and take meetings for new projects. Currently, I'm working on adapting my book, Supreme Models, into a documentary. I'm also setting up pitches for a few other fashion-based television projects. The entertainment industry seems optimistic and ready to get back to work!
I've responded to the pandemic with a burst of creativity. A publisher optioned my second book, and I'm writing that. It's going extremely well. Due to the publication of Supreme Models, I've gotten hundreds of questions from men and women pursuing modeling careers. I started instagram.com/masteringmodeling to answer questions about fashion and modeling. I'm having a blast interacting with people about two things I love.
Is our city a good place to do what you do?
Los Angeles is where dreams come true. I lived all over the world. I'm from Chicago, modeled in London, Milan, and Paris. I lived in both Miami and New York but Los Angeles has a vibe all it's own and is the best of all worlds. The fashion industry here continues to grow. New stores are opening like The Webster which is gorgeous. Yes. Several stores have closed unfortunately but I think LA will rebound. Of course, if you want to be in the entertainment industry, there is nowhere else. Los Angeles dominates. We are Hollywood. The thing to remember is there are so many areas in entertainment to pursue. Don't think your dream ends because you aren't finding success in front of the camera!
Contact Info:
Image Credit:
Good Day LA photos via Josh Kaplan. Supreme Models cover, Abrams Books.
Suggest a story: VoyageLA is built on recommendations from the community; it's how we uncover hidden gems, so if you or someone you know deserves recognition please let us know here.