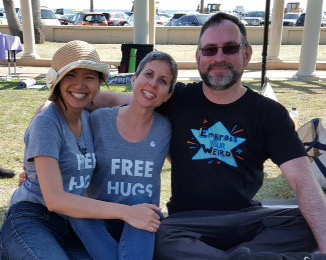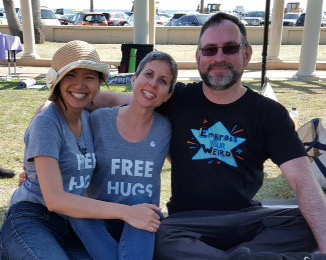 Today we'd like to introduce you to Jean Franzblau.
Jean, can you briefly walk us through your story – how you started and how you got to where you are today.
If you'd like, you can call me your Cuddle Consultant. Or maybe your Hug Home Girl. That's because I'm the Founder of Cuddle Sanctuary in Los Angeles. You may be thinking to yourself, "What the what?!" I know. It is rather unique. Sometimes I don't believe it myself.
I laugh a lot these days, but it wasn't always like that. For years I was single, independent and often depressed. One time I was traveling solo and feeling super lonely. I latched onto this guy thinking that what I needed was a hook up. That was so not what I needed. I followed this dude around for hours and yes, finally hooked up. But the part that I really wanted – sweet conversation, cuddling – didn't happen at all. I felt ripped off. But when I thought about it later, I realized that I wasn't honest with him about what I wanted.
What I figured out is that sure, I have sexual needs, I get that. But I also have needs for connection, affection and just plain hugs – nonsexual stuff. And those needs weren't getting met. One day, I opened an in-flight magazine and saw a bunch of people chilling out and cuddling together and thought to myself, "That's for me!" I kept googling "Los Angeles" and "cuddle" but could never find a local event.
And so, I founded Cuddle Sanctuary. It started out as this thing that I needed just for myself, but it's evolved into a wellness practice for lots of Angelinos. (And people come from as far as Ventura and San Diego counties to attend.) Now I have my basic needs for affection met every week. And I have the connection, community, laughter and fun I've always wanted in my life.
Overall, has it been relatively smooth? If not, what were some of the struggles along the way?
"I can't think of a stupider business." On hard days, that's what I think. I mean, how can I successfully sell a product that most people are afraid to use?
It's true, we've received incredible publicity. We've been on BuzzFeed, KCET, TLC and Cracked. (Not to mention, Voyage LA – thanks guys!) Even so, cuddling – at an event or with a professional – is so outside most people's comfort zones – it's a challenge for many of our touch deprived potential clients to muster up the courage to try it.
Part of it is that cuddling is an industry still in its infancy. Consider for a moment – massage therapy. I bet you can think of a place in your neighborhood where you can go to get a massage. Many years ago, the only massage you could get would be at a massage parlor where a happy ending was optional. Massage therapists had to work hard to legitimize their work and it took time to do that. As you can imagine, I'm dealing with a similar skepticism – is it really possible to have events and individual cuddle sessions that are nonsexual? (The answer is yes.)
Our regular attendees are early adopters – courageous people who said to themselves, "Fuck it – What's the worst that will happen?" They come from a variety of backgrounds and nationalities. Some are professionals and some are single moms and dads. But most are private about their attendance. They feel that many people in their lives just wouldn't understand it. That's a conundrum for Cuddle Sanctuary. We have some gorgeous YELP reviews but nowhere near the amount we would if we were selling something simpler – like froyo.
Has it been worth it? Hell to the yes. It is deeply satisfying to witness newcomers at their first event. At our closing circle, I often hear them describe how they feel: content, peaceful and happy.
Please tell us about Cuddle Sanctuary.
In a stressful, sometimes isolating, hi-tech world, we help people connect, find community, have more fun and boost their health. We do this with four services:
1. Cuddle events
2. Individual cuddle sessions
3. Training
4. An affiliate program (for those who want to take this work to their city)
Our events – called cuddle sanctuaries – typically attract 10-15 people – several of whom are newcomers. They start with an explanation of the guidelines and lots of structured ways to get to know one another. It's skillfully led so that attendees can participate at their own pace.
Our individual cuddle sessions are guided by one of five certified professionals – including yours truly. We most often host sessions and sometimes travel to meet our clients. Each person on our huggable team brings warmth and caring to every session. Given that most clients have never had a professional cuddle session, we guide the experience every step of the way and respectfully follow the client's pace.
We offer two 3-day certification programs in Los Angeles. One program is for professional cuddlers and the other is for event leaders. We've had talented students travel from out of state and abroad to study with us. Our courses build skills, confidence and incredible friendships with fellow students.
Our affiliate program was created to help people bring Cuddle Sanctuary to their city. Our work focuses on nurturing touch and a philosophy of inclusiveness and compassion. We have learned how to create communities built on kindness. This program is for those who feel the call to be a cuddle community leader or small business owner.
If you had to go back in time and start over, would you have done anything differently?
Last month, I thought of a fun way to interact with the public and let people know we exist. We now offer "Free Hugs" at the Santa Monica Farmer's Market every Wednesday afternoon. It's fun, gives me a boost and brightens up my lunch hour. I wish I'd thought of that sooner!
I used to accept any media opportunity that came my way. My hope was that despite the tone of the piece, people who needed our services would find us. Through trial and error, I learned that if the journalist's slant is to poke fun or judge what we are doing, it doesn't bring new people to our door. So when someone wants to feature Cuddle Sanctuary, I ask a lot of questions. We've said 'no' to a game show on network television and I'm proud of my choice.
When I first started doing events, I didn't have a policy regarding alcohol. I learned the hard way, that some people will try to use substances to help them feel more comfortable. The issue is that being altered can impact a person's ability to pick up on social cues. And so, to keep our events safe, we're officially a sober event. We embrace and celebrate the awkwardness that we sometimes feel. It's very human.
Pricing:
Events are $25 if purchased ahead and $30 at the door
Professional cuddling is $80 for 60 minutes
Educational webinars are free
Contact Info:
Getting in touch: VoyageLA is built on recommendations from the community; it's how we uncover hidden gems, so if you know someone who deserves recognition please let us know here.