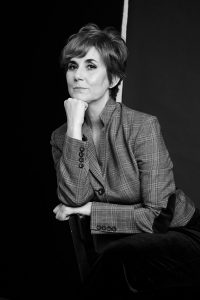 Today we'd like to introduce you to Anne Marie Cummings.
Anne Marie, can you briefly walk us through your story – how you started and how you got to where you are today.
I started acting in the theatre when I was six years old and did professional theatre in my teenage years. And after that, and because I loved the theatre so much, I decided to audition for the drama program at Carnegie Mellon University. I got it and then spent the next thirty years working on my craft, with some of America's most reputable artists in the theatre – – as an actress, playwright, director, producer, even artistic director of my own theatre company in Upstate New York. In the final year of my theatre company (which had moved into a movie theatre), a big shift happened…I saw the one-shot film, BIRDMAN, which turned my world around because what I saw when watching the continuous camera moves and the actors acting without cuts – – was theatre on film. So I dabbled with my first attempts with one-shots, filming some of my own plays, and then I asked myself, "What would it look like if I created my very own one-shot TV series?"
This was the turning point – – I sold my home, left my theatre company, and moved to L.A. and studied screenwriting with an award-winning TV writer (Ron Osborn of the TV series "Moonlighting"). Then I wrote a conversation between two characters as a one-shot episode, cast an aspiring actor to act with me, directed us, hired a DP, directed his camera moves, we filmed it and because it did exactly what I hoped it would do – submerge us into the world I had created – I kept going, and continued to go for three more years until three seasons of my one-shot TV series, CONVERSATIONS IN L.A. was born. I put it up on Amazon Prime Video, FandangoNOW picked it up (just recently), we received 8 Daytime Emmy nominations (5 for acting, 2 for writing and one for directing), and well-known, respectable actors in theatre and film (Lou Diamond Phillips, Amy Pietz, Justin Kirk, Willie Garson) joined the cast because they were thrilled by my one-shot format, directing, writing, and overall artistry. And this is where I am today – after spending a lifetime in the theatre and transitioning into TV and film as a woman in her early 50's!
Great, so let's dig a little deeper into the story – has it been an easy path overall and if not, what were the challenges you've had to overcome?
One of my favorite quotes is the English proverb: "A smooth sea never made a skilled sailor." So the short answer is that, no, my road has not been smooth, but for that I'm grateful because the struggles have made me mentally strong, emotionally wiser, and more skilled at what I'm doing. I'm one of those individuals who doesn't mind being a beginner which is a good thing because by being a beginner, I learn more, and have more resources to make me a better creator of content, actress, writer, director, even film editor (which I'm also dabbling in now). The idea of life is to learn and grow. The trap is being content with ease.
In terms of struggles, I would say the number one struggle is how to strike a balance between making a living and doing what you love until you can make a living doing that. I've done so many things, not for the money, but for the education, the experience, the knowledge. This list is long, but ultimately you decide what you want to take chances on and when, you decide when you're up for taking those leaps of faith.
Second, I would say that the other struggles have been with people. In this life not everyone is going to like you, not everyone is going to get you, and not everyone is going to believe in your vision. I've had a lot of experiences with people who have fit in all these categories and now that I understand this, I'm surrounding myself more and more with the people who do get me and fervently believe in my vision and who I am. And I'm actively reaching out to those people as well. Finding your like-minded collaborators is tough because everyone's sensibility and approach is different in the art of theatre, television, or film, or whatever artistic field you're in. But I will say this – when you set your standards high and know you deserve to be surrounded by the best – the best will be there.
Third, the persistence this takes and holding onto the spark that makes you do something when faced with obstacles. If I were the kind of person in this business for the fame and the red carpets, I would not have lasted (and there are many of those out there who are solely in it for the glitz and glamour), but that's not why I'm in this – – I'm in this for my gifts and the never-ending passion to get my stories told, to act roles I find interesting, and to direct when those opportunities come along or when I want to go after those jobs. So the sparks are very much alive in me and I find great fulfillment creating. Creating is what makes me joyous – it's my purpose and calling in life, so reaching for the opportunities and taking advantage of them when they come…that alone gives me great joy, despite how difficult it all is.
Immediate Vision Productions – what should we know? What do you do best? What sets you apart from the competition?
I look at my film production company – Immediate Vision Productions – like this…I created this company for me so that I can collaborate with people on my films and television shows. As a writer, director, actress, producer, I'm a collaborator and am looking for the companies and the individuals who are going to want to work with me to make my stories come to life! The three seasons of my one-shot TV series, CONVERSATIONS IN L.A., is just a beginning. That was a series I independently produced, but that was the risk I took and I don't regret one day of taking that risk. However, now it's time for me to meet and work with other producers to bring my other dreams to life, and on a much bigger scale.
What sets me apart? One of my literary managers, Mark Finley, said of me that one of my greatest gifts is my work ethic. This doesn't mean I work 24/7, but let's just say, I work hard, and I work at the projects I'm now working on…daily. I don't really take a full day of. I take portions of each day off. I strike a balance in my own way. The person who works for a company, Monday through Friday, 8am to 6pm, may take every Saturday and Sunday off. But the way my life's schedule looks is different, as it is for most artists. I know what this field demands and I'm not going to back down or be afraid of those demands. And good thing too, because I do enjoy the work. Yes, I get tired and I have days where I feel like giving up (we all have those days), but I have thick skin and roll up my sleeves and just get to work. And I'm also blessed to be someone who always gets back on the horse, so to speak, after setbacks and challenges. I'm also very disciplined, and this quality is extremely important in the entertainment business.
What moment in your career do you look back most fondly on?
I haven't really had one, per se. It's been so many and what they all have in common is that I didn't wait for anyone's permission. I wrote that play, I auditioned for that project, I directed that play, I created a theatre company, I reached out to that manager, I wrote that letter to a famous artist, I made a call to an employer, I explored, I learned a new skill on my own, I asked for help, I gave my suggestion… Every single time I take the initiative, I win. Every single time I learn, I win. Every single time I do something about my creativity, I am winning in life. Miracles don't just happen. As artists, we have to be proactive. You can't sit around waiting for things to come to you. I mean, of course you can, but does that make you feel good? I think artists feel powerless waiting. So I say, don't wait! Create! Write a scene, write a poem, get people together and read a play, create a support group with artists, start a theatre company even if it begins in people's living rooms. Get up and get going with your life as an artist. It's how I've done it, and so far so good. It's not easy to take initiative, but nobody really cares or judges you if you do. If anything, people respect you more! I've thought about this one my whole life and have chosen to be the proactive artist, and that, I find very fulfilling.
Contact Info:
Image Credit:
Matt Kallish
Suggest a story: VoyageLA is built on recommendations from the community; it's how we uncover hidden gems, so if you or someone you know deserves recognition please let us know here.